Peanuts are among the most widely enjoyed nuts. They are known for their slightly sweet, savory flavor and satisfying crunch. Peanuts are great for snacking or when paired with main dishes or desserts.
Although a legume, peanuts deliver similar health benefits found in walnuts, almonds, and other tree nuts.
As much as you may love them, you may be wondering if consuming peanuts is suitable for the keto lifestyle.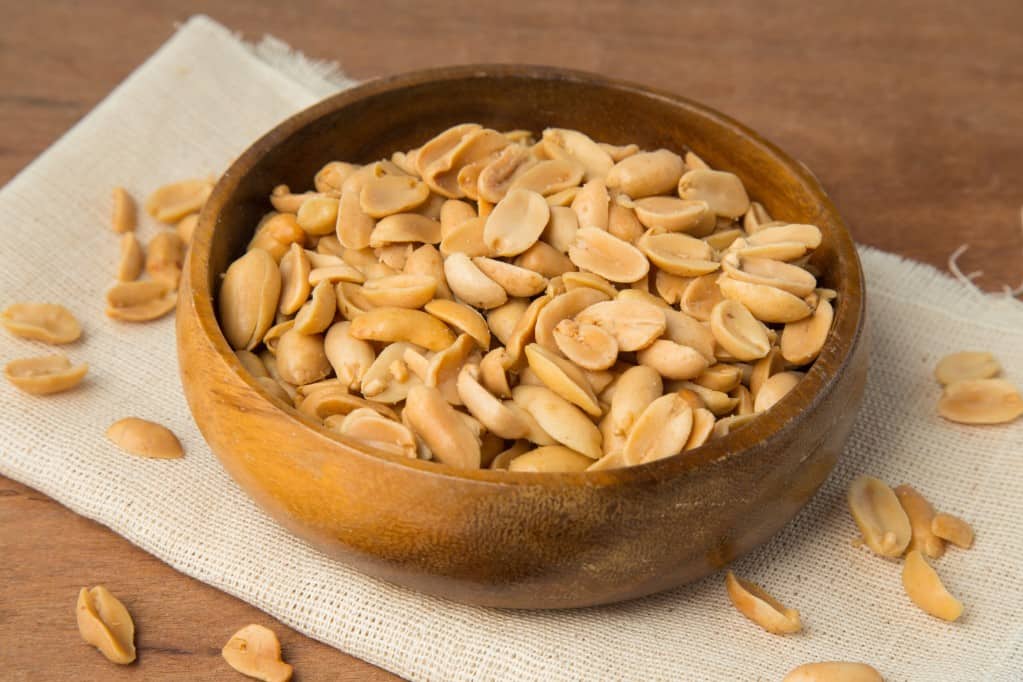 In this comprehensive guide, we will explore the macros of peanuts, determine if they are keto-friendly, and identify how many carbs are in a one-ounce serving size.
We'll provide you with an essential chart of the best keto-friendly nuts, break down the nutritional content of peanuts, and explore their health benefits.
So, whether you're a peanut enthusiast or just curious about their place in a ketogenic diet, read on to discover more about this classic snack food.
Are Peanuts Keto Friendly?
For those who are on a keto diet and happen to love peanuts, here is good news! Peanuts are not only low in carbohydrates but also pack a significant punch in terms of healthy fats and protein content, making them an ideal choice for those adhering to a ketogenic diet.
Their favorable macronutrient profile, low in total carbs coupled with high-fat content, not only aligns with keto principles but also provides a satisfying snack option that can help stave off cravings and maintain a state of ketosis.
However, while they are keto-friendly, it's essential to remember that portion control is key, as overindulgence can lead to excessive calorie intake, potentially hindering your weight loss goals along your keto journey.
Carbs in Peanuts
A 1-ounce serving of peanuts, approximately equal to 35 peanuts, contains 4.56 grams of carbs, with 2.41 grams of dietary fiber, resulting in 2.15 grams of net carbs.
Peanuts are #6 on our list of common nuts when ranked by net carbs, placing them behind the best keto nuts - pecans, macadamia nuts, and Brazil nuts.
Peanut butter, a beloved spread and snack, is a common way to enjoy the flavor of peanuts. One tablespoon of typical peanut butter contains around 3 to 4 grams of carbs, with variations depending on the brand and added ingredients.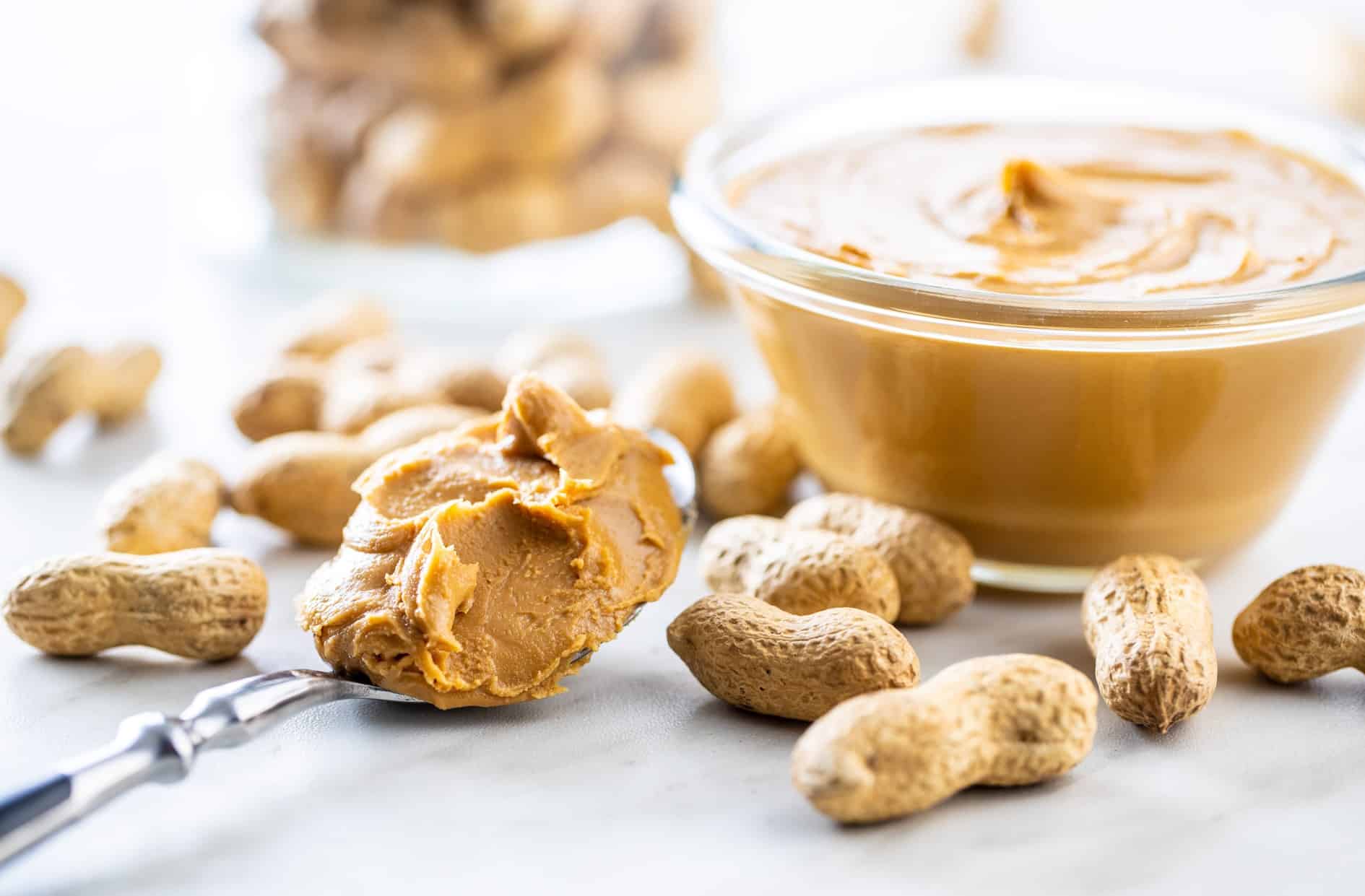 As all keto dieters know, read the nutrition label and check the ingredients before making any purchase.
Carbs in Boiled Peanuts
Boiled peanuts, cherished as a regional delicacy in some areas, have a similar carb content compared to raw or dry roasted peanuts.
Just note that some brands add high carb ingredients like sugar or sweeteners, which will drastically increase the overall carb content.
Nutritional Information of Peanuts
Let's take a closer look at the nutritional composition of raw peanuts per one-ounce serving:
Calories: Peanuts provide around 160 calories per ounce, making them a satisfying and energy-packed snack option for your keto journey.
Protein: You'll get approximately 7 grams of protein from a one-ounce serving of peanuts, which can help maintain and repair your body's tissues.
Fats: Peanuts contain about 14 grams of fat per ounce, and these fats primarily consist of heart-healthy monounsaturated and polyunsaturated fats.
Carbohydrates: As mentioned, peanuts contain a small number of carbs, roughly 4.56 grams per ounce, making them an excellent choice for a low-carb diet like keto.
Fiber: They offer about 2.41 grams of dietary fiber per ounce, which aids in digestive health and promotes a feeling of fullness, helping you control your appetite.
Minerals & Vitamins: Peanuts deliver essential nutrients, such as magnesium, phosphorus, niacin (vitamin B3), and vitamin E.
Health Benefits of Peanuts
Beyond their compatibility with keto, peanuts offer numerous health benefits. These are:
Weight Loss: The protein and healthy fats in peanuts may support weight loss as they promote a feeling of fullness and aid in appetite control. When compared with other nuts, they are also lower in calories.
Heart Health: Peanuts are rich in monounsaturated fats, which are associated with a reduced risk of heart disease by decreasing blood cholesterol levels.
Blood Sugar Management: The combination of protein and healthy fats in peanuts can help stabilize blood sugar levels, making them suitable for individuals with diabetes. Peanuts also have a low glycemic index, so they won't cause large spikes in blood sugar.
Digestive Health: The dietary fiber in peanuts supports a healthy digestive tract by preventing constipation and promoting regular bowel movements. Fiber also supports beneficial bacteria in the gut that help lower inflammation in the body.
Nutritional Value: This legume has essential nutrients such as vitamin E and various minerals, including magnesium, which support muscle and nerve function.
Skin Health: Peanuts contain antioxidants and healthy fats that can contribute to healthy, radiant skin. Consuming peanuts with the skin on increases the polyphenol intake and thus increases the antioxidant and anti-inflammatory benefits of consuming this food.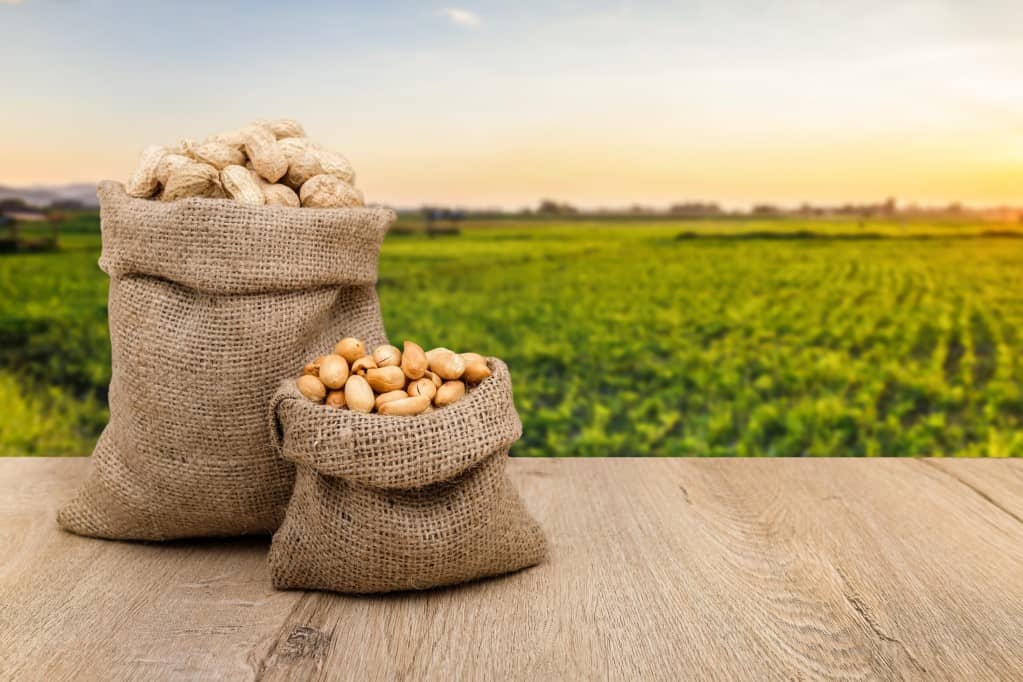 How Many Peanuts Can I Eat on Keto?
While peanuts are keto-friendly, it's important to practice moderation. It's advisable to limit your peanut consumption to approximately one ounce daily (approximately 35 peanuts), ensuring you enjoy the benefits without overindulging.
Risks of Peanut Consumption on Keto
Where peanuts offer many health benefits, consuming them in excess offers several risks as well. Here are a few to note:
Inflammatory Response: The omega 6 fat in peanuts can cause inflammation if not balanced with foods that contain omega 3 fats. Awareness of balancing omega 3 and omega 6 is important with any dietary lifestyle. Mix peanuts with walnuts to balance these fats, or consume other foods that are naturally high in omega 3 as part of a balanced diet.
Calorie Intake: Peanuts contain 160 calories per ounce, so overconsumption can lead to excessive calorie intake if not monitored. This can hinder your weight management goals on a keto diet.
Phytic Acid: Peanuts contain phytic acid, which can reduce the absorption of certain minerals like iron and zinc. However, this is not a significant concern when consumed in moderation, as the impact on mineral absorption is relatively low.
Allergies: Peanut allergies are common, affecting many people worldwide. These allergies can lead to severe, even life-threatening allergic reactions known as anaphylaxis. If you have a peanut allergy, use our chart below to see which are the best nuts for your low carb diet.
Best keto-friendly nuts
For those on a ketogenic diet, knowing which are the best nuts that align with your low-carb lifestyle is essential. Here's a list of popular nuts ranked by their net carbs, to help you make the best decision:
| | | | | | |
| --- | --- | --- | --- | --- | --- |
| Nut - 1 ounce serving | Net Carbs | Carb | Fiber | Protein | Fats |
| Pecans | 1.22 g | 3.94 g | 2.72 g | 2.6 g | 20.4 g |
| Brazil nuts | 1.40 g | 3.52 g | 2.12 g | 4.05 g | 19 g |
| Macadamia nuts | 1.47 g | 3.91 g | 2.44 g | 2.24 g | 21.5 g |
| Hazelnuts | 1.98 g | 4.73 g | 2.75 g | 4.25 g | 17.2 g |
| Walnuts | 1.98 g | 3.88 g | 1.9 g | 4.31 g | 18.5 g |
| Peanuts | 2.15 g | 4.56 g | 2.41 g | 7.31 g | 13.9 g |
| Almonds | 2.58 g | 6.12 g | 3.54 g | 6.01 g | 14.1 g |
| Pine nuts | 2.66 g | 3.71 g | 1.05 g | 3.88 g | 19.4 g |
| Pistachios  | 5.01 g | 7.93 g | 2.92 g | 5.73 g | 12.8 g |
| Cashews | 7.66 g | 8.56 g | 0.9 g | 5.16 g | 12.4 g |
| Chestnuts | 10.61 g | 12.91g | 2.3 g | 0.69 g | 0.6 g |
Ways to include Peanuts in Your Keto Diet
Peanuts are not just enjoyed as a healthy snack but are very versatile. From adding them to your main dishes to serving them in desserts, here are a few amazing ways to incorporate peanuts into your ketogenic diet:
Quick Snack: Grab a handful of peanuts for a quick and satisfying snack, as they provide a dose of healthy fats and protein to keep your energy levels stable throughout the day. Eat peanuts with the skins on for extra health benefits!
Peanut Butter: Enjoy a spoonful of natural peanut butter for a creamy, flavorful treat that also delivers a good amount of healthy fats. Make our keto peanut butter fudge when those cravings hit.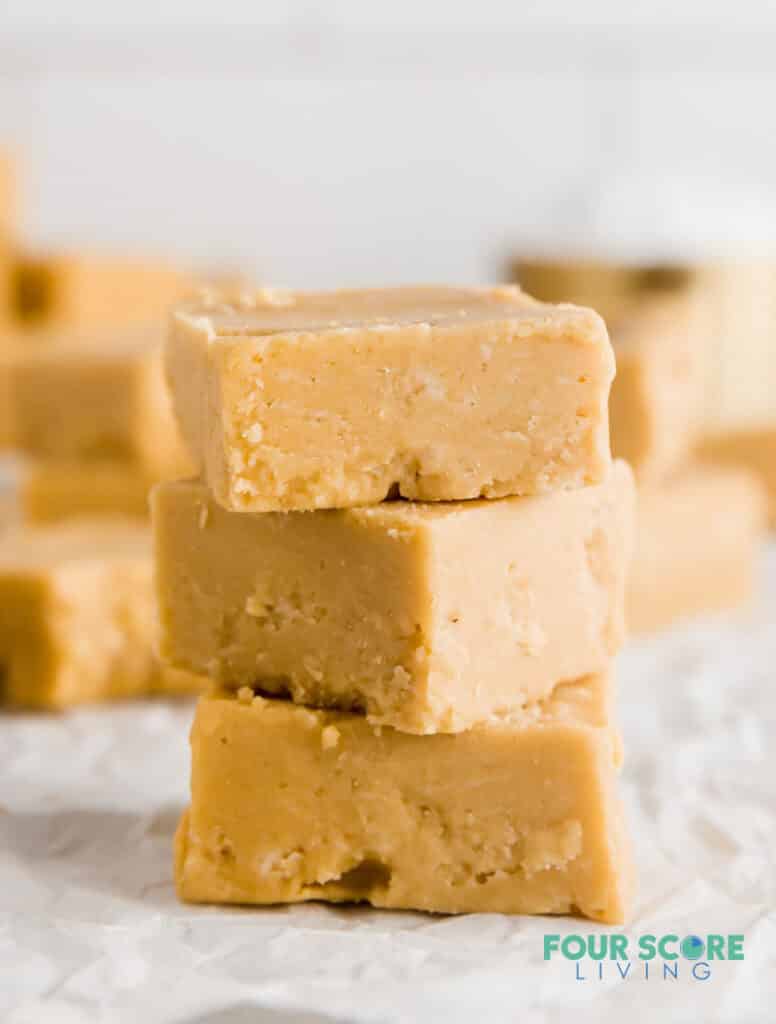 Salad Topping: Add roasted peanuts to your salads for a delightful crunch and nutty flavor, turning your ordinary salad into a satisfying and nutritious meal.
Keto Ice Cream Topping: Crushed peanuts make a fantastic topping for keto-friendly ice cream.
Baked Goods: Incorporate chopped peanuts into your keto-friendly baked breads, muffins, and cookies for added texture and flavor, enhancing the nutritional profile of your treats with healthy fats and protein.
Peanut Glaze: Make a peanut butter glaze to top salmon for an exciting new spin on traditional roasted salmon.
Veggie Stir-Fry: Add peanuts to a vegetable stir-fry to enhance taste and nutrition by providing an interesting contrast in texture and a protein boost to your veggie-packed meal.
Trail mix: Combine other keto nuts with sugar free chocolate chips to make a healthy snack.
Keto Friendly Snacks: Read our extensive article on the best keto snacks to make and buy.
Frequently Asked Questions
Are Boiled Peanuts Keto?
Boiled peanuts, a Southern regional favorite, are keto friendly.
Some brands add sugar, sweeteners, and artificial flavorings which can increase the carb content.
It's best to always read the nutrition label or make your own where you have full control over the ingredients being used.
Just like regular peanuts, consume them in moderation and always be mindful of your daily carb limit on keto.
Are Honey Roasted Peanuts Keto?
Honey-roasted peanuts are typically coated with sugar or other sweeteners, which significantly increases their carbohydrate content. They are not considered keto-friendly due to the added high carb sweeteners. Make your own by swapping out the pecans for peanuts in our Keto Candied Pecans recipe, or better yet use a keto friendly nut mix with this recipe to create a sweet and nutritious treat.
Conclusion
In conclusion, peanuts can be part of a keto diet, provided you consume them in moderate amounts. They offer various health benefits and are a versatile and satisfying food to include in keto meal planning.
As with any food on keto, mindful consumption is key to achieving your dietary goals. Enjoy your keto journey with the occasional crunch of this versatile legume.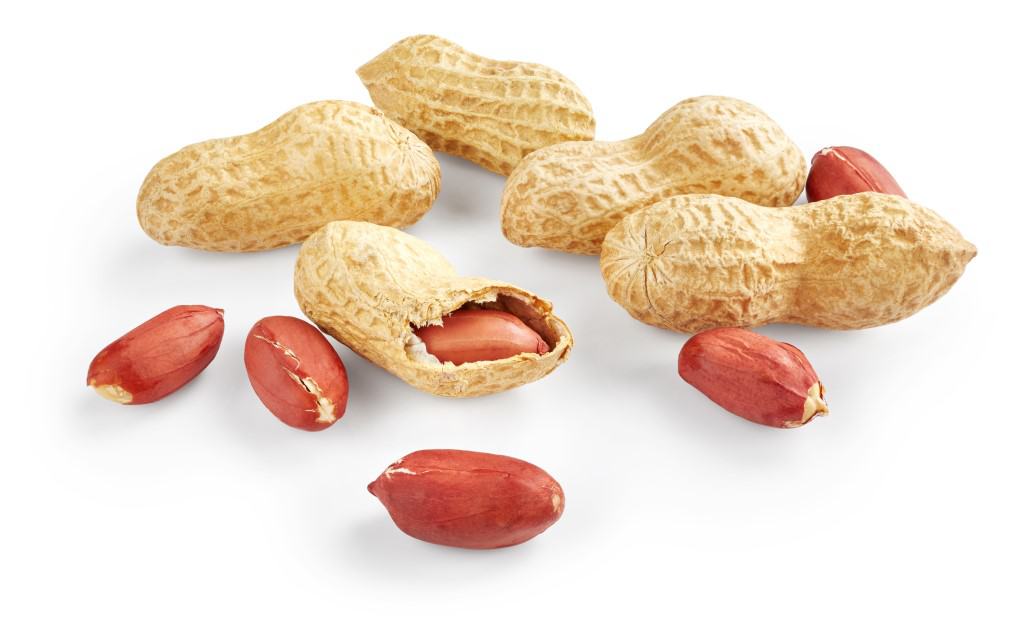 More articles you may like:
We hope you enjoyed reading this article. Please help us out by leaving a quick review and star ★ rating below.
LET'S GET SOCIAL, you can follow Four Score Living on Pinterest. You can also leave a comment below if you have any questions.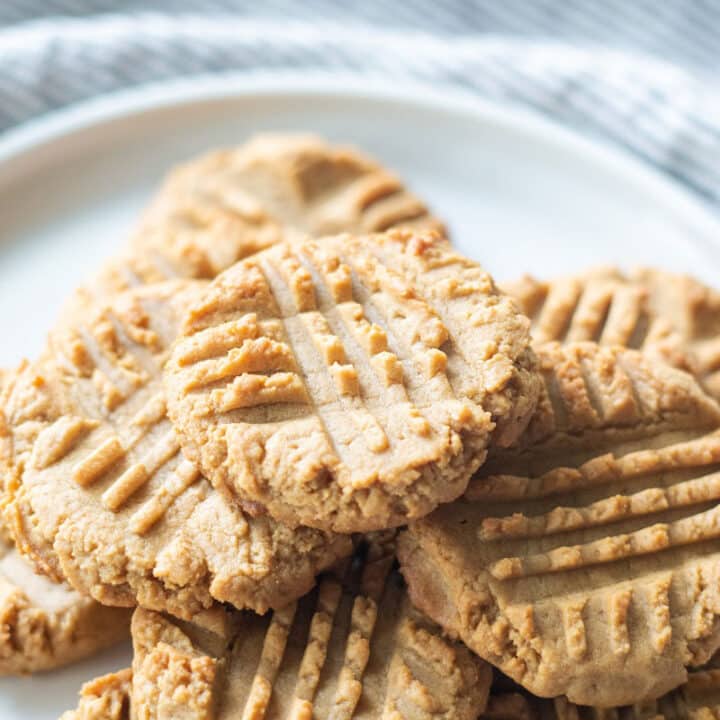 Keto Peanut Butter Cookies
You won't believe how easy it is to make chewy low carb peanut butter cookies at home. These keto peanut butter cookies require only 5 ingredients and almost no effort at all. With just 12 minutes in the oven, you'll have an abundance of melt-in-your-mouth cookies that taste just as divine as any peanut butter cookies around.
Ingredients
1 cup unsweetened peanut butter
½ cup Swerve powdered confectioners' 
½ teaspoon gluten-free vanilla extract
1 egg
½ teaspoon salt (omit if using salted peanut butter)
Instructions
Preheat oven to 350°F (180° C). Line a baking sheet with parchment paper; set aside.
In a large mixing bowl, with a spoon, mix peanut butter, sweetener, vanilla, egg, and salt until smooth and well combined.
Roll or drop cookies into 2-inch dough balls onto your cookie sheet 2 inches apart.
Using an oiled fork, press down on your cookies in a crisscross pattern.
Bake cookies for 12 minutes. Cookies may look a little underdone, but they will continue to cook once you remove them from the oven.
Cool on the cookie sheet for at least 5 minutes. Transfer to a wire rack to cool completely.
Store in an airtight container at room temperature.
Notes
Confectioners' sugar works best in this keto peanut butter cookies recipe.
Egg-Free option: Combine 2 tablespoons ground flaxseed + 5 tablespoons water, let sit for 10 minutes. Stir, and then add into the mixture when it calls for the eggs.
Peanut-free Option: If you can't do peanuts, you can do almond butter or cashew butter. Just make sure it's sugar-free.
Nutrition Information:
Yield:

15 cookies
Serving Size:

1
Amount Per Serving:
Calories:

112
Total Fat:

9g
Saturated Fat:

2g
Trans Fat:

0g
Unsaturated Fat:

7g
Cholesterol:

12mg
Sodium:

138mg
Carbohydrates:

4g
Net Carbohydrates:

2g
Fiber:

2g
Sugar:

1g
Protein:

5g
The nutrition information for this recipe is an approximate total per serving. Please double check the nutrition information for your exact ingredients and brands.