Best known for their buttery, creamy, and indulgent mouthfeel, macadamia nuts are also a healthy snack. They are often used in baked goods, as a crunchy salad topping, or covered in decadent chocolate. But are macadamia nuts keto friendly?
Macadamia nuts, originating from Australia, are actually nutrient-dense seeds that contain high amounts of monounsaturated fats. These healthy fats assist in reducing inflammation and promoting weight loss.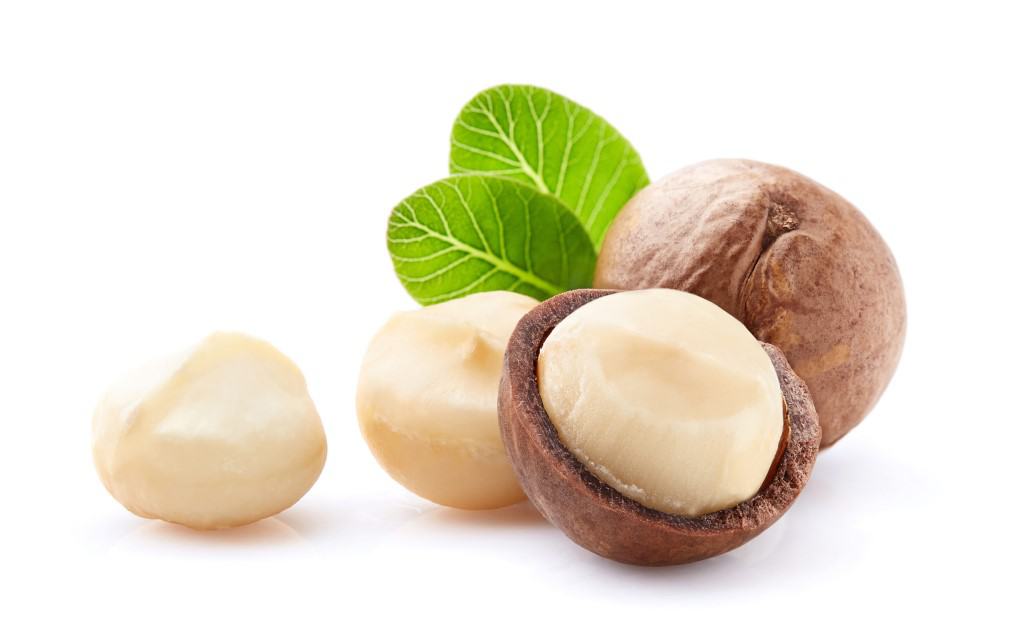 In this guide, we will discover how many carbs are in macadamia nuts, their nutritional content, the health benefits of macadamia nuts, and ideas for adding these tree nuts to your low-carb diet.
Not all nuts are suitable for keto dieters, so we have developed a chart of common nuts ranked by their net carbs for you to identify which nuts fit into your keto lifestyle.
Are Macadamia Nuts Keto Friendly?
Yes, when enjoyed in moderation, macadamia nuts are an ideal choice for those following a ketogenic diet.
These keto-friendly nuts have the highest fat content of any nut with 21.5 grams of fat per ounce, making them an easily available source of healthy monounsaturated fats.
Macadamia nuts contain only 1.47 grams of net carbs per 1 oz serving. This low net carb count and high-fat content perfectly align with the principles of a high-fat, low-carb ketogenic lifestyle.
Flavorful and filling, Macadamia nuts help you feel full even while consuming relatively few carbohydrates.
Moderation is key as Macadamia nuts are high in calories and eating too many can slow weight loss.
Carbs in Macadamia Nuts
1 ounce (28 grams) or 10–12 dry-roasted, unsalted macadamia nut kernels contain 3.91 grams of carbohydrates, with 2.44 grams of dietary fiber, resulting in 1.47 g net carbs.
Compared with many other popular nuts, macadamias are #3 on our list when ranked for fewest net carbs, just behind pecans and Brazil nuts, making them an excellent choice for keto enthusiasts.
Carbs in Macadamia Nut Butter
2 tablespoons of macadamia nut butter contains about 5 grams of carbs, with 3 grams of fiber. Total carbs minus fiber will give you 2 grams of net carbs.
This low carb count makes macadamia nut butter an ideal alternative to peanut butter.
Carbs in Macadamia Nut Milk
1 cup of macadamia milk has about 1 gram of total carbs, depending on the brand chosen. Make sure to use only unsweetened macadamia milk and read the nutrition label before making your purchase.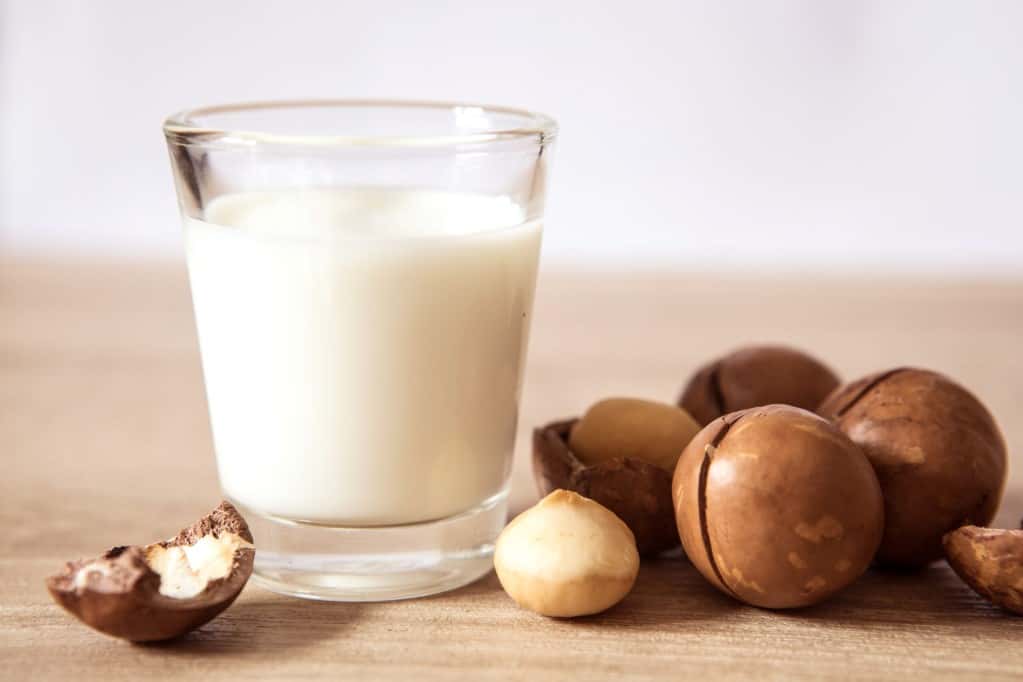 Other options for keto-friendly milk include flax milk and unsweetened almond milk.
Nutritional information of Macadamia Nuts
According to USDA 1 ounce of macadamia nuts contain:
Calories 204 kcal
Protein 2.24 g
Fat 21.5 g
Carbs 3.91 g
Fiber 2.44 g
Essential Minerals & vitamins
Calcium 24.1 mg
Iron 1.05 mg
Magnesium 36.9 mg
Phosphorus 53.3 mg
Potassium 104 mg
Manganese 1.17 mg
Folate 3.12 µg
Selenium 1.02 µg
Fatty acids 3.43 g
Health Benefits of Macadamia Nuts
Macadamia nuts are a good source of fiber, healthy fats, and essential nutrients. They are a perfect keto-friendly nut because they are nutrient-dense and have a high fat-to-low carb ratio, with numerous health benefits.
Here are some good reasons to add these low carb nuts to your diet:
Reduce Inflammation
Macadamia nuts are high in antioxidants, which can help to reduce inflammation in your body. According to one study, eating macadamia and mixed nuts lowers C reactive protein levels and oxidative stress. Both elements are signs of underlying inflammation, which can raise the risk of chronic illnesses and be a contributing cause to a number of chronic conditions.
Reduce The Risk of Heart Disease
Due to their healthy fat content, nuts are generally good for your heart. Macadamia nuts are not an exception.
According to research, the peculiar fatty acid profile of macadamia nuts creates a beneficial effect on the lipids and lipoproteins in the blood. They also lower overall cholesterol levels, including LDL cholesterol (the "bad" cholesterol) which can lower the risk of heart disease.
Help Weight Loss
There are numerous ways in which macadamia nuts may aid in weight loss. Their high fiber and fat content promotes satiety and postpones stomach emptying. To put it another way, they aid in calorie restriction by keeping you satisfied for extended periods of time.
Unsaturated fats, which can be oxidized more easily than saturated fats, are present in macadamia nuts. They therefore have a lower propensity to cause fat storage.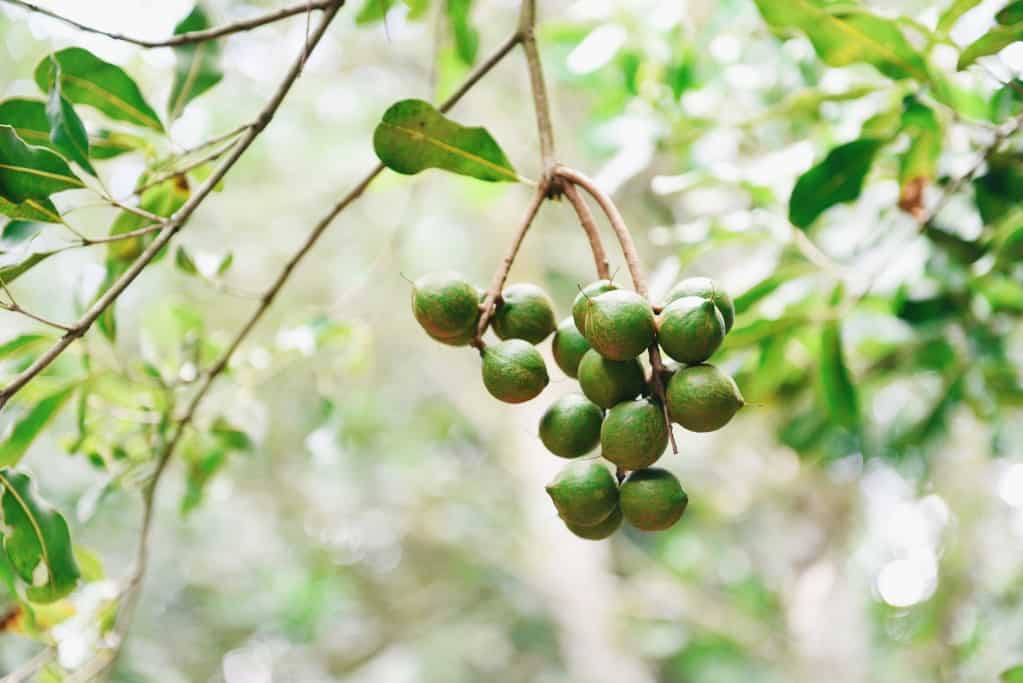 Perfect For A Ketogenic Diet
Macadamia nuts have low protein content and a high fat content. They are also perfectly suitable for the ketogenic diet because they are low in carbohydrates.
Remember that large amounts of fat, carbohydrates, and protein can be found in nuts. However, because macadamia nuts are high in fat and low in protein and carbohydrates, they satisfy the strict criteria of the ketogenic diet, allowing you to include them in your diet and maintain ketosis.
Helps Control Type 2 Diabetes.
Macadamia nut fat and dietary fiber have the potential to help control type 2 diabetes. Studies reveal that in individuals with type 2 diabetes, the monounsaturated fats found in nuts, including macadamia nuts, dramatically lower fasting plasma glucose levels. Consuming macadamia nuts also lowers blood pressure, body weight, HDL cholesterol, and triglyceride indicators.
Macadamia nut fiber also helps to stabilize blood glucose levels by slowing down blood glucose dumping. Each of these elements contributes to lowering the risk factors for type 2 diabetes.
Improve Brain Health And Prevent Cancer
Tocotrienols are antioxidants in the vitamin E family. Macadamia nuts are a good source of vitamin E. Eating them significantly raises the body's tocotrienol levels.
Tocotrienols have been shown in studies to prevent cancer and maintain brain function. By eliminating the harm caused by free radicals in the body, they safeguard many aspects of your well-being and lower your chance of developing severe diseases.
The excitatory neurotransmitter glutamate, which is linked to anxiety and other neurological disorders like Alzheimer's and Parkinson's disease, is another thing that tocotrienols have been shown to shield your brain cells against.
Ways To Include Macadamia Nuts In Your Keto Diet
Macadamia nuts have a creamy texture and a rich, buttery flavor. They can be enjoyed raw, dry-roasted, or salted as a healthy keto snack.
Baked goods - They can be added to Keto recipes like Keto Banana Bread, Keto Carrot Cake, and Keto Fudge.
Toppings - Sprinkle over your keto oatmeal and Keto Ice Cream.
Salads - Toss them with salads, as a low carb alternative to croutons.
Soups - They give a creamy texture and unique flavor to soups.
Chocolate - Cover them in keto-friendly chocolate.
Trail mix - Make a trail mix with other low carb nuts, such as Keto Candied Pecans. Add in sugar-free or Keto chocolate chips.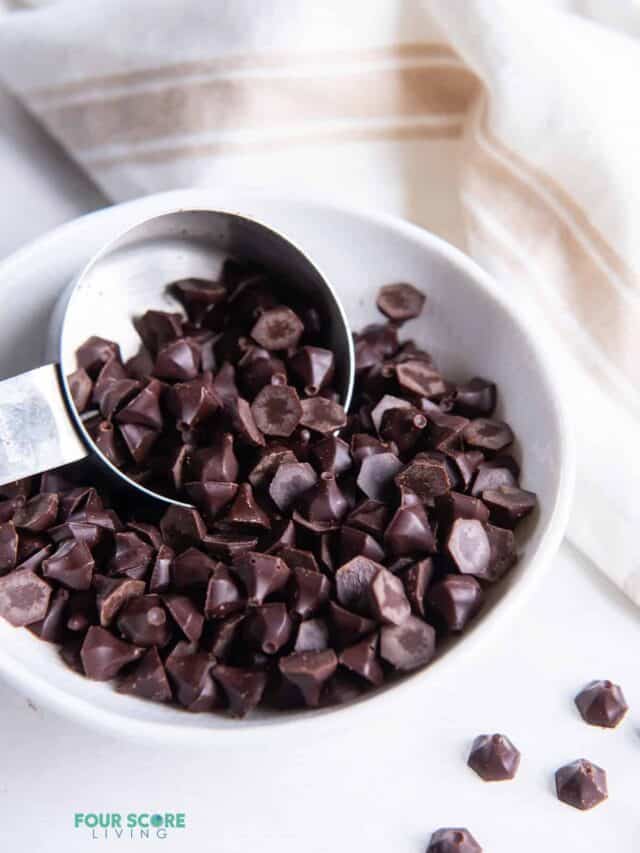 Milk - Try adding keto macadamia nut milk to your Berry Smoothie and Keto Avocado Smoothie, or pairing it with keto cereal.
Salad dressing - Make a luxurious salad dressing using macadamia oil, lemon, and your preferred herbs.
Flour - Use macadamia flour mixed in with your almond flour or coconut flour for a new taste and texture.
Roasted with seasoning - Try this savory recipe of seasoned macadamia nuts.
How do you add macadamia nuts to your keto diet? Feel free to share your go-to keto desserts and dishes with the keto community in the comments.
How Many Macadamia Nuts Can You Eat On Keto?
A 1-ounce serving size of macadamia nuts is recommended to benefit from the health-promoting characteristics of macadamia nuts without the risk of weight gain.
We also recommended that you vary your keto nuts or make a trail mix with different low-carb nuts from the chart below, to gain the most health benefits.
Net carbs in nuts
For those on a ketogenic diet, knowing which are the best nuts that align with your low-carb lifestyle is essential. Here's a list of popular nuts ranked by their net carbs, to help you make the best decision:
| | | | | | |
| --- | --- | --- | --- | --- | --- |
| Nut - 1 ounce serving | Net Carbs | Carb | Fiber | Protein | Fats |
| Pecans | 1.22 g | 3.94 g | 2.72 g | 2.6 g | 20.4 g |
| Brazil nuts | 1.40 g | 3.52 g | 2.12 g | 4.05 g | 19 g |
| Macadamia nuts | 1.47 g | 3.91 g | 2.44 g | 2.24 g | 21.5 g |
| Hazelnuts | 1.98 g | 4.73 g | 2.75 g | 4.25 g | 17.2 g |
| Walnuts | 1.98 g | 3.88 g | 1.9 g | 4.31 g | 18.5 g |
| Peanuts  | 2.15 g | 4.56 g | 2.41 g | 7.31 g | 13.9 g |
| Almonds | 2.58 g | 6.12 g | 3.54 g | 6.01 g | 14.1 g |
| Pine nuts | 2.66 g | 3.71 g | 1.05 g | 3.88 g | 19.4 g |
| Pistachios | 5.01 g | 7.93 g | 2.92 g | 5.73 g | 12.8 g |
| Cashews | 7.66 g | 8.56 g | 0.9 g | 5.16 g | 12.4 g |
| Chestnuts | 10.61 g | 12.91g | 2.3 g | 0.69 g | 0.6 g |
FAQ
Is Macadamia Nut Milk Keto Friendly?
Macadamia milk without added sugar is keto-friendly. It has the lowest carbohydrate content as compared to other plant milks.
Are Salted Macadamia Nuts Keto?
Yes, salted macadamia nuts are keto-friendly because they are high in good fats and low in carbs.
But, it's important to watch how much sodium you consume because too much salt might cause water retention and perhaps raise blood pressure.
Macadamia nuts are a good keto-friendly snack, but make sure the amount of salt added doesn't exceed your recommended daily sodium intake.
The Wrap-Up!
Macadamia nuts are a nutritious and keto-friendly tree nut that promotes overall health and well-being.
Consuming macadamia nuts on a regular basis is a healthy choice, but keep in mind portion size as they are high in calories, and overeating can soon surpass your calorie requirements and lead to weight gain.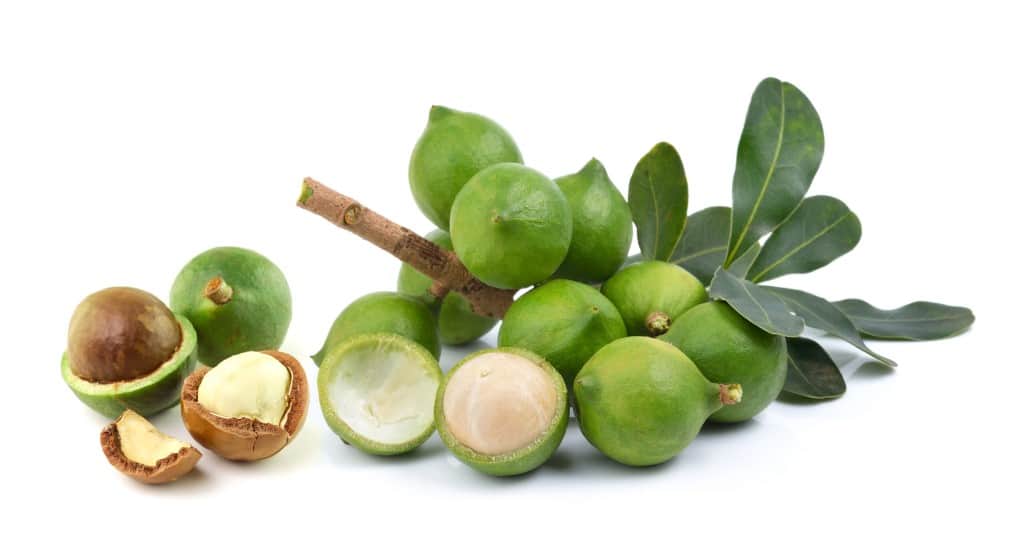 More articles you may like:
We hope you enjoyed reading this article. Please help us out by leaving a quick review and star ★ rating below.
LET'S GET SOCIAL, you can follow Four Score Living on Pinterest. You can also leave a comment below if you have any questions.