There's something so comforting about a warm, fruit-filled dump cake.
This Low Carb Blueberry Dump cake recipe requires minimal effort and is packed with nutritious ingredients, making it both paleo and keto-friendly too.
If you enjoy making low carb recipes at home, you might also like keto coffee cake and low carb carrot cake bars. My Keto Cheesecake is also a reader favorite.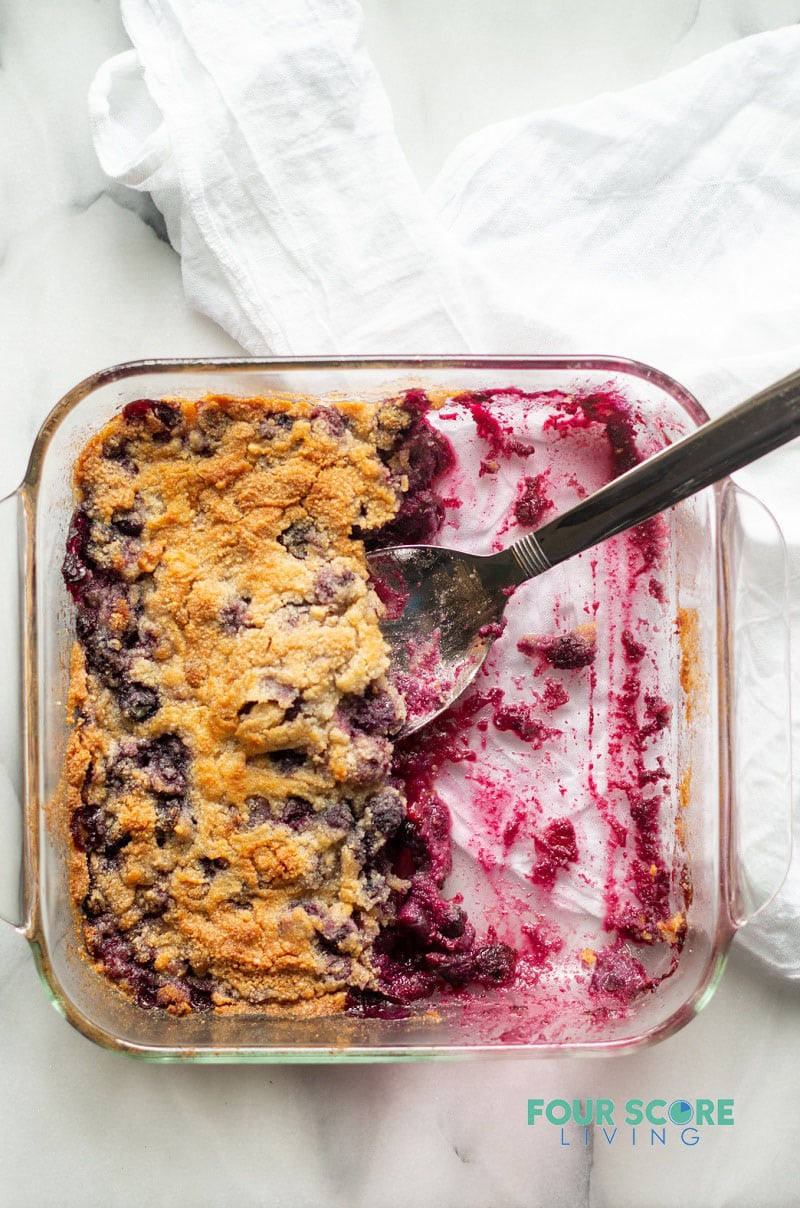 Keto Blueberry Dump Cake
This keto-friendly paleo blueberry cake is as delicious as it is foolproof. The beauty of dump cakes is that you really can't get them "wrong".
With a few minutes of prep and basic ingredients that are likely already hanging out in your pantry, you can throw this paleo blueberry cake together in no time.
It starts with frozen blueberries tossed with lemon juice and your favorite type of keto-friendly sweetener.
A mixture of basic baking ingredients like coconut and almond flours, baking powder, cinnamon, and salt combine to create the cake element.
Finally, melted butter is drizzled over top of the rest of the ingredients in a prepared baking dish.
Half an hour in the oven is all it takes for the magic to happen. What results is a decadent dessert that will hit the spot after a savory dinner or at any time.
Serve it with a dollop of keto whipped cream to take this low carb blueberry dessert over the top.
You could also make this blueberry ice cream with allulose and serve it on top of this dump cake. If you like blueberries in a quick grab and go breakfast, try our easy keto blueberry muffins.
What is a Dump Cake?
Dump cake is an American dessert that originally included dumping fruit into a pan, then dumping a box cake mix on top of the fruit before drizzling melted butter over the top.
You can certainly buy a keto cake mix and dump some of it on top of the blueberry mix, but our way is less expensive.
This keto berry dump cake has a soft blueberry filling and a soft almond and coconut flour topping. It's best served warm, and with keto ice cream.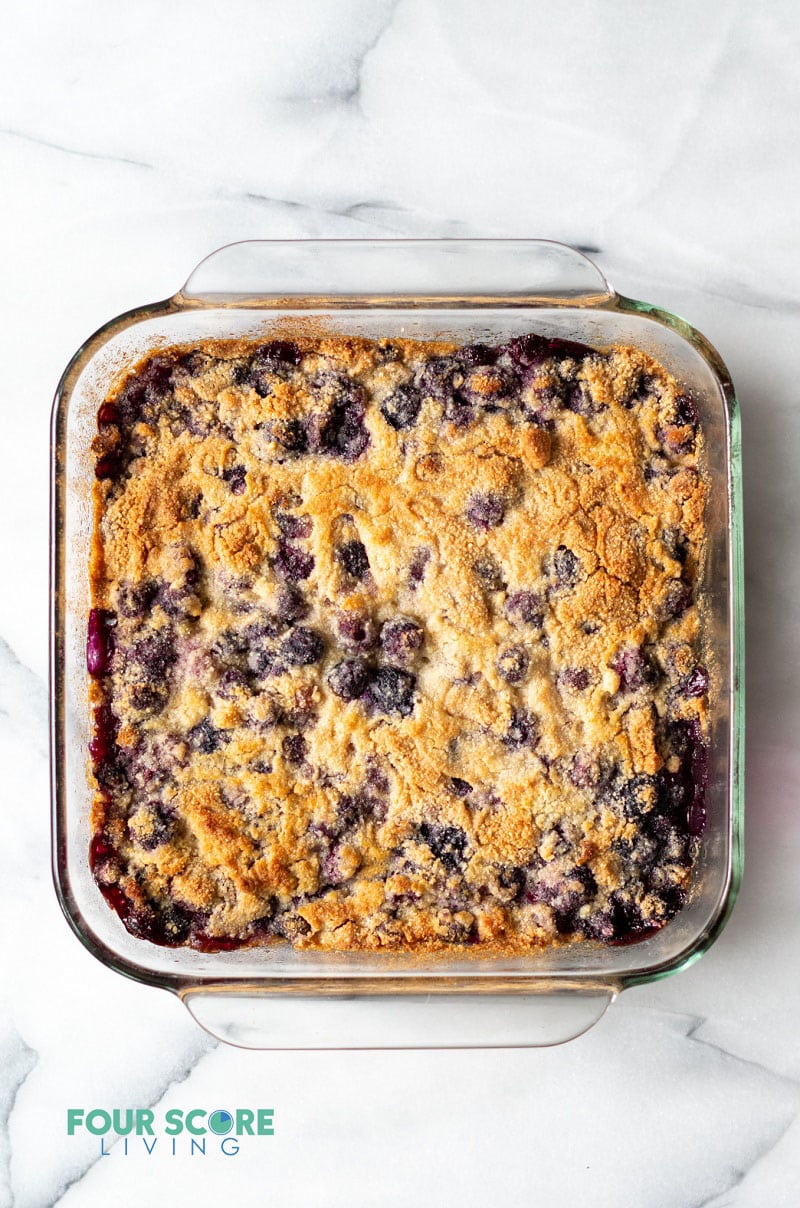 Ingredients in Keto Dump Cake:
Blueberries - The star of this keto dessert, lower in carb, and full of nutrients. We're using frozen blueberries in this recipe but you can use fresh blueberries if you like.
Granulated Sweetener - We like to use Lakanto or Swerve. Both the white and golden granulated sweeteners work in this recipe as a sugar substitute.
Lemon Juice - Lemon works really well with blueberries. It adds a little acidity, flavor, and really helps pull everything together.
Coconut Flour - For flavor, we're using a combination of nut flours.
Almond Flour - We're using both almond flour and coconut flour to help with texture as well.
Baking Powder - Adds a little bit of leavening agent.
Ground Cinnamon - For flavor. Believe it or not, cinnamon goes really well with blueberries. Think blueberry cobblers and crisps!
Salt - For flavor and to help enhance other flavors.
Butter - For flavor, texture and to help soften the almond flour and coconut flour.
If you have any questions about the ingredients, please leave a comment below. The full list of ingredients and instructions is in the printable recipe card below.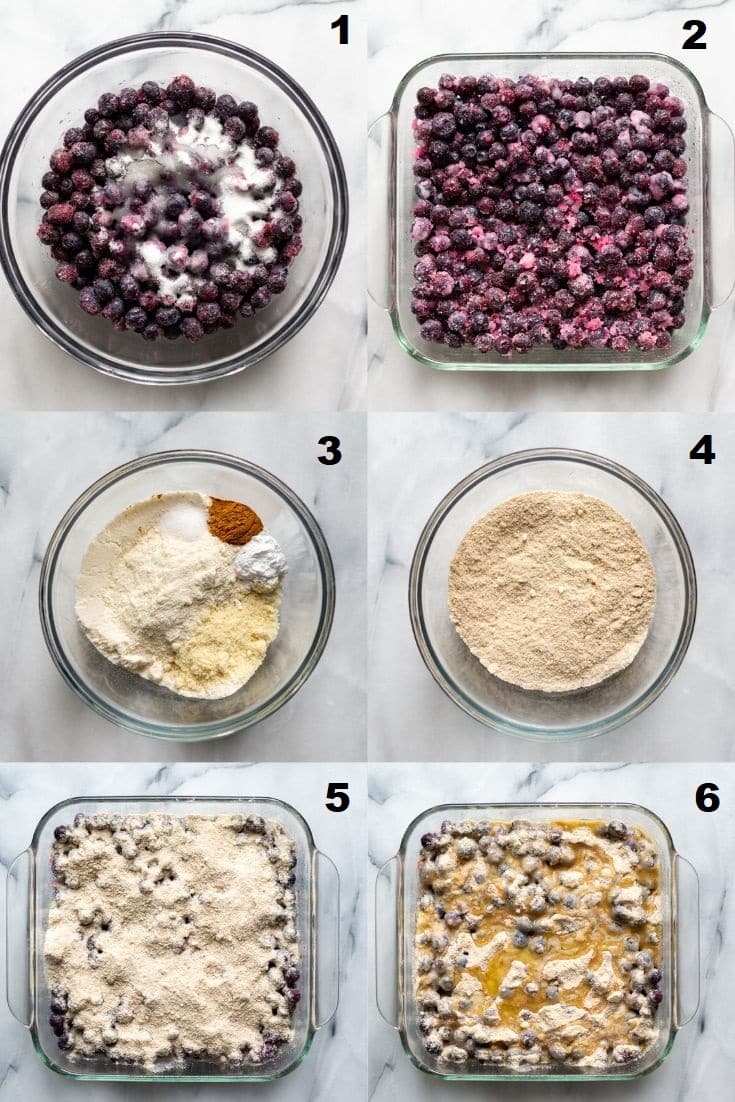 How to Make Blueberry Low Carb Dump Cake
You won't believe how easy it is to make this scrumptious paleo blueberry cake.
First, place frozen blueberries in a medium mixing bowl and toss with lemon juice and your preferred low carb sweetener.
Spread the blueberry mixture evenly into a prepared baking dish.
Next, add the flours, baking powder, cinnamon, and salt to another mixing bowl.
Stir all of the dry baking ingredients together to combine.
Sprinkle the flour mixture over the blueberries in the baking dish.
Finally, drizzle melted butter over the flour mixture, then bake as directed and serve warm.
These steps match the numbered photos, and they are for illustration purposes to give you a visual of each step. Please see the printable recipe card below.
Tips for Making this Blueberry Dump Cake
You can use fresh blueberries instead of frozen blueberries if you prefer. If you use fresh blueberries, you won't need to bake the dump cake as long as with frozen berries.
Reduce the baking time by 5-10 minutes to avoid over-baking.
You may want to play around with the amount of sweetener in the cake. Use more or less sweetener according to your personal taste.
Bake your dump cake long enough to allow the top to brown adequately, but not long enough to dry it out. Upon cooling, the topping will soften into a consistency reminiscent of bread pudding.
Dairy Free Dump Cake Option
You can easily make this dump cake dairy-free if needed. If you don't consume dairy by preference or can't due to an allergy or intolerance, simply replace the butter with melted coconut instead.
Your paleo blueberry dump cake will come out just as delicious as the dairy butter version does.
If you're in the market for more dairy-free blueberry desserts, our keto berry smoothie is another great recipe that uses almond milk in place of dairy milk.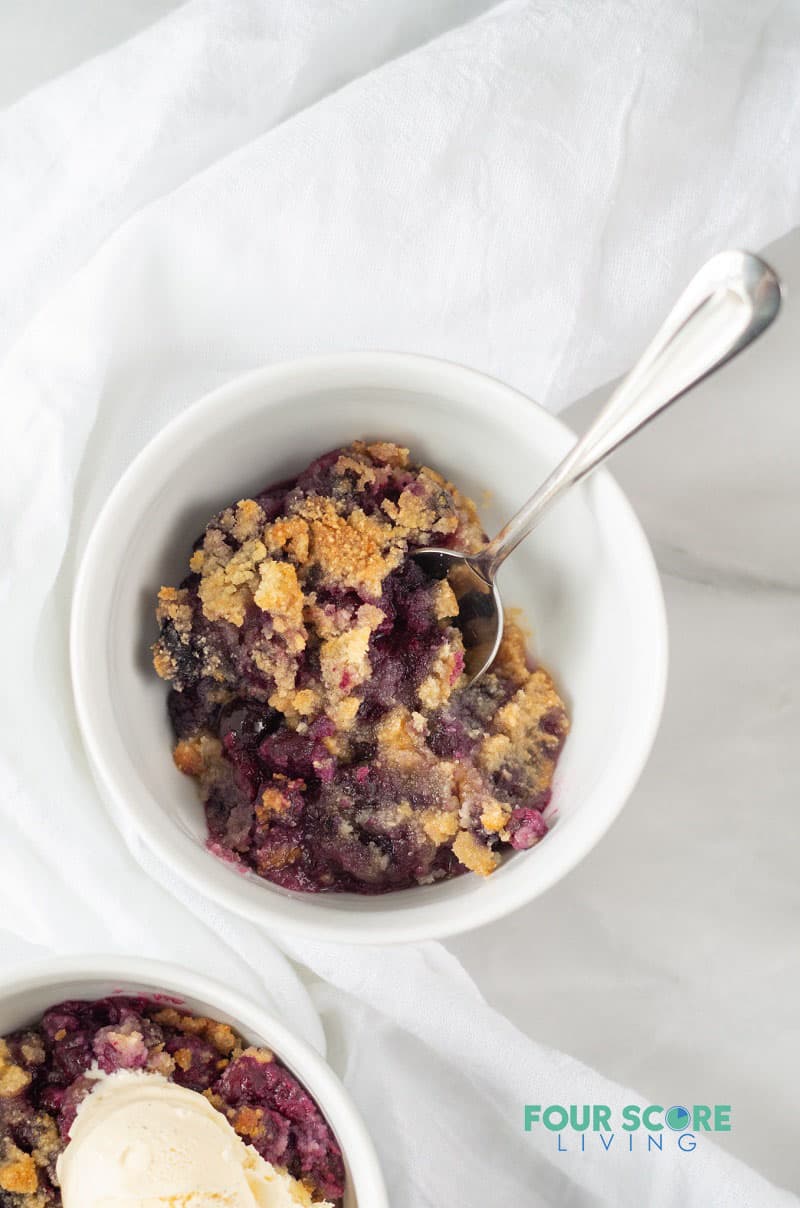 Working With Almond Flour
Not all almond flours are alike. Make sure to use a fine ground almond flour.
If the almond flour is stored in the refrigerator or freezer, bring it to room temperature before using. Cold almond flour absorbs more of the wet ingredients.
Stir the almond flour, then spoon it into the measuring cup and level. Never dip the measuring cup into the almond flour. It will add too much almond flour to the recipe.
More Keto Desserts to Try:
Keto Banana Bread - Tender with a slight hint of banana and perfectly sweetened, this banana bread not only makes a great breakfast or brunch option, but it can be enjoyed for dessert as well.
Keto Carrot Cake - Carrot cake is one of my favorite desserts and this keto carrot cake does not disappoint. It uses almond flour as the base and is loaded with lot's of spices, carrots, and nuts.
Keto Chocolate Cake - You can't go wrong with a chocolate cake. Readers are saying this keto dessert is one of the best they've had and it's simple to make.
Keto Lemon Cake - Simple to make, and using minimal ingredients that most people eating keto have on hand, you're going to love this fresh and flavorful keto dessert.
Keto Fudge - A super easy refrigerator keto fudge that only uses a few on-hand ingredients. This creamy, rich keto fudge recipe can be frozen and the recipe can be doubled or tripled. The perfect keto chocolate fudge!
For more dessert ideas, check out our Keto Desserts.
What's your favorite dessert?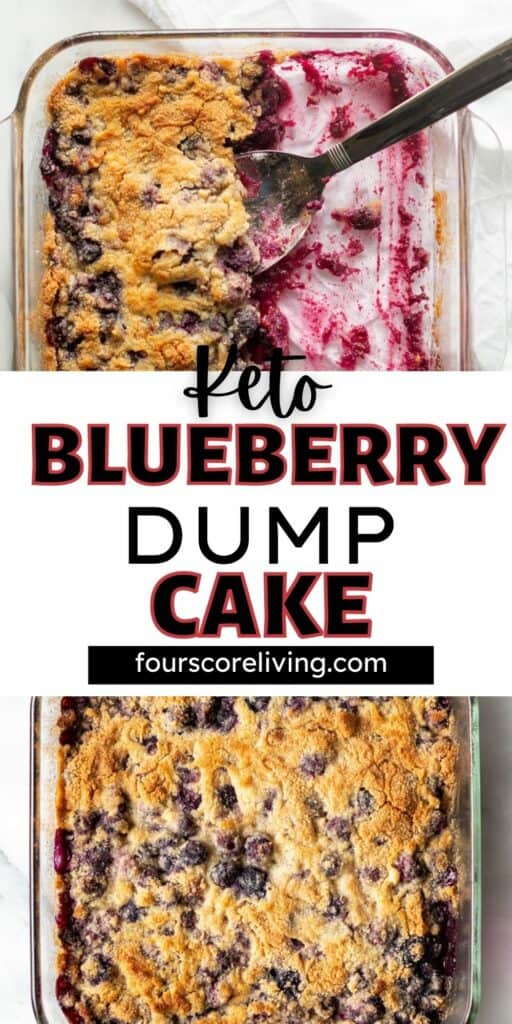 We hope you enjoyed reading this article. Please help us out by leaving a quick review and star ★ rating below.
LET'S GET SOCIAL, you can follow Four Score Living on Pinterest. You can also leave a comment below if you have any questions.
Did you try this keto dump cake recipe? We'd love for you to circle back and let us know what you thought in the comments section.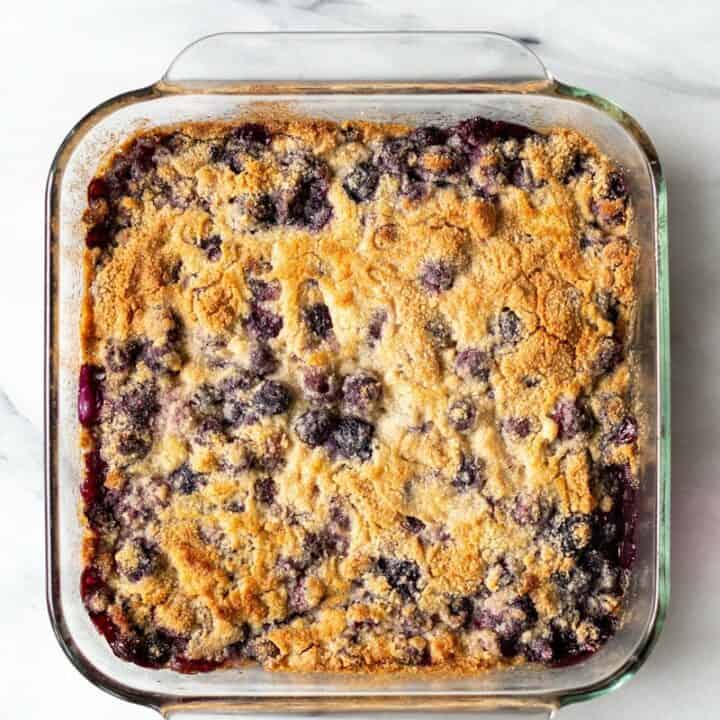 Low Carb Blueberry Dump Cake
There's something so comforting about a warm, fruit-filled dump cake. This Low Carb Blueberry Dump cake requires minimal effort and is packed with nutritious ingredients, making it both paleo and keto-friendly too.
Ingredients
1 tablespoon lemon juice
1 teaspoon baking powder
1 teaspoon ground cinnamon
¼ teaspoon salt
½ cup melted butter (or coconut oil)
Instructions
Preheat oven to 375° F. Grease an 8x8 inch baking dish; set aside.
Add blueberries, sweetener, and lemon juice to a medium mixing bowl and stir until combined.
Spoon the blueberry mixture into your prepared baking dish.
In a separate mixing bowl combine the coconut flour, almond flour, baking powder, cinnamon, and salt.
Sprinkle the coconut flour mixture over the blueberries.
Drizzle the melted butter over the top of the flour mixture.
Bake for 30-35 minutes or until the blueberry filling is bubbly and the top is brown.
Cool before serving. If desired, serve with a dollop of keto whipped cream or your favorite low carb ice cream.
Notes
You can use fresh or frozen blueberries. If you use fresh blueberries, reduce the cooking time by 5-10 minutes.
You can use less or more sweetener to taste.
Dairy-Free Option: To keep this low carb dump cake dairy-free, simply swap the butter for melted coconut oil.
The topping softens as it cools, giving it a nice bread pudding-like texture.
Recommended Products
As an Amazon Associate and member of other affiliate programs, I earn from qualifying purchases. They never cost you extra.
Nutrition Information:
Yield:

8
Serving Size:

1
Amount Per Serving:
Calories:

199
Total Fat:

18g
Saturated Fat:

10g
Trans Fat:

1g
Unsaturated Fat:

6g
Cholesterol:

41mg
Sodium:

210mg
Carbohydrates:

9g
Net Carbohydrates:

7g
Fiber:

2g
Sugar:

5g
Protein:

2g
The nutrition information for this recipe is an approximate total per serving. Please double check the nutrition information for your exact ingredients and brands.