The keto diet has many restrictions on what you can eat and what you must avoid. So when it comes to the ultimate comfort food, most low carb dieters wonder if they can eat pizza on their keto diet.
Fortunately, as long as you use a keto pizza crust and sugar-free pizza sauce, pizza fans can carry on enjoying their favorite food.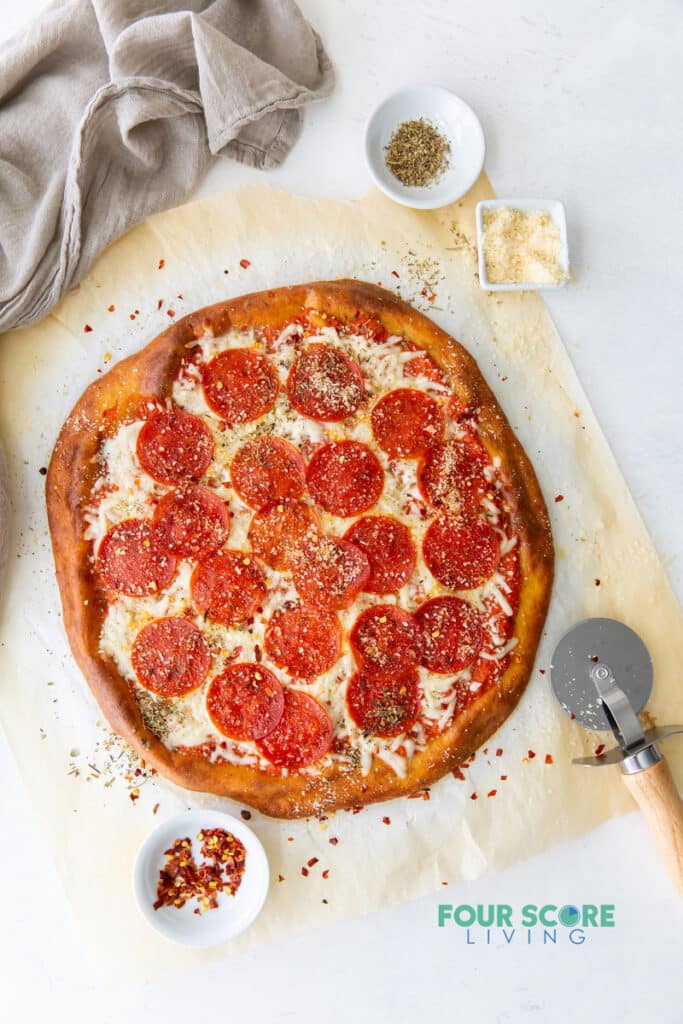 There are several delicious keto-friendly pizza crust options available to make your own low carb pizza at home. Below we list the top five low-carb crusts along with which are the best keto-friendly pizza sauces to purchase and a list of favorite toppings.
If you are feeling a little more adventurous, we have included our recipe to make your own Keto Pizza. You'll make a low-carb pizza crust using our fathead dough recipe, followed by our low carb pizza sauce recipe.
Is Pizza Keto Friendly?
Pizza made from white flour, which is relatively high in carbs, isn't keto-friendly. The ketogenic diet is a low carb, high-fat diet, and the goal is to enter a state of ketosis, where your body switches from using carbohydrates for energy to using fats.
The crust alone on an average slice of pizza can contain a substantial quantity of carbohydrates, which can quickly stack up and surpass the daily carb limit for keto dieters. Furthermore, additional sugars are frequently added to tomato sauce, which raises the carbohydrate level of regular pizza even further.
However, there are numerous keto-friendly pizza crusts and low carb pizza sauce options that allow you to enjoy pizza without hurting your low carb diet.
Carbs In Pizza
The carb content of a slice of pizza varies depending on factors such as the size of the slice, the thickness of the crust, and the type and quantity of toppings. However, we can give you an approximate estimate of how many carbs are in one slice of thin-crust and regular-crust pizza.
Note that these approximates may differ based on the particular pizza and its ingredients:
Regular Crust Pizza: A typical regular crust pizza slice (about ⅛th of a 14-inch pizza) might contain around 25-35 grams of carbs.
Thin Crust Pizza: A thin-crust pizza slice (about ⅛th of a 14-inch pizza) may contain 20-30 grams of carbs.
How To Eat Pizza On Keto?
A simple solution is to make your own keto-friendly pizza. Making your own keto pizza at home gives you control over choosing the ingredients to ensure they all align with the keto lifestyle.
As the ketogenic (keto) diet emphasizes a high-fat, low-carbohydrate intake, the classic pizza recipe must be modified to be eaten on the keto diet.
Read on to find out how to eat pizza when following a ketogenic diet.
Common types of low-carb pizza crust
Due to the wheat flour base, traditional pizza crust has a high carb content. Instead, choose one of these low-carb pizza crust substitutes that are keto-friendly:
Cauliflower Pizza Crust: This keto-friendly crust is made with cheese, eggs, and cauliflower rice.
Almond Flour Crust: An enhanced crust texture can be achieved by combining almond flour with cheese and eggs.
Fathead Dough: Cream cheese, eggs, almond flour, and mozzarella cheese are the ingredients of this dough. It tastes a lot like traditional pizza dough.
Zucchini Crust: Grated zucchini mixed with cheese and eggs can also be used as a crust.
Chicken crust pizza: Ground chicken, mozzarella, parmesan and seasonings such as garlic and basil are baked to form a keto friendly pizza crust.
You can make your own crusts or buy one at the store.
Best Keto Pizza Crusts To Buy
Here are a few popular options that are well-liked in the keto community:
Keto pizza sauce
Having a nice and delicious tomato pizza sauce on your pizza is a must (even if you're making it at home), but you may be concerned that doing so may violate the "rules" of keto.
Fortunately, any sauce that isn't high in carbs and added sugar should be ok for you. You can use tomatoes, oregano, salt, and basil in it without it conflicting with your ketogenic diet. You can incorporate some erythritol if you would rather have a sweet sauce.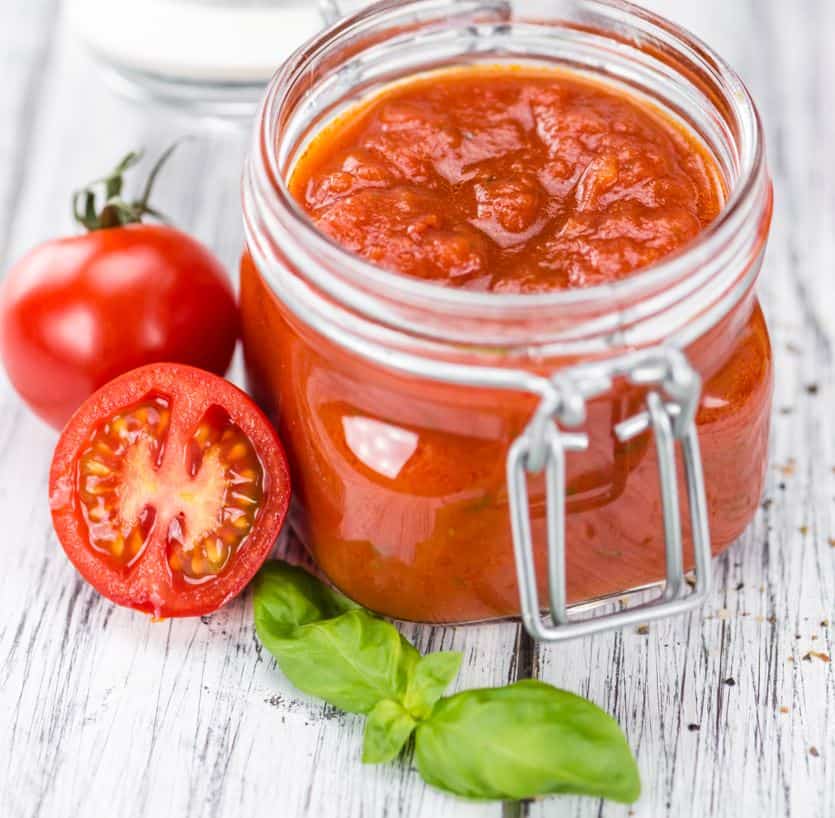 Here are some good brands that you can purchase if you don't have the time to make your own low carb sauce:
Flavor boosting keto friendly additions include pesto, olive tapenade, or garlic butter.
Keto-Friendly Pizza Toppings
For your convenience, we've separated the keto pizza toppings into three categories: cheese, veggies, and protein.
Protein: You can top your pizza with any of the protein toppings listed below in the chart.
Vegetables: Adding vegetables to your ketogenic diet is essential because they offer your body the vitamins and antioxidants it needs to stay healthy. Vegetables are a good source of prebiotics and fiber for your body. There are many delicious veggie toppings you can use on a keto-friendly pizza. We have listed a few of the most common.
Cheese: Pizza lovers will be happy to know that there are several varieties of cheese that can be enjoyed on the ketogenic diet. We've listed below in the chart some of the cheeses you can add to your pizza to achieve a delicious, savory pizza.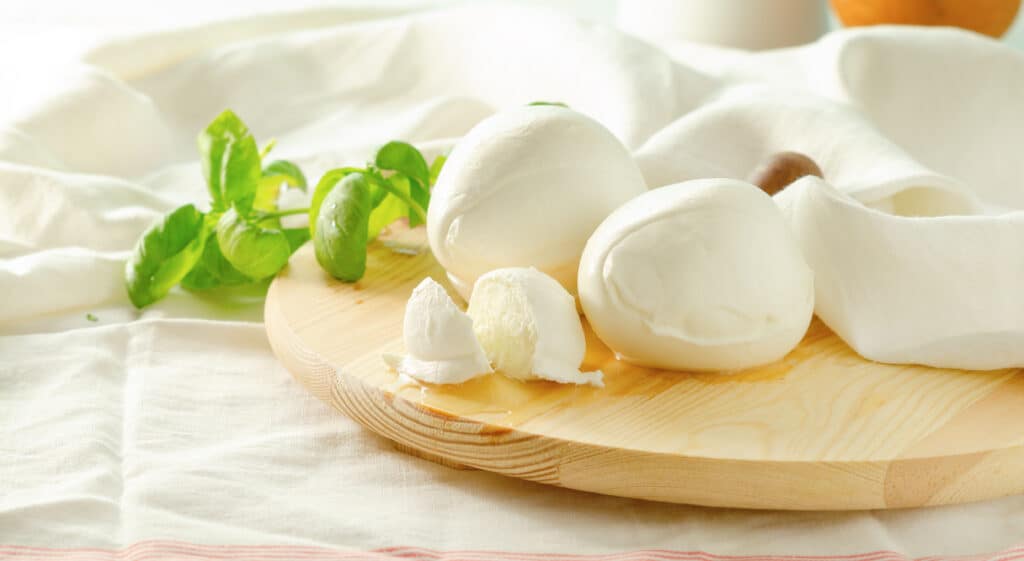 Most toppings that you would get on a regular pizza are fine on keto-friendly pizza just make sure to avoid Pineapple, sorry Hawaiian pizza fans. If you like meatballs on your pizza, check to be sure that they don't have breadcrumbs in them.
Keto-Friendly Pizza Toppings
Cheese
Meat
Veggies
Fresh Mozzarella
Pepperoni
Onions
Mozzarella
Sausage
Olives
Cheddar
Bacon
Peppers
Ricotta
Chicken
Spinach
Burrata
Steak
Mushrooms
Provolone
Ground beef
Zucchini
Goat Cheese
Ham
Artichokes
Gorgonzola
Tomatoes
Asiago
Spices and Herb
Enhance the flavor of your pizza with herbs like basil, oregano, thyme, and red pepper flakes. These can add an extra dimension of taste without adding carbs.
Portion Control
Pizza choices that are keto-friendly have fewer carbohydrates, but because of their high-fat content, they can still have a lot of calories. Keep an eye on portion sizes to make sure you're not ingesting too many calories.
Balance Macros
Consider the nutritional balance when making your keto pizza. Most of your caloric intake should come from healthy fats, followed by a moderate amount of protein and a minimal amount of carbs.
How To Make Keto Pizza?
It's actually simpler than you think. Here is our Keto Pizza recipe. In 15 minutes, you can have a low-carb pizza crust made from fathead dough. Top that with our Keto Pizza Sauce recipe and you're well on your way to having delicious pizza while staying true to your low-carb diet.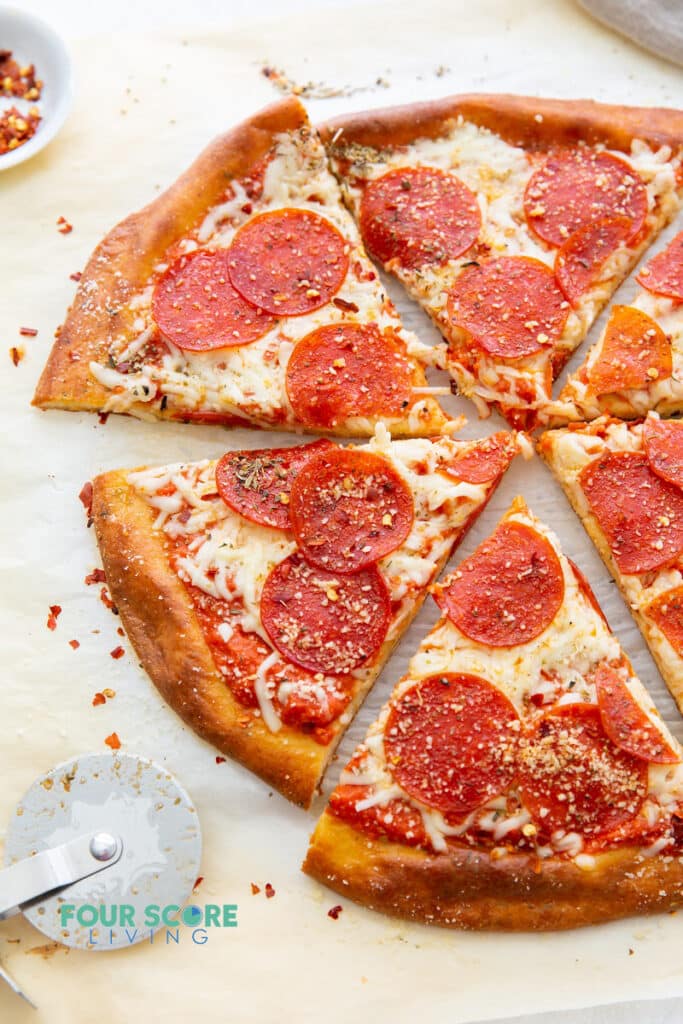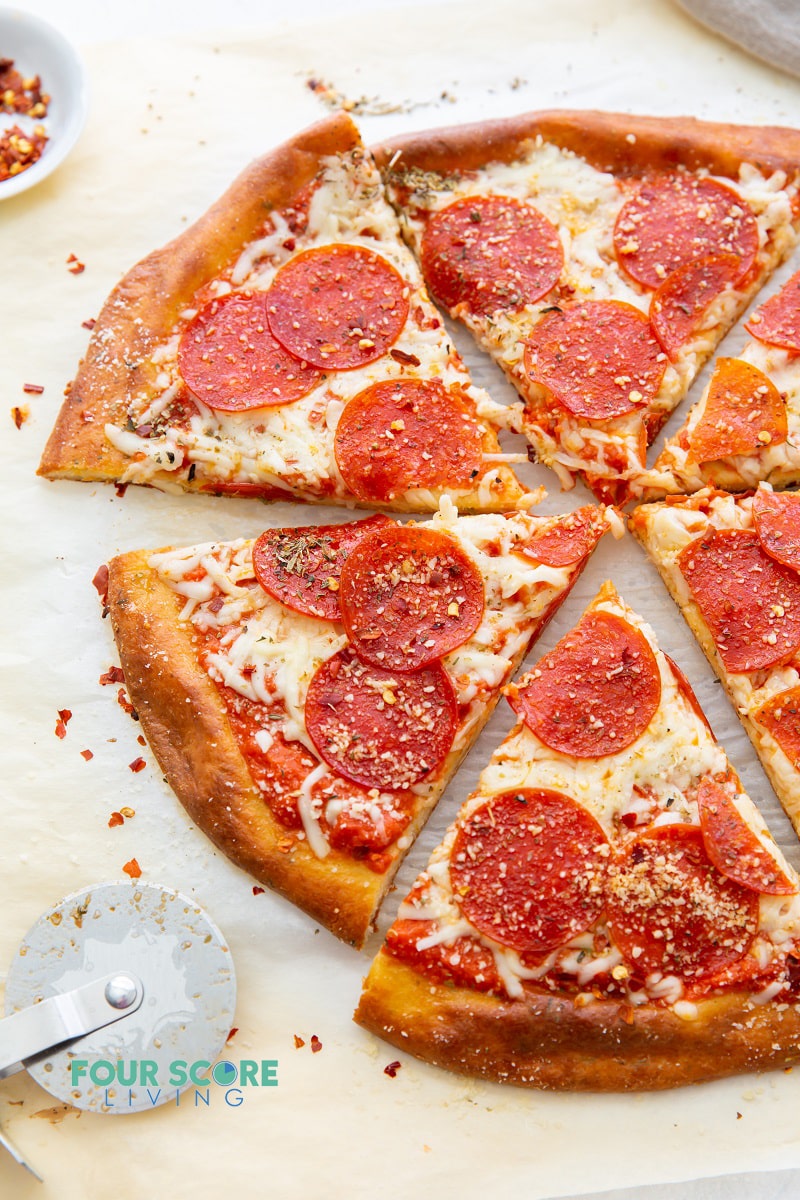 FAQs
Will 2 Slices Of Pizza Kick Me Out Of Ketosis?
Definitely. To stay in ketosis, you need to limit your carbs intake to a set level, which is usually about 20-50 g of net carbs per day.
Typically, wheat flour—which has a high carbohydrate content—is used to make pizza dough. The amount of carbs in a typical slice of regular pizza can range from 25 to 40 grams, or even higher, based on the size and thickness of the slice. If you eat two slices of regular pizza, you may easily take 50-80 g of carbs or more, which will kick you out of ketosis.
Is Just Eating The Pizza Toppings Ok On Keto?
Yes, if you are out socially, and pizza is what is on the menu, you can definitely eat only the toppings. The toppings usually include cheese, meats, vegetables, and other flavorful ingredients that are generally low in carbohydrates and higher in fats and protein.
Take off the cheese and toppings. Leave the crusts behind and you should be ok. Avoid pineapple. This way, you can satisfy your pizza cravings without consuming the carb-rich crust.  
Does Any Pizza Chain Make Keto Pizza?
Yes, several pizza chains have begun to provide keto-friendly pizza varieties in order to cater to clients following the ketogenic diet. These options usually entail lowering the pizza's carbohydrate content while keeping its fat content greater through creative additions or low-carb crust substitutes.
One of the most popular chains is Blaze Pizza. Blaze Pizza actually has a Keto Pizza with around 2g net carbs.
Some other popular pizza chains that have been known to offer keto pizza options include Papa John's, Papa Murphy's, Marco's Pizza, Jet's Pizza, and Little Caesars. Their offering is pretty much a crustless pizza - more like a pizza bowl.
To Sum Up!
Pizza is not a forbidden food in the keto lifestyle; instead, it's a chance to get creative in the kitchen. With so many low-carb crust options and a wide range of keto-friendly sauces and toppings, you can enjoy your favorite flavors without sacrificing your dietary goals.
So, the next time you are wondering if you can eat pizza on a keto diet or how you could satisfy your craving for pizza while still on a ketogenic diet, just keep in mind that creativity and experimentation in the kitchen can make it happen.
More articles you may like:
We hope you enjoyed reading this article. Please help us out by leaving a quick review and star ★ rating below.
LET'S GET SOCIAL, you can follow Four Score Living on Pinterest. You can also leave a comment below if you have any questions.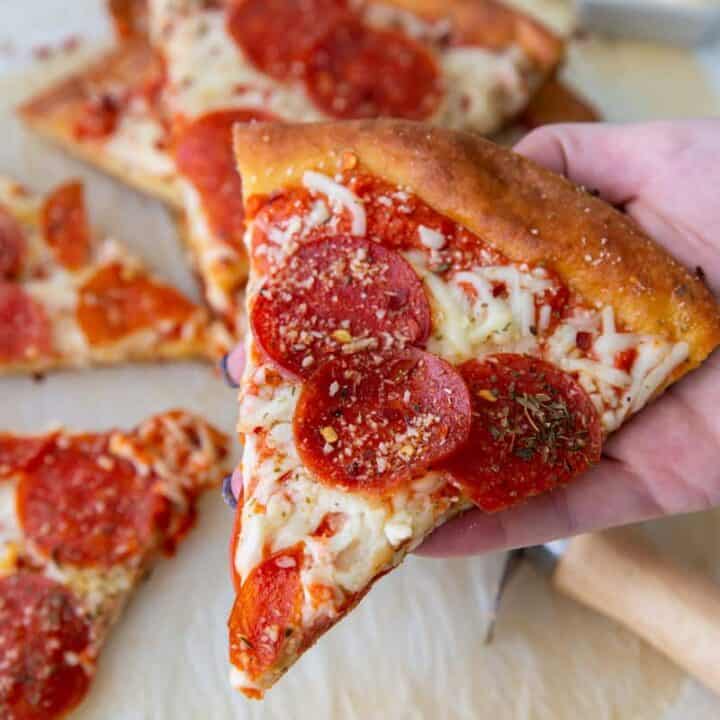 Keto Pizza
There might not be anything better than a Keto Pizza topped with spicy pepperoni and Italian herbs and cheeses. Make your own pizza that's better than takeout with this simple keto fathead pizza dough recipe.
Ingredients
For Pizza Dough
1 ½ cup shredded mozzarella cheese
2 oz cream cheese, softened
1 large egg, room temperature
¾ cup fine almond flour
1 tsp baking powder
½ tsp Italian seasoning
½ tsp garlic powder
¼ tsp onion powder
For Pizza
Low carb pizza sauce
Shredded mozzarella cheese
Pepperoni slices
Sliced green peppers
Sliced mushrooms
...Or your favorite pizza toppings!
Instructions
Preheat the oven to 425 degrees F.
Combine mozzarella cheese and cream cheese in a microwave-safe bowl and microwave for 30 seconds.
Remove and mix with a fork until mostly combined. Microwave for another 30 seconds, then mix again.
Add egg, almond flour, baking powder, and seasonings to the melted mixture.
Mix all the ingredients together until they combine and are cool to the touch.
Knead the dough by hand, then place on a piece of parchment paper.
Top with a second piece, then use a rolling pin to form into a 12- to 16-inch round pizza crust. Remove the parchment carefully, then transfer to a parchment-lined pizza stone or pan.
Bake for 10-12 minutes at 425 degrees. Remove from the oven and brush with olive oil.
Add desired toppings. Bake for an additional 5-8 minutes, until cheese is melted and bubbly.
Serve warm.
Notes
Use this dough with your favorite sauces and toppings to create your own gourmet pizza.
If your dough is hard to work with, heat it in the microwave for 15 seconds and knead by hand to soften.
Nutrition Information:
Yield:

4
Serving Size:

1
Amount Per Serving:
Calories:

446
Total Fat:

30g
Saturated Fat:

12g
Trans Fat:

0g
Unsaturated Fat:

16g
Cholesterol:

101mg
Sodium:

775mg
Carbohydrates:

10g
Net Carbohydrates:

6g
Fiber:

4g
Sugar:

5g
Protein:

23g
The nutrition information for this recipe is an approximate total per serving. Please double check the nutrition information for your exact ingredients and brands.