If you are wondering (and worried about) whether or not you can eat jerky on keto, here's all you need to know about this delicious snack.
This article explores beef jerky and its compatibility with the keto lifestyle. Here, we address your burning questions about which jerky brands to reach for and which to step back from.
Beyond pointing out which brands to put into your cart, we will look at what makes a keto-friendly jerky and what to look for when selecting brands of jerky.
The reality is that not all delicious beef jerky options are created equal regarding the nutritional value and ingredient list. Here, we uncover the nutritional profile of keto beef jerky and its health benefits.
Our goal here is to help you make smart choices as a keto beef jerky enthusiast.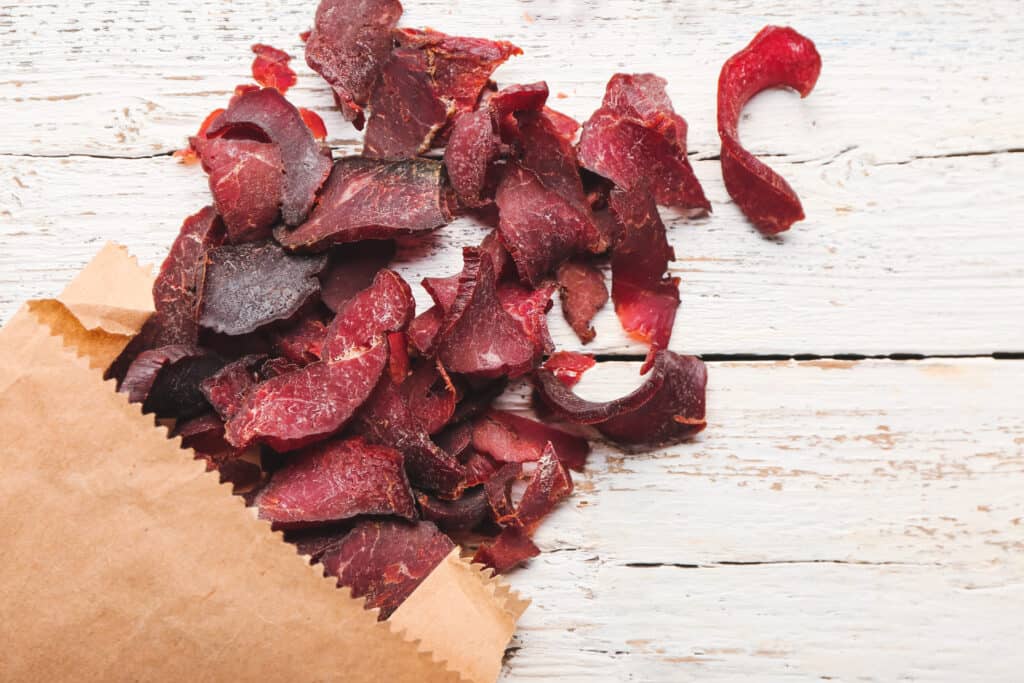 Can you eat beef jerky on keto?
Yes, you can absolutely eat beef jerky snacks on keto. Now that that's out of the way, it is important to follow on with "so long as it's sugar-free and low carb."
The reality is that some manufacturers sneak sugar into their beef jerky products, so the key is to opt for sugar-free, low-carb varieties.
When browsing through beef jerky, check out the packaging. Ideally, there will be less than 2 grams of carbs per serving.
You want to avoid beef jerky that lists sugar, corn syrup, or other high-carb ingredients. Instead, look out for keto-friendly sweeteners on the list, like allulose, monk fruit, stevia, or erythritol.
Additionally, watch for ingredients that can increase the carb content. Typical culprits include honey-glazed, barbecue-flavored, and teriyaki. Their tasty flavorings usually include lots of refined sugar.
Best keto jerky brands
When looking for keto-friendly jerky, there were a couple of standards we wanted to meet to ensure you are enjoying the best jerky on the market. The standards are:
Must be made with high quality natural ingredients.
No added sugar or artificial sweeteners, especially high-fructose corn syrup.
No flour or other fillers. Yes some brands will add soy flour, barley malt extract and other high carb ingredients.
Here is our go-to list of keto beef jerky brands for healthy snacking:
Popular beef jerky brands that aren't a keto-friendly option
So, on the flip side, here's what to know about super popular beef jerky brands that are not keto-friendly and what takes them out of this category:
Slim Jim: A classic brand. They are tasty for sure, but they are not keto-friendly. A typical Slim Jim stick can contain around 5-7 grams of net carbs per serving due to added sugars, corn syrup, soy flour and other added ingredients. Plus some ingredients you may not be able to pronounce, which is never a good sign.
Jack Link's Original Beef Jerky: This is one of the well-known traditional beef jerky brands. Its Original Beef Jerky product is not suitable for keto. It can contain about 7-8 grams of net carbs per serving due to sugar and other flavorings.
Kirkland Signature (Costco) Beef Jerky: Although a totally tasty snack, Kirkland Signature beef jerky is not the best choice for those on a keto diet. It can contain approximately 8-10 grams of net carbs per serving, mainly because of added sugar and other ingredients.
The key takeout here is to read the nutrition label on the packaging to identify the number of carbs. After that, look to see if there is added sugar in the beef jerky you're checking out.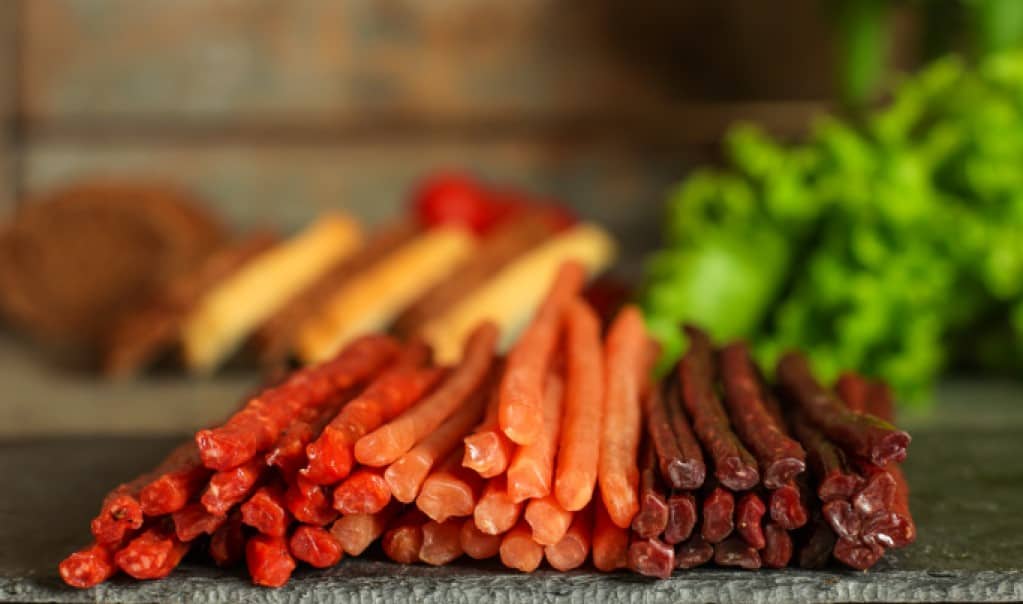 What snacks to eat with jerky for the perfect keto-friendly snack
A keto diet is high-fat diet, with a moderate intake of protein and low carbs. Jerky is naturally a low fat food with high-quality protein. So to make the perfect snack, it is best to pair keto jerky with a high-fat food item.
The good news is there are tons of great snacks to pair with keto beef jerky. Here are a couple of healthy high-fat foods that partner well with keto jerky:
Avocado: The creamy consistency of avocado contrasts beautifully with chewy jerky. Enjoy sliced avocado with jerky, or make a quick Guacamole to dip the jerky into.
Cheese: Choose a sharp or rich cheese to pair with your jerky. Great options include cheddar, pepper jack, and blue cheese.
As part of a charcuterie board: Layout the jerky with other keto meats, cheeses, and spreads as part of a low-carb, spread. So good!
Nuts: Toast or roast a mixture of low-carb nuts to eat with your keto beef jerky. Great options include almonds, macadamia nuts, and pecans. The crunch from the nuts contrasts nicely with the chewy meat. This is a classic combo!
Olives: This high-fat, healthy snack is the ideal briny partner for your savory beef jerky. Olives are also loaded with healthy fats and are a heart-healthy choice.
Add them to eggs: Add bits of sugar-free beef keto jerky to your scrambled eggs or eat with hard-boiled eggs in the morning. If you're craving savory goodness, eat with our Keto Deviled Eggs. It'll load you up with protein for energy to burn!
Roasted veggies: Use your keto-friendly jerky as a seasoning for your keto-friendly roasted vegetables like zucchini and cauliflower. This is also the perfect way to add extra protein and flavor to a plate of veggies. Pair jerky with our Zucchini Noodles or Keto Cauliflower Mac and Cheese.
How much beef jerky should I eat on a keto diet?
If you're on a ketogenic diet, your key focus is to limit your carbohydrate intake while increasing your fat consumption at the same time. Eating this way will induce a state of ketosis, which is when the body uses fat as its energy source rather than carbohydrates.
Keto aims to help with weight loss and improve certain health issues.
To get into and maintain a state of ketosis, it's important to watch your carbohydrate level and keep it low. A standard keto diet sees a person taking 20-50g of net carbohydrates in 24 hours.
So, when it comes to beef jerky on a keto diet, pay attention to the amount of net carbs per serving. You'll need to factor that number into your daily intake.
Another factor to consider when consuming beef jerky on keto is its sodium content. Many commercial beef jerky products are high in sodium due to the curing and preservation process. Some also add soy sauce for flavor.
Though beef jerky fits with a keto lifestyle, it should be consumed in moderation due to its high levels of sodium. Studies have shown that excessive sodium intake may harm your overall health, including heart health, blood pressure, and risk of stroke.
Beef jerky is also highly processed. Many studies have shown a connection between diets high in processed red meats and a higher risk of cancers.
Nutritional info of sugar-free beef jerky
The nutritional information of sugar-free beef jerky can vary slightly depending on the brand and specific ingredients used, but here are some common aspects you can expect to find in most sugar-free beef jerky:
Calories: Sugar-free beef jerky is a relatively low-calorie snack, making it suitable for those looking to manage their calorie intake.
Protein: Beef jerky is an excellent source of high-quality protein. Sugar-free beef jerky typically provides about 7-10 grams of protein per one-ounce serving.
Fat: The fat content in sugar-free beef jerky is low, generally around 1-3 grams per serving. This is why it is best paired with a high-fat food item for a perfect Keto-friendly snack.
Carbs: The primary advantage of sugar-free beef jerky is that it contains minimal carbohydrates, which is crucial for those following a keto or low-carb diet. Most sugar-free beef jerky options have zero net carbs per serving.
Fiber: Beef jerky generally has minimal fiber content, usually less than 1 gram per serving.
Sodium: Beef jerky is often seasoned with salt for preservation and flavor. Consequently, the sodium content can be relatively high, with some sugar-free beef jerky products containing around 300-500 milligrams of sodium per serving.
Vitamin B12: 12% of the daily value (DV)
Phosphorus: 9% of the DV
Folate: 9% of the DV
Minerals: High in Zinc (21% of the DV) and iron (8%) - important for immune and energy level support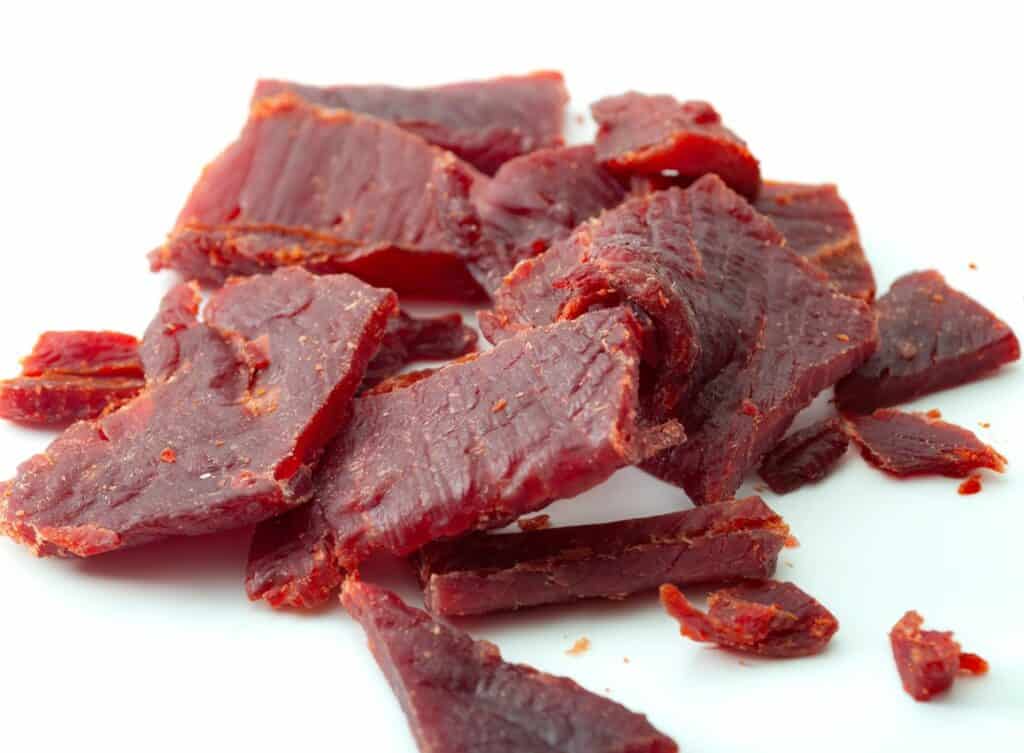 Health Benefits of keto beef jerky
Here are some of the key health benefits of keto beef jerky:
High-quality protein and low in carbs, giving sugar-free beef jerky a much healthier nutritional composition than many other snack foods.
Nutrient-dense: Beef jerky is nutrient-dense, meaning it contains various essential vitamins and minerals. It is a good source of iron, zinc, and B vitamins, crucial in energy metabolism, immune function, and overall well-being.
Portability: It makes for a perfect keto snack for on-the-go and requires no refrigeration. This tasty snack can be easily carried and enjoyed wherever you are.
More articles you may like:
We hope you enjoyed reading this article. Please help us out by leaving a quick review and star ★ rating below.
LET'S GET SOCIAL, you can follow Four Score Living on Pinterest. You can also leave a comment below if you have any questions.