Let's talk about mixed vegetables! We're sharing a little about frozen mixed vegetables, canned mixed vegetables and how to make mixed vegetables that you buy at the store taste good.
We've also rounded up some mixed vegetable recipes and included our simple recipe for mixed vegetables that makes the perfect side dish to almost any meal.
Welcome to Four Score Living where we believe you can achieve and maintain a healthy lifestyle through 80/20 living - and that includes enjoying mixed vegetables.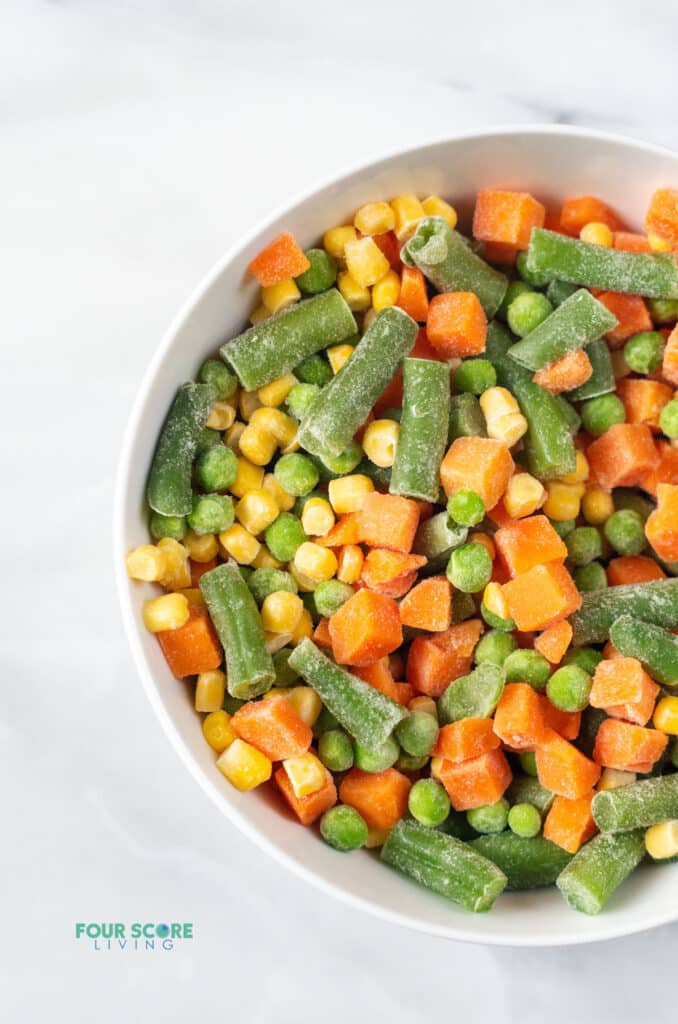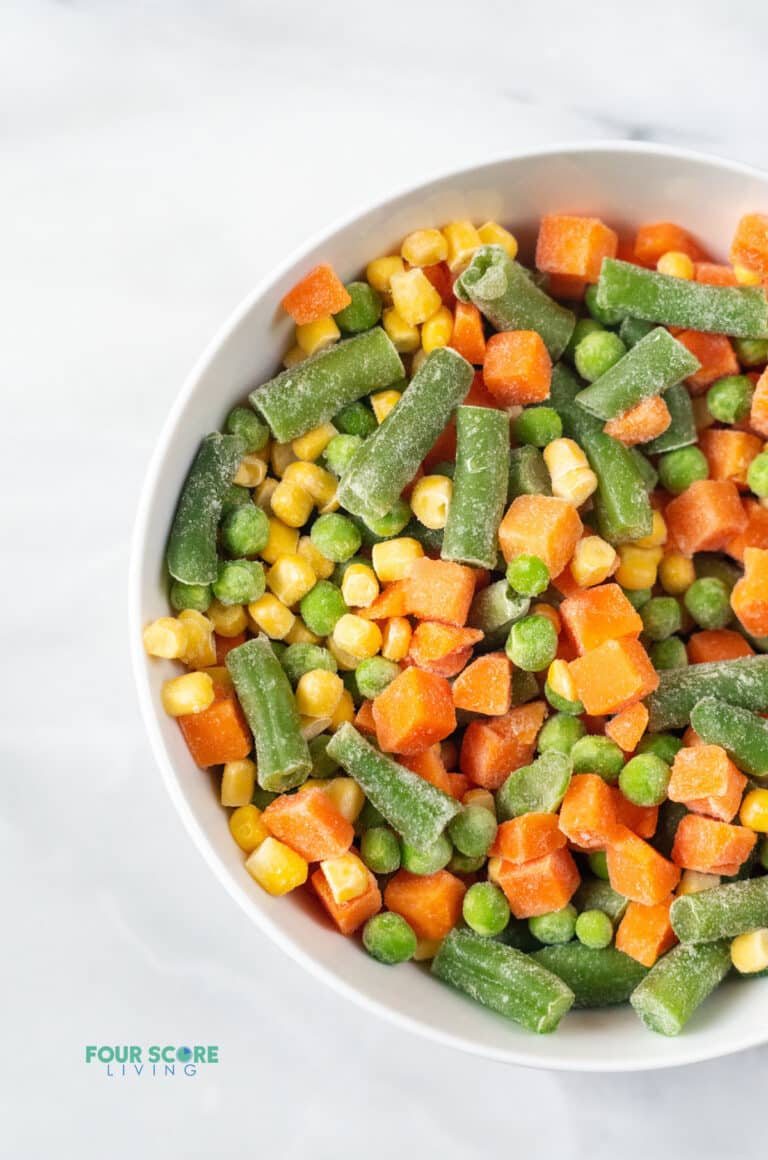 Frozen mixed vegetables are just as nutritious as their fresh version and they tend to be less expensive than fresh vegetables, and they stay good longer.
What's in mixed vegetables
There are a few different types of mixed vegetables. The one you might see most often is a mix of green beans, peas, carrots, and corn.
There are some varieties that don't include the corn, so if you want corn, you can simply add a bag of frozen corn, or a can of corn.
Also, super common is a mix of just peas and carrots. We love using peas and carrots in soups, stews, pot pies, and fried rice dishes.
Some prepackaged mixed vegetables also include cauliflower. More recently I've seen a mix of broccoli, cauliflower and carrots.
While prepackaged vegetable mixes have been sold for years, the most common mix I see is a mix of green beans, peas, carrots, corn, and French or lima beans.
Mixed vegetables, whether its frozen mixed vegetables or canned mixed vegetables, tend to be relatively inexpensive and easy to find. I've seen both at dollar stores and most grocery stores.
Both canned mixed vegetables and frozen mixed vegetables have a fairly long shelf life. While the frozen variety should be eaten quicker, especially if they are susceptible to freezer burn, the canned mixed vegetables will stay good for years.
How to make mixed vegetables taste good
Mixed vegetables are just processed vegetables and other than the flavors of the individual vegetable, they are rather plain. To make mixed vegetables taste better you'll want to include them in recipes or add seasoning.
Salt and pepper won't cut it alone. Consider adding butter, cheeses like parmesan or Romano, and other seasonings and spices.
Garlic and onion are great with butter in mixed vegetables. We're sharing our recipe for how to make mixed vegetables taste good, below.
Do I need to wash frozen mixed vegetables
Unless you froze the mixed vegetables yourself, you don't need to wash them. When mixed vegetables are processed they are washed and trimmed.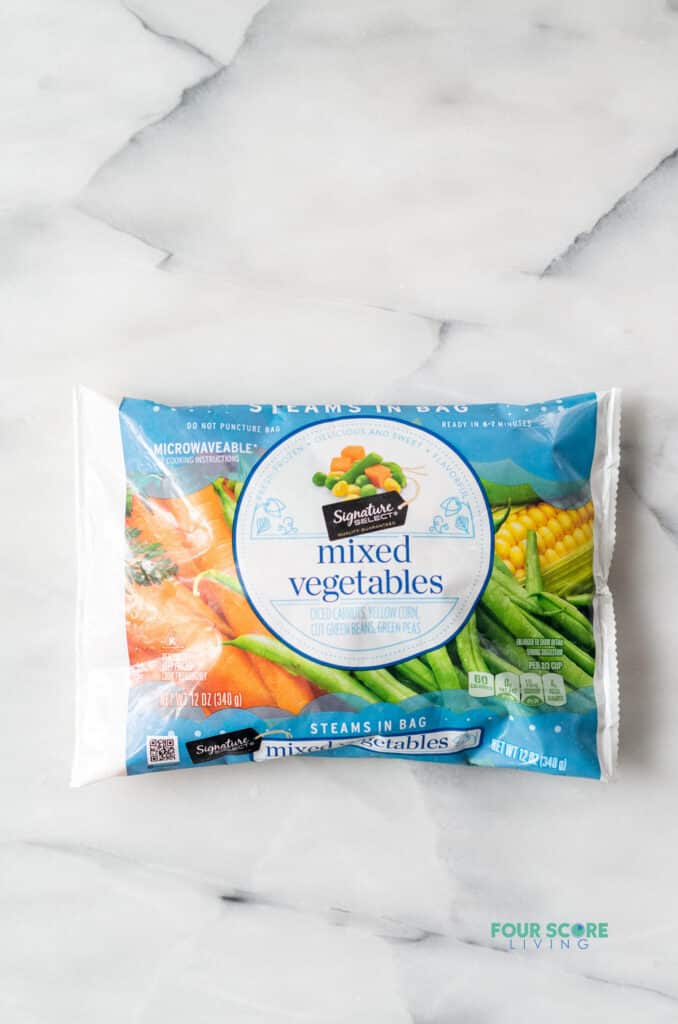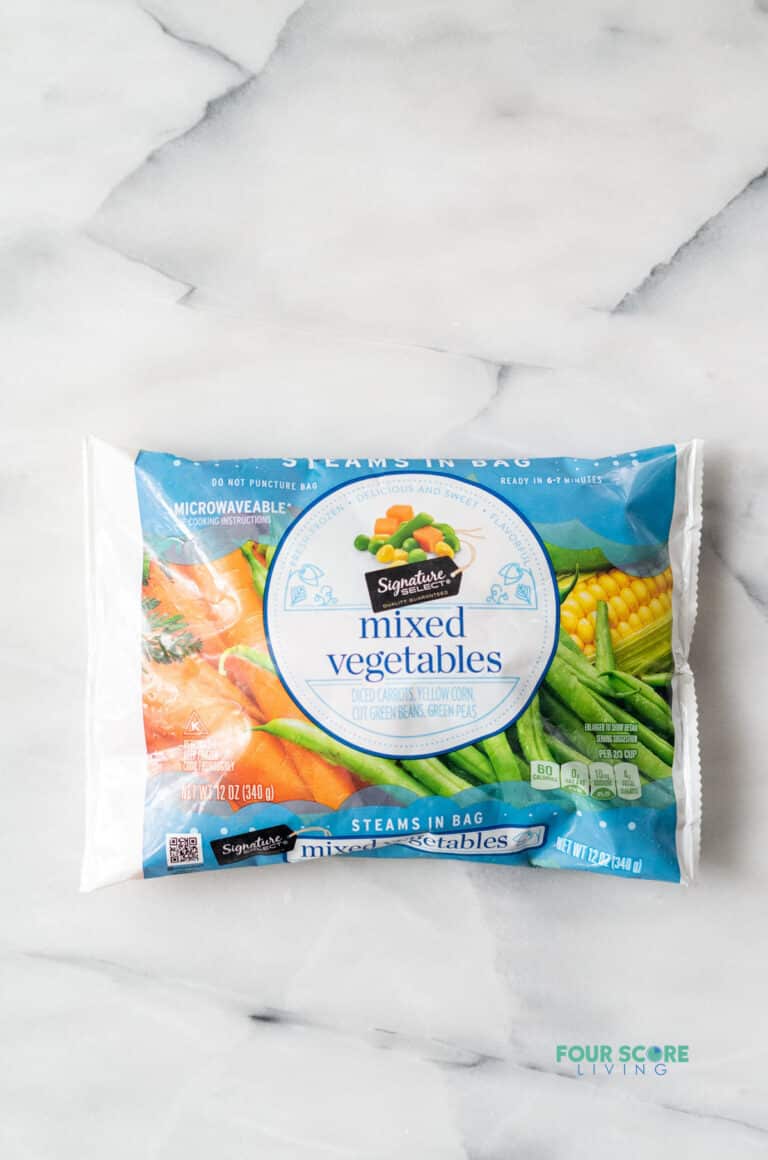 Frozen mixed vegetables
Frozen mixed vegetables are inexpensive, easy to find, and you can find a variety of types that include a different mix of vegetables. Depending on the vegetable, they are usually washed, trimmed, sliced or diced, and then blanched before being frozen. Blanching the mixed vegetables helps to preserve them and their nutrients.
They are essentially read to use mixed vegetables that you can enjoy as a side dish or add to recipes that call for mixed veggies. While the blanching does help prolong the mix veggies, they can still get freezer burn. It's best to use frozen mixed vegetables within 3 months.
Canned Mixed Vegetables
Canned mixed vegetables are inexpensive, easy to find, and they can be enjoyed straight out of the can, if you like. There are individual canned vegetables and canned mixed vegetables.
The vegetables are washed, trimmed, cut to size, and then processed in hot water, sometimes with salt. Some of the juice from processing is packed in the cans with the cooked and prepared vegetables.
Canned mixed vegetables have a longer shelf life than frozen mixed vegetables. Check the expiration date on the can.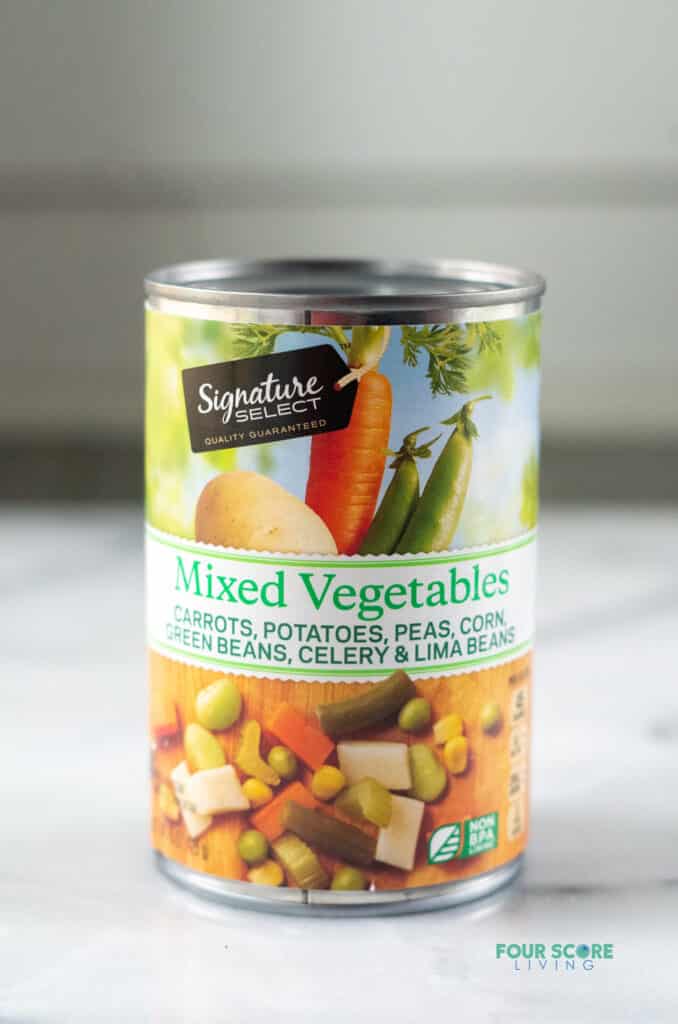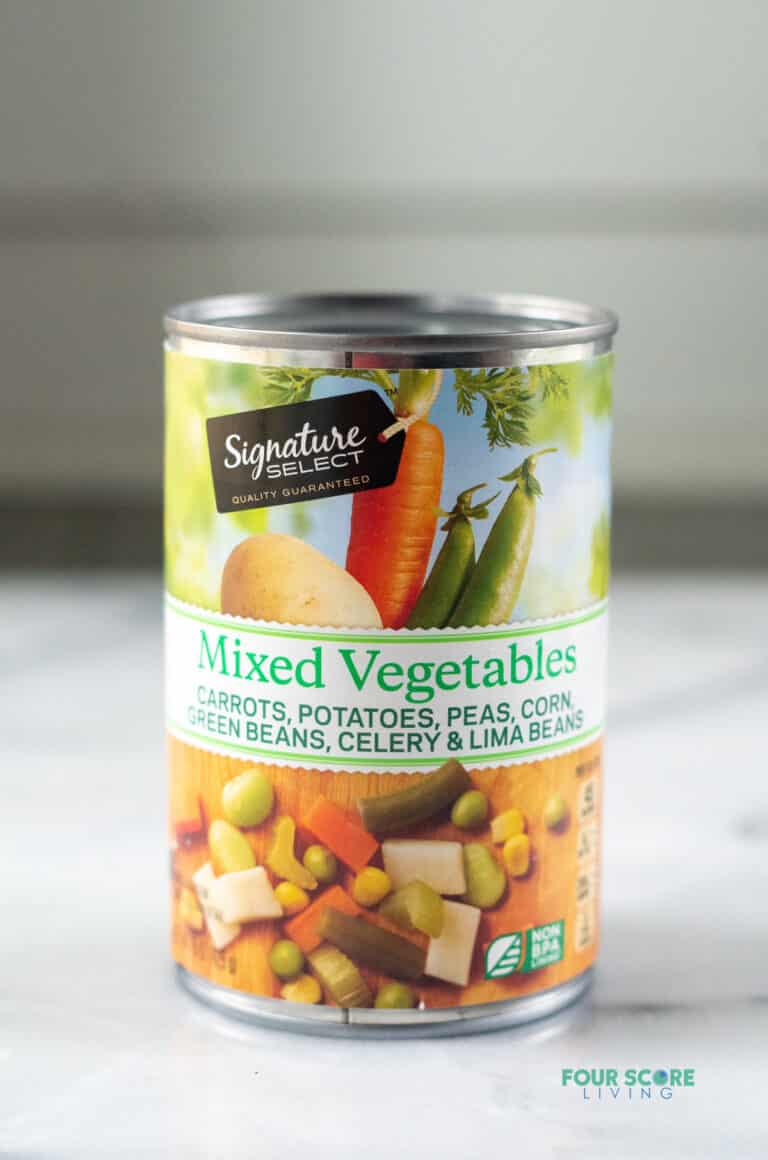 What to serve mixed vegetables with
Marry Me Chicken – One of our favorites! Creamy, tangy, savory and delicious, this easy Marry Me Chicken recipe is super simple to make and quite scrumptious. We LOVE make up a big batch of mashed cauliflower and spooning the savory sauce over it.
Chicken Bacon Ranch Casserole - You'll love Keto Chicken Bacon Ranch Casserole. It's the ultimate cheesy, rich, comfort food that your whole family will enjoy.
Chicken Fried Steak - Coated in a crispy Parmesan and pork rind crust and smothered in sausage gravy, you won't believe how filling and delectable this chicken fried steak is. We like to enjoy this chicken fried steak with a big helping of keto broccoli salad.
Keto Taco Casserole - Keto Taco Casserole is a family favorite. Make this meaty, cheesy, low carb taco casserole any time you're in the mood for an easy to make, filling, and delicious meal.
Hawaiian Chicken - This sweet, juicy, Gluten-Free Hawaiian Chicken is the perfect chicken to whip up on a weeknight and throw on the grill. This gluten-free chicken recipe is super healthy and flavorful, and you can enjoy it guilt free.
Caprese Stuffed Balsamic Chicken - A super simple, yet flavorful recipe for Caprese Stuffed Balsamic Chicken that's stuffed with fresh mozzarella, basil, and sundried tomatoes and baked with a sweet balsamic glaze.
Instant Pot Salmon - This Instant Pot Salmon recipe requires minimal prep work but yields deliciously flaky, delicate results.
Carne Asada - If you've never tried your hand at making homemade versions of your favorite Mexican restaurant dishes, there's no time like the present.
What do you serve mixed vegetables with? Leave a comment below letting us know.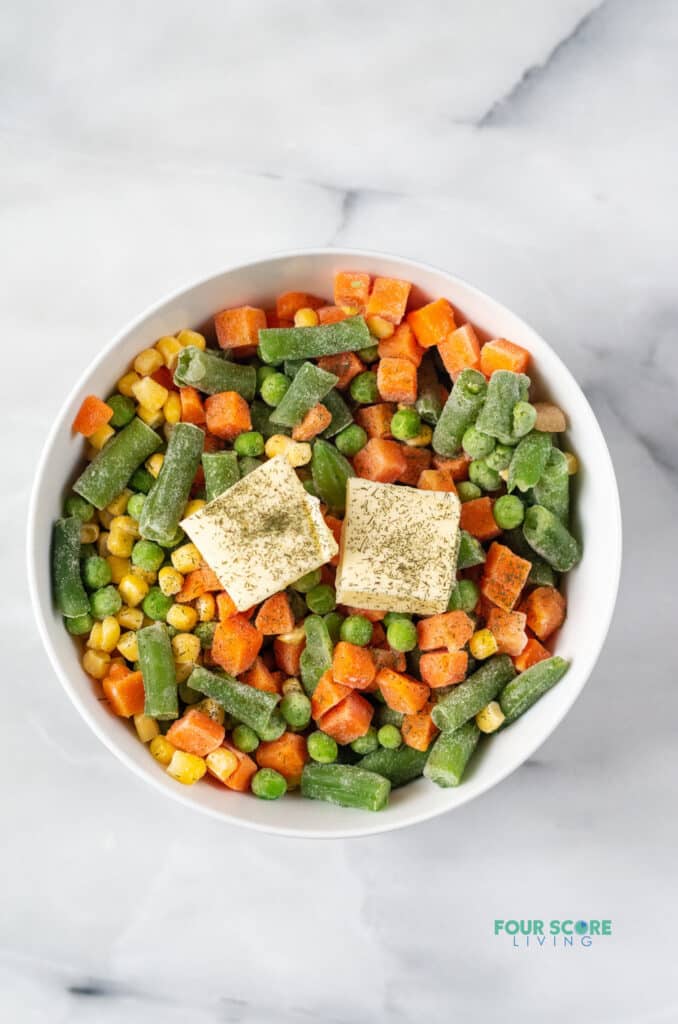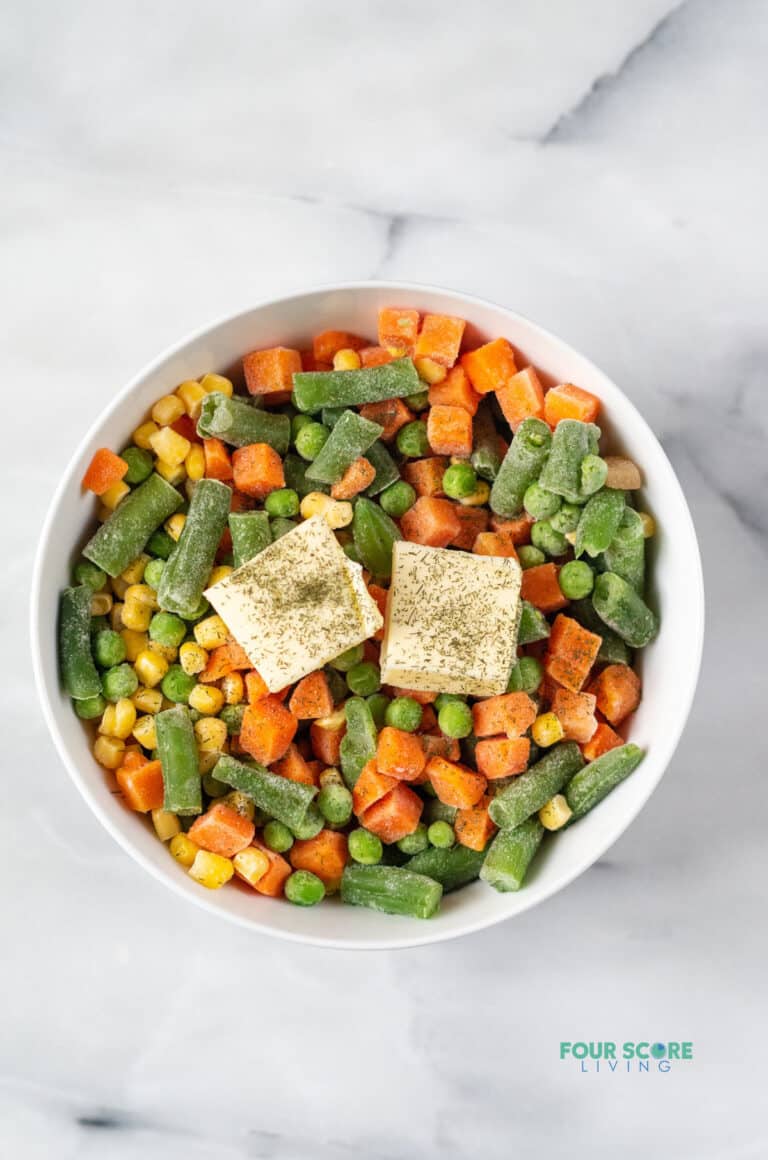 Mixed Vegetable Recipes:
Hamburger Soup - Beef, broth, and mixed vegetables slow cooked to perfection in a hamburger soup. Hamburger soup using mixed vegetables was a staple in our house growing up. This updated version is even better than what I remember.
Shepard Pie - This simple, savory Shepard's pie is baked to perfection and has a lovely mashed potato layer on top. While this recipe calls for frozen peas and carrots, we like to use mixed vegetables to increase the volume and flavors.
Pot Pie - This chicken pot pie with frozen mixed veggies is super simple to make. The chicken and mixed vegetables are cooked in a gravy like sauce and then topped with a golden pie crust. Delish!
Fried Rice - We love making our favorite takeout foods at home, and this fried rice is a great spin off of favorite. It's made with minimal ingredients and incorporates mixed vegetables. Using frozen or canned mixed vegetables in this recipe will save you on the labor-intensive steps of cutting up the mixed vegetables at home.
Beef Soup - Beef, broth, veggies, and potatoes all cooked together to make this simple, yet flavorful and filling soup.
Cheddar Vegetable Gratin - This easy Cheddar Vegetable Gratin turns mixed vegetables into a go-to side everyone will love. It utilizes ingredients we often all have on hand turning pantry staples into a delicious side dish for any day of the week.
Mixed Vegetable Casserole - A super simple recipe for a savory and comforting casserole that uses mix vegetables as the main ingredient. The addition of celery, onions, and cheese make this casserole super flavorful.
Quick Chicken and Dumplings - Comforting, savory, and perfect any time of the year. This quick recipe for chicken and dumplings uses mixed vegetables, cooked chicken, and a quick mix for the dumplings - you're not going to find an easier recipe for chicken and dumplings, in my opinion.
Cheesy Vegetable Soup - This recipe reminds me a lot of broccoli cheddar soup, but with mixed vegetables. Veggies, cheese, onion, celery, flour, it's all in this comforting soup recipe and it's simple to make.
Did you make any of these recipes using mixed vegetables? Leave a comment on the recipe page sharing what you liked about it.
More recipes and articles you might like:
We hope you enjoyed reading this article. Please help us out by leaving a quick review and star ★ rating below.
LET'S GET SOCIAL, you can follow Four Score Living on Pinterest. You can also leave a comment below if you have any questions.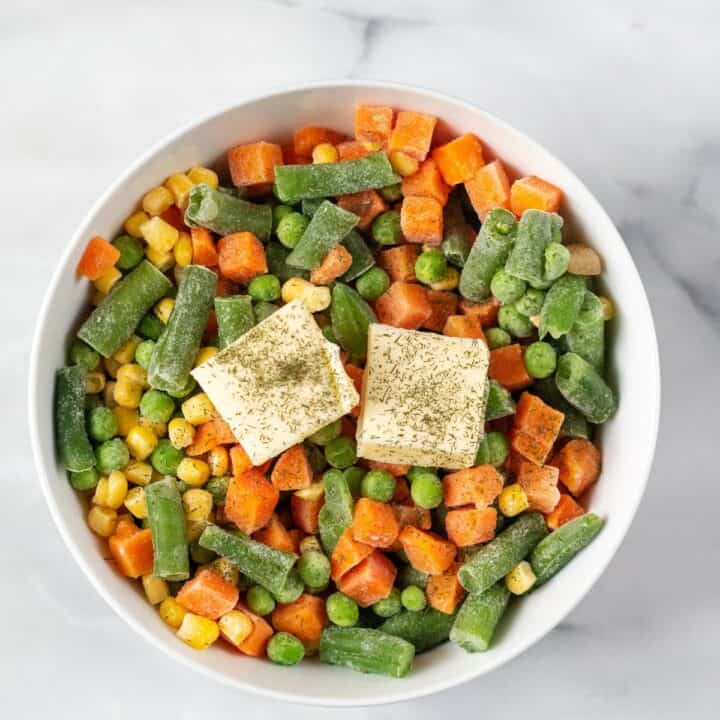 Mixed Vegetables
Let's talk about mixed vegetables! We're sharing a little about frozen mixed vegetables, canned mixed vegetables and how to make mixed vegetables that you buy at the store taste good.
Ingredients
1 10-12 oz. bag frozen mixed vegetables
2 tablespoons salted butter
1 tablespoon dried dill
Instructions
Place the frozen mixed vegetables in a microwaveable bowl.
Add butter and dill.
Microwave covered for 4-6 minutes or until heated through and butter is melted.
Stir and serve.
Notes
You can use canned mixed vegetables, just reduce the cook time to 2-3 minutes.
Feel free to add your own seasonings.
Nutrition Information:
Yield:

8
Serving Size:

⅓ cup
Amount Per Serving:
Calories:

150
Total Fat:

4g
Saturated Fat:

2g
Trans Fat:

0g
Unsaturated Fat:

1g
Cholesterol:

8mg
Sodium:

172mg
Carbohydrates:

56g
Fiber:

19g
Sugar:

13g
Protein:

12g
The nutrition information for this recipe is an approximate total per serving. Please double check the nutrition information for your exact ingredients and brands.
Mixed Vegetables