Ridiculously rich, fudgy, and packed with incredible ingredients, these Keto Brownies are a low carb brownie game-changer.
You're going to appreciate this keto brownie recipe so much once you see how simple brownies from scratch are to make. This almond flour brownie recipe is so easy, you'll be able to make Keto Brownies anytime a chocolate craving hits!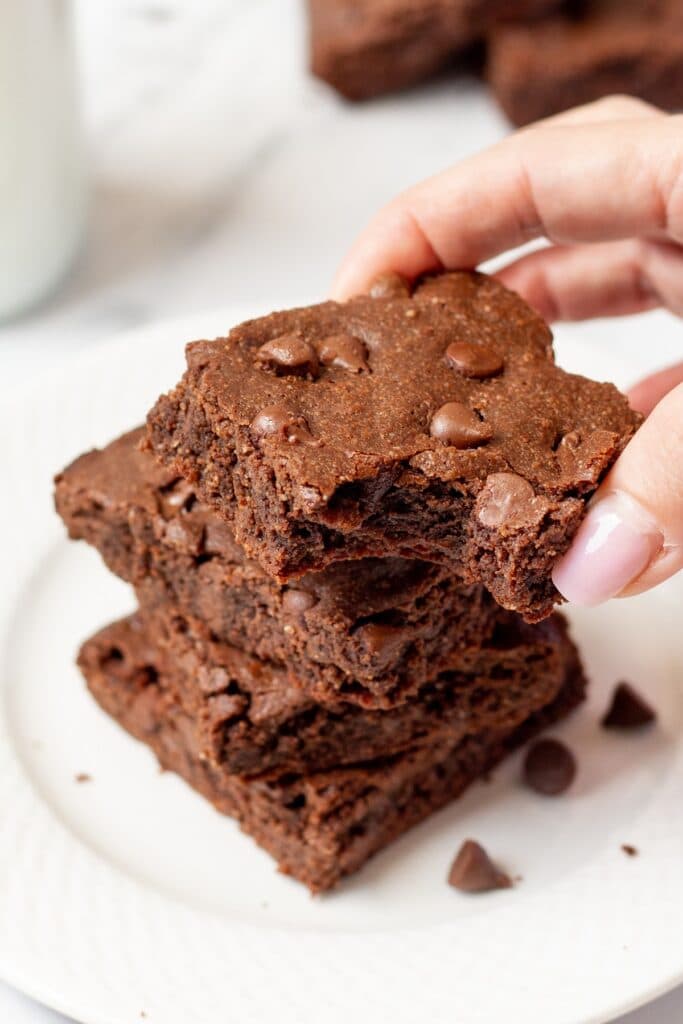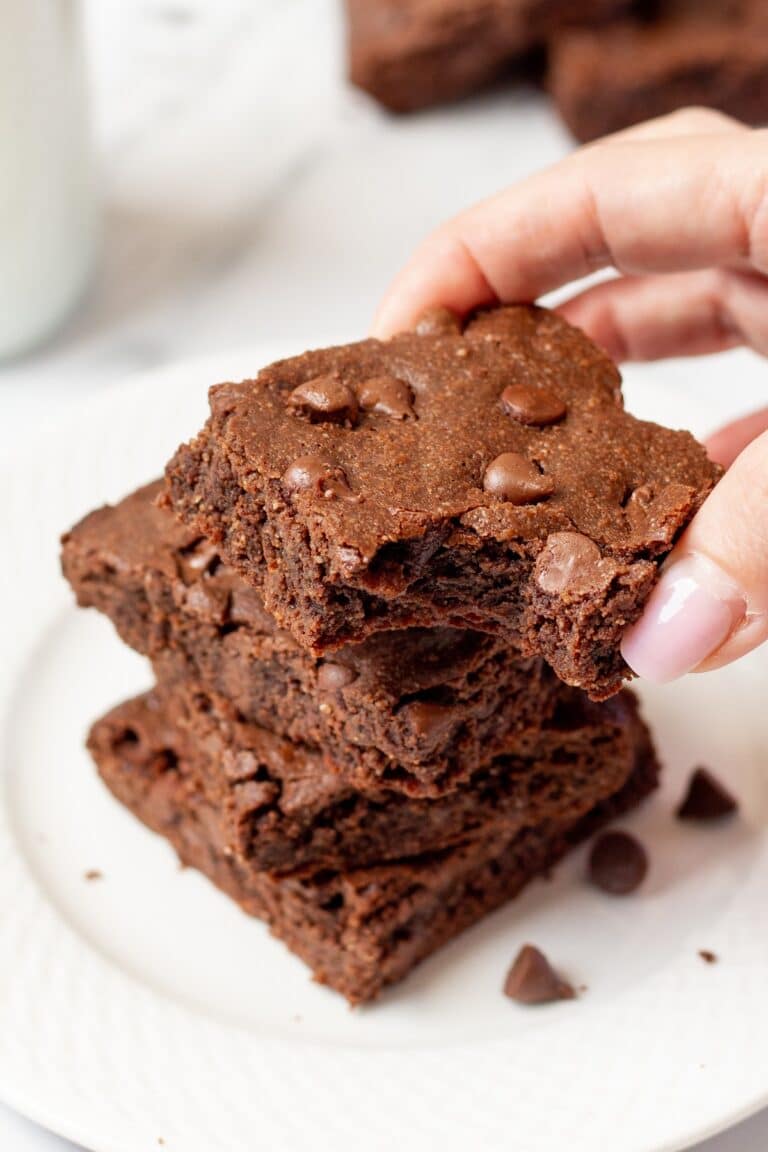 If you like these low carb brownies you might also like my Keto Low Carb Chocolate Chip Cookies.
This recipe was adapted from Gluten-Free Palate's Grain-Free Hazelnut Brownies. Looking for more low carb keto desserts? Check out my growing list of Low Carb Desserts.
KETO BROWNIES RECIPE
This Keto Brownie recipe only uses one bowl, 7 simple ingredients, and is ready to throw in the oven in less than 5 minutes.
The center of each brownie is super fudgy while the tops are slightly crispy and have a nice little surface crinkle to them. If you eat them warm, you'll get the gooey melted chocolate chips too! These are perfect Keto Brownies. I am insanely pleased with the way these came out, and I know you will be too.
I used dark chocolate chunks in this keto brownie recipe but you can use sugar-free chocolate chips. This recipe doesn't use cocoa powder, so melted chocolate gives us tons of flavor. You can choose if you want to add extra chocolate chips to the batter or not. I like the extra added chocolate.
In my opinion, more chocolate is always better!
I'm one of those weirdos who will eat melted chocolate with a spoon. If you aren't, that's ok. Brownies are still delicious with or without chocolate chips. For a bit of a sweet and salty mix consider sprinkling some sea salt flakes on top of these low carb brownies.
WHAT CHOCOLATE IS LOW CARB?
Good chocolate doesn't have to be packed with sugar. When looking for chocolate to bake keto desserts with, look for one of the following. I like using dark chocolate in Keto Brownies.
Lily's makes a low carb keto chocolate chip
Explorado Market – Keto Chocolate Chips
Lakanto Sugar Free Chocolate Bars, chopped
90% dark chocolate, chopped
Any sugar free chocolate sweetened with Stevia and/or Erythritol (are a zero carb, zero sugar sweeteners)
Feel free to use your chocolate of choice in this keto brownie recipe.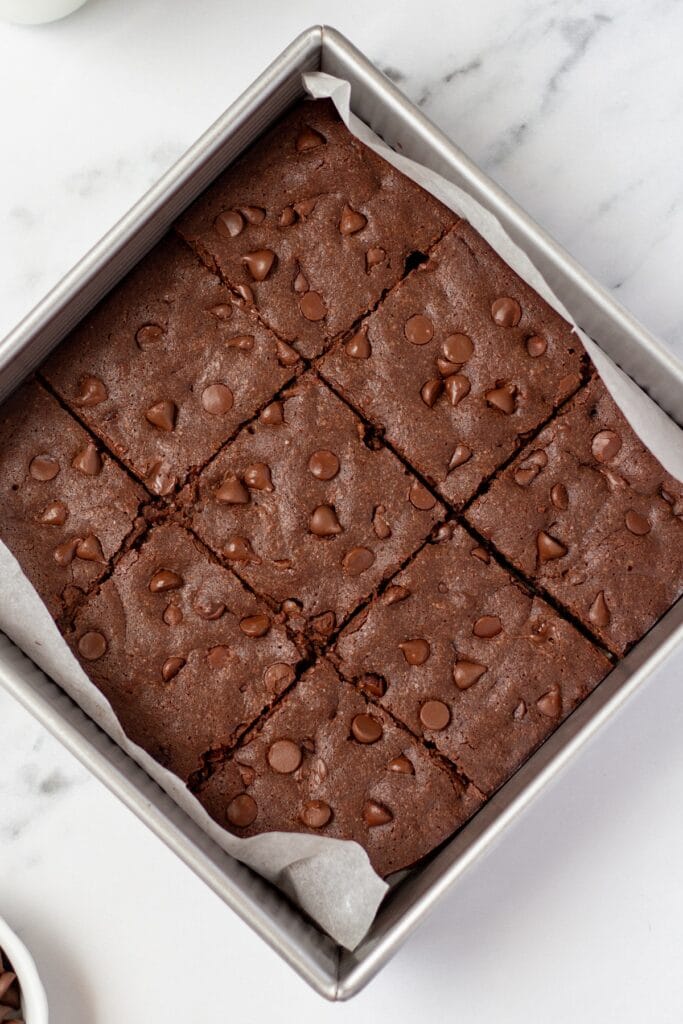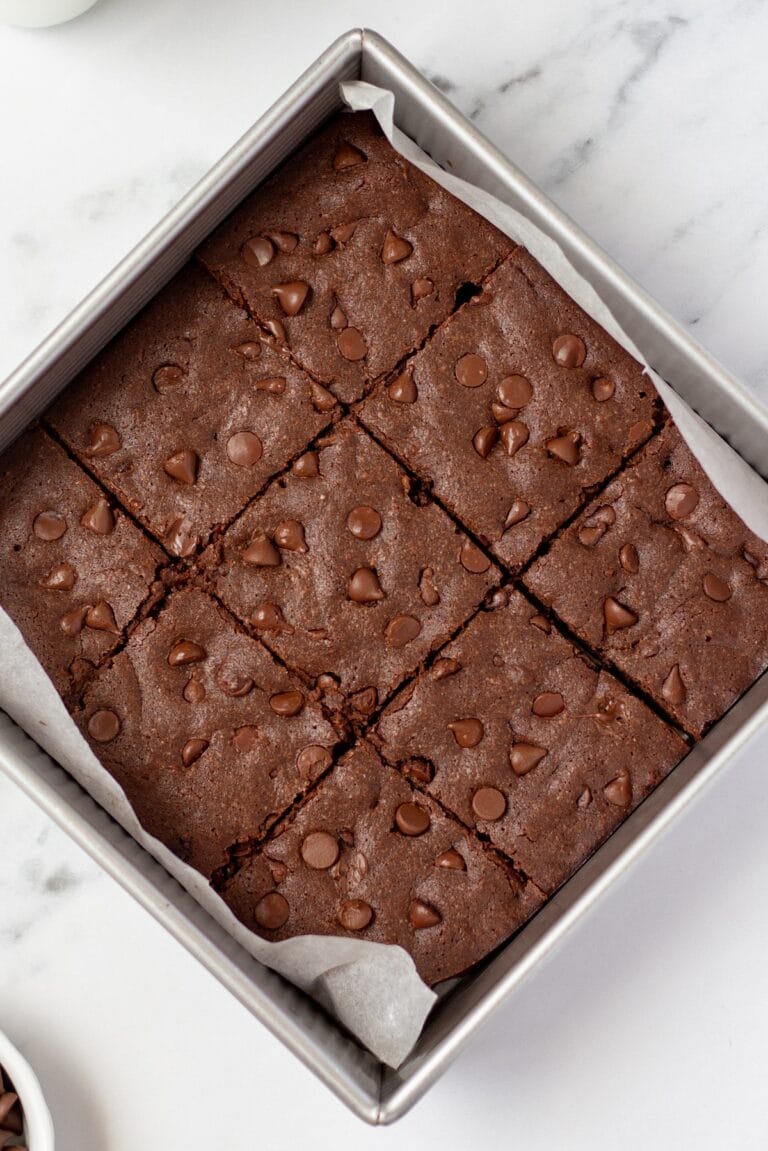 KETO BROWNIES WITH ALMOND FLOUR
Almond flour plays the biggest role in this almond flour brownie recipe and helps keep these keto brownies low carb While other gluten-free flours are often used in Keto recipes, I like Almond Flour best for a number of reasons.
Almond flour is higher in carbs than some other grain-free flour alternatives but it's also higher in fat and protein making it a better option than most. The carbs in this healthy low carb brownie come from the almond flour.
The 7.5 grams of net carbs per serving are worth it to me. In moderation, these low carb almond flour brownies can totally fit into your keto meal plan.
Coconut Flour is another Keto baking flour, but I don't suggest making these brownies with it. The liquid to flour ratio in this recipe is perfect for almond flour, but will be too dry with coconut.
To Measure Almond Flour: Remember when measuring almond flour to spoon your flour into your measuring cup, then level it. Don't dip your measuring cup into the flour then level.
Use it Room Temperature: If you store almond flour in the freezer, you'll want to bring it to room temperature before you use it.
Why Room Temp Almond Flour? Almond flour loses moisture in the freezer but absorbs moisture from the air when it defrosts. If you add it to your recipe too soon, it will be too absorbent and will suck the wet ingredients right up, making your brownies dry.
If you aren't sure which brand of almond flour to buy, I recommend Bob's Red Mill Super Fine Almond Flour for most of my baking recipes. I can find it in my larger grocery store and it's always easy to order online.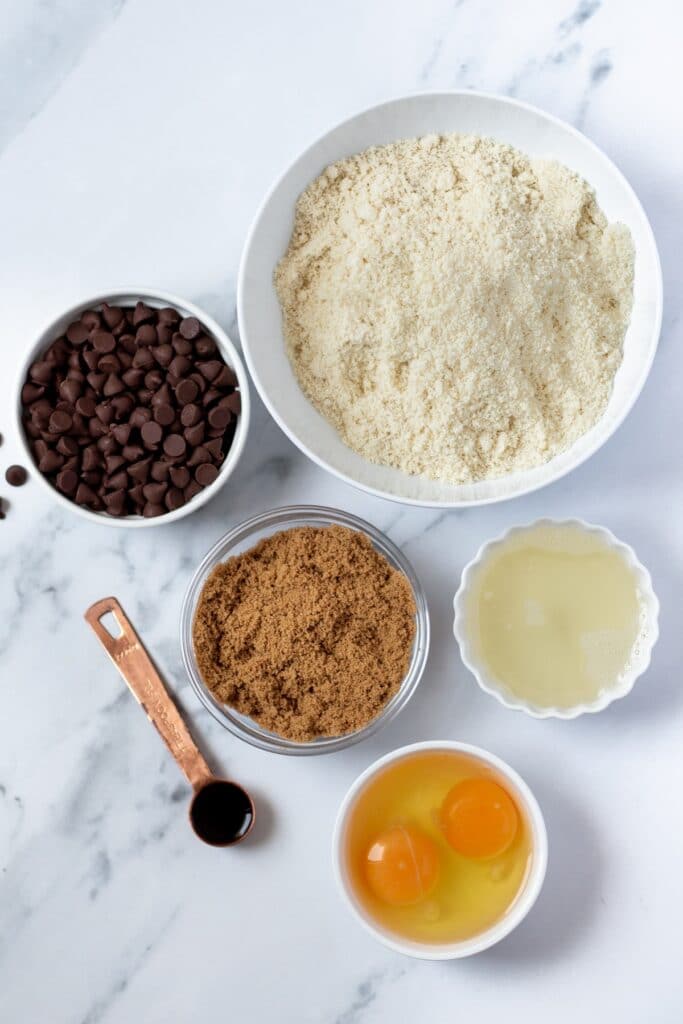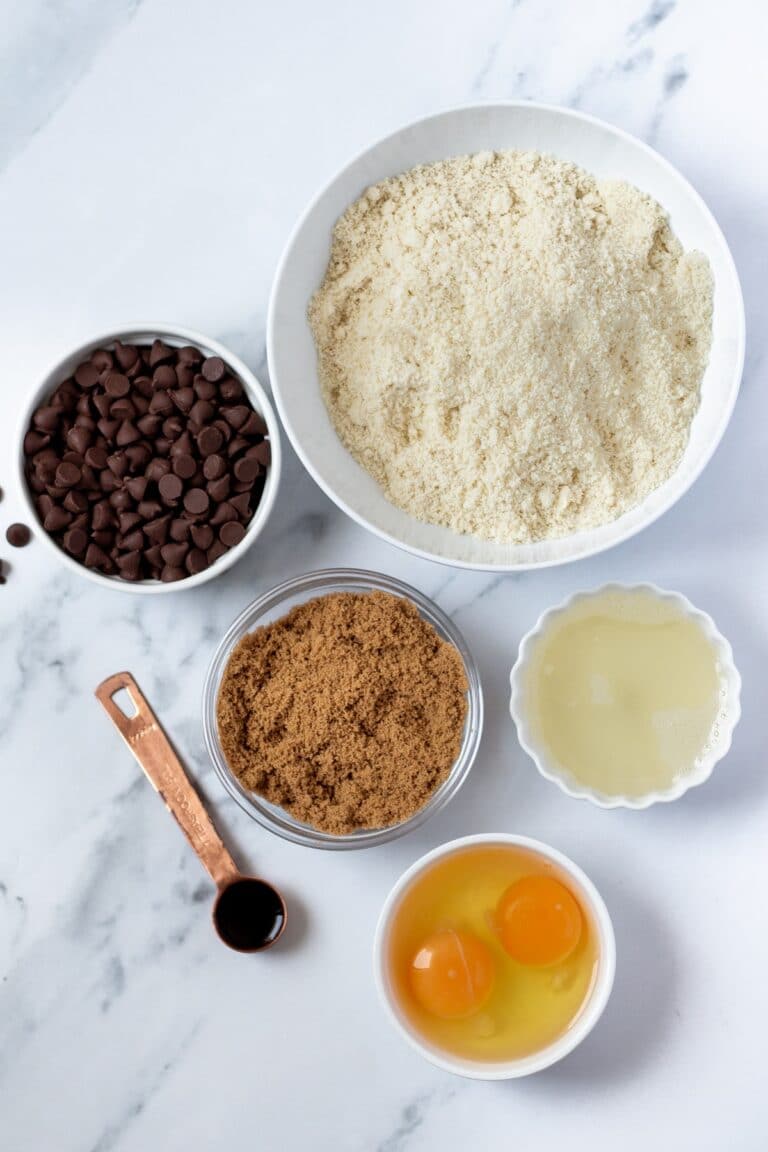 INGREDIENTS IN KETO BROWNIES
For this keto brownie recipe I use just a few simple, low-carb ingredients.
Coconut oil - This is how every brownie recipe starts. Oil keeps them chewy and gooey. I like using coconut oil to bake keto desserts, but any lightly flavored oil can be used. Melted butter or ghee will work as well.
Chocolate - See below for options. We will melt most of the chocolate to create the keto brownie batter, and then extra sugar-free or low carb chocolate added to the batter makes these brownies extra decadent. You can use chopped chocolate bars, chocolate chunks, or chocolate chips.
Lakanto Golden Monk fruit Sweetener - I love baking with Lakanto products. The whole line is great, including the classic monk fruit and erythritol sugar replacements and the baking sweeteners. Golden Lakanto has a deep flavor that I like in brownies. Feel free to experiment with other keto sweeteners that you like.
Vanilla Extract - A good quality vanilla extract makes the chocolate flavor in brownies more pronounced.
Eggs - A must for a homemade brownie recipe, eggs add protein to the recipe and help to bind all of the ingredients together.
Almond flour - This recipe will work with fine almond flour or almond meal. The texture will be a bit different for each, but both will be delicious.
If you have any questions about Keto Brownies, please leave a comment below and I will get back to you.
For an alternative recipe, that is similar, you'll want to try these Almond Flour Brownies. They use coconut sugar instead of a sugar free sweetener.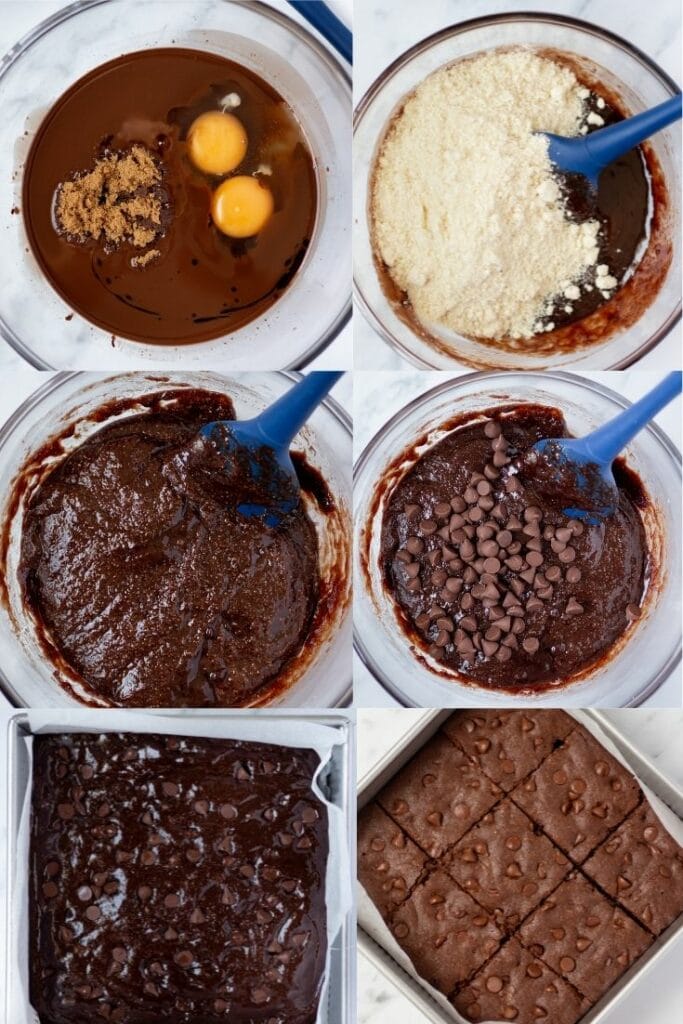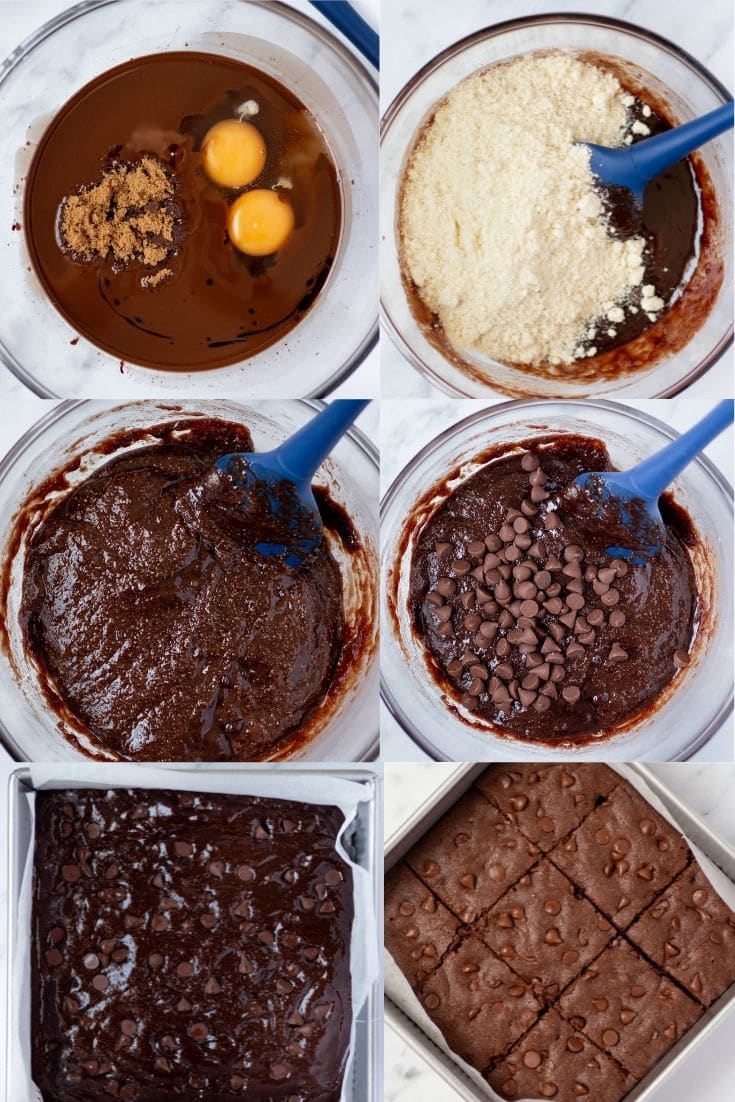 HOW TO MAKE KETO BROWNIES FROM SCRATCH
Start by preheating the oven to 350°F/177°C. Grease an 8-inch metal baking pan with butter, coconut oil, or cooking spray and set it aside. In a large microwave-safe bowl, heat the oil and 4 ounces of chocolate chunks for 30 seconds. Stir, and continue microwaving for 30-second intervals until smooth. If it seems very hot, allow it to cool for a few minutes before adding the eggs in the next step. Add sweetener, vanilla extract, and eggs and mix until well incorporated.
Add the almond flour.
Stir until just combined. Careful not to overmix the batter.
If you like, add the remaining chocolate chunks and stir to distribute.
Then spoon the keto brownie batter into the prepared pan and spread it out evenly.
Bake your brownies as directed in the recipe card below. They should take around 32 minutes. The brownies are done when the center is set.
TIPS FOR MAKING THE BEST KETO BROWNIES
Make sure your ingredients are at room temperature before you start. This isn't a requirement but it's best practice. Room temperature ingredients mix together better.
Double check the nutrition information on your ingredients to be sure that they fit with your dietary needs.
Don't accidentally cook the eggs by adding them to a too-hot chocolate mixture. After microwaving the chocolate and coconut oil, be sure to let the mixture cool a bit, but not so much that it solidifies again.
Working with almond flour takes some finesse. See my tips above. Most importantly, be sure to measure almond flour by spooning it into the measuring cup, not by scooping it into the bag.
Add Frosting if you want to. This will obviously make them a bit less healthy, but they will be delicious. Make this Keto Chocolate Frosting and spread it on after the brownies have cooled down completely.
CAN I MAKE BROWNIES IN A GLASS PAN?
Of course you can! The instructions in the recipe card below are for a metal pan. Since glass conducts heat faster, you'll want to reduce the oven temperature by 25 degrees. Otherwise the outside edges will be done way before the center.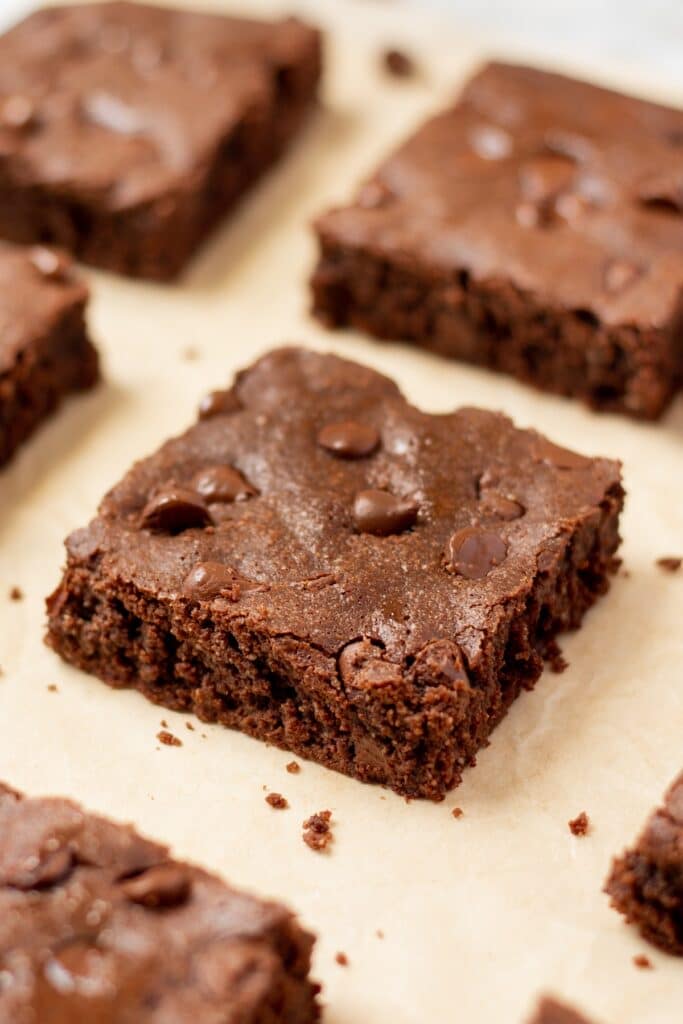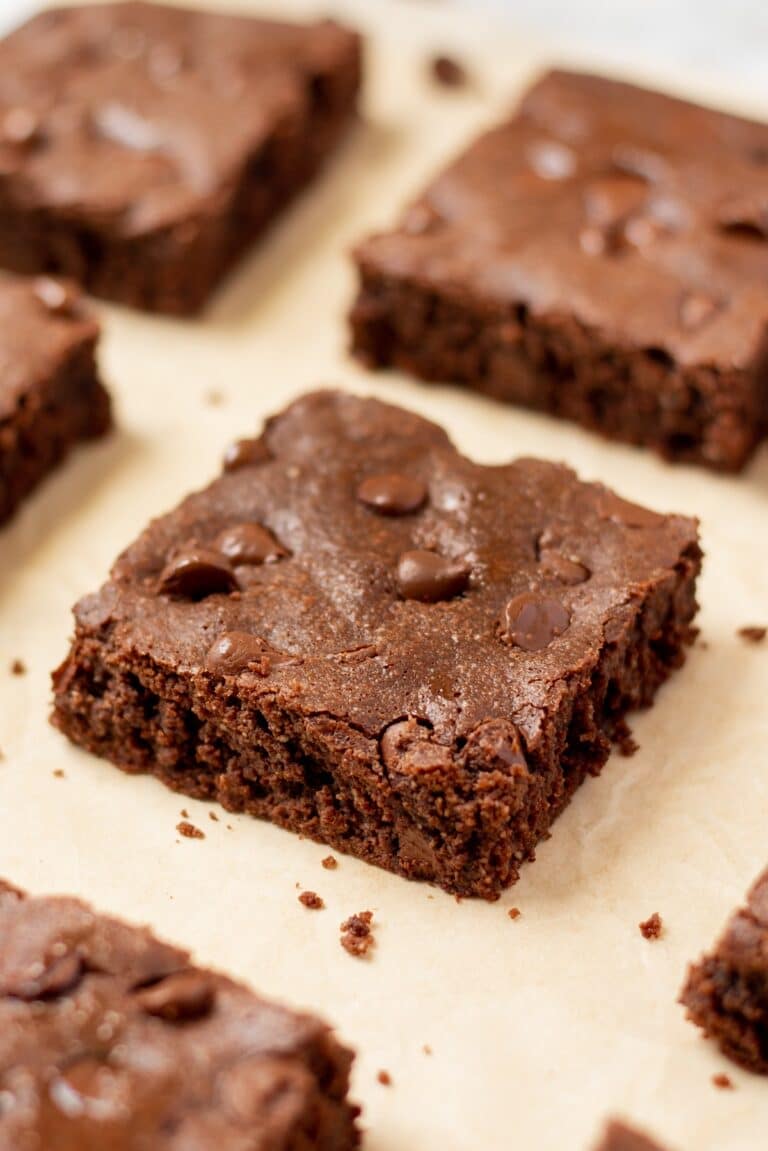 SHOULDN'T BROWNIES HAVE COCOA POWDER IN THEM?
Some brownie recipes use cocoa powder, and some use melted chocolate. Some even use both! I like using melted chocolate in this recipe to get a chewy texture.
CAN I MAKE VEGAN KETO BROWNIES?
I haven't tried it personally, but in most baking recipes, you can substitute a flax eggs for the eggs. I think it would work well here. If you try it, let me know!
LOW CARB BROWNIES
The exact nutrition information for these low carb brownies will depend on the sweetener and sugar-free chocolate you use. Mine came out to have 4 grams of net carbs per serving, which is 1/16th of the pan.
Although we recommend using a sugar-free sweetener and sugar-free chocolate, they're not all equal. Some will have more carbs than others, and some work better in baking recipes than others.
I'd love to hear if you made this recipe with substitutions! Leave a comment so that your experience can help other readers please.
If you love baking with almond flour and chocolate you'll want to bake up a batch of these Low Carb Chocolate Chip Muffins. They use similar ingredients as these keto brownies and they are just as simple to make. A sweet keto breakfast is such a nice treat sometimes.
MORE AMAZING KETO CHOCOLATE DESSERTS
You have to try my Keto Chocolate Mug Cake if you're in a hurry for something yummy. Otherwise, this Keto Chocolate Fudge is to-die-for!
We hope you enjoyed reading this article. Please help us out by leaving a quick review and star ★ rating below.
LET'S GET SOCIAL, you can follow Four Score Living on Pinterest. You can also leave a comment below if you have any questions.
Did you make these easy keto brownies? I'd love it if you would leave a comment below letting me know what you thought.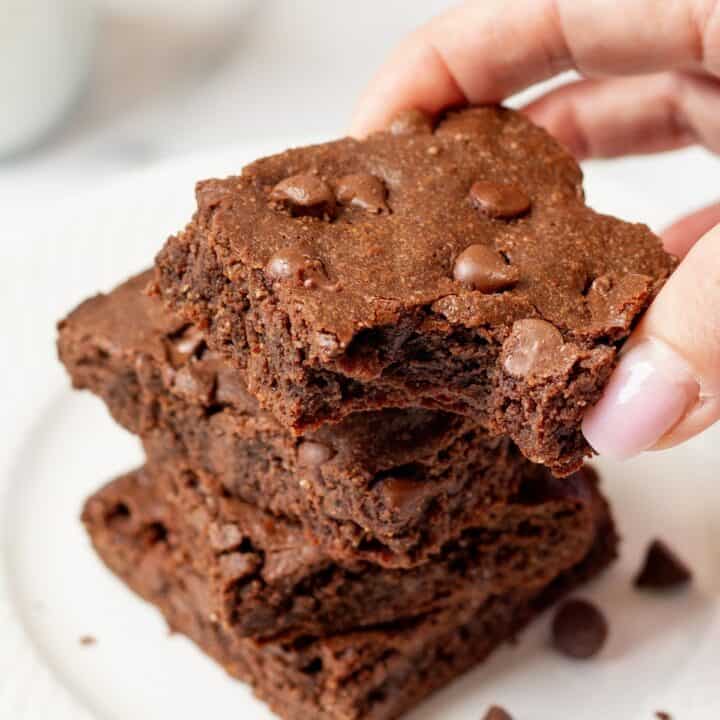 Keto Brownies
Super rich, fudgey, and packed with incredible ingredients, these Keto Brownies are a low carb brownie game-changer. You're going to fall in love this keto brownie recipe once you see how simple they are to make.
Ingredients
½ cup coconut oil (or oil of choice)
2 teaspoons gluten-free vanilla extract
2 large eggs
Instructions
Preheat the oven to 350F. Grease an 8-inch metal baking pan; set aside.
In a large microwave safe bowl, heat oil and 4 oz. of chocolate chunks for 30 seconds at a time until melted (about 60 seconds total). You can also heat the oil and chocolate over a pan of boiling water to melt it.
Add sweetener, vanilla extract and eggs and mix until well incorporated.
Stir in the almond flour and mix until combined.
Optional: Add the remaining ¾ cup of chocolate chunks and stir until combined.
Spoon the keto brownie batter into the pan and spread until even.
Bake for 32-34 minutes or until the center is set.
Remove from the oven and cool completely before cutting.
Store leftovers covered at room temperature for up to 4 days.
Notes
Make sure your ingredients are at room temperature before you start
Double check that nutrition information on your ingredients
Measure your almond flour by spooning it into your measuring cup and leveling it
Nutrition Information:
Yield:

16
Serving Size:

1 brownie
Amount Per Serving:
Calories:

216
Total Fat:

14g
Saturated Fat:

7g
Trans Fat:

0g
Unsaturated Fat:

6g
Cholesterol:

24mg
Sodium:

10mg
Carbohydrates:

10.5g
Net Carbohydrates:

4g
Fiber:

6.5g
Sugar:

9g
Protein:

3g