Following a ketogenic diet allows you to explore different food choices. Amidst the innumerable vegetables you find, celery stands out. Its crisp texture and unique flavor make it a popular choice in various cuisines.
However, a question arises for those who follow a keto lifestyle: "Is celery keto?"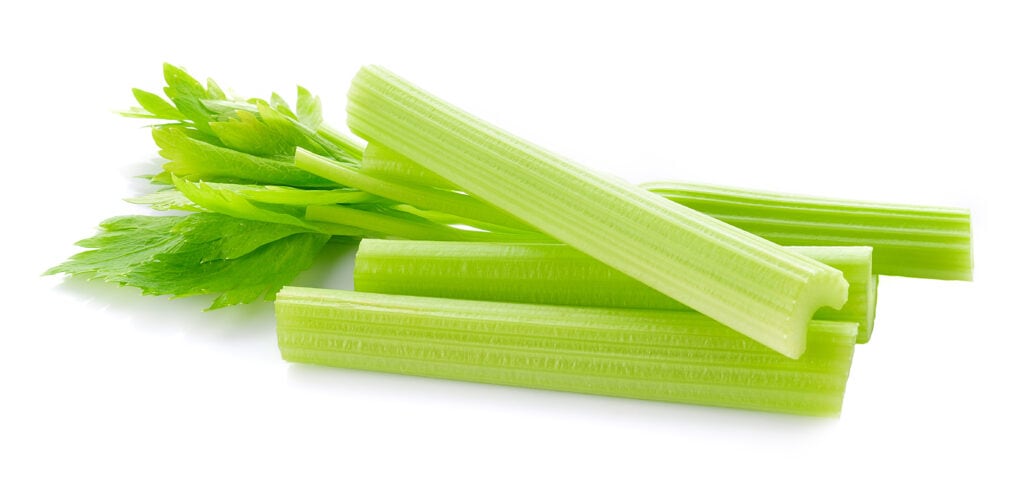 This question explores the world of keto diets and understanding the compatibility of various vegetables with this dietary approach. We will dig deep into the nutritional profile and carbohydrate content of celery, as well as highlight the health benefits of this herbaceous plant.
So, let's dive into healthier dietary choices, one vegetable at a time.
Is Celery Keto?
Here's the good news! The short answer to the question, "Is celery keto-friendly?" is YES.
It is no secret that celery contains various essential nutrients and provides many health benefits. It is also a low sugar food with minimal carbs, making it an excellent choice for a low-carb diet.
A typical serving of celery can easily fit into your keto lifestyle as it is a good source of fiber and is low in total carbs.
Carbs in Celery
Like many other vegetables, celery comes in various forms, i.e., raw, cooked, juiced, etc. Each variety has its nutritional profile. Let's examine the carb content in different types of celery to understand why this versatile vegetable fits into a ketogenic diet plan.
Carbs in Raw Celery: A medium-sized stalk of celery can contain approximately 1 gram of carbs, with around 0.6 grams of fiber, resulting in 0.4 grams of net carbs.
Carbs in Cooked Celery: Cooked celery retains its low-carb content, like raw celery. A cup of cooked celery can hold up to 5 grams of carbs, with about 2 grams of fiber, reducing the net carb count to 3 grams, making it a low-carb option for keto dieters.
Carbs in Celery Juice: Celery juice, especially when made from fresh celery stalks without any added sugars, retains the low-carb content of raw celery. A cup of celery juice can contain about 3 grams of carbs, making it a suitable choice for those following a keto diet.
Best Keto-Friendly Vegetables
While celery is an excellent match for a ketogenic diet, several other vegetables are just as suited to this diet plan. When selecting vegetables for a ketogenic diet, consider low carbs and high fiber.
Leafy greens, broccoli, cauliflower, zucchini, bell peppers, and cucumbers are low-carb foods and are a great choice. These vegetables have a lower net carb count due to their high fiber content, making them more suitable for a ketogenic diet.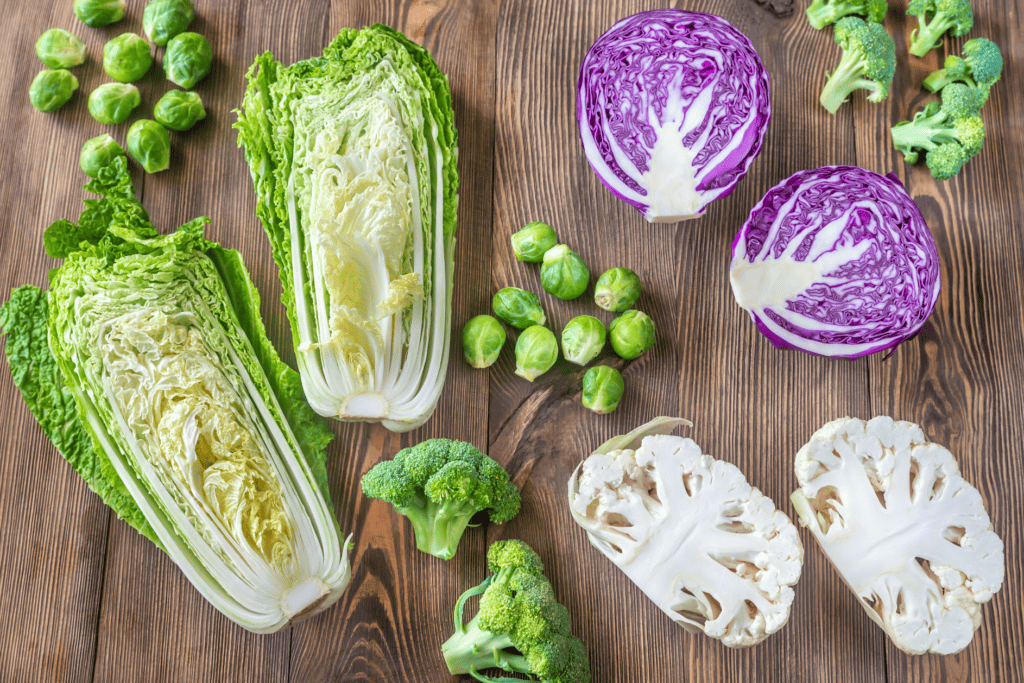 Other keto-friendly vegetables include cruciferous vegetables like Brussels sprouts and cabbage and some root vegetables like radishes. These vegetables can enhance the flavor and texture of your meals without jeopardizing your daily carb limit.
Incorporating such vegetables into your diet can add variety and satisfy your palate while maintaining a ketogenic lifestyle.
Here are a few of our favorite keto-friendly vegetables and their grams of net carbs.
For more detailed information, please read our article on Keto-Friendly Vegetables.
Nutritional Information of Celery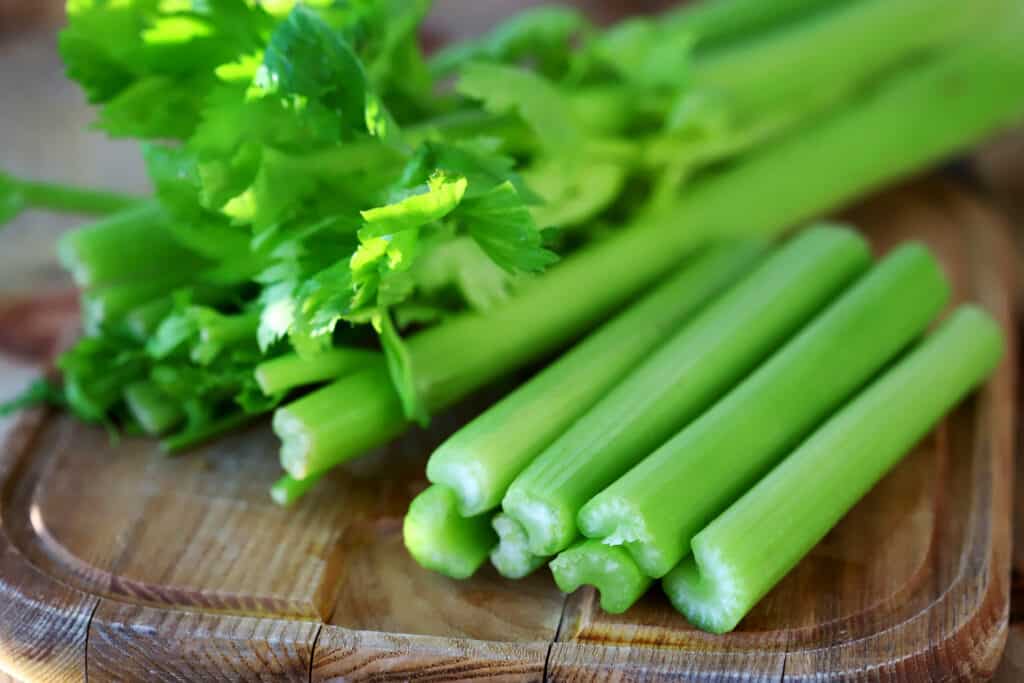 Despite its low-carb content, with just a few grams of net carbs per medium stalk of celery, celery is a nutrient-dense, low-carb vegetable that fits perfectly into a keto diet.
A cup of chopped celery contains:
Calories - 14
Protein - less than 1 gram
Fat - less than 1 gram
Carbohydrates - 3 grams
Fiber - 1.6 grams
Sugar - 1 gram
In addition to being a low-carb option, celery is an excellent source of vitamins A, K, and C, which play significant roles in maintaining good health.
Celery is also a good source of potassium and folate and has a low glycemic index.
Celery also contains numerous antioxidants, with 15 varieties found in a single stalk. These antioxidants can help protect against cellular damage and reduce free radicals in the body. As a result, celery may reduce the risk of chronic diseases.
Studies indicate that compounds occurring in various concentrations in this aromatic vegetable can have multiple healing effects. Celery contains glycosides and flavonoids among many other unique compounds which explains why it is one of the most widely used plants in traditional medicine (A Review of the Antioxidant Activity of Celery (2017) National Institute of Health).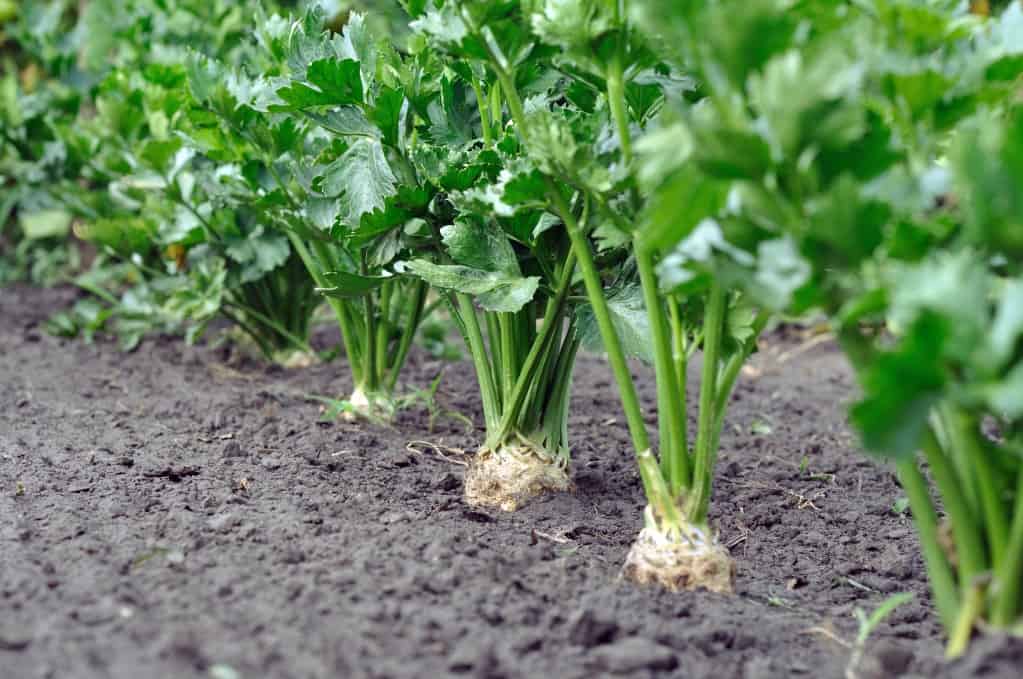 Celery Juice
Juicing fresh celery stalks to consume as a healthful drink has become an emerging trend over the last several years. Although evidence supports the health benefits of celery, medical experts point out that there is no research supporting that each of the "claims" linked to celery juice can be connected with celery explicitly and that a variety of vegetables should be consumed for a healthy diet.
Medical experts do agree that drinking freshly prepared celery juice, or eating at least one cup of celery daily, reduces inflammation in the body and can lower blood pressure. Fans of celery juice have reported additional benefits, such as a calming affect on the nervous system and improved skin health.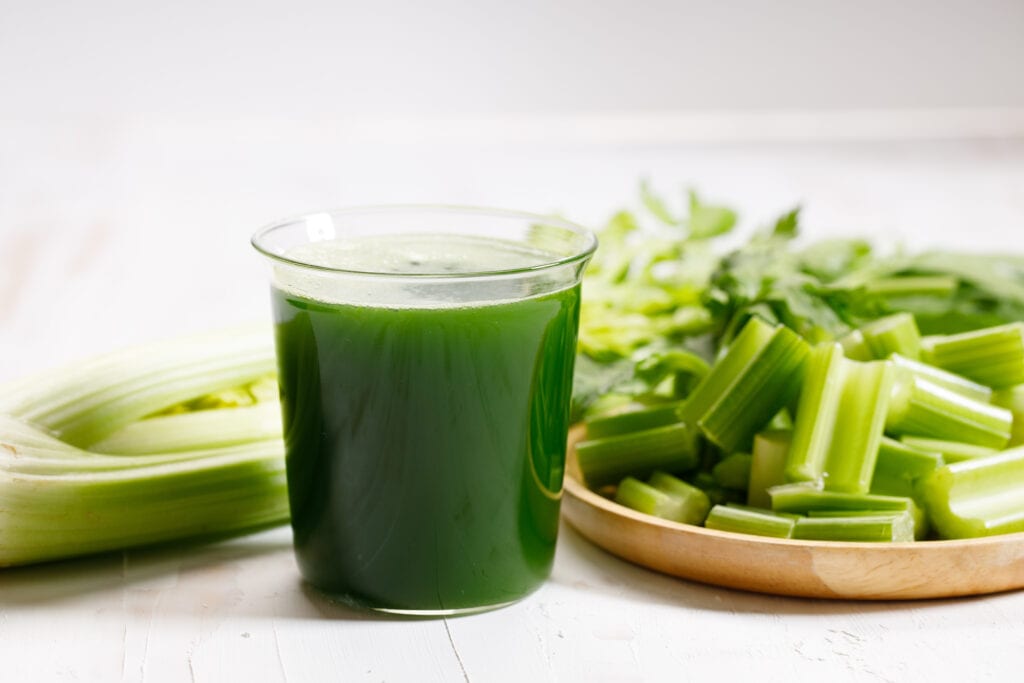 Health Benefits of Celery
In addition to being keto-friendly, celery offers various health benefits that can contribute to your overall health. Hailed as "one of the healthiest snacks," celery also:
Boosts Immunity: Celery is rich in vitamins A and C. These two vitamins help boost the body's immunity, thus protecting it against several diseases and infections. (Nagdeve, 2021)
Improves Digestive Health: The dietary fiber in celery aids digestion, prevents constipation, and supports a healthy gut.
Maintains Heart Health: Celery is a good source of potassium. This nutrient is essential for maintaining a healthy heart.
Supports Eye Health: The high levels of vitamin A in celery are beneficial for maintaining and improving eye health. Regular consumption can help prevent age-related macular degeneration and night blindness.
Promotes Healthy Skin: Celery is abundant in vitamin C, crucial in maintaining healthy skin. It helps in collagen production, which keeps the skin firm and reduces signs of aging.
Anti-Inflammatory Properties: Celery is rich in phytonutrients, which have anti-inflammatory properties. These compounds can help reduce inflammation in the body, which is beneficial for people with autoimmune diseases, heart disease, or arthritis. (Health Benefits of Celery, 2022)
Bone Health: Celery is a good source of vitamin K, which plays a crucial role in bone health. Vitamin K is necessary for bone mineralization, which helps maintain strong and healthy bones.
Blood Pressure Management: Celery contains phthalides. These compounds can help lower high blood pressure by relaxing the tissues of the artery walls, thereby increasing blood flow. (Brazier, 2019)
Cancer Prevention: Celery is rich in antioxidants and anti-inflammatory compounds that can help protect against cell damage, leading to chronic diseases like cancer. (Health Benefits of Celery, 2022)
Weight Management: Celery is low in calories and high in fiber, making it a great choice for those trying to lose weight. The fiber in celery can help you feel full and satisfied, reducing the likelihood of overeating. (Brazier, 2019)
Ideas on How to Include Celery in Your Keto Diet
Celery is versatile and can be included in your diet in various ways. Here are some ideas:
Celery Juice: Start your day with a refreshing glass of celery juice. It's a great way to get your daily dose of vitamins and minerals.
Celery Sticks: Enjoy celery sticks as a snack. They can be paired with keto-friendly dips like our Buffalo Chicken Dip or Spinach Dip. Eat with tuna fish salad for a satisfying snack.
Add to Soups: Celery can be added to soups to enhance their flavor and nutritional content.
Mirepoix: A classic mirepoix includes celery, onions, and carrots. It forms the base for many sauces and stews.
Salads: Add raw celery to your salads for a crunchy texture and a boost of nutrients.
Egg Salad: make our Keto Egg Salad and use celery sticks to eat.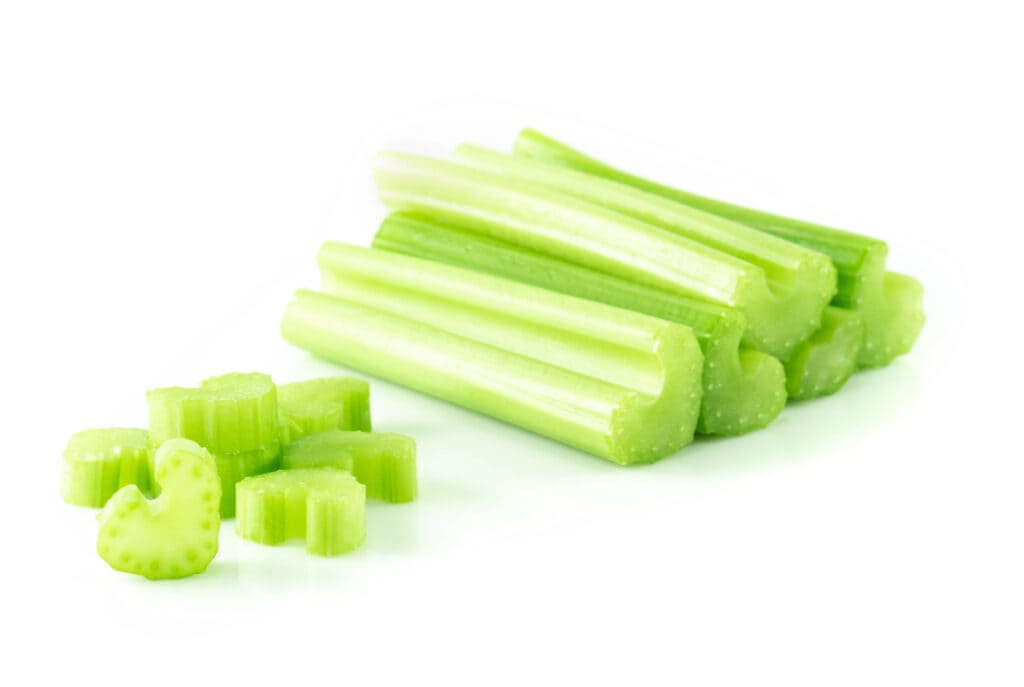 Frequently Asked Questions
What vegetables are off-limits on Keto?
High-starch vegetables like potatoes, sweet potatoes, yams, corn, and parsnips are generally avoided on a keto diet due to their high carb content.
Is celery root keto-friendly?
Yes, celeriac, or celery root, can be enjoyed on a keto diet. It is lower in carbs than many other root vegetables such as potatoes that contain 11 grams of net carbs per 1 cup.
Is Celery Juice keto-friendly?
Yes, celery juice can be a part of a keto diet as long as it's made from fresh celery and doesn't contain added sugars. Celery juice is a good source of electrolytes, which may help ward off "Keto Flu" symptoms.
Can I eat celery leaves?
Yes, celery leaves are edible and can be included in your keto diet. They can be used in salads, soups, or as a garnish.
Conclusion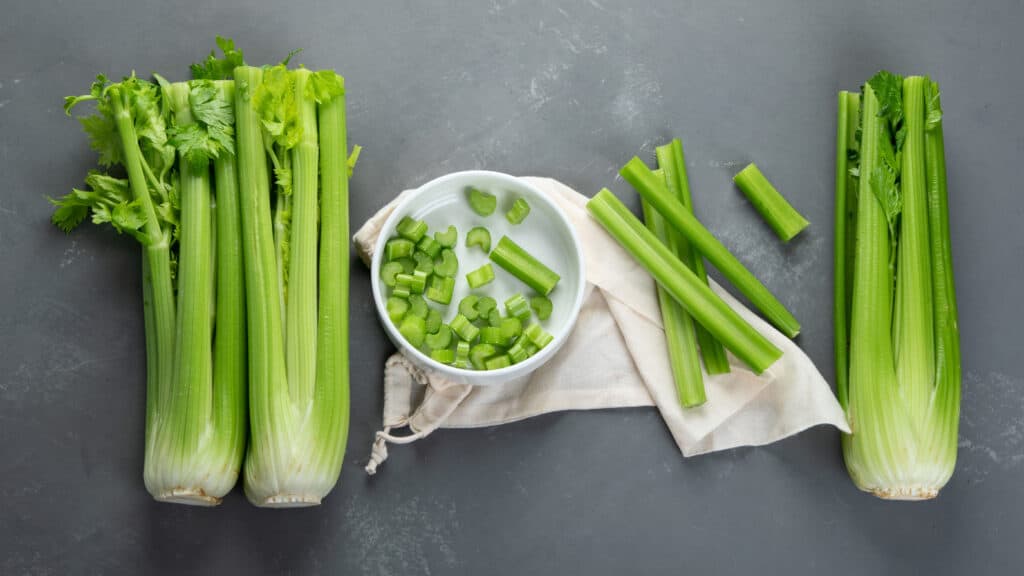 In conclusion, celery is a versatile, nutrient-dense, and keto-friendly vegetable. It can be a valuable addition to your keto diet, offering a range of health benefits while keeping your carb intake in check. So, enjoy this crunchy, versatile vegetable on your keto journey!
More articles you may like:
We hope you enjoyed reading this article. Please help us out by leaving a quick review and star ★ rating below.
LET'S GET SOCIAL, you can follow Four Score Living on Pinterest. You can also leave a comment below if you have any questions.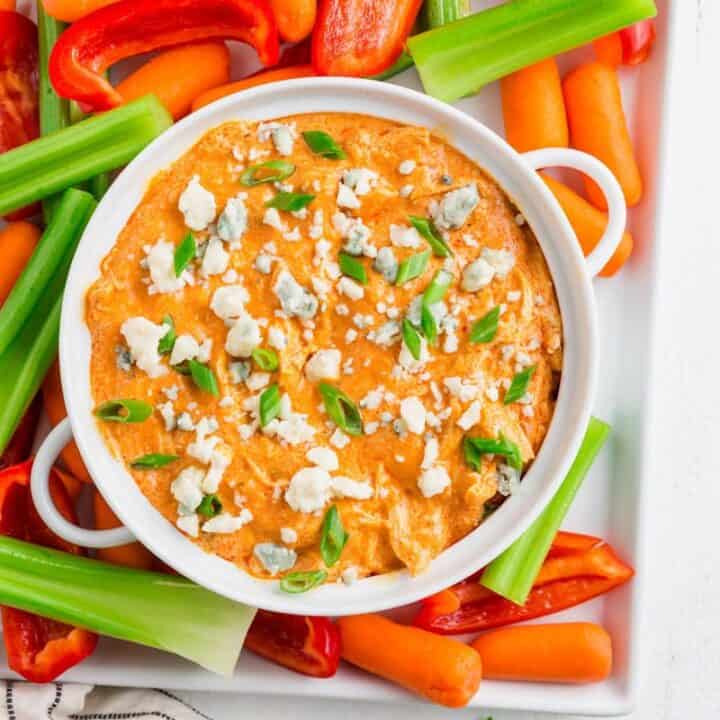 Keto Buffalo Chicken Dip
Additional Time:
15 minutes
Easy Keto Buffalo Chicken Dip that's perfect when you need a good keto dip or appetizer. It only uses a handful of ingredients and it's bursting with flavor.
Ingredients
1 lb. boneless skinless chicken breasts (or boneless skinless chicken thighs)
1 cup (8 oz.) Frank's Original
¼ (4 oz.) cup water
1 package (8 oz.) cream cheese
1 cup (4 oz.) shredded cheddar cheese
¼ cup ranch dressing (or ½ packet of dried ranch dip mix)
optional: 1 (4oz.) can diced green chiles
Instructions
Place chicken breast into the inner pot of the instant pot. Pour Franks Original and water over the chicken. Close lid and seal.
Pressure cook for 15 minutes on the MEAT/STEW function. When done, quick-release the pressure.
Remove the lid and wait for the liquid to stop boiling. Remove the chicken to a cutting board and shred using two forks.
Add the cream cheese, shredded cheddar, and ranch to the instant pot; stir until cheese is melted and mixture is smooth.
Add the shredded chicken back to pot. Stir until everything is combined and the cheese is melted. If desired, stir in green chiles.
Top with blue cheese crumbles, sliced green onions and serve.

Notes
Crockpot Keto Buffalo Chicken Dip: If you like to use a slow cooker, you can make this buffalo chicken dip in a crockpot. Cook the chicken first by either boiling it or baking it. Shred the chicken, then add everything to your slow cooker. Cook it on low for 2 hours, or high for 3-45 minutes.
Stove top Keto Buffalo Chicken Dip: Bring 4 cups of water to a boil over high heat. Add chicken and boil until cooked through. Remove the chicken to a cutting board and shred with two forks. Discard the water and add the Franks Original, ¼ water, cream cheese, cheddar cheese, and ranch to the cooking pot. Cook over low heat, stirring often, until all the ingredients are combined.

Nutrition Information:
Yield:

16
Serving Size:

¼ cup
Amount Per Serving:
Calories:

78
Total Fat:

4g
Saturated Fat:

1g
Trans Fat:

0g
Unsaturated Fat:

2g
Cholesterol:

29mg
Sodium:

78mg
Carbohydrates:

1g
Fiber:

0g
Sugar:

0g
Protein:

10g
The nutrition information for this recipe is an approximate total per serving. Please double check the nutrition information for your exact ingredients and brands.