Fluffy, tender and delicious Almond Flour Banana Pancakes are so simple to make!
You need just six common ingredients to make these grain-free, low-carb pancakes that are so tasty, that the whole family (even the kids!) will love them.
Be sure to serve these banana almond flour pancakes with our homemade Keto Pancake Syrup and sugar-free whipped cream for the full pancake experience!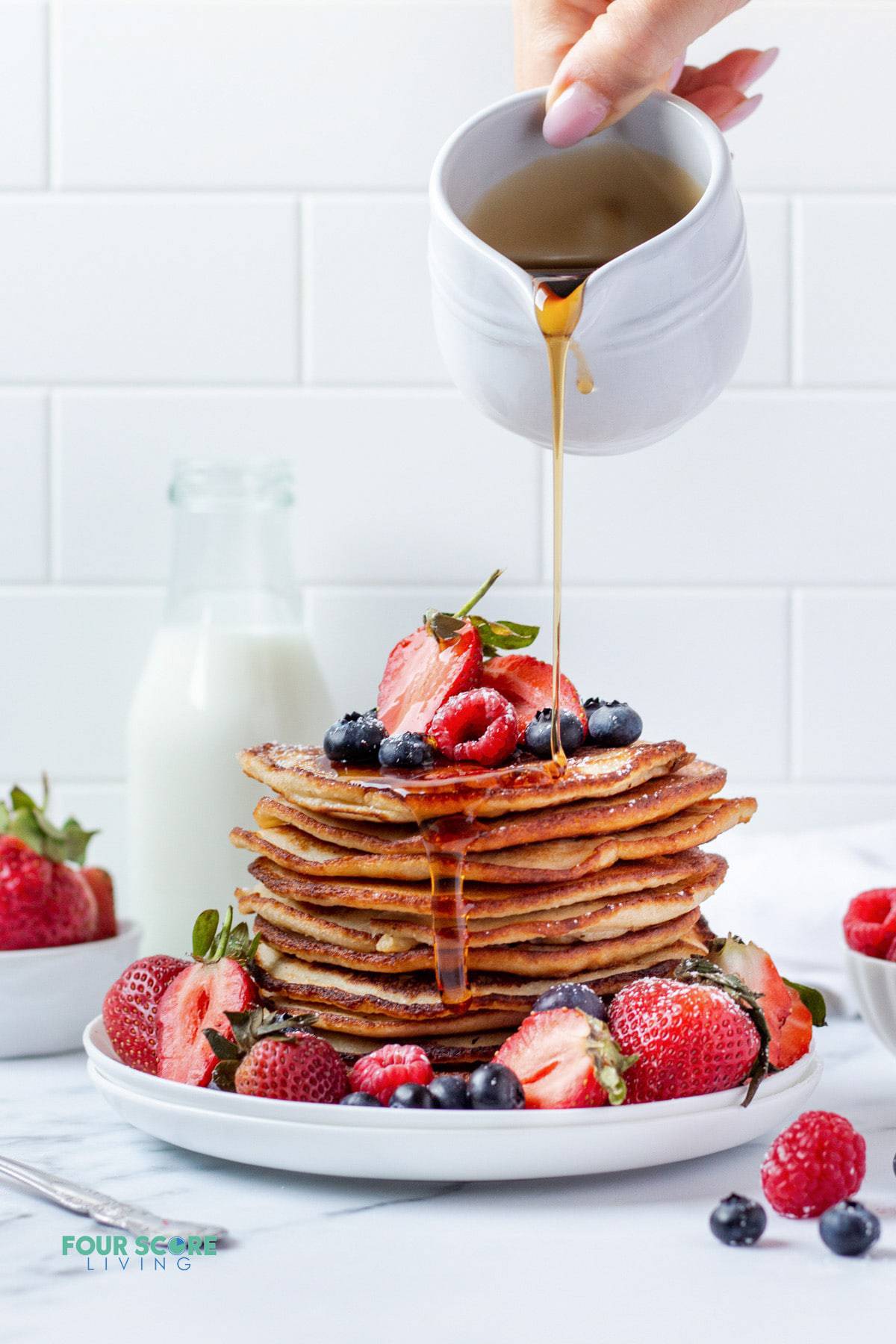 You might also like these almond flour scones. Almond flour biscuits are also perfect at breakfast time.
For another delicious breakfast option, try these keto cinnamon rolls.
ALMOND FLOUR BANANA PANCAKES RECIPE
Who can resist a plate of soft and fluffy pancakes on a Saturday or Sunday morning? Certainly not me!
These healthy pancakes are made with almond flour, mashed bananas, and eggs, with a few other additions to make them extra delicious. They have a melt-in-your-mouth texture, crispy edges, and a warm, nutty flavor from the almond flour.
No refined sugar or sweeteners are needed in this almond flour banana pancakes recipe - they are wonderfully sweet from the ripe bananas in the batter.
No bananas? Check out our recipe for Low Carb Pancakes instead!
Looking for more healthy and delicious breakfast options? Try baking a batch of our Keto Waffles recipe.
WHAT TO MAKE WITH OVERRIPE BANANAS?
These pancakes are a perfect thing to do with those bananas that you forgot about that are about to go bad! When it comes to baking and making pancakes with bananas, the riper the better.
Be sure that your bananas are not at all green, and that they have at least some black spots on them before making Almond Flour Banana Pancakes, or any of these tasty banana recipes.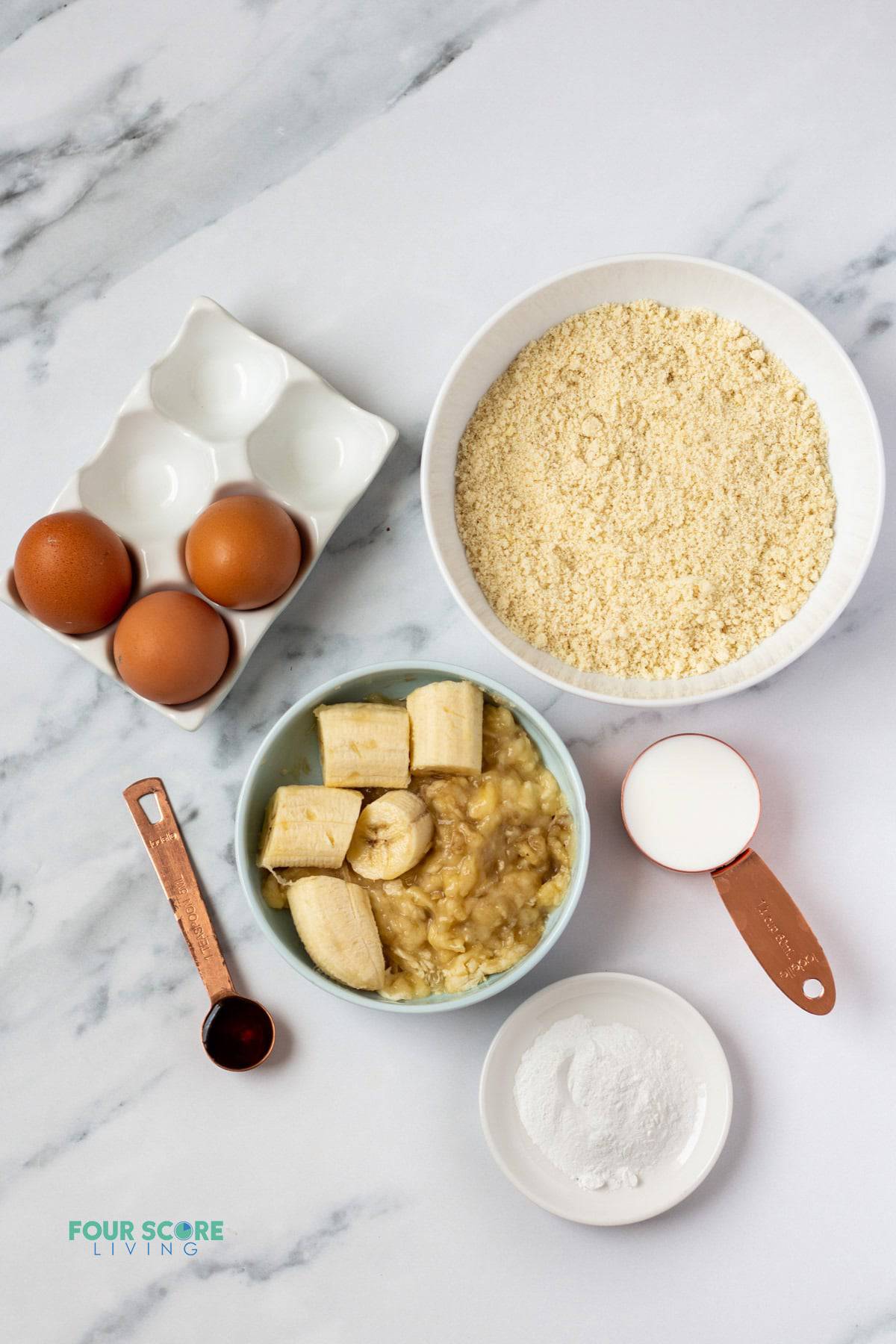 INGREDIENTS IN BANANA ALMOND FLOUR PANCAKES
Superfine Almond Flour: Look for very finely ground blanched almond flour for making pancakes. This will make your pancakes light and fluffy.
Baking Powder: This is optional. The pancakes will have a bit more rise to them with it, but they are fine without it too.
Bananas: Use two medium-sized bananas that are very ripe (no longer green, and starting to get black spots) Mash them up with a fork to get about 1 cup of mashed bananas.
Eggs: Three large eggs add volume to the batter and help to hold everything together. Let your eggs come to room temperature before mixing to get a smooth pancake batter.
Milk: Use regular or dairy-free milk. This thins the batter so that it's the perfect consistency for making pancakes.
Vanilla Extract: This is the thing that will make your house smell amazing while the almond flour pancakes are cooking! Use a high-quality pure vanilla extract for the best results.
If you have any questions about this pancake recipe, please leave a comment below and I will get back to you.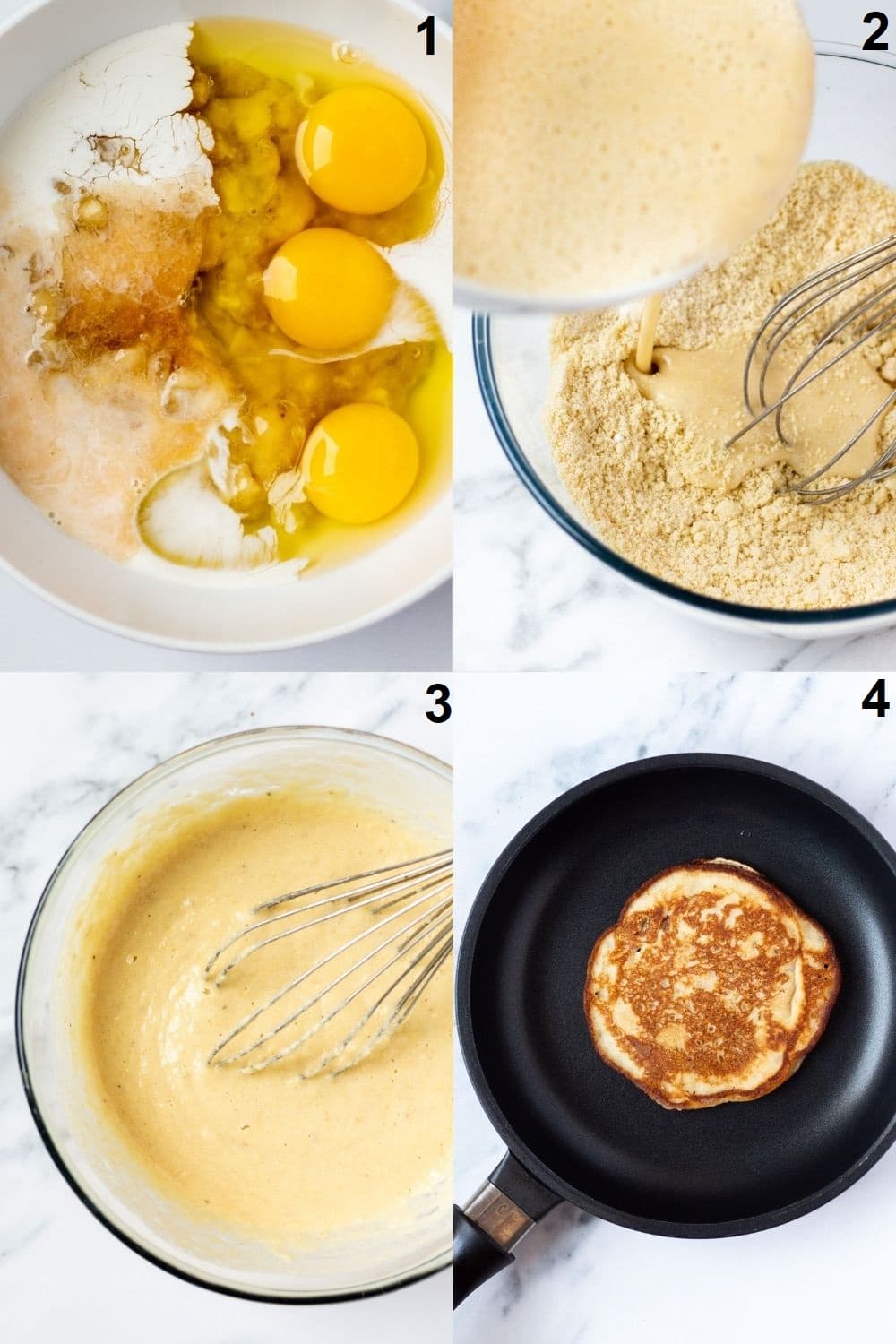 HOW TO MAKE ALMOND FLOUR BANANA PANCAKES
Mix up the pancake batter and get cooking! Here is the step-by-step for making banana almond flour pancakes:
In a medium mixing bowl, whisk together the almond flour and baking powder to get out any lumps. In a separate medium bowl, combine the mashed banana, eggs, milk, and vanilla extract.
Combine the dry ingredients and the wet ingredients.
Stir the pancake batter until it is well combined and no large lumps remain.
Cook pancakes in a non-stick skillet over medium heat. To make 8 pancakes, each should use ¼ cup of batter. The pancakes are done when both sides are golden brown and the edges are set.
These numbered steps match the numbered photos above and are for illustration purposes. For the complete list of ingredients and instructions, please see the recipe below.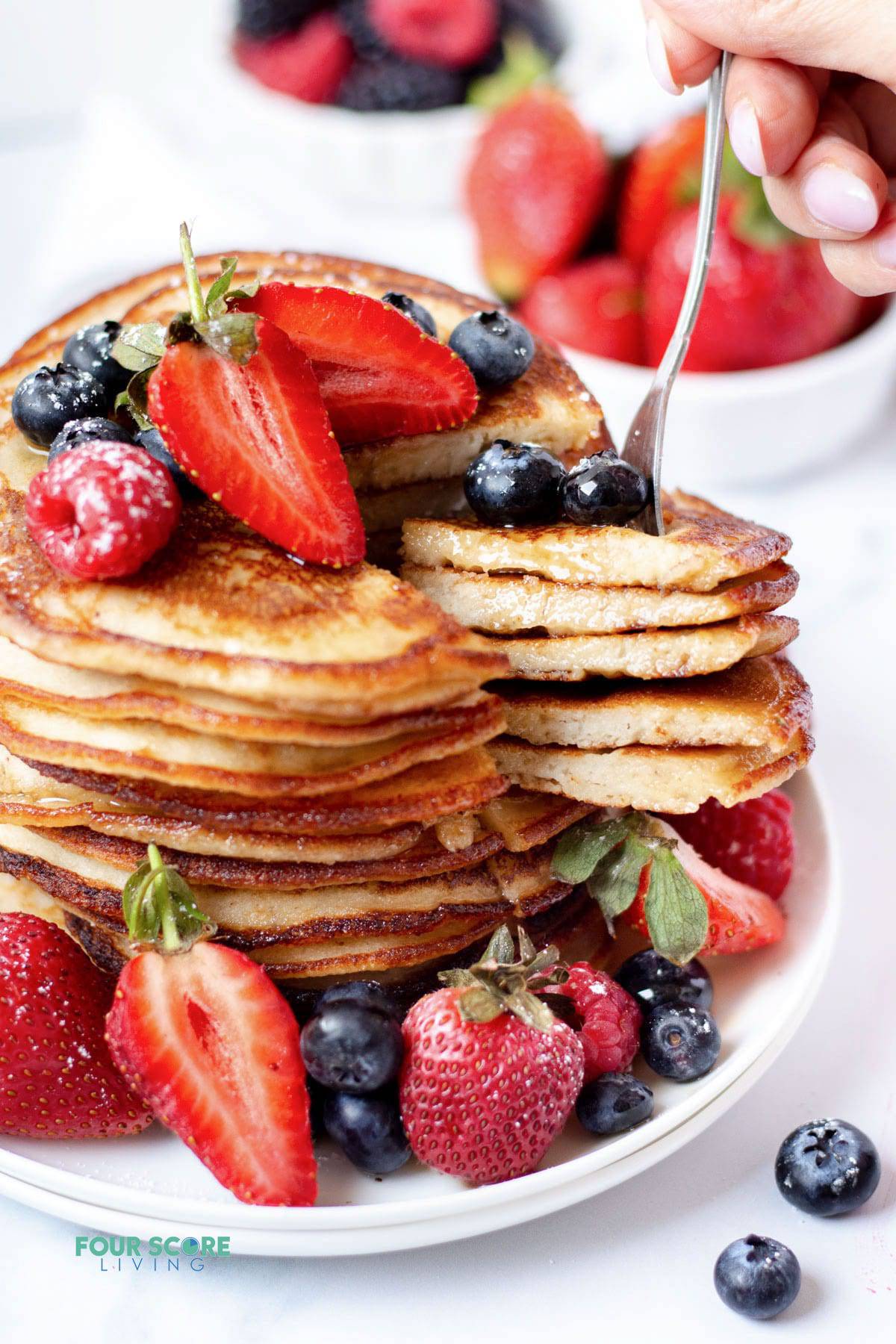 HOW TO SERVE ALMOND FLOUR PANCAKES
Banana Almond Flour Pancakes are delicious served with a pat of butter and a drizzle of pure maple syrup. If you're watching carbs or sugar, try making our Keto Pancake Syrup instead.
Fresh berries, sliced bananas or your favorite fresh fruit is also a welcome addition to a stack of almond flour pancakes.
For a healthy side dish, enjoy these with an Avocado Smoothie.
Don't forget the coffee! Try our homemade Keto Coffee Creamer for the perfect morning cup.
BANANA ALMOND FLOUR PANCAKES RECIPE TIPS
Are you having trouble with your almond flour banana pancakes? Here are some common issues that people face when making banana pancakes, and some suggestions to help!
Soggy Banana Pancakes: If the center of your pancakes is soggy, it may be because your pan was too hot and the outside of the pancake cooked faster than the inside. Reduce the heat on your pan and try again.
Crispy Edges? If you like crispy pancake edges, be sure to fry the pancakes with a small amount of oil. If you prefer the edges of your pancakes to be soft, use a good non-stick skillet, with a very small amount of non-stick spray instead.
Uneven Cooking: Be sure to keep an eye on the temperature of your pan as you work through cooking the pancakes. Allow time in between each batch for the pan to come back to the right temperature.
Banana Pancakes Falling Apart: Because there is no gluten-containing flour in this recipe, the pancakes can be delicate. Be sure to flip them over very carefully using a thin spatula to avoid breaking them.
The other thing that might cause your almond flour banana pancakes to fall apart is your ingredients. If you use eggs that are too small, or if you have more than 1 cup of mashed bananas, the batter might not hold together.
WORKING WITH ALMOND FLOUR
Baking and cooking with almond flour in place of wheat flour has a small learning curve, but it's really pretty easy.
Here are my best tips for working with almond flour that should help you make this recipe and all of our almond flour baking recipes
Almond flour lasts the longest if stored in the fridge or freezer, however, you should let it come to room temperature before using it in recipes. This is because cold almond flour won't absorb moisture as well.
Because almond flour can spoil, be sure to check the expiration dates before starting your recipe.
When measuring almond flour, always use a spoon to fill your measuring cups rather than scooping down into your flour container. This will ensure that you aren't compacting it, and therefore measuring too much flour.
Almond flour will absorb wet ingredients differently than wheat flour does. You may notice that your batter is thicker than you'd expect it to be for a pancake recipe. This is normal.
Want more almond flour recipes? Readers are loving this recipe for Almond Flour Crepes. Try this Almond Flour Chocolate Cake next.
MIXINS FOR ALMOND FLOUR PANCAKES
Pancakes made with banana and almond flour are delicious just as the recipe is written, but there are no rules here that say you can't add in some more tasty bits!
Try mixing in mini chocolate chips, fresh blueberries, or chopped walnuts for flavor and texture.
A sprinkle of cinnamon or a small amount of almond extract or your other favorite flavor extract would be delicious too.
To add extra protein to these pancakes, mix a tablespoon of Almond Butter into the batter.
STORING TIPS FOR ALMOND FLOUR BANANA PANCAKES
Leftovers: Keep extra pancakes refrigerated in an airtight container for up to 2 days.
To Freeze: Freeze the pancakes on a sheet pan lined with parchment paper for about 2 hours or until solid. Then remove them from the pan and store them in a Ziploc bag in the freezer for up to 2 months.
To Reheat: Microwave for about a minute or until warmed through.
Because these pancakes freeze so well, consider making a double batch so you can enjoy them a few times after only cooking them once!
CAN I USE AN EGG REPLACER IN THIS RECIPE?
Because eggs are a big part of the pancake batter recipe, I haven't tested this recipe using a vegan chia egg or flax egg. I just don't know if it would work. If you decide to try a substitute, please leave a comment and let me know how it went.
DO I NEED A GRIDDLE TO MAKE PANCAKES?
If you cook pancakes often or are cooking for a large family, a non-stick griddle can be an excellent investment. If you don't have a griddle, a non-stick frying pan works just as well.
TRY THESE OTHER BREAKFAST RECIPES
We have lots of low carb breakfast recipes!
Make a batch of muffins and freeze or store them for easy grab and go breakfasts all week! Keto Chocolate Muffins and Almond Flour Blueberry Muffins are my go-to recipes.
For a savory breakfast that feeds a crowd, this Keto Breakfast Casserole is the best. You'll also love making a delicious homemade Quiche.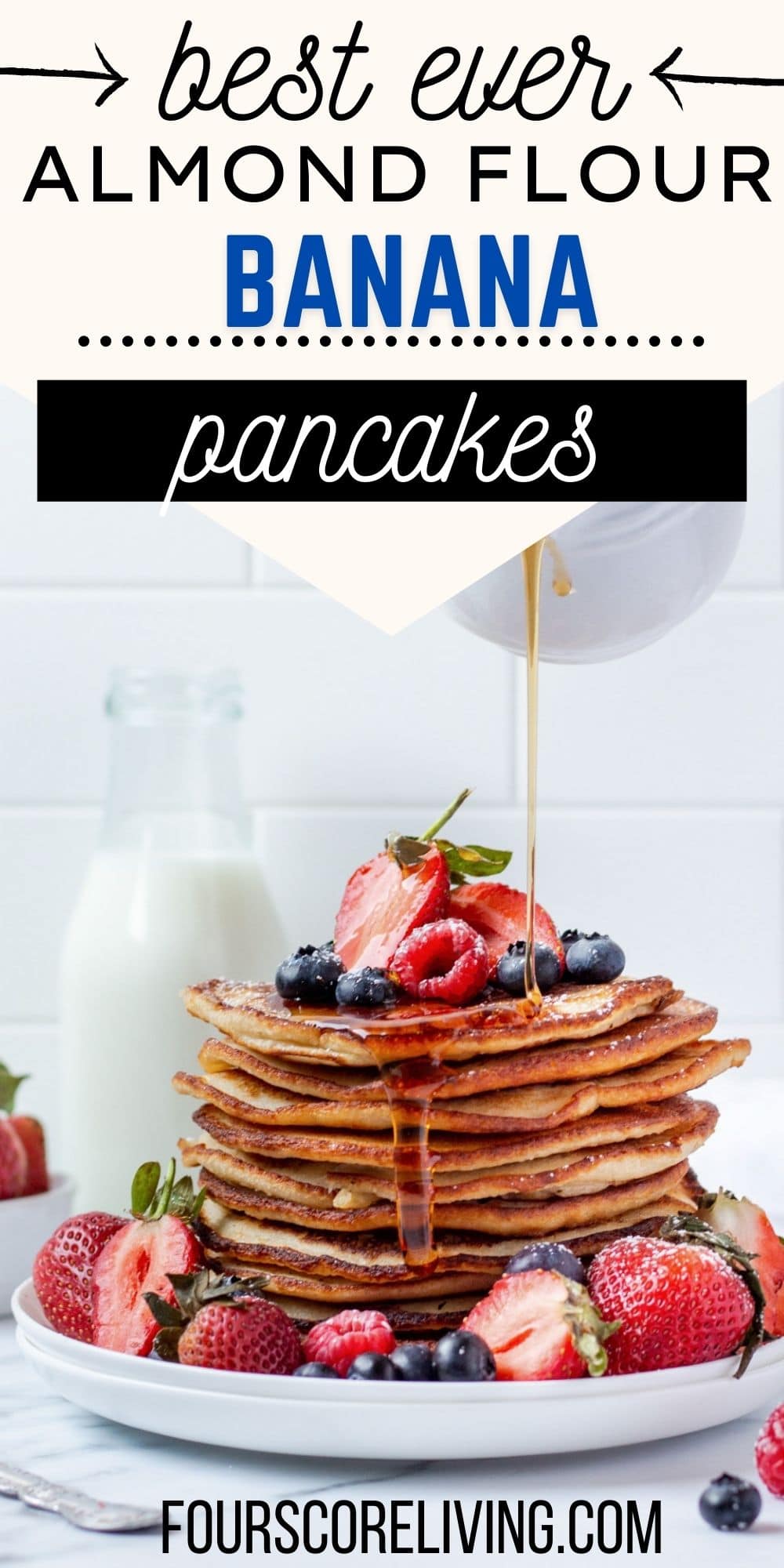 We hope you enjoyed reading this article. Please help us out by leaving a quick review and star ★ rating below.
LET'S GET SOCIAL, you can follow Four Score Living on Pinterest. You can also leave a comment below if you have any questions.
Did you make these Almond Flour Banana Pancakes? Please leave a comment below letting me know what you thought!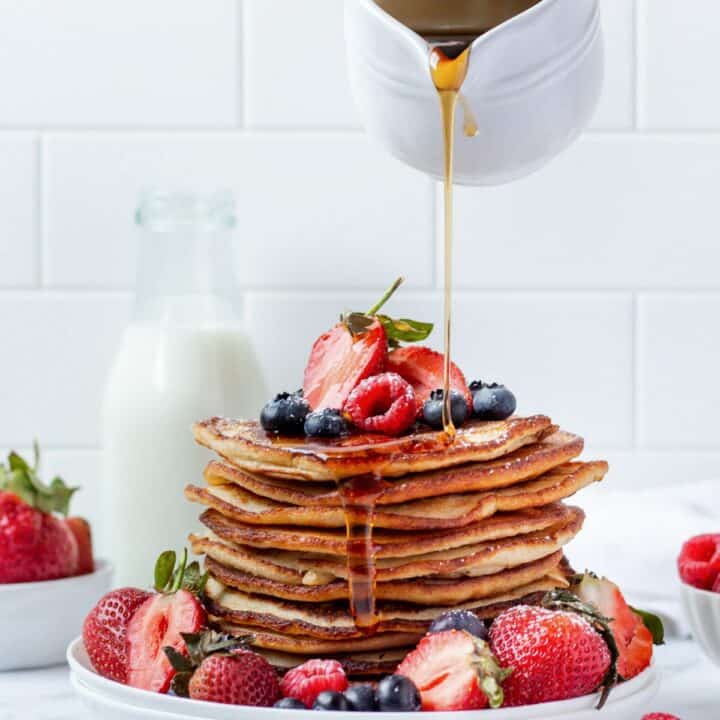 Almond Flour Banana Pancakes
Fluffy, tender, and delicious Almond Flour Banana Pancakes are so simple to make. They are gluten free, refined sugar free, and need just 5 ingredients.
Ingredients
1 ½ cups superfine almond flour
1 teaspoon baking powder optional
2 medium ripe bananas, mashed (about 1 cup)
3 large eggs
¼ cup of milk or dairy-free milk
1 teaspoon vanilla extract
Instructions
In a medium mixing bowl, whisk together almond flour and baking powder.
In a separate medium mixing bowl, combine the mashed banana, eggs, milk, and vanilla.
Add the dry ingredients into the wet ingredients and stir until well combined and no large lumps remain.
Heat a large non-stick skillet over medium heat. Once hot, add oil and turn the pan to coat the bottom evenly.
Ladle a ¼ cup of the batter into the preheated pan. If you cook multiple pancakes at a time, just be sure to leave enough room for the batter to spread. Cook for about 3 minutes or until the bottom is golden brown and the edges look cooked.
Carefully flip the pancakes with a thin spatula, and continue to cook until the pancakes are golden brown on both sides and the center is cooked.
Transfer pancakes to plate or serving platter and repeat with remaining batter.
Serve warm with syrup and butter, or your favorite toppings.
Notes
When measuring almond flour, you'll want to spoon the almond flour into the measuring cup and then level it. Never scoop the measuring cup directly into the almond flour or you'll end up with too much.
If for some reason your batter is too thick, add ¼ of water and stir it in.
Feel free to stir in chocolate chips, blueberries, or chopped nuts before cooking.
Nutrition Information:
Yield:

4
Serving Size:

2 pancakes
Amount Per Serving:
Calories:

391
Total Fat:

26g
Saturated Fat:

4g
Trans Fat:

0g
Unsaturated Fat:

21g
Cholesterol:

146mg
Sodium:

212mg
Carbohydrates:

27g
Fiber:

7g
Sugar:

13g
Protein:

17g
The nutrition information for this recipe is an approximate total per serving. Please double check the nutrition information for your exact ingredients and brands.