Venturing on a ketogenic diet journey can feel like moving through an abyss of nutritional information, particularly when determining the carbohydrate content of our beloved foods. Among these, sweet potatoes are a nutrient-dense comfort food widely used in different cuisines.
So before we set sail on adopting a keto lifestyle, we have a question to answer, "Can you eat sweet potatoes on a keto diet?"
In this article, we will dive deep into this root vegetable, examining its nutritional profile, health benefits, and the impact of its carb content on a keto diet.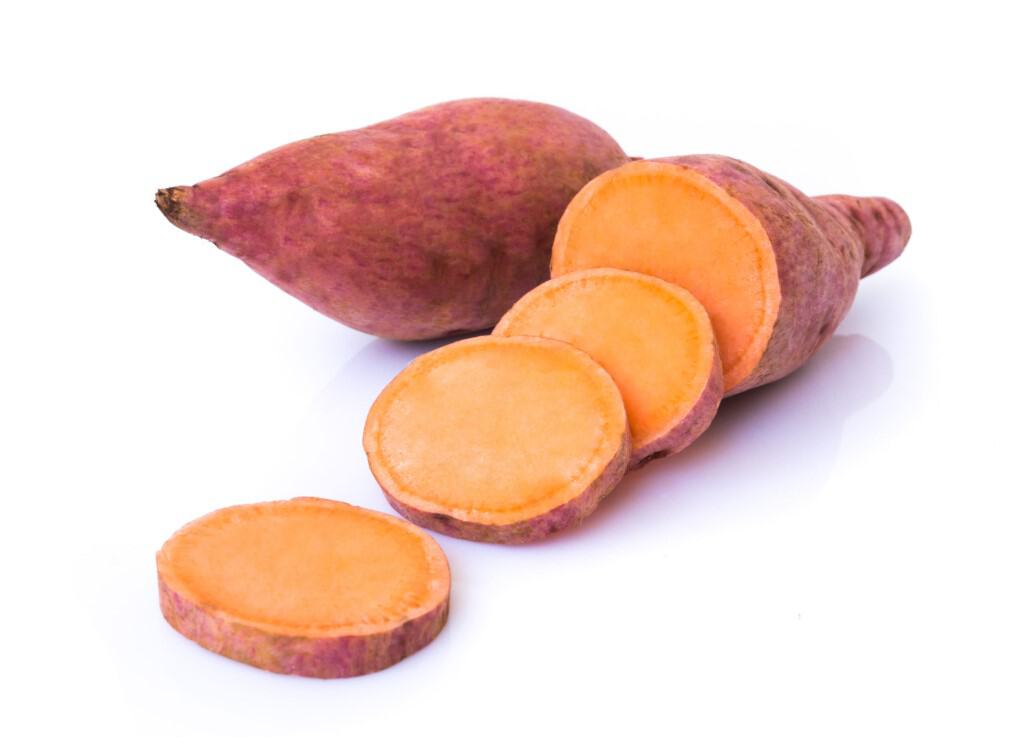 We'll also analyze 11 sweet potato alternatives, including a handy chart that breaks down their nutritional profile and ranks them by their net carbs, so you can make the right choices on your keto journey.
Whether you're an experienced keto follower or a newbie adopting this low-carb, high-fat diet, this guide has something insightful for all.
Are Sweet Potatoes Keto Friendly?
To answer this question, we need to understand their carbohydrate content. While the keto diet encourages the intake of high-fat, low-carb foods, sweet potatoes, unfortunately, don't fall into this category.
They have a high carb and sugar content that can potentially disrupt the state of ketosis that the body enters on a standard keto diet. However, in moderation and on a carb load day, they could be a part of a low-carb diet.
Carbs in Sweet Potatoes
Sweet potatoes come in various forms: raw, baked, mashed, and as sweet potato fries. Each of these preparations impacts the carb content, thus their compatibility with the standard keto diet.
Carbs in Raw Sweet Potatoes
A medium sweet potato (weighing around 100g) in its raw state contains around 20 grams of carbohydrates, making it a high-carb food in the context of a keto diet plan.
Carbs in Baked Sweet Potatoes
The baking process doesn't change the carbohydrate content significantly. A medium-baked sweet potato still holds around 20 grams of carbs.
Carbs in Mashed Sweet Potatoes
Depending on what they're mixed with, mashed sweet potatoes can contain even more carbs. An entire cup can have up to 58 grams of carbohydrates.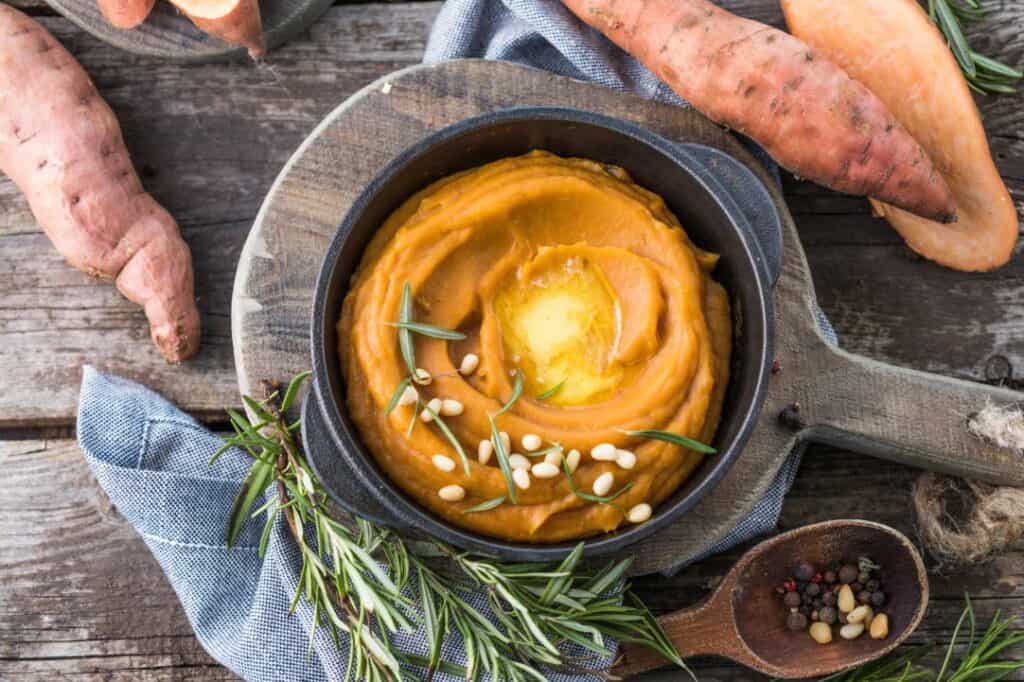 Carbs in Sweet Potato Fries
Lastly, sweet potato fries, a favorite among many, pack a considerable carb punch. A serving can contain up to 21 grams of carbs and 17 grams of net carbs.
Keto Sweet Potato alternatives
Adherence to a keto diet plan doesn't mean giving up on the distinct taste and texture of sweet potatoes. A range of low-carb alternatives can fulfill your cravings while keeping you within your daily carbohydrate limit.
| | | | | | |
| --- | --- | --- | --- | --- | --- |
| Sweet Potato Substitutes | Net Carbs per 3.5 ounces (100 grams) raw | Calories | Fiber | Protein | Fat |
| Cauliflower | 1 gram | 25 | 2 | 1.92 | 0.28 |
| Radish | 1.8 | 16 | 1.6 | 0.68 | 0.1 |
| Jicama | 3.92 | 38 | 4.9 | 0.72 | 0.09 |
| Celeriac | 4.1 | 42 | 1.8 | 1.5 | 0.3 |
| Turnip | 4.63 | 28 | 1.8 | 0.9 | 0.1 |
| Rutabaga | 6.3 | 38 | 2.3 | 1.1 | 0.2 |
| Pumpkin | 6.76 | 26 | 0.5 | 1 | 0.1 |
| Carrots | 6.78 | 41 | 2.2 | 0.93 | 0.24 |
| Kabocha Squash | 7 | 49 | 1.9 | 1.8 | 0.2 |
| Butternut Squash | 10 | 45 | 2 | 1 | 0.1 |
| Acorn Squash | 12.5 | 56 | 2 | 1.1 | 0.1 |
Cauliflower: One of the most versatile low-carb vegetables, cauliflower has gained popularity in the keto diet community for its ability to mimic high-carb foods. When cooked and mashed, it resembles the texture of sweet potatoes, making it a go-to for many seeking a low-carb lifestyle. In addition, it's a great source of fiber, vitamin C, and other health-promoting nutrients.
Radish: With their signature crisp texture and slightly peppery taste, these root vegetables can make a great alternative to sweet potatoes. Radishes can be used raw in salads, lending a refreshing crunch, or sautéed in stir-fries for a heartier dish, making them a versatile addition to a low-carb lifestyle.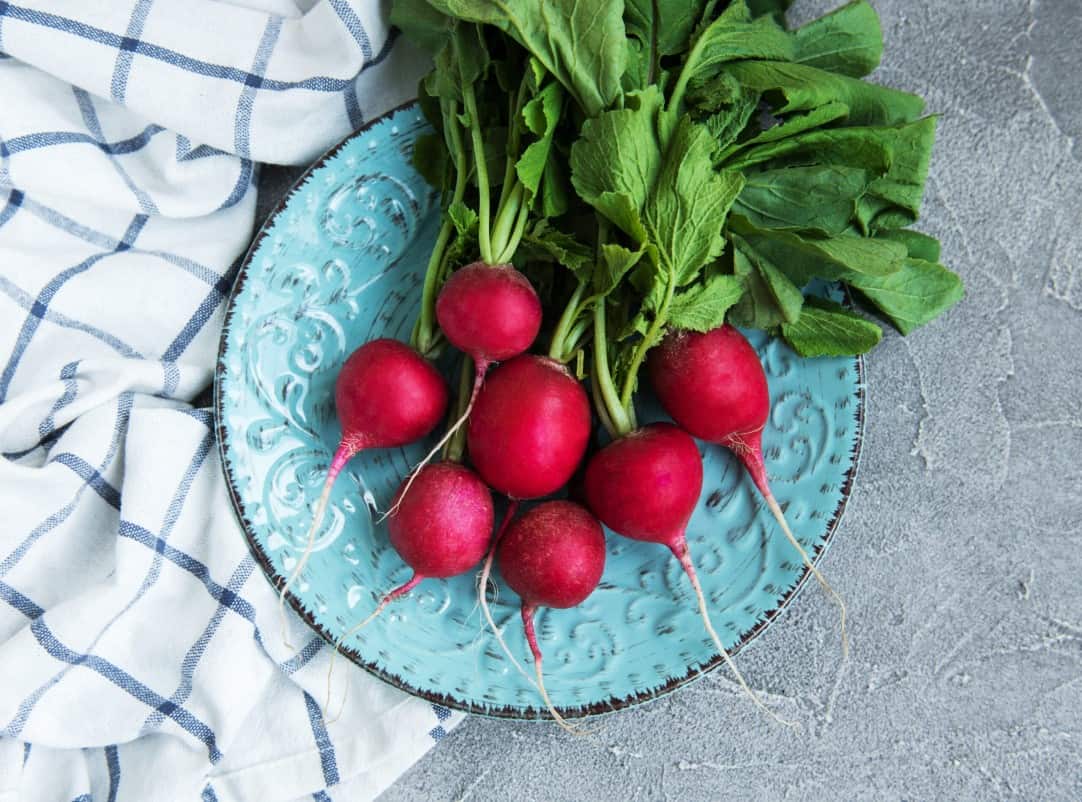 Rutabaga: This often-overlooked vegetable, slightly higher in carbs than others, can be a good source of fiber and vitamins when consumed in small portions. Its mildly sweet and earthy taste can replicate that of a sweet potato when roasted or mashed, making it a great addition to a keto diet plan.
Jicama: Jicama, with its crunchy texture and slightly sweet taste, can play the part of a sweet potato in various dishes. You can slice it thinly and bake it for a healthy substitute for sweet potato fries, or add it raw to salads for some added crunch. Despite its sweet flavor, jicama has a low glycemic index, making it a good choice for maintaining stable blood sugar levels.
Turnip: As a non-starchy vegetable, turnips can seamlessly replace sweet potatoes in many dishes. Whether mashed, roasted, or baked, turnips can provide a similar texture and taste to sweet potatoes. Their lower carb count can make them a better choice for those on a strict keto diet.
Pumpkin: Known for its sweet taste and comforting texture, pumpkin stands out as an excellent low-carb alternative to sweet potatoes. Pureed pumpkin can be used in soups, casseroles, or even keto-friendly desserts, offering a sweet taste and creamy texture reminiscent of sweet potatoes.
Acorn Squash: A type of winter squash, acorn squash's mild, slightly sweet flavor makes it a good alternative to sweet potatoes. It can be roasted, pureed, or stuffed, introducing versatility into your keto meals. Although higher in carbs than other options, portion size control can make it a part of a balanced diet.
Kabocha Squash: Also known as Japanese pumpkin, Kabocha squash has a sweet, nutty flavor that can mimic the taste and texture of sweet potatoes. Whether roasted, stewed, or pureed into a soup, it provides a comforting, autumnal taste while still being lower in carbs than sweet potatoes.
Carrots: Carrots, despite their sweetness, have fewer carbs than sweet potatoes. Their natural sugars caramelize when roasted, offering a similar sweet flavor to sweet potatoes. Carrots also have the advantage of being a good source of fiber, vitamin B, and vitamin C.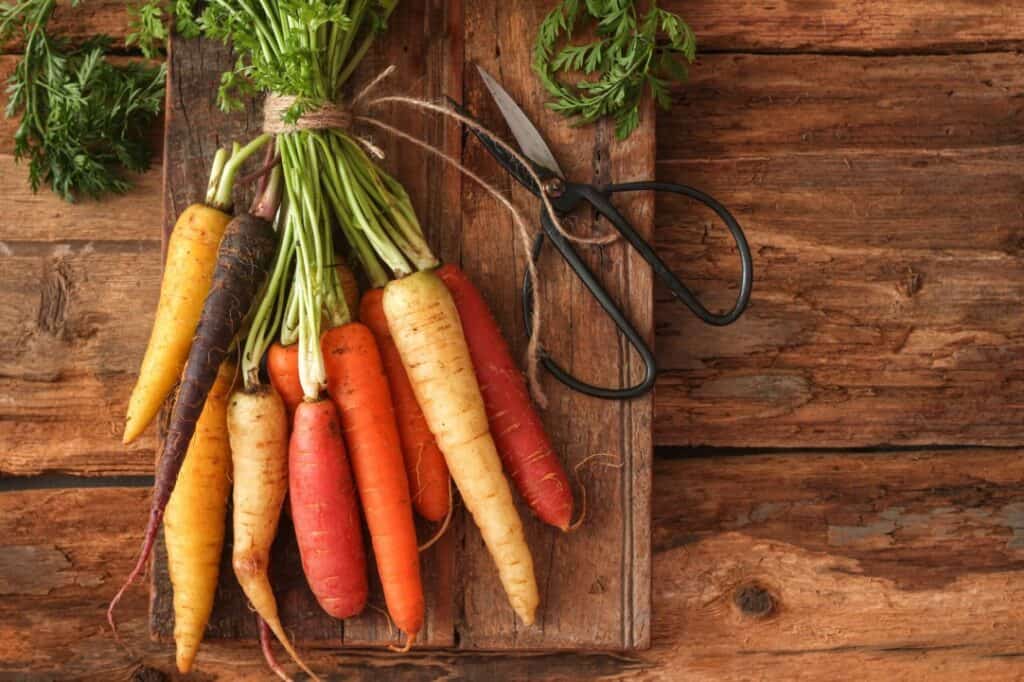 Butternut Squash: While butternut squash is higher in carbs than most keto-friendly vegetables, its creamy texture and subtly sweet taste make it a reasonable substitute for sweet potatoes when used in moderation. It's an excellent source of fiber, vitamin C, and other essential vitamins, contributing to a healthy diet.
Celeriac: This under-appreciated root vegetable is known for its firm texture and delicate, slightly nutty flavor. Often used as a low-carb substitute for potatoes, celeriac can be mashed, roasted, or used in soups and stews as a part of a low-carb diet. Plus, it's a nutritious food, being a good source of dietary fiber and vitamin C.
Best Vegetables to Eat on a Keto Diet
Embracing the low-carb is not just about cutting out high-carb foods; it's about replacing them with nutritionally dense, low-carb alternatives that complement this high-fat diet. Regarding vegetables, those grown above the ground usually align best with this dietary plan.
Leafy greens are the shining stars of a low-carb diet. Kale, spinach, and lettuce are high in fiber and low in net carbs, making them a fantastic addition to a ketogenic lifestyle. These green superfoods are not only low in carbohydrates but also pack a powerful nutritional punch, brimming with essential vitamins and minerals.
Broccoli, another low-carb, high-nutrient powerhouse, is an excellent vegetable choice on a ketogenic diet. This vegetable is rich in vitamin C and fiber while keeping your carbohydrate intake minimal.
For more information, read our article on Keto Vegetables.
Nutritional Information of Sweet Potatoes
Although not part of a strict keto diet due to its high carbohydrate content, sweet potatoes offer many nutritional benefits.
Sweet potatoes are a good source of fiber. They also provide a substantial amount of vitamin C, a nutrient that boosts the immune system.
Beyond fiber and vitamin C, sweet potatoes are a nutritional powerhouse, boasting a high content of vitamin B.
In addition to these nutrients, sweet potatoes are rich in other essential vitamins and minerals that support overall health, reinforcing their place as a nutritious food. Therefore small portions of sweet potatoes could still be included in a less strict low-carbohydrate diet.
Health Benefits of Sweet Potatoes
Sweet potatoes may not be the go-to option on a strict keto diet due to their high carb content. When consumed in small amounts, they can contribute to your overall health.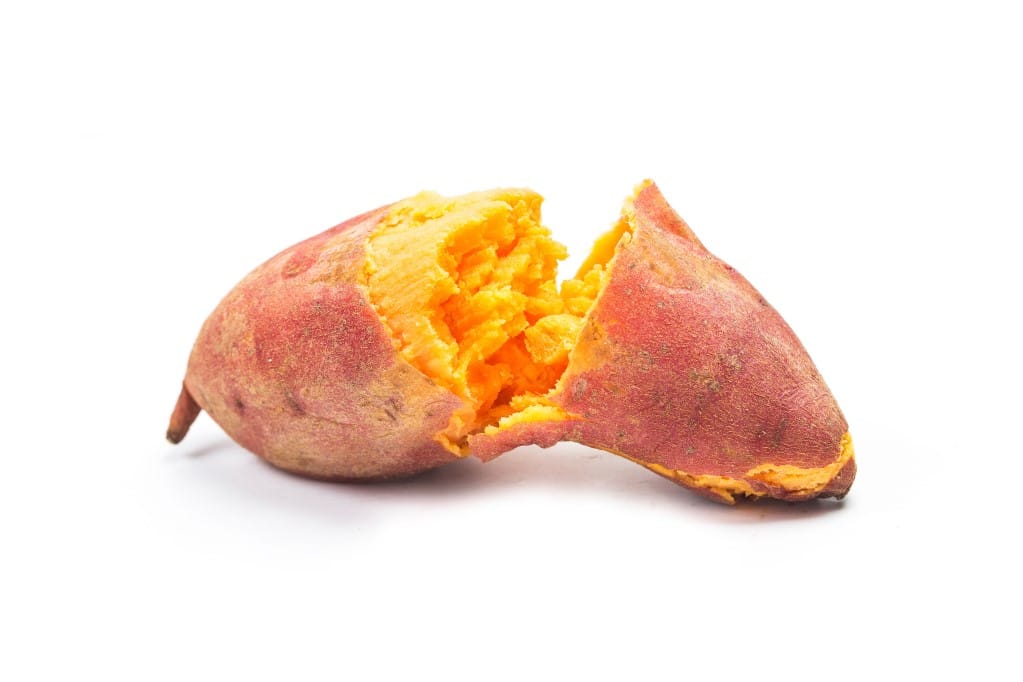 Weight Management: Despite their carbohydrate content, sweet potatoes can be helpful in weight loss efforts. They're nutritious, offering essential nutrients with relatively few calories.
Digestive Health: The dietary fiber in sweet potatoes also plays a crucial role in promoting a healthy digestive system. It aids in preventing constipation and promoting regular bowel movements, contributing to overall gut health. (Ware, 2019)
Skin Health: Sweet potatoes are an excellent source of vitamin C, a potent antioxidant that helps combat the damaging effects of free radicals on the skin. Moreover, they are rich in beta-carotene, which converts into vitamin A, essential for promoting healthy skin and improving complexion.
Insulin Resistance: Some studies suggest that sweet potatoes may help combat insulin resistance, a key factor in the development of type 2 diabetes. The high fiber content in sweet potatoes may improve insulin sensitivity, contributing to better blood sugar control. (Shubrook, 2021)
Boosts Immune System: The high content of vitamins A and C in sweet potatoes makes them a great addition for boosting the immune system. These vitamins help to fend off infections and diseases, contributing to overall health.
Vision Health: The high levels of beta-carotene in sweet potatoes convert to vitamin A in the body, a nutrient critical for maintaining healthy vision.
Inflammation Reduction: Sweet potatoes contain choline, a nutrient that helps with sleep, muscle movement, and inflammation. (Ware, 2019)
9 different Potatoes ranked by Net Carbs
For those who wish to occasionally incorporate potatoes into their low-carb diet, it's crucial to understand how different types rank by net carbs. Let's discuss these nine variants, from traditional potatoes to sweet potatoes:
| | | | | | |
| --- | --- | --- | --- | --- | --- |
| Potatoes | Net Carbs per 3.5 ounces (100 grams) raw | Calories | Fiber | Protein | Fat |
| Red Potatoes | 15.19 | 77 | 1.9 | 2.14 | 0.1 |
| Russet Potatoes | 15.38 | 79 | 2.2 | 2.14 | 0.1 |
| Yukon Gold Potatoes | 15.38 | 77 | 2.2 | 2 | 0.1 |
| Purple Potatoes | 16 | 77 | 2 | 2 | 0 |
| Orange Sweet Potatoes | 18.4 | 86 | 3 | 1.6 | 0.1 |
| Hannah White Sweet Potato | 18.91 | 105 | 3.2 | 2 | 0 |
| Japanese Sweet Potato | 21 | 105 | 4 | 2 | 0 |
| Charleston Purple Sweet Potato | 22 | 105 | 4 | 2 | 0 |
| Jewel Yam | 22 | 105 | 4 | 2 | 0 |
Orange Sweet Potatoes: Known for their vibrant color and sweet flavor, orange sweet potatoes sit at the higher end of the carb scale. With a higher carb count than other potatoes, they may not be the best choice for a ketogenic diet but can be enjoyed in small amounts on less strict low-carb plans.
Hannah White Sweet Potato: Hannah white sweet potatoes are an interesting alternative. They're less sweet than their orange counterparts, reflecting their slightly lower carb count. While still too high in carbs for a standard keto diet, they might fit into a more liberal low-carb diet.
Japanese Sweet Potato: Characterized by their purple skin and white flesh, Japanese sweet potatoes have a subtly sweet flavor and dense texture. Similar to other sweet potato varieties, they also have a high carb content and should be consumed in moderation on a low-carb diet.
Charleston Purple Sweet Potato: These potatoes are known for their vibrant purple color and unique flavor. They are similar to orange sweet potatoes in their carbohydrate content, so while they are nutritious, their carb count can interfere with a strict keto diet.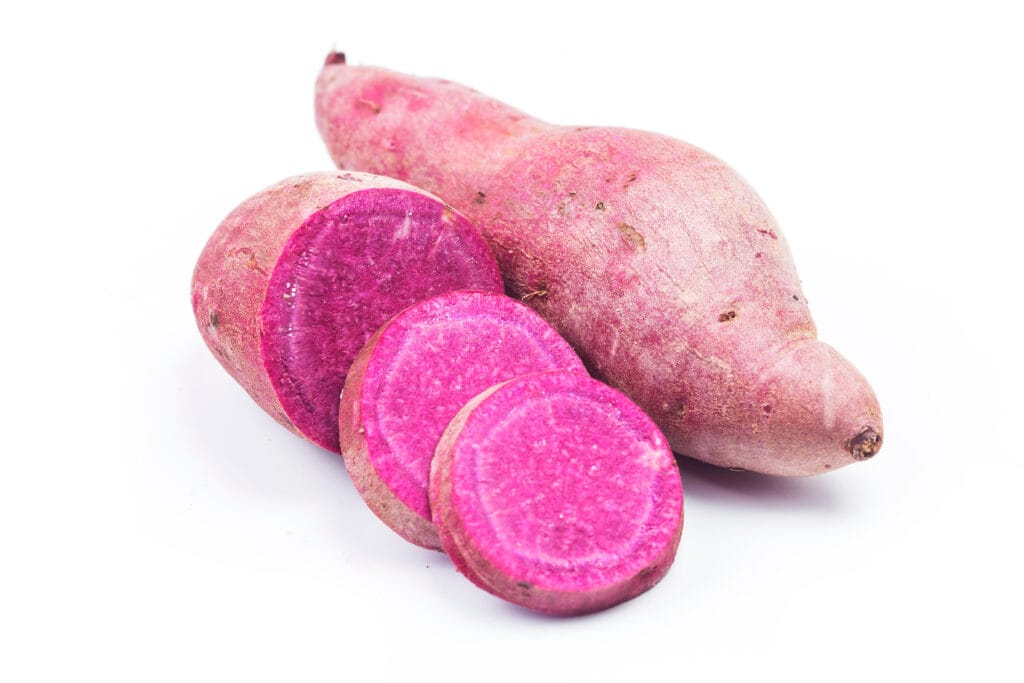 Russet Potatoes: Known as the typical white potato, russet potatoes are a staple in many households. Although they have fewer carbs than sweet potatoes, their carb content is still high for a low-carb lifestyle. However, they can be included in small portions in a more lenient low-carb diet.
Red Potatoes: Red potatoes are slightly waxy in texture and are often used in salads and roasts. Like russet potatoes, they are high in carbs but can be enjoyed sparingly on a more liberal low-carb diet.
Purple Potatoes: These are distinguished by their striking purple color, and their taste is slightly nutty. Purple potatoes are high in carbs, similar to red and russet potatoes. While their vibrant color adds visual appeal to dishes, they might not fit into a strict ketogenic diet due to their carb count.
Yukon Gold Potatoes: Yukon Golds are a popular choice for their creamy texture and buttery taste. However, like most regular potatoes, their carbohydrate intake is high. They're best suited for a balanced diet rather than a strict low-carb or ketogenic diet.
Jewel Yam: Although often confused with orange sweet potatoes, Jewel Yams have a distinct, sweeter taste and are higher in carbs. They can disrupt a state of ketosis, so they're not the best option for a strict keto diet but can be enjoyed on a carb load day or a more relaxed low-carb diet.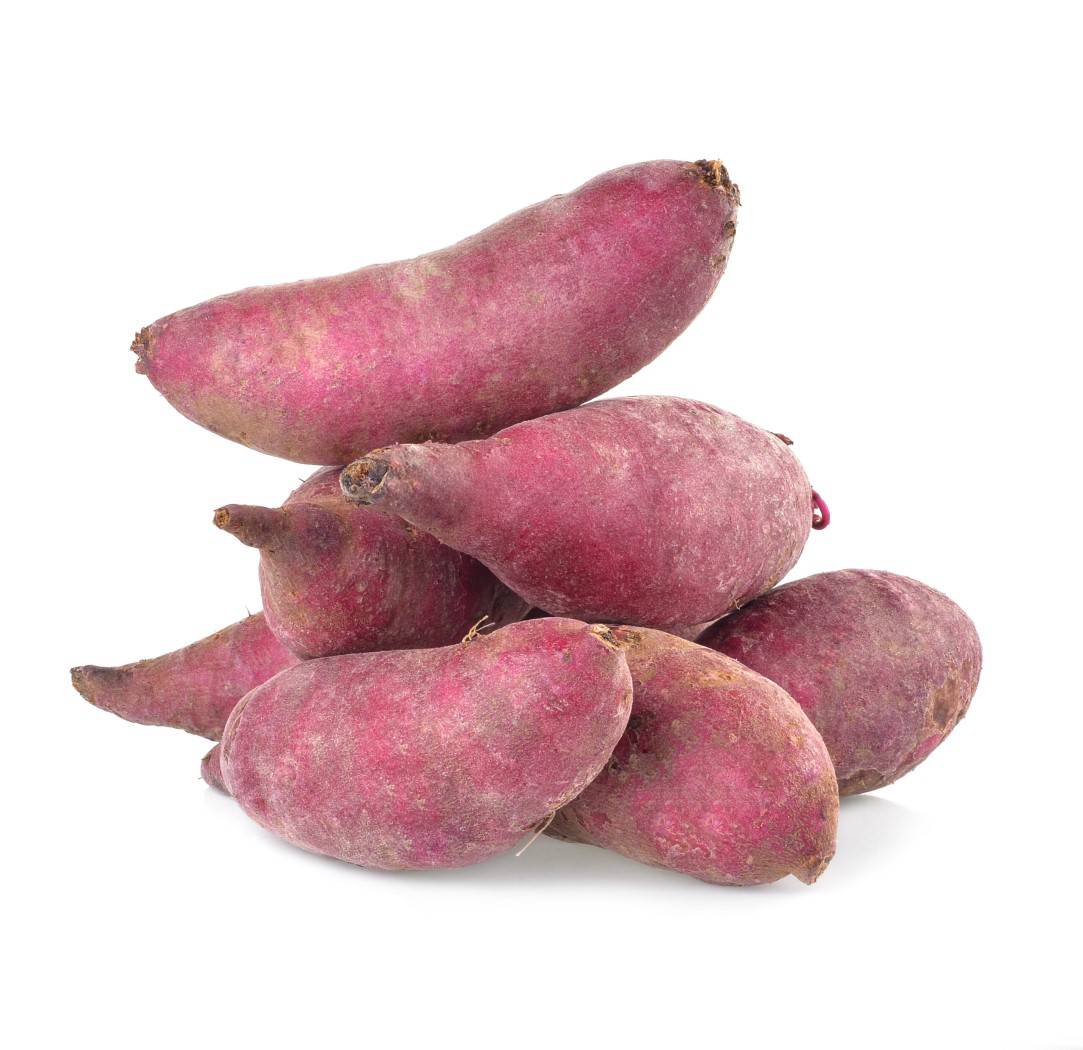 Conclusion
While sweet potatoes are healthful and delicious, this high-carbohydrate food should be avoided on a keto diet and consumed in moderation on a low-carb diet.
More articles you may like:
We hope you enjoyed reading this article. Please help us out by leaving a quick review and star ★ rating below.
LET'S GET SOCIAL, you can follow Four Score Living on Pinterest. You can also leave a comment below if you have any questions.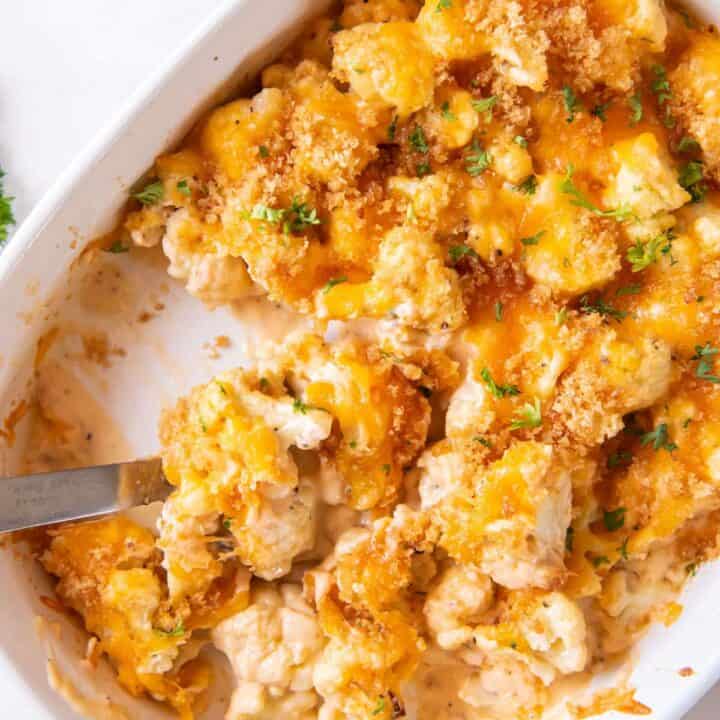 Keto Cauliflower Mac and Cheese
Tender roasted cauliflower is the perfect stand-in for macaroni in this delicious low carb recipe for Keto Cauliflower Mac and Cheese.
Ingredients
1 head cauliflower, cut into small florets
2 tablespoons avocado oil
Kosher salt, to taste
Black pepper, to taste
½ cup heavy cream
3 ounces cream cheese, softened
1 cup cheddar cheese blend, shredded, plus more for topping
1 tablespoon unsalted butter
1 ounce crushed pork rinds (about ⅓ cup, optional)
Instructions
Preheat and oven to 425 degrees F. Line a baking sheet with foil or parchment paper and set aside. Spray a 1-quart baking dish with cooking spray and set aside.
In a large bowl, toss the cauliflower florets with oil, salt, and pepper.
Spread the cauliflower on the prepared baking sheet and roast for 20-25 minutes, until golden and crisp-tender. Remove the cauliflower from the oven and reduce the heat to 375 degrees F.
In the last 5 minutes of the cauliflower cook time, set a large saucepan over medium heat. Heat the cream to a low simmer, then decrease heat to low.
Stir in the cheeses and butter until melted.
Remove the pan from the heat, then fold in the roasted cauliflower. Taste and season as desired.
Serve as is, or transfer the mixture to the prepared baking dish.
Sprinkle the top evenly with additional cheddar and crushed pork rinds and bake, uncovered, for 12-15 minutes, or until golden.
Notes
You can skip the baking step and enjoy this as a stovetop keto cauliflower mac and cheese.
Store leftovers in an airtight container in the fridge for 2-3 days. This dish is best eaten right away though, as the texture of the sauce will change after refrigeration.
Nutrition Information:
Yield:

5
Serving Size:

1
Amount Per Serving:
Calories:

386
Total Fat:

34g
Saturated Fat:

17g
Trans Fat:

1g
Unsaturated Fat:

14g
Cholesterol:

85mg
Sodium:

422mg
Carbohydrates:

7g
Fiber:

3g
Sugar:

4g
Protein:

14g
The nutrition information for this recipe is an approximate total per serving. Please double check the nutrition information for your exact ingredients and brands.