This easy homemade keto taco seasoning is delicious with ground beef, ground turkey or on fish tacos.
It only takes 5 minutes to make and it's whole30, paleo, gluten-free and made with the spices found in most kitchens.
If you are looking for other ways to use gluten-free taco seasoning, check out this Keto Chicken Taco Soup.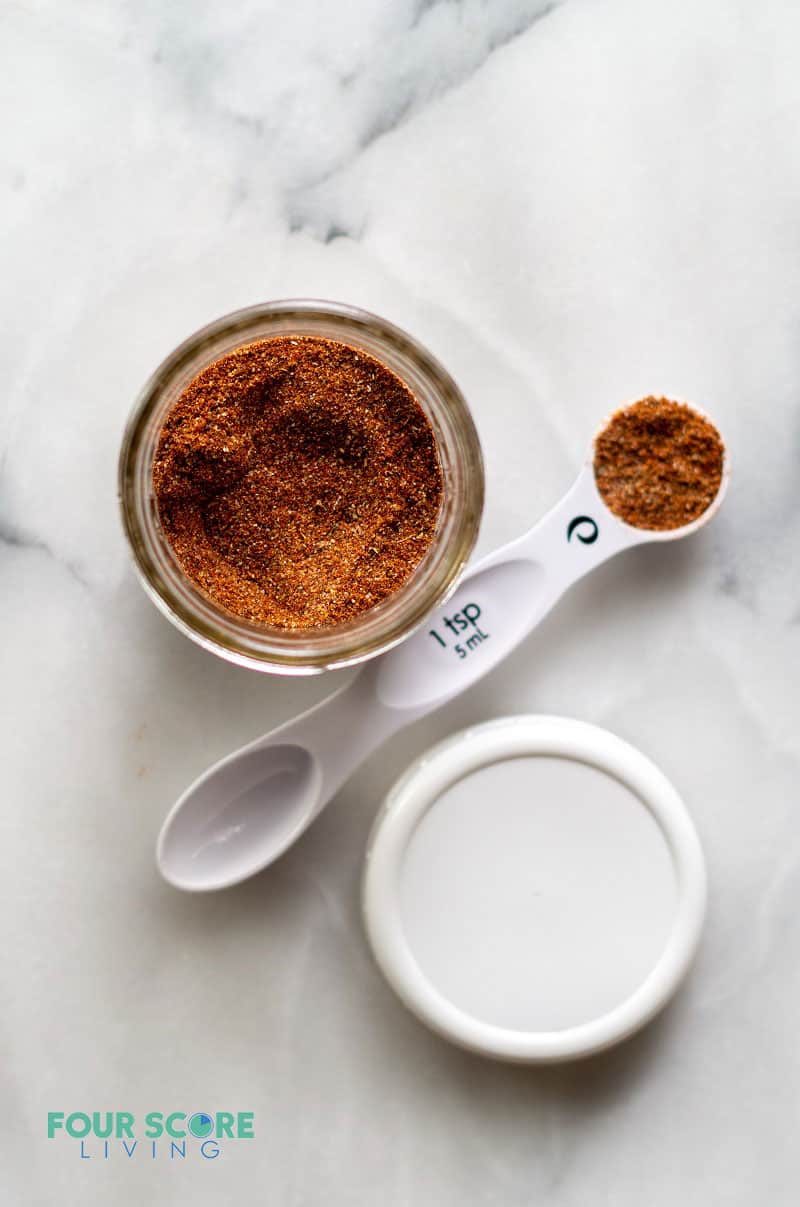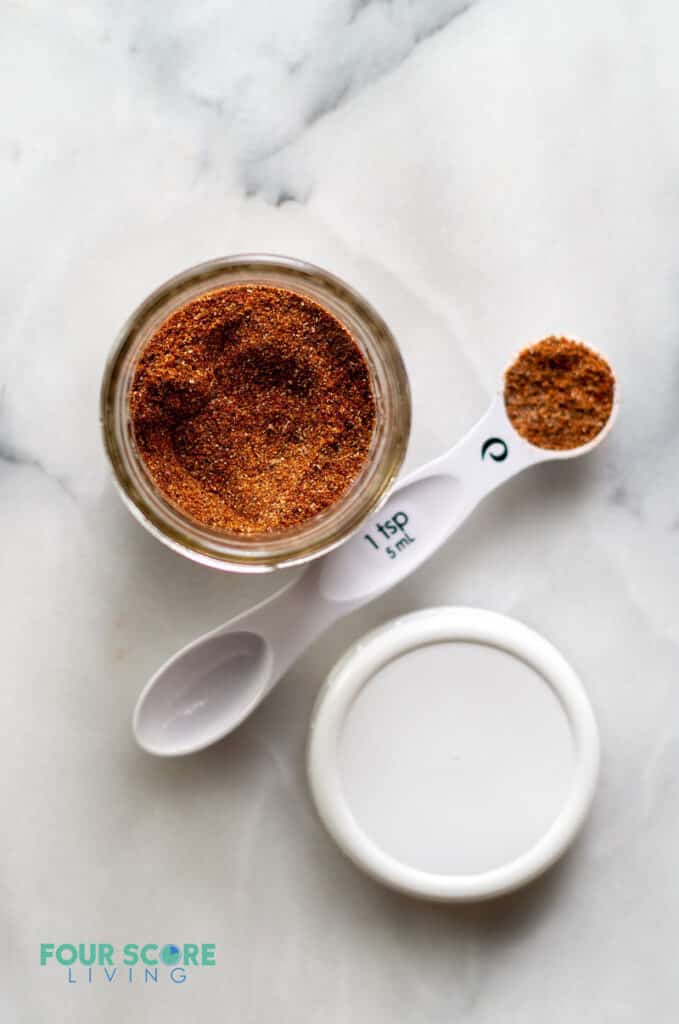 If you like making your own seasoning mixes you might like this Gluten-Free Pumpkin Spice Mix.
Keto Taco Seasoning Recipe
We love tacos! We eat tacos every week and rotate our tacos between fish tacos, beef, chicken, chorizo.
Taco seasoning purchased in packets can contain extra junk and fillers.
You can make this easy keto taco seasoning recipe to have readily available when you are ready to make gluten-free tacos or Keto Mexican Skillet.
When I make tacos, I typically make chicken tacos with salsa in a crock pot or gluten-free beef tacos or gluten-free fish tacos on the stove with this easy gluten-free taco seasoning.
Our local store doesn't carry gluten-free or keto taco seasoning, so I either order it online or make this homemade keto taco seasoning.
We eat tacos as lettuce wraps or on keto tortillas at least twice a month.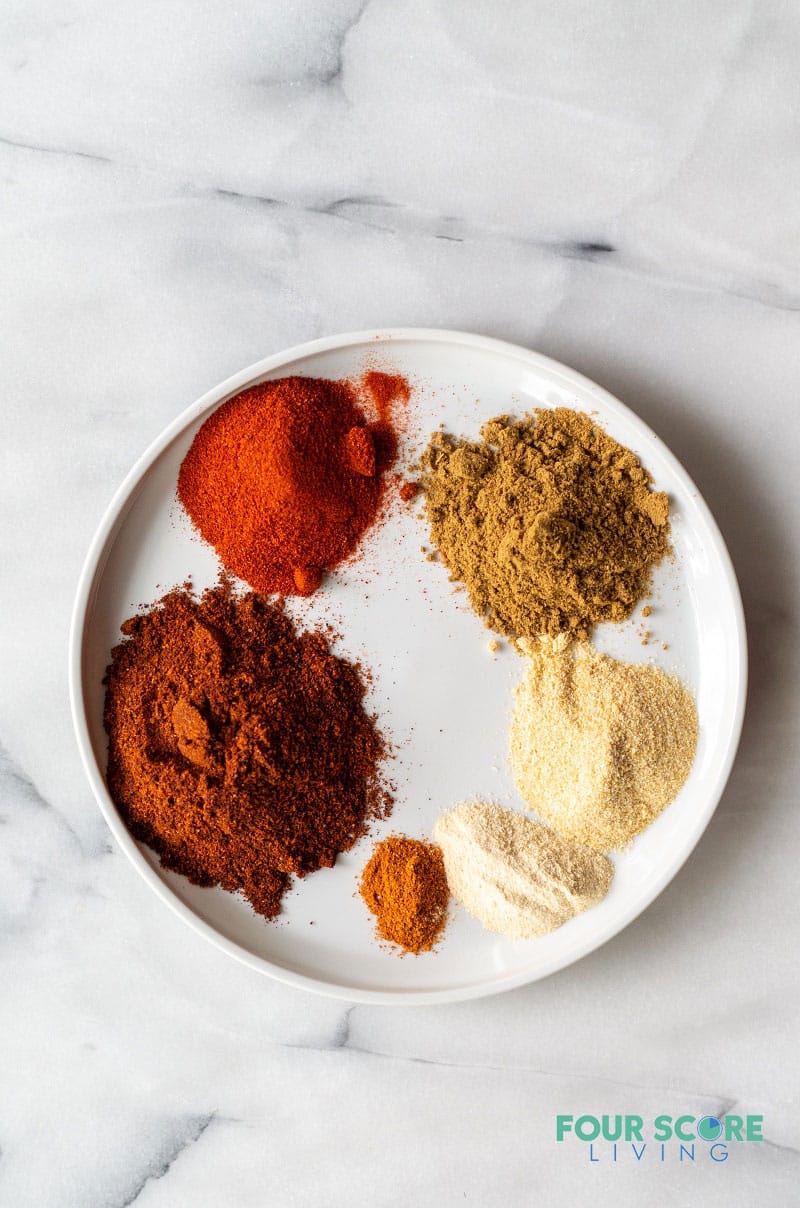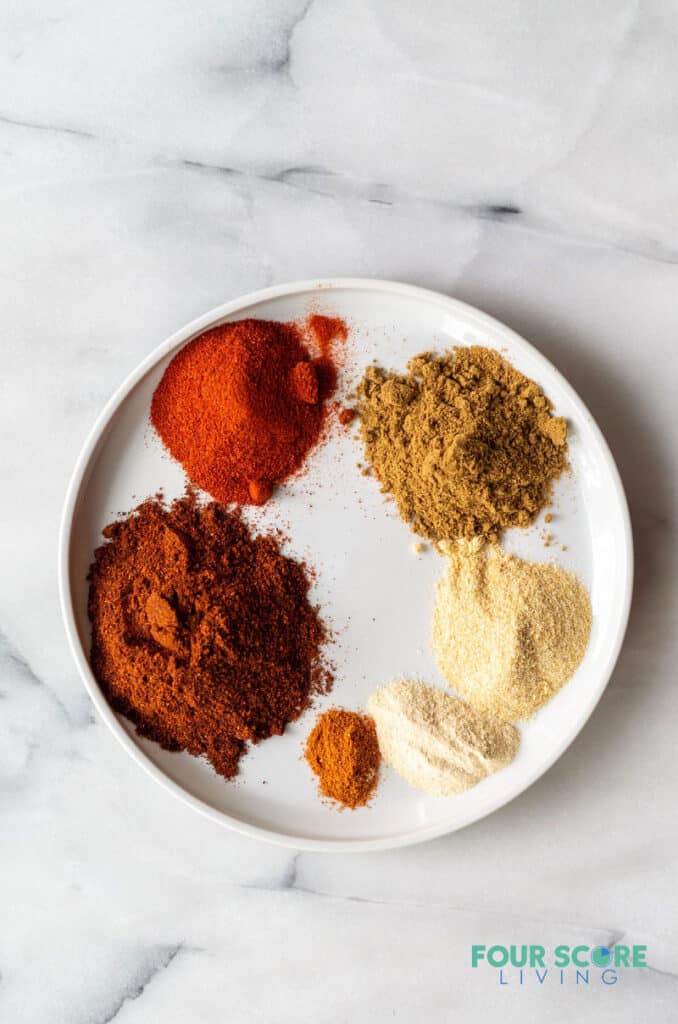 Spices in keto taco seasoning
You can make keto taco seasoning lots of different ways and you can add more or less of each spice. I like to make keto taco seasoning mix from the following spices:
chili powder
paprika
cumin
onion powder
garlic salt
cayenne pepper
Because there are only spices in this taco seasoning recipe this seasoning is also Paleo, Grain-Free, Gluten-Free and Whole30.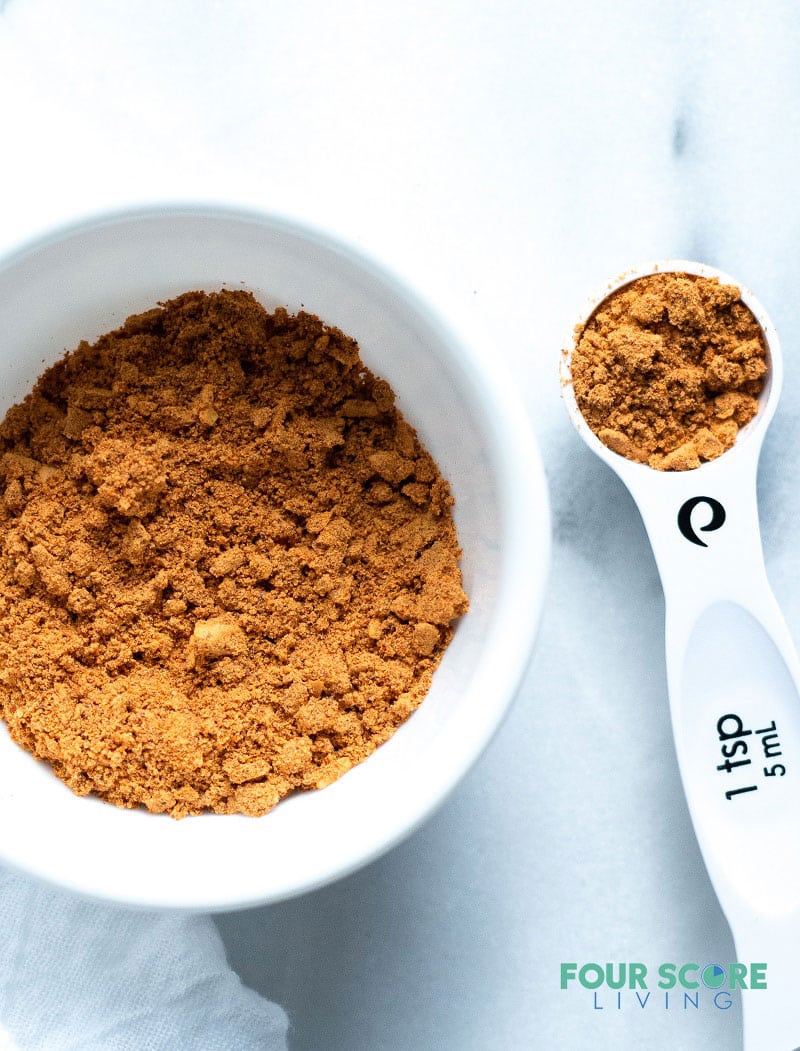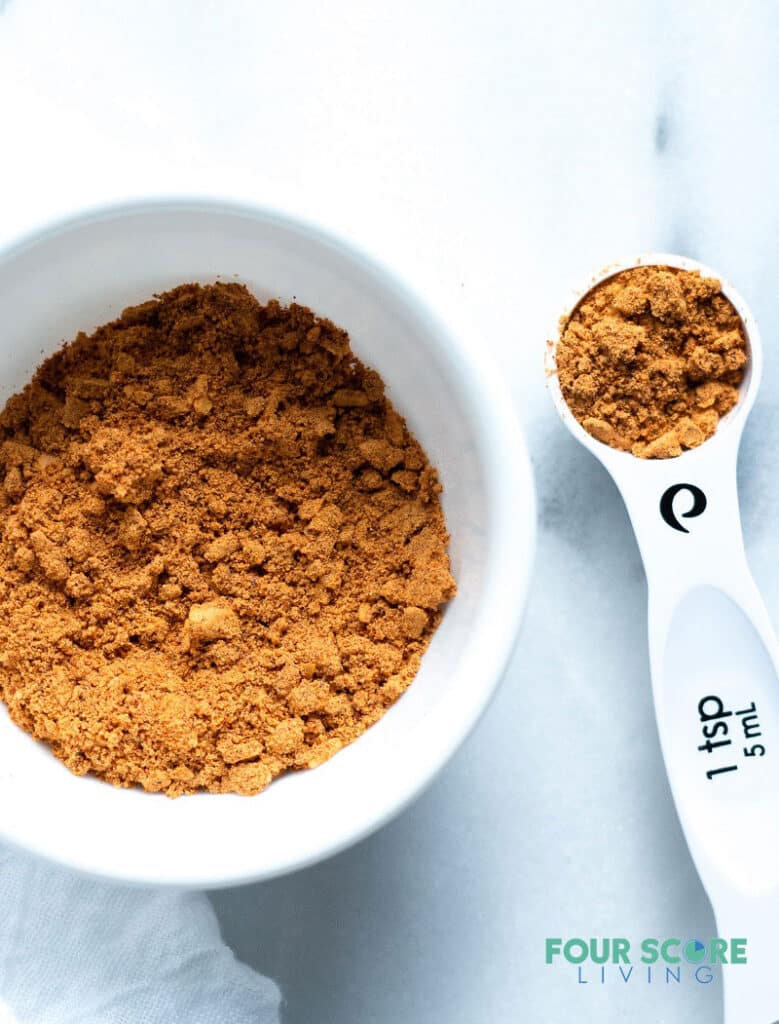 Tacos are one of those meals that you can set out all the toppings and people can make their tacos the way they like.
It's also a meal that I tend to make when guests are coming over.
Who doesn't like tacos? On occasion there will be someone who doesn't.
I also make sure I have chips, or extra lettuce on hand in case they want to make a taco salad or a plate of nachos.
Since I eat keto, I serve mine as a taco salad or on keto tortillas.
I love that I can double up on the batch of taco meat using this keto taco seasoning, to either feed a crowd or freeze for later.
My husband and I leave some taco meat in the fridge for leftovers, then we freeze weighed proportions for busy nights where we can reheat and serve.
How to make keto tacos:
Cook meat of choice in a large skillet over medium heat until cooked through
Add 6-8 teaspoons of keto taco seasoning mix and stir
Add ¼ cup water to help incorporate the seasoning into the meat
continue to cook until combined and all water cooks off
Serve with your favorite keto tortillas
I usually make tacos with beef or chicken, if I made keto fish tacos I use about half as much of the keto taco seasoning mix.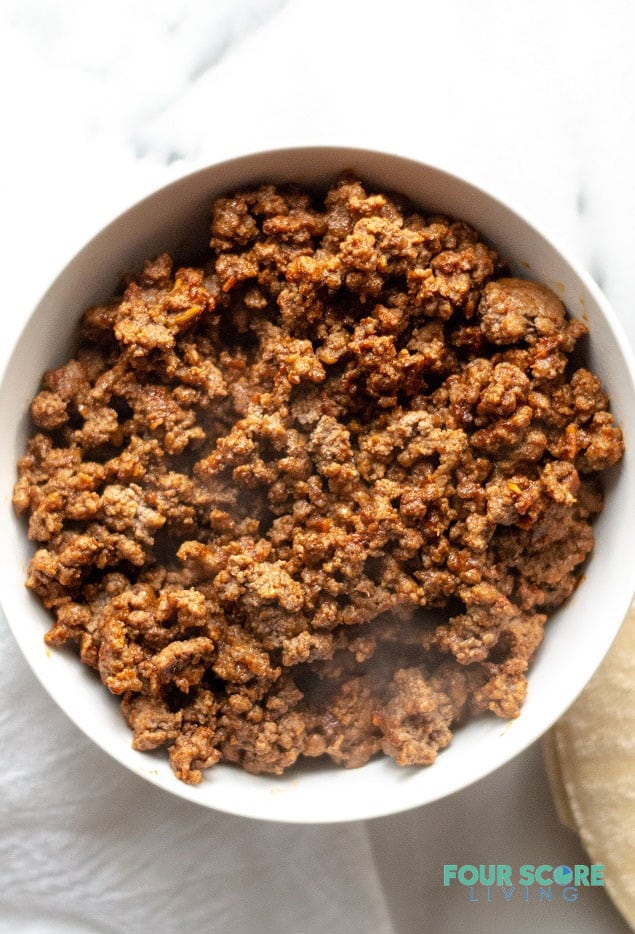 Storing Keto Taco Seasoning
While spices have a long shelf life, I recommend using up this keto taco seasoning mix within 6 months. Spices tend to lose strength in flavor when it sits too long.
This taco seasoning recipe will take you less than 5 minutes to make.
You can use it just like you would use the taco seasoning packets from the store.
You will know exactly what you are putting into your tacos and you don't have to worry about additives or wheat.
This recipe will yield the equivalent of 3 store-bought packages.
Our Favorite Kitchen Tools:
What's your favorite kitchen tool? Leave a comment below letting us know.
LET'S GET SOCIAL, you can follow Four Score Living on Pinterest, Facebook, and Instagram. You can also leave a comment below if you have any questions.
Did you make this keto taco seasoning mix recipe? If so, please let me know what you thought. If you have a question please leave a comment below and I will get back to you.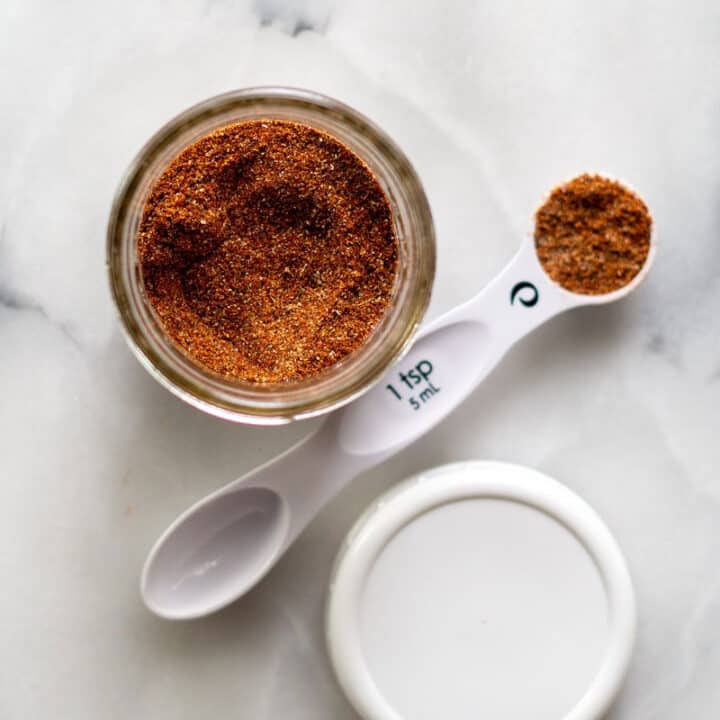 Keto Taco Seasoning
This easy homemade keto taco seasoning is delicious with ground beef, ground turkey or on fish tacos.
Ingredients
8 teaspoons chili powder
6 teaspoons paprika
5 teaspoons cumin
3 teaspoons onion powder
1 ½ teaspoons garlic salt
¼ teaspoon cayenne pepper
Instructions
Whisk all ingredients together in a small bowl.
Store in a glass jar or an airtight container.
Shake jar or container before using in recipes.
Use 6-8 teaspoons of mix (equals one 1.2oz package) per 1 lb of meat.
Notes
When you are ready to use: cook 1 lb. of ground beef, chicken, or turkey in a large skillet over medium heat until cooked through. Add 6-8 teaspoons of keto taco seasoning and ¼ cup water and stir until combined. Continue to cook until all the water has cooked off.
Store in a glass jar.
Nutrition Information:
Yield:

3
Serving Size:

1
Amount Per Serving:
Calories:

57
Total Fat:

2g
Saturated Fat:

0g
Trans Fat:

0g
Unsaturated Fat:

2g
Cholesterol:

0mg
Sodium:

500mg
Carbohydrates:

5g
Fiber:

5g
Sugar:

0g
Protein:

3g
The nutrition information for this recipe is an approximate total per serving. Please double check the nutrition information for your exact ingredients and brands.