Welcome to Four Score Living where we believe you can achieve and maintain a healthy lifestyle through 80/20 living - and that includes a balanced diet. Today we're sharing a collection of keto chicken recipes.
We've rounded up some of the best keto chicken recipes and low carb chicken recipes! From keto chicken fried steak to keto chicken salad —we've got you covered.
Even though we meal plan each week, it sometimes is tough to come up with a weeks' worth of dinner ideas. We often make keto chicken recipes, to keep it simple.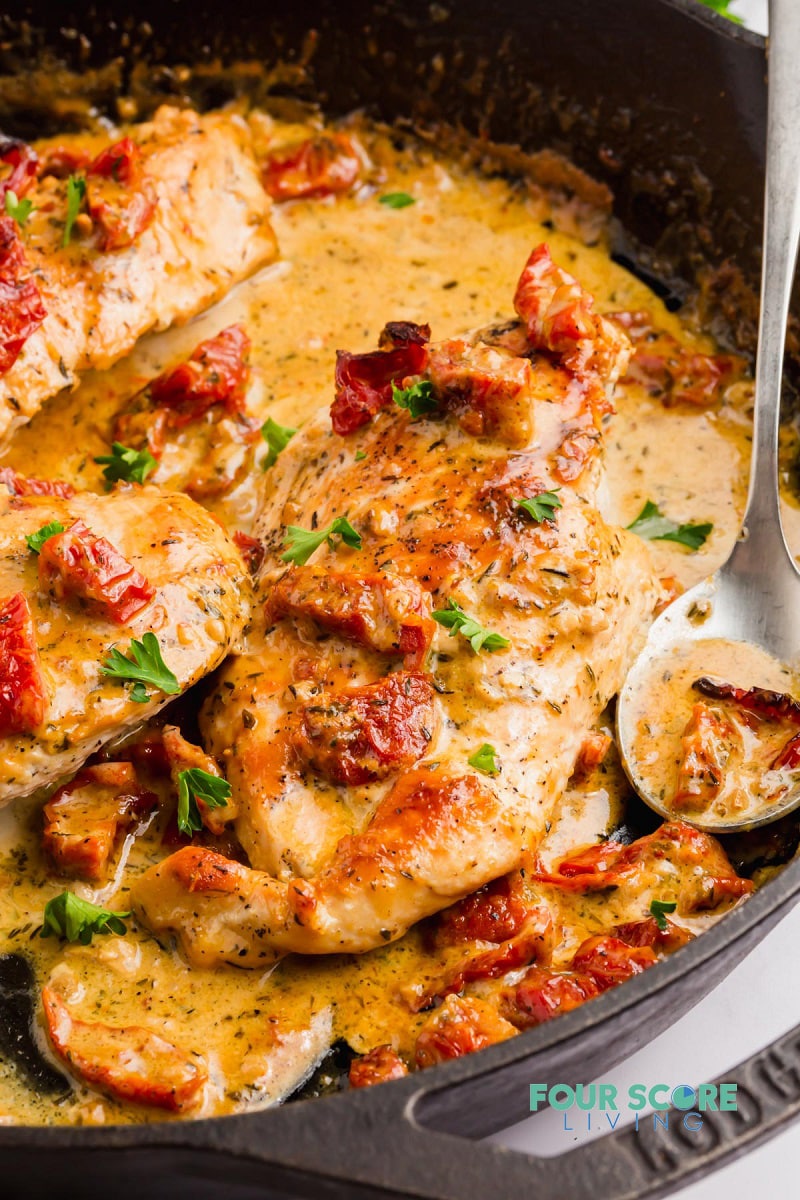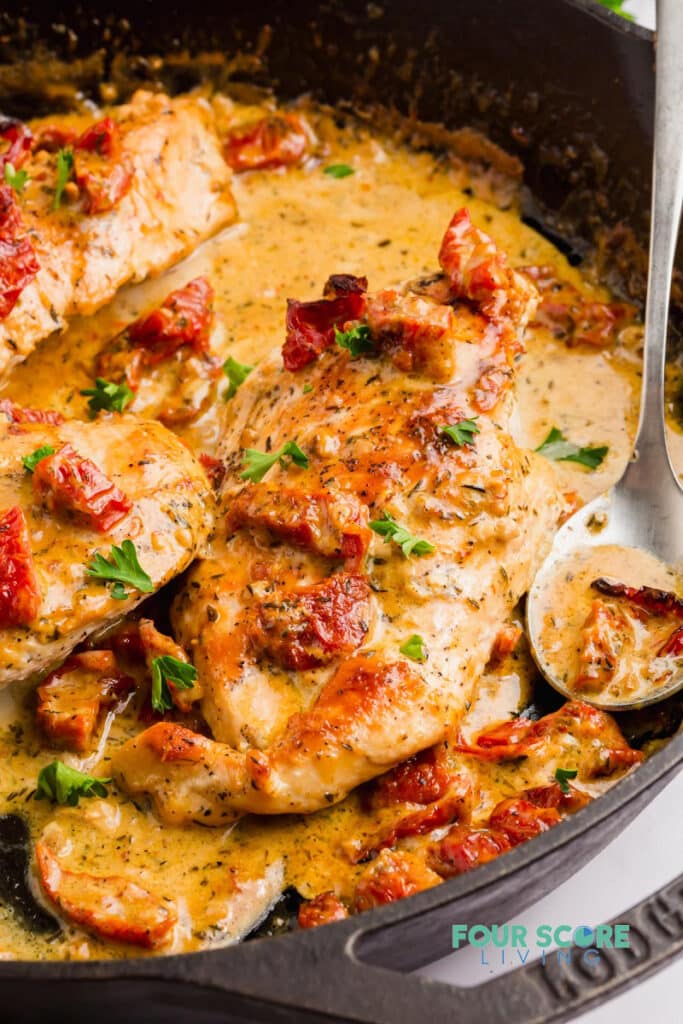 Some of Our Best Keto Chicken Recipes
Marry Me Chicken – One of our favorites! Creamy, tangy, savory and delicious, this easy Marry Me Chicken recipe is super simple to make and quite scrumptious. We LOVE make up a big batch of mashed cauliflower and spooning the savory sauce over it.
Chicken Bacon Ranch Casserole - You'll love Keto Chicken Bacon Ranch Casserole. It's the ultimate cheesy, rich, comfort food that your whole family will enjoy. If it's too cheesy for you, might we suggest making a keto chicken bacon ranch burrito with our low carb tortillas?
Keto Chicken Fried Steak - Coated in a crispy Parmesan and pork rind crust and smothered in sausage gravy, you won't believe how filling and delectable this chicken fried steak is. We like to enjoy this chicken fried steak with a big helping of keto broccoli salad.
Keto Chicken Fajitas - Keto Fajitas are a simple and easy way to create a flavorful, high protein, low carb dinner. This chicken is marinated in a delicious blend of spices, lime and seasonings. Prefer taco seasoning flavors? No problem, use a low carb taco seasoning recipe.
If you're looking for some sides to serve with these easy keto chicken recipes, might we suggest our keto cornbread? It's fantastic with a big slab of butter served alongside some steaming veggies.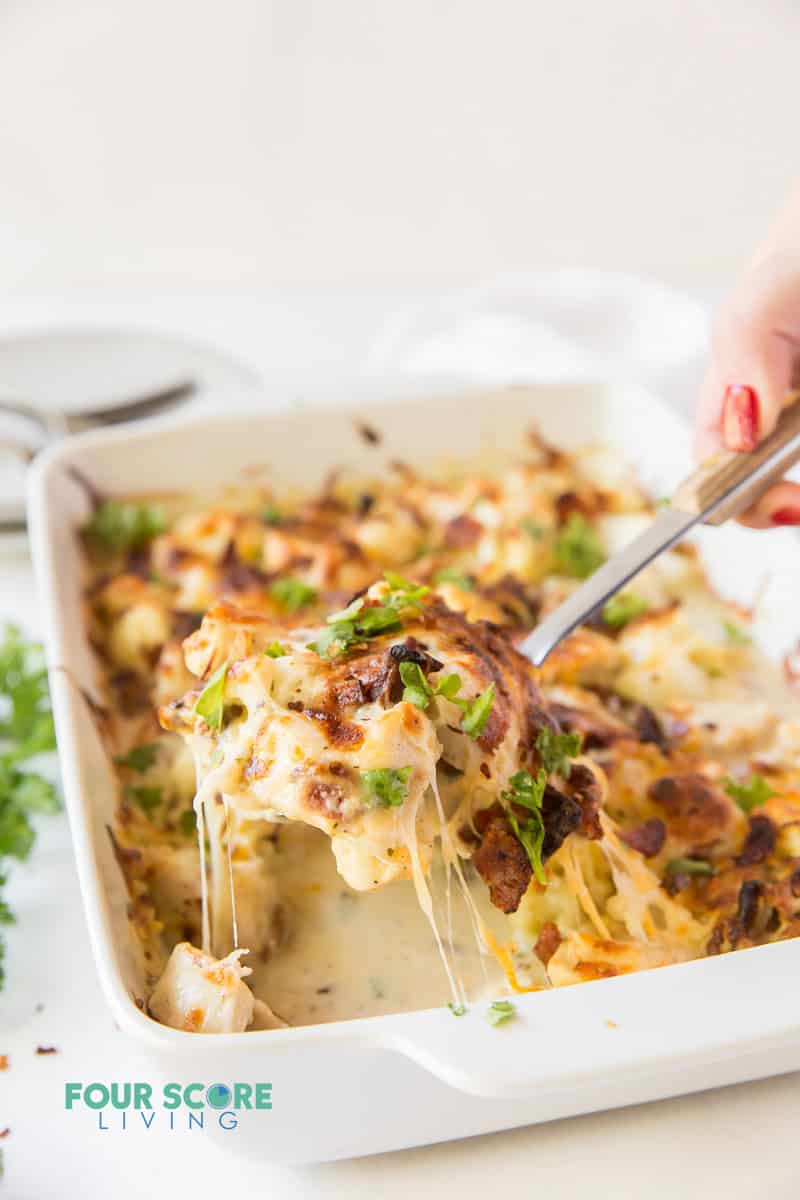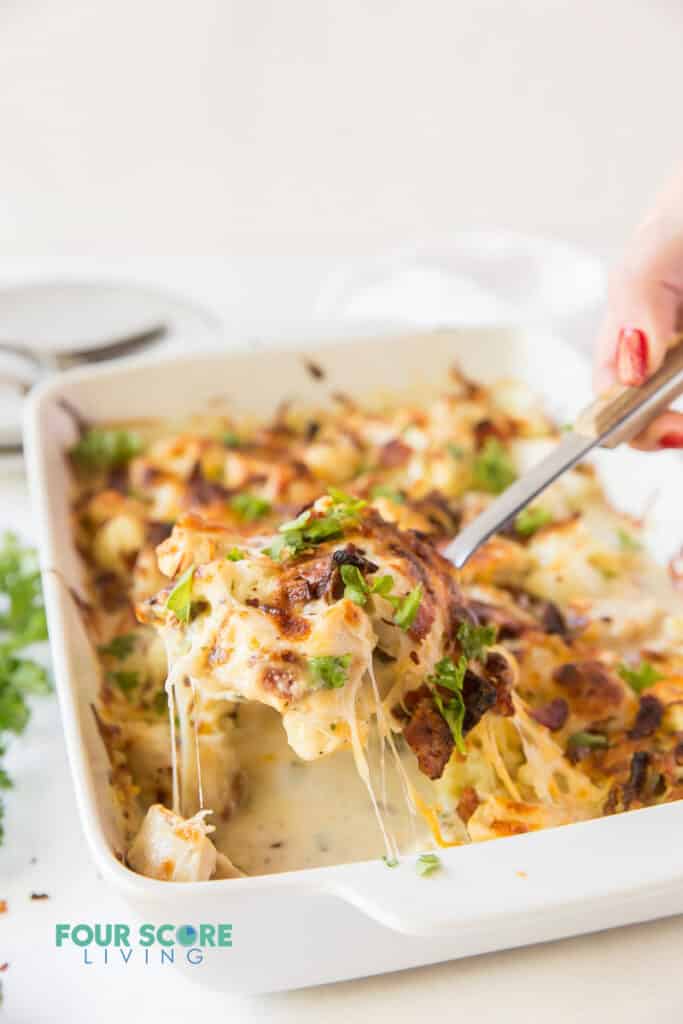 Easy Keto Chicken Recipes
Chicken and Brussel Sprouts - A simple sheet pan dinner that uses minimal ingredients, is healthy, and packed full of flavor.
Keto Chicken Salad - Keto Chicken Salad is a staple in our house. Enjoy it with a fork, on top of a salad, or as lettuce wraps. I also love making avocado boats with chicken salad. If you're in a hurry, scoop some into a sliced keto roll for a quick sandwich.
Keto Stir Fry - Keto Stir Fry is packed with chicken, vegetables, and Asian flavors. We use chicken in our stir fry, but you can use any protein you like. This meal is easy to make, low carb, and a perfect substitute for takeout. We serve ours over cauliflower rice.
Keto Chicken Enchiladas - Keto Enchiladas with chicken, melty cheese, and a mildly spicy, savory sauce will quickly become a family favorite meal. We like to make ours in these Keto Tortillas. Finish your chicken enchiladas with your favorite toppings – we like this keto queso and keto salsa.
Low Carb Chicken Taco Soup – Super simple to make and uses minimal ingredients! Top this delightful keto chicken taco soup with your favorite toppings. We like to top it with sour cream, cheese, and sliced jalapenos for a comforting meal. Add some keto cheese chips or keto tortilla chips on the side.
Keto Buffalo Chicken Dip – This keto buffalo dip is insanely delicious. It's loaded with lots of healthy fats and protein and it's great as a meal or an appetizer. This recipe only uses a handful of ingredients and it's easy to make.
Keto Chicken Wings – Keto recipes don't get any easier than this keto chicken wings recipe. These little tasty chicken wings are super flavorful and filling. Just a note, they can get messy. Dip them in different sauces or some keto BBQ sauce, and enjoy!
Simple Low Carb Chicken Recipes
While these aren't our keto chicken recipes, we thought they'd be a great to share.
Keto Garlic Chicken - Garlic plus chicken equals a perfect match. We'd sere this with some cauliflower rice, and maybe a handful of keto cheese chips.
Keto Cheesey Jalapeno Chicken - We love adding a little spice to our chicken dishes and this cheesy jalapeno chicken looks right up our alley.
Check out more Healthy Chicken Recipes.
If you don't need to eat keto, you'll want to check out these gluten free dairy free chicken recipes next. Some are keto and all are gluten free and dairy free.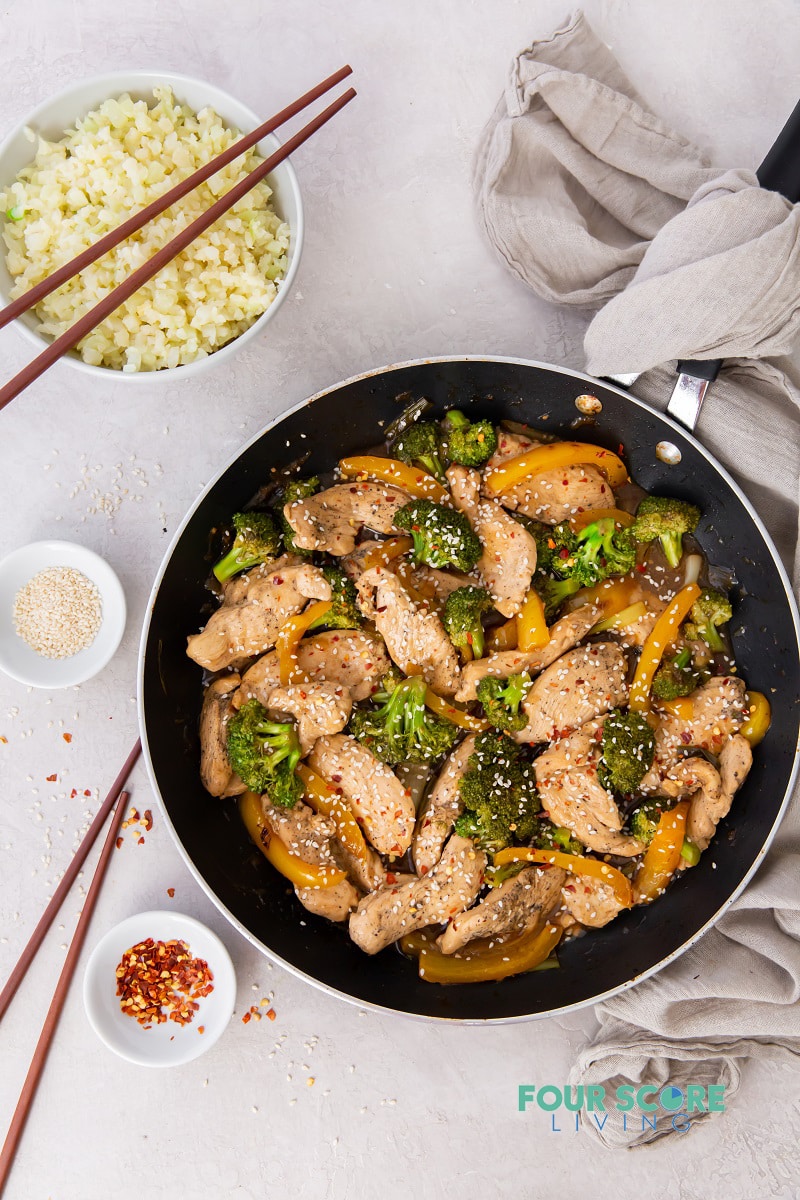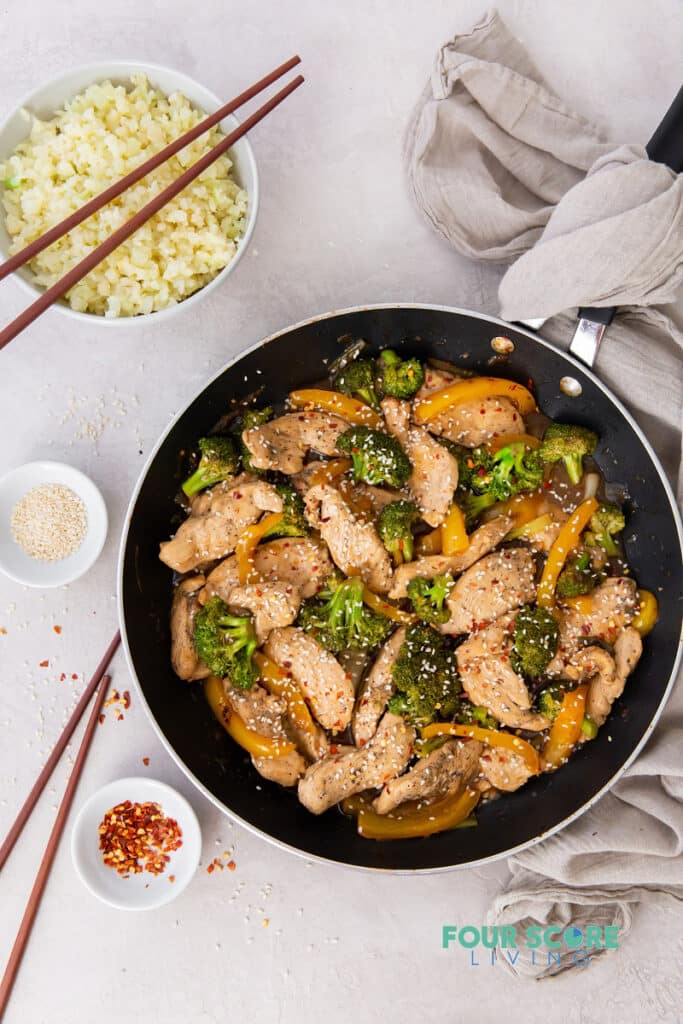 Is Chicken Keto?
Yes, plain chicken is keto. Where you might find it crossing over to a non keto friendly side is with already prepared chicken meals you might buy at the store or recipes that call for non-keto friendly ingredients. Start with one of our keto chicken recipes, and you'll be good to go.
How many carbs are in chicken?
Plain cooked chicken is super low carb, coming in at zero carbs. As you cook with different ingredients or add ingredients, you'll want to check the carb count.
How many carbs are in Rotisserie chicken?
Unless the Rotisserie chicken was cooked with a sugary sauce, most Rotisserie chickens have zero carbohydrates.
How long does chicken last in the fridge?
Raw chicken will stay good for 1-2 days in the refrigerator. Chicken will stay good for up to 3 months in a freezer.
Keto 101 Information
Here is the quick and clean on Keto 101. I've broken down this post on keto, ketosis, the keto diet, and an explanation on net carbs so that even someone who has never heard of Keto can understand it.
It's not complicated, it's simply the science behind putting your body into ketosis and the benefits of doing so.
What is Keto?
Keto is shorthand for the word ketogenic in ketogenic diet. While keto really refers to burning fat for fuel, it is most popularly used in reference to the keto diet (see below for more information). Some people feel better on a keto, low carb diet, or a moderately low carb diet. The amount of carbohydrates you consume will vary depending on your insulin tolerance and activity level.
Here are the average numbers of carbohydrates to consume for each diet type (depending on which resource you reference):
Keto diet – Under 25g net carbs per day
Low carb diet – 25g - 50g net carbs per day
Moderate low carb diet – 50g - 100g net carbs per day
It usually takes 3 days for your body to enter ketosis, but it can vary by person. Not everyone counts net carbs – some people count all carbs. Just a note that the keto diet isn't right for everyone. Please follow a lifestyle that works best for you.
What is Ketosis?
Ketosis is the natural process of burning fat for energy and can occur no matter what macro-nutrient ratio your diet is. Depending on activity level you could be burning a large quantity of carbohydrates to fuel the active portions of your day while relying on fat stores for energy the rest of the day.
Since getting into the fat burning mode depends on activity level, your exact carb intake isn't going to make or break your progress. If the recommended carb intake to reach ketosis is 25 grams a day, eating 26 isn't going to kick you out of ketosis. The recommendations are a best guess at what works for the majority of people.
What is the keto diet?
The keto diet is a type of low carb diet that is focused on consuming a certain percentage of each macro-nutrient (macros). Macro-nutrients are fat, protein, and carbohydrates.
The purpose of a keto is to put your body in a higher state of ketosis. There are many benefits to eating a keto diet including weight loss, improved mood, mental focus/clarity, fewer cravings, higher energy, and the ability to go longer between meals.
Now you've got a great list of keto chicken recipes, some information on chicken, and a good explanation of keto. It's time to start cooking!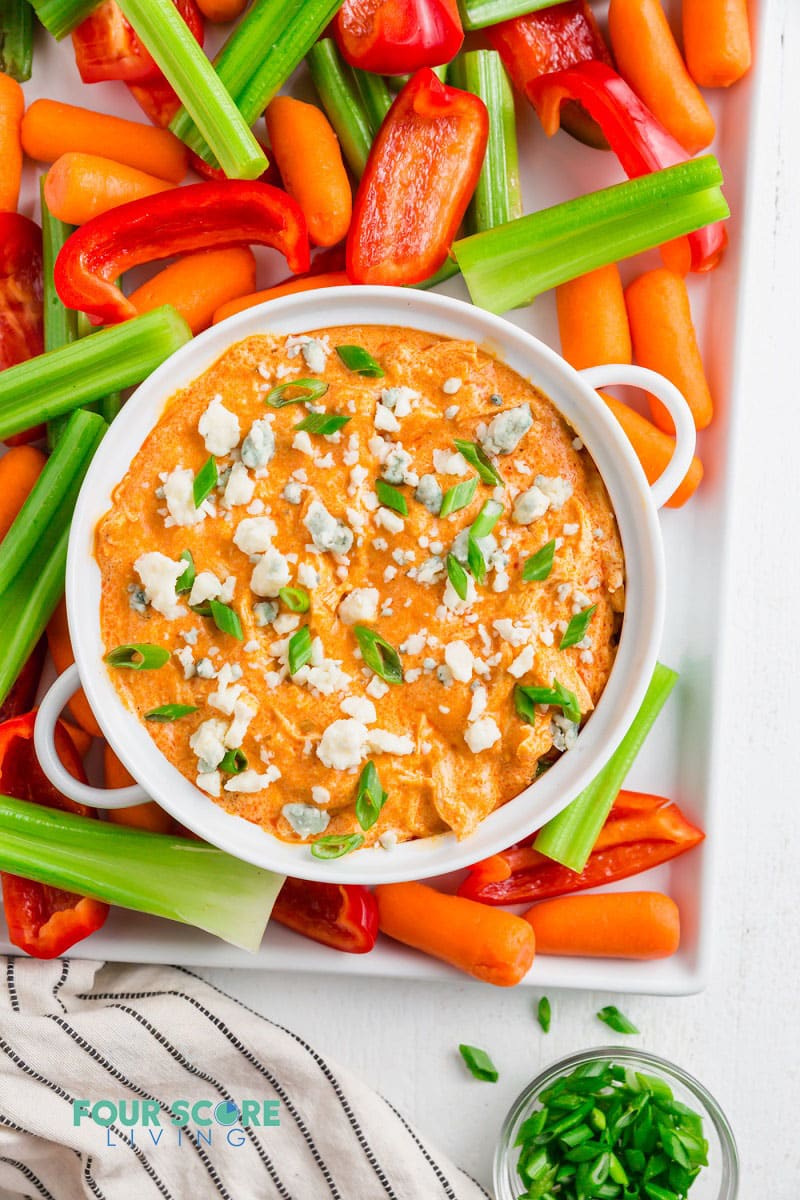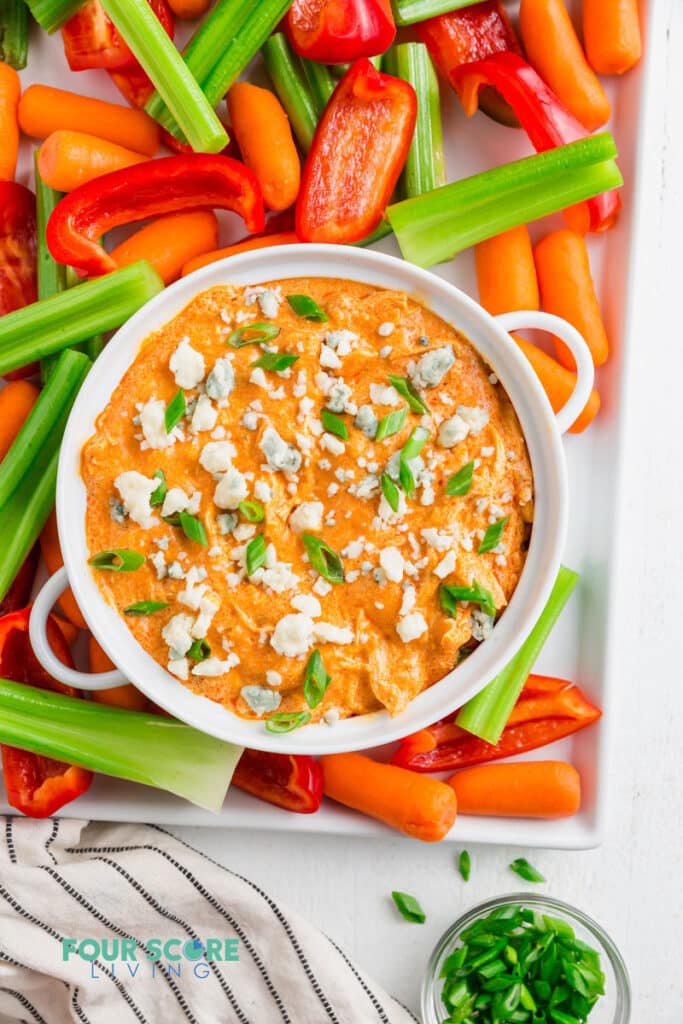 What's your favorite keto chicken recipe? Leave a comment below letting us know.
More articles you might like:
Keto Products We Keep Stocked:
Bob's Red Mill Super Fine Gluten-Free Ground Almond Flour
Our Favorite Kitchen Tools:
What's your favorite kitchen tool? Leave a comment below letting us know.
LET'S GET SOCIAL, you can follow Four Score Living on Pinterest, Facebook, and Instagram. You can also leave a comment below if you have any questions.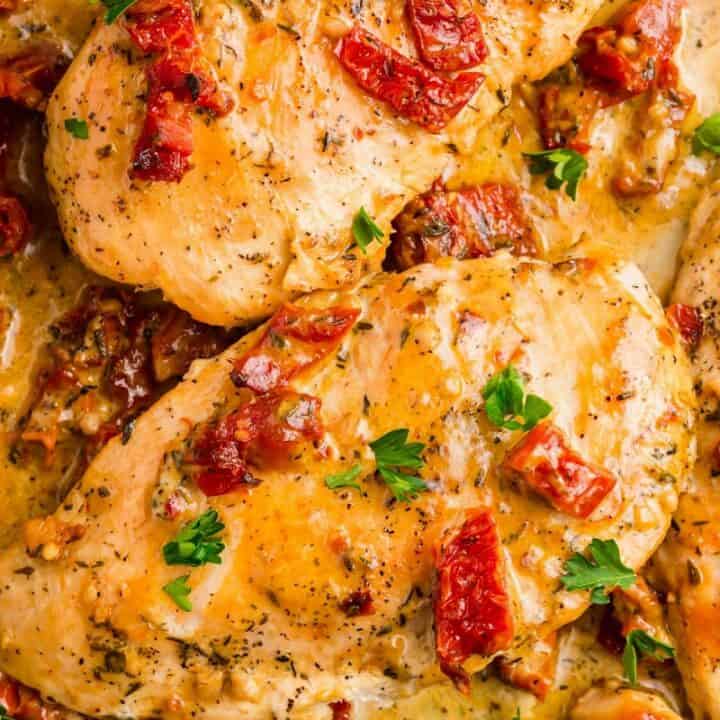 Keto Chicken Recipes: Wings Recipe Included
We hope you love this collection of keto chicken recipes. Don't forget to try these keto wings.
Ingredients
24 bone-in chicken wings
salt and pepper
1 (6-oz.) can tomato sauce
4 oz. filtered water
¼ cup balsamic vinegar
1 tablespoon apple cider vinegar
2 tablespoon coconut aminos
1 teaspoon garlic powder
1 teaspoon onion powder
½ teaspoon paprika
Instructions
Preheat oven to 400ºF. Line a baking sheet with aluminum foil.
Place chicken wings on baking sheet and salt and pepper the wings.
Whisk the remaining ingredients together in a small bowl.
Brush wings with sauce and bake for 15 minutes.
Remove wings from oven and brush them again with sauce. Bake again for an additional 15 minutes or until internal temperature reaches 165ºF.
Notes
Want a spicier sauce? Add 2-3 tablespoons of dried pepper flakes to the sauce.
For a sweeter keto chicken wing, reduce the balsamic vinegar to 2 tablespoons and add ¼ cup of granulated sweetener like Lakanto.
Nutrition Information:
Yield:

6
Serving Size:

4 Wings
Amount Per Serving:
Calories:

374
Total Fat:

26g
Saturated Fat:

9g
Trans Fat:

0g
Unsaturated Fat:

15g
Cholesterol:

88mg
Sodium:

567mg
Carbohydrates:

4g
Net Carbohydrates:

3g
Fiber:

1g
Sugar:

4g
Protein:

18g
The nutrition information for this recipe is an approximate total per serving. Please double check the nutrition information for your exact ingredients and brands.
Keto Chicken Recipes Post
If you've made any of these keto chicken recipes please be sure to leave a comment on the recipe page letting us know what you thought. Also, check out our keto snacks the next time you visit.