Instant pot Keto Cauliflower Soup is a creamy, filling, delicious and low carb soup that you'll crave in cold months.
Loaded with flavors, keto cauliflower soup is also a simple to make comfort food staple that you can enjoy year round.
If you love this Keto Instant Pot soup you'll also want to make Keto Cheddar Broccoli Soup in the Instant Pot. It's the broccoli version of a cheesy cauliflower soup that is so tasty.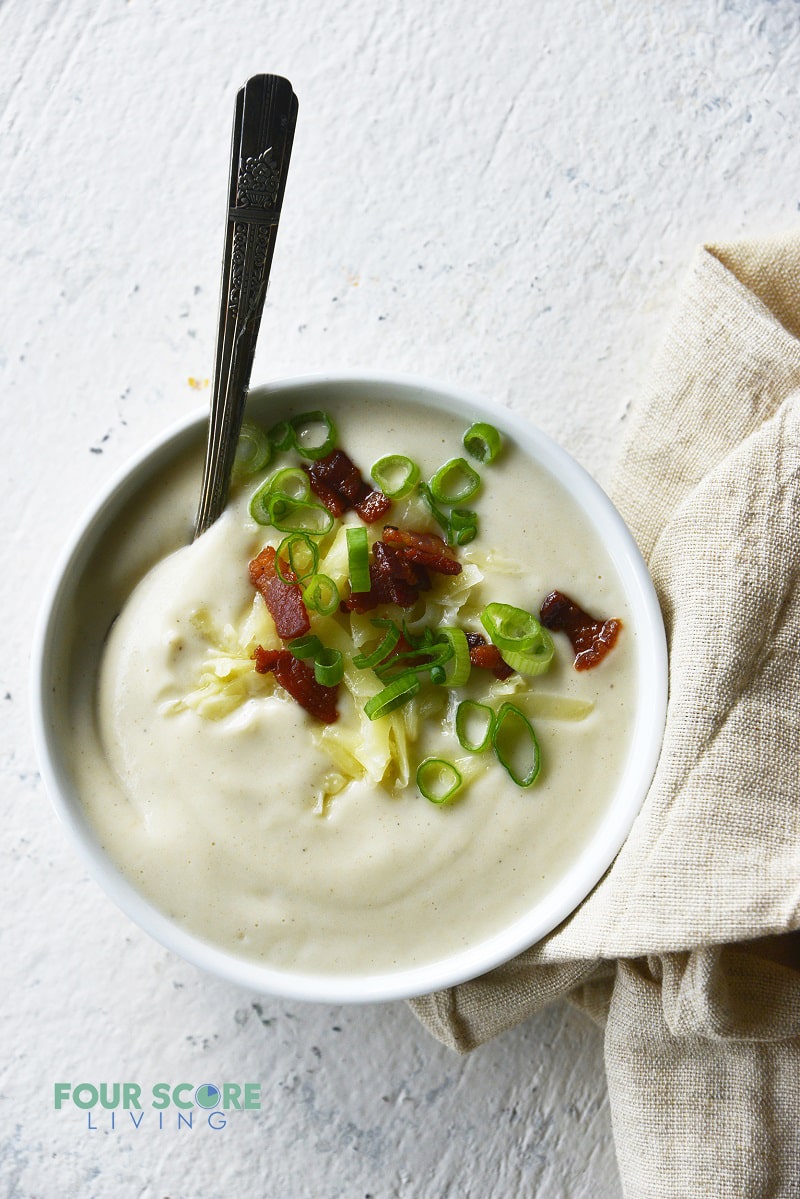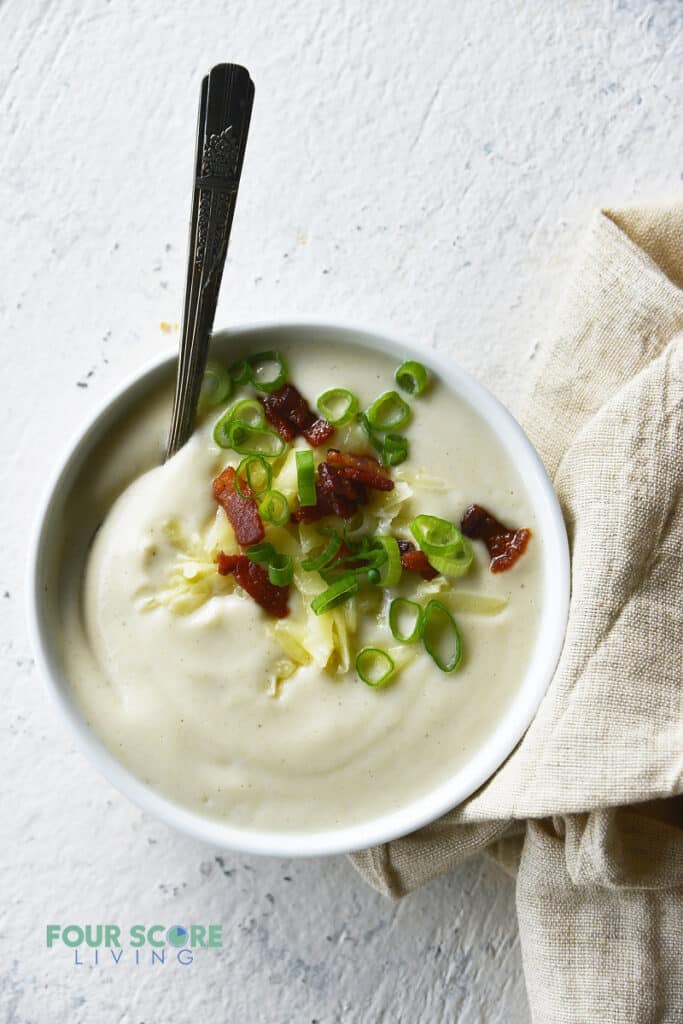 INSTANT POT CAULIFLOWER SOUP
On cold days, there is often nothing better than a warm and comforting bowl of keto soup.
Well, maybe the only thing better than a bowl of keto soup is making that soup in the Instant Pot!
I love using the instant pot to make soups like this one, and our Low Carb Chicken Taco Soup. Instant pot soups are so easy!
The pressure cooker allows you to make a creamy, cheesy, low-carb cauliflower soup that tastes like you cooked it all day, in just a few minutes.
I also love using cauliflower in Keto recipes. Like in our Keto Chicken Bacon Ranch Casserole, cauliflower adds bulk to our cauliflower keto soup and is a great substitution for starchy potatoes. I can barely tell the difference!
This Low-Carb and Keto Cauliflower Soup made in your Instant Pot is ready to eat in under 30 minutes with minimal cleanup, and it's just as good as any heavy loaded potato soup.
You'll top your Instant Pot Keto Cauliflower soup with crispy bacon, creamy shredded cheese, and fresh green onions for extra flavor and texture.
INGREDIENTS IN INSTANT POT KETO CAULIFLOWER SOUP
Bacon - Top each bowl of this soup with crispy, salty bacon bits. The drippings from the bacon also add lots of smoky flavor.
Yellow Onion - I like yellow onions for bold flavor in cooked dishes, but a white onion would work well here too.
Garlic - Onion and garlic create a savory base for this soup.
Cauliflower - The star of the soup, cauliflower adds bulk and thickness.
Stock - Either chicken stock or vegetable stock works for this soup.
Salt - Seasoning the soup well is important to the final flavor.
Pepper - For just a hint of heat.
Heavy Cream - A creamy soup needs heavy cream for a silky texture.
Cheddar Cheese - Shred your cheese to add to the soup before serving.
Scallions - Use the green and white parts to create another topping for the cauliflower soup.
If you have any questions, please leave a comment below and I will get back to you.
KETO CAULIFLOWER SOUP RECIPE
Add chopped bacon to preheated pressure cooker and cook until crispy. Set the bacon aside for later.
Add onion to the pot and cook until starting to soften, stirring occasionally. Add the garlic and cook until fragrant.
Add Cauliflower, stock, salt, and pepper to the pot. Pressure cook as directed in recipe.
Carefully puree the soup using a standard or immersion blender and return to pot. Add in half of the cheese and cream to finish the soup. Top bowls with crispy bacon, shredded cheese, and green onion before serving.
These numbered steps match the numbered photos above and are for illustration purposes. For the complete list of ingredients and instructions, please see the recipe below.
CAULIFLOWER SOUP TOPPINGS AND SEASONINGS
Cheesy cauliflower soup is like a blank canvas, and will taste delicious with different seasonings or toppings. Try any combination of the following, or add your own personal spin.
Diced tomatoes, avocado, or fresh herbs as healthy toppings.
Cheese chips, Keto Tortilla Chips, pork rinds, or Keto Crackers as crunchy toppings.
Additional seasonings such as taco seasoning, Cajun seasoning, Italian seasoning, or hot sauce.
For a real loaded cauliflower soup experience, add a dollop of sour cream before serving.
HOW TO MAKE KETO CAULIFLOWER SOUP ON THE STOVE
If you don't have an Instant Pot, you can still make this soup very easily.
Rather than the instant pot, use a dutch oven or a heavy soup pot over medium heat to crisp the bacon, and then sauté the onion and garlic. Add the broth, cauliflower, and seasonings. Bring the mixture to a boil, and then reduce the heat to a simmer and cook until the cauliflower is tender.
Puree the soup and serve following the recipe instructions.
HOW DO I MAKE CALIFLOWER SOUP CREAMY?
The fun thing about cauliflower, is that it is creamy all on its own, once you blend it up smooth. That, coupled with the heavy cream in this low-carb soup makes this the creamiest cauliflower soup ever.
HOW DO I MAKE CAULIFLOWER SOUP THICKER?
This blended cauliflower soup is fairly thick already, but you can adjust the consistency by adding or removing liquid. For a thicker cauliflower soup, remove ½ cup of the stock before blending. Add it back in a bit at a time to get the consistency that you like.
If your soup seems too thick, add additional stock to the blender a bit at a time.
CAN I MAKE CAULIFLOWER SOUP WITHOUT A BLENDER?
If you don't have a blender available, don't worry! You can still make Keto Cauliflower Soup, but it will be more chunky and less smooth. Use a potato masher to break up the cauliflower florets after cooking them in the Instant Pot.
WHAT TO SERVE WITH KETO CAULIFLOWER CHEESE SOUP
I really enjoy a bowl of this cauliflower keto soup all on its own, but have served it with keto rolls for an even more filling and satisfying meal.
Try our recipe for Keto Rolls and your family will eat them right up, dipping them in the soup. These Keto Cheddar Biscuits are another great soup side to try.
Something sweet, like our Keto Peanut Butter Fudge would be an amazing treat after your soup is gone too.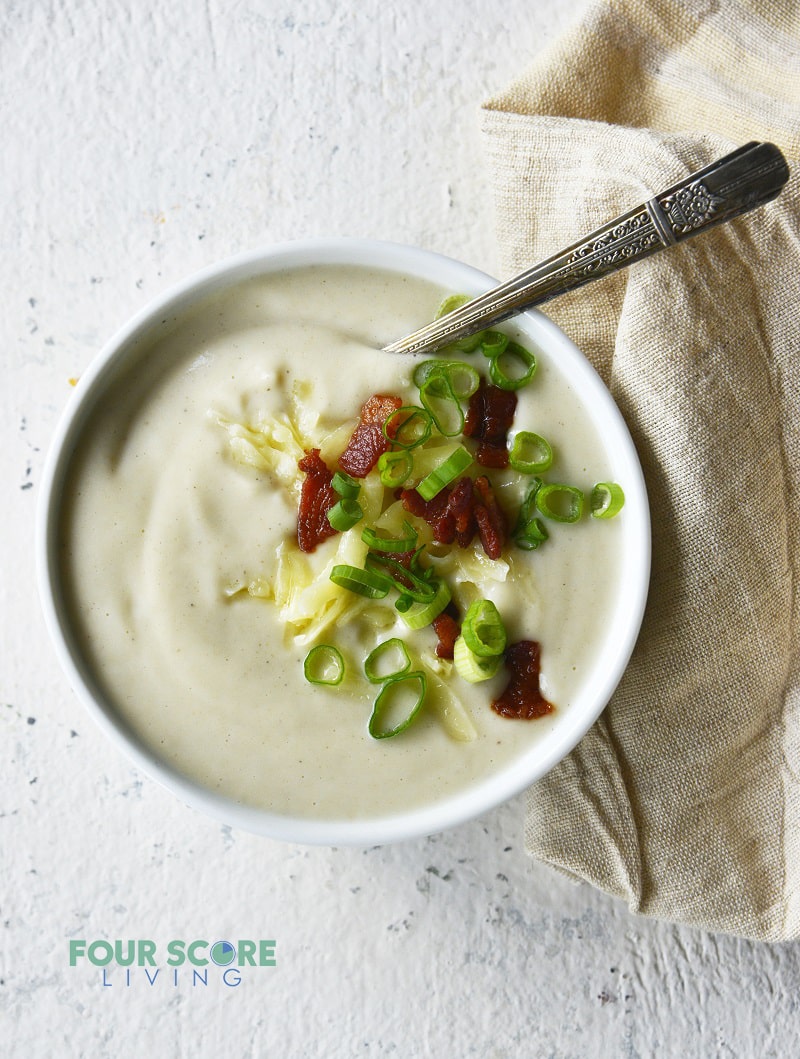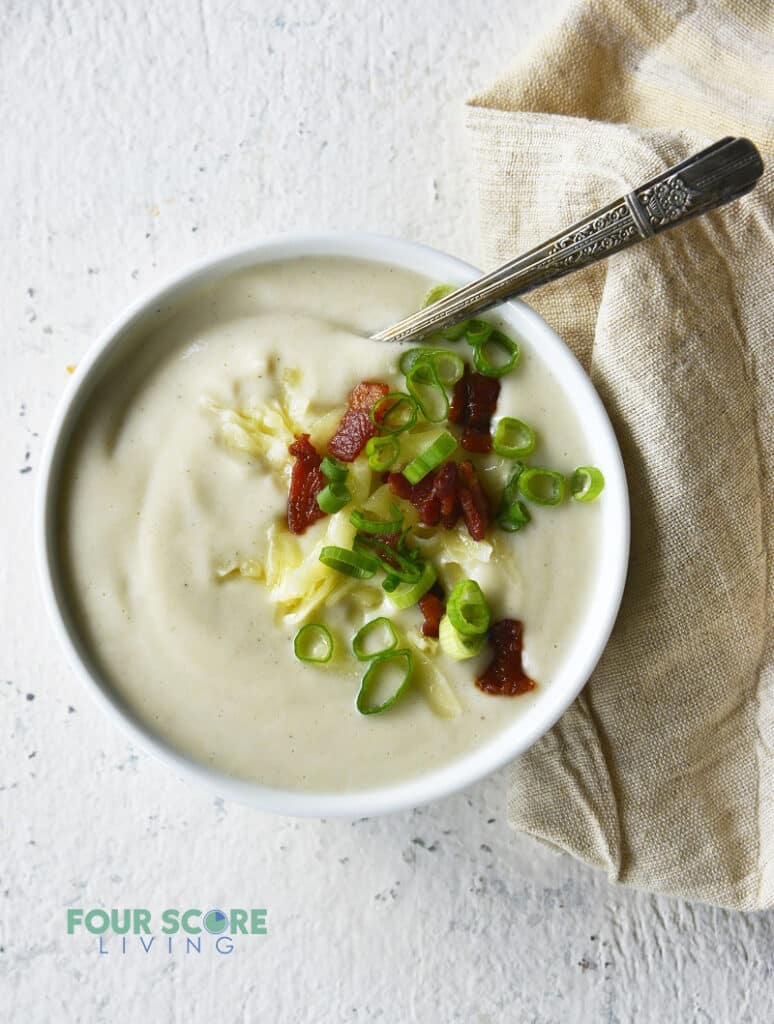 IS CAULIFLOWER SOUP KETO?
Like many keto recipes, cauliflower replaces starchy potatoes to create a creamy and delicious low carb cauliflower soup. Each serving of this recipe has 10 grams of carbohydrates and 5 grams of fiber, ending in 5 grams net carbs per serving.
Enjoy keto cauliflower soup as your lunch or dinner any day while following a keto diet. It can fit into your specific dietary guidelines.
If you like using the cauliflower for potato swap here, you might like this recipe I found for Cauliflower "Potato" Salad too.
CAN I REHEAT KETO CAULIFLOWER CHEESE SOUP?
I suggest serving this soup immediately after cooking for best results, but if needed you can cool and refrigerate for up to three days. Reheat on the stove at low heat and serve with toppings.
The leftover cauliflower soup may not be as creamy as it was when it was fresh.
WHAT KIND OF BLENDER IS BEST FOR SOUPS?
You'll see many recipes that recommend using a Vitamix or other expensive blender to puree soups, but this is not one of them. A standard blender will do the job here, as will a simple hand-held stick blender. Use whatever blender you have in your kitchen!
CAN I DOUBLE THE RECIPE?
Using a 6 qt. instant pot, I wouldn't recommend doubling this amount, but if you have an 8 or 10 qt. Instant pot, you definitely can.
If you like this cauliflower soup, you might also want to try potato cauliflower soup.
Our Favorite Kitchen Tools:
What's your favorite kitchen tool? Leave a comment below letting us know.
LET'S GET SOCIAL, you can follow Four Score Living on Pinterest, Facebook, and Instagram. You can also leave a comment below if you have any questions.
Did you make this Instant Pot Keto Cauliflower Soup? Please leave a comment below letting me know what you thought.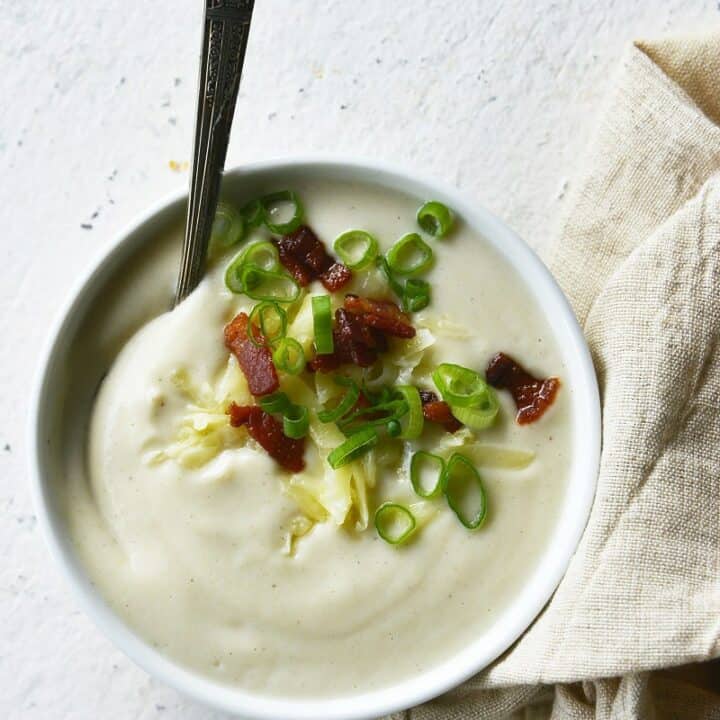 Instant Pot Keto Cauliflower Soup
Instant pot Keto Cauliflower Soup is a creamy, filling, delicious and low carb soup that you'll crave in cold months. You'll love how easy it is to make this comfort food staple.
Ingredients
2 slices bacon, diced
1 medium yellow onion, diced
2 cloves garlic, crushed or minced
1 ½ pounds cauliflower (about half of a medium-sized head), cut into florets
1 cup chicken or vegetable stock
½ teaspoon salt
¼ teaspoon black pepper
¼ cup heavy cream
4 ounces (1 cup) shredded white cheddar, divided
2 scallions, green and white parts, thinly sliced
Instructions
Turn pressure cooker on, press "Sauté", and wait 2 minutes for the pot to heat up.
Add the chopped bacon and cook until crispy, about 5 minutes, stirring occasionally. Transfer to a plate and set aside to top the soup later.
Add the onion and cook until starting to soften, about 2 minutes, stirring occasionally. Add the garlic and cook 1 minute, stirring constantly. Press "Cancel" to stop sautéing.
Add the cauliflower, stock, salt, and black pepper to the pot. Turn the pot on Manual, High Pressure for 3 minutes and then do a quick release.
Carefully puree the soup using an immersion blender (or transfer it to a regular blender and puree). Set the pot to "Warm" and stir in half the cheese until melted, reserving the other half for topping. Stir in the cream. Press "Cancel" to turn off the pot.
Ladle the soup into bowls and top each with crisped bacon, cheese, and scallion.


Notes
Serve soup immediately, or refrigerate for up to 3 days and reheat later, adding garnishes in just before serving.
Add other toppings if you like, this low carb cauliflower soup is like a blank canvas for anything you want to load it up with.
Nutrition Information:
Yield:

4
Serving Size:

1
Amount Per Serving:
Calories:

324
Total Fat:

22g
Saturated Fat:

11g
Trans Fat:

0g
Unsaturated Fat:

9g
Cholesterol:

82mg
Sodium:

769mg
Carbohydrates:

10g
Net Carbohydrates:

5g
Fiber:

5g
Sugar:

6g
Protein:

21g
The nutrition information for this recipe is an approximate total per serving. Please double check the nutrition information for your exact ingredients and brands.