Welcome to Four Score Living where we believe you can achieve and maintain a healthy lifestyle through 80/20 living - and that includes a balanced diet. Today we're sharing a collection of healthy chicken recipes and healthy chicken dinner ideas.
We've rounded up some of the best healthy chicken recipes and healthy chicken dinner ideas! From Hawaiian chicken to chicken casseroles —we've got you covered.
Even though we meal plan each week, it sometimes is tough to come up with a weeks' worth of dinner ideas. We often make easy healthy chicken recipes, to keep it simple. Plus, chicken tends to be less expensive than other types of protein.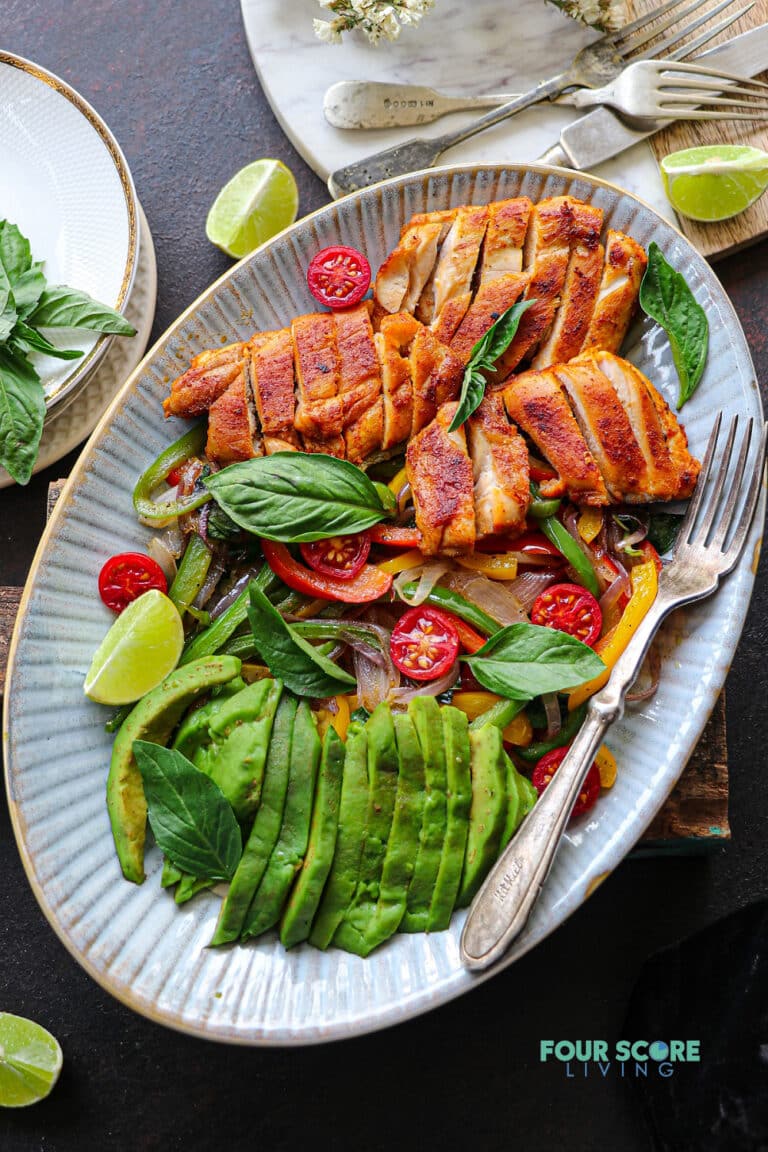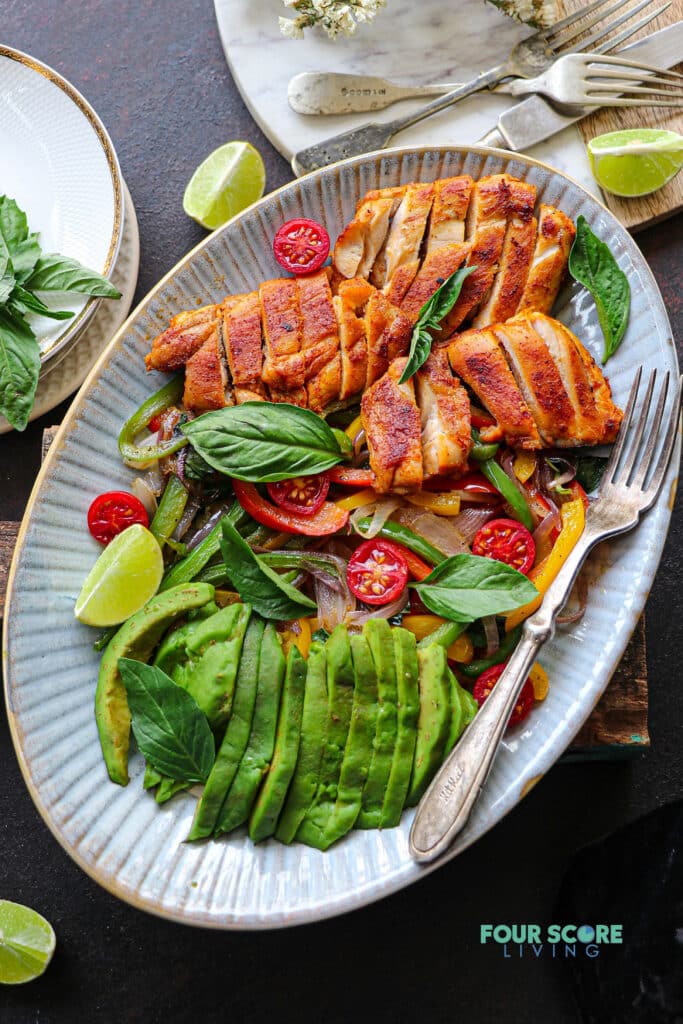 SOME OF OUR BEST HEALTHY CHICKEN RECIPES
If you're looking for some healthy chicken dinner ideas, you've come to the right place. We have a mix of healthy chicken recipes that we're sharing. Many are great for dinner, but also leftovers for lunch.
Marry Me Chicken – One of our favorites! Creamy, tangy, savory and delicious, this easy Marry Me Chicken recipe is super simple to make and quite scrumptious. We LOVE make up a big batch of mashed cauliflower and spooning the savory sauce over it.
Chicken Bacon Ranch Casserole - You'll love Chicken Bacon Ranch Casserole. It's the ultimate cheesy, rich, comfort food that your whole family will enjoy. If it's too cheesy for you, might we suggest making a chicken bacon ranch burrito with our low carb tortillas?
Keto Chicken Fried Steak - Coated in a crispy Parmesan and pork rind crust and smothered in sausage gravy, you won't believe how filling and delectable this chicken fried steak is. We like to enjoy this chicken fried steak with a big helping of keto broccoli salad.
Chicken Fajitas - Keto Fajitas are a simple and easy way to create a flavorful, high protein, low carb dinner. This chicken is marinated in a delicious blend of spices, lime and seasonings. Prefer taco seasoning flavors? No problem, use a low carb taco seasoning recipe.
If you're looking for some sides to serve with these easy healthy chicken recipes, might we suggest our keto cornbread? It's fantastic with a big slab of butter served alongside some steaming veggies.
Did you make any of these healthy chicken dinner ideas? If so, let us know what you made and if you liked it.
EASY HEALTHY CHICKEN RECIPES
Chicken Salad - Chicken Salad is a staple in our house. Enjoy it with a fork, on top of a salad, or as lettuce wraps. I also love making avocado boats with chicken salad. If you're in a hurry, scoop some into a sliced keto roll for a quick sandwich.
Stir Fry - Keto Stir Fry is packed with chicken, vegetables, and Asian flavors. We use chicken in our stir fry, but you can use any protein you like. This meal is easy to make, low carb, and a perfect substitute for takeout. We serve ours over cauliflower rice.
Keto Chicken Enchiladas - Keto Enchiladas with chicken, melty cheese, and a mildly spicy, savory sauce will quickly become a family favorite meal. We like to make ours in these Keto Tortillas. Finish your chicken enchiladas with your favorite toppings – we like this keto queso and keto salsa.
Chicken Taco Soup – Super simple to make and uses minimal ingredients! Top this delightful healthy chicken taco soup with your favorite toppings. We like to top it with sour cream, cheese, and sliced jalapenos for a comforting meal. Add some keto cheese chips or keto tortilla chips on the side.
Chicken Wings – Keto recipes don't get any easier than this chicken wings recipe. These little tasty chicken wings are super flavorful and filling. Just a note, they can get messy. Dip them in different sauces or some keto BBQ sauce, and enjoy!
What is your favorite healthy chicken dinner recipe? Let us know in the comments below.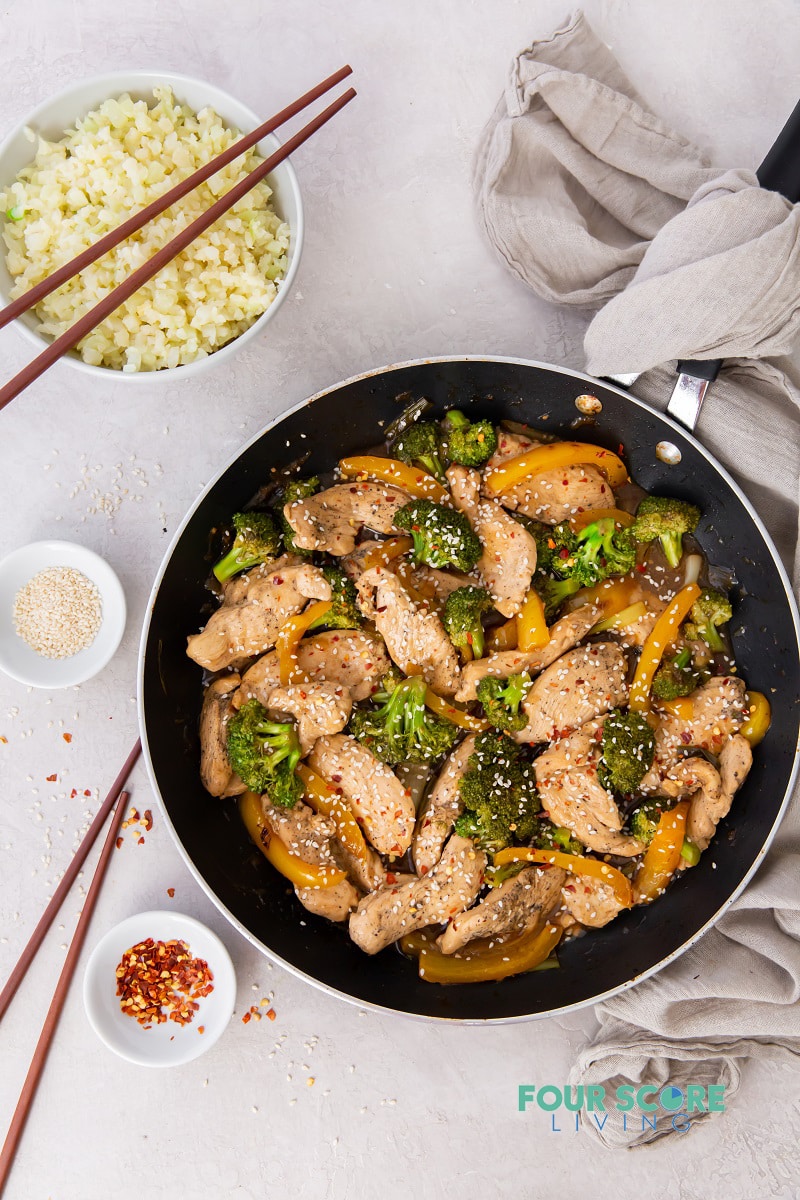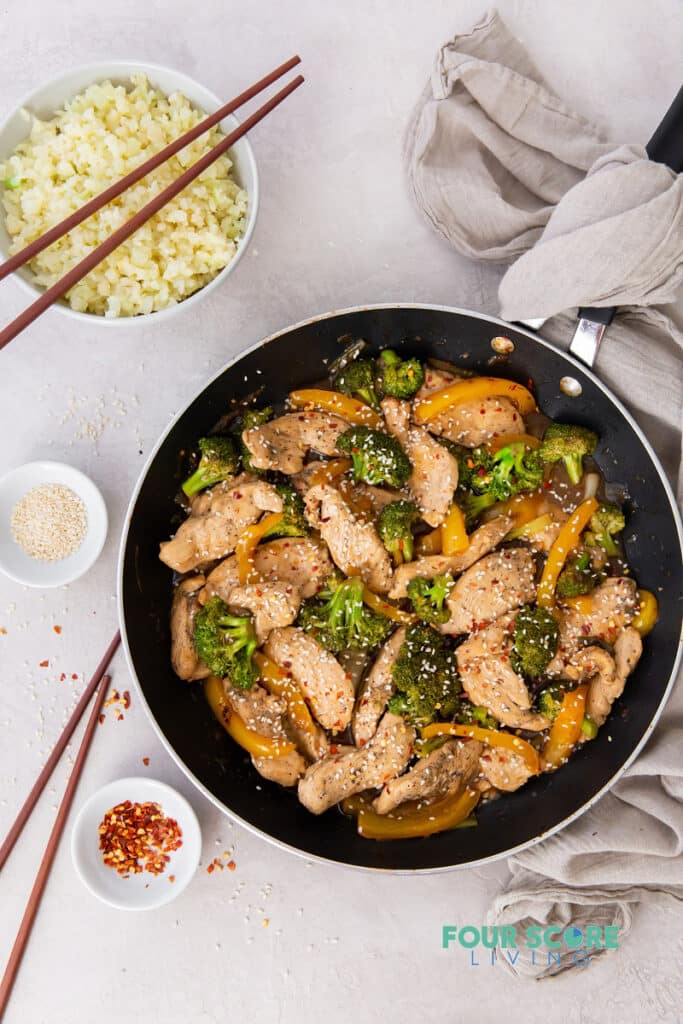 MORE HEALTHY CHICKEN RECIPES
While these aren't our chicken recipes, we thought they'd be a great to share more healthy chicken dinner ideas.
Hawaiian Chicken - This sweet, juicy, Gluten-Free Hawaiian Chicken is the perfect chicken to whip up on a weeknight and throw on the grill. This gluten-free chicken recipe is super healthy and flavorful, and you can enjoy it guilt free.
Instant Pot Chicken Stir Fry - Make this simple and completely delicious Instant Pot Chicken Stir Fry with vegetables for dinner this week. This recipe is fast, easy, and filling. Stir fry is an excellent dinner option for busy families because they're one pot meals, simple to make, and are packed with protein and vegetables.
Gluten Free Chicken - This crispy Gluten-Free Baked Oregano Chicken is an easy weeknight dinner. Quick to whip up, and definitely a crowd pleaser. This gluten-free chicken recipe is going to be your new favorite gluten-free dinner. It's tender, full of flavor, and a healthy meal option for those who love simple chicken dishes.
Caprese Stuffed Balsamic Chicken - A super simple, yet flavorful recipe for Caprese Stuffed Balsamic Chicken that's stuffed with fresh mozzarella, basil, and sundried tomatoes and baked with a sweet balsamic glaze.
Garlic Chicken - Garlic plus chicken equals a perfect match. We'd serve this with some cauliflower rice, and maybe a handful of keto cheese chips.
Cheesey Jalapeno Chicken - We love adding a little spice to our chicken dishes and this cheesy jalapeno chicken looks right up our alley.
Instant Pot Salsa Chicken - A super simple recipe for instant pot salsa chicken that is ready in under 30 minutes. This instant pot salsa chicken recipe uses three ingredients that most people who love tacos have on hand.
IS CHICKEN HEALTHY?
Yes, plain chicken is healthy. Where you might find it crossing over to a non healthy friendly side is with already prepared chicken meals you might buy at the store or recipes that call for non healthy ingredients. Start with one of our healthy chicken recipes, and you'll be good to go.
HOW LONG DOES CHICKEN LAST IN THE FRIDGE?
Raw chicken will stay good for 1-2 days in the refrigerator. Chicken will stay good for up to 3 months in a freezer.
COOKING CHICKEN SAFE
To prevent cross-contamination, thoroughly clean all surfaces, utensils, cutting boards, knives, and hands with hot soapy water for 20 seconds after handling raw chicken.
HOW TO COOK CHICKEN ON THE STOVE
To cook chicken on the stove, preheat the pan over moderate heat. Cook the chicken for 5-7 minutes per side, or longer depending on the thickness of the chicken. Larger pieces of chicken will take longer to cook. Target an internal temperature of 160 to 165ºF (71 to 74ºC).
Shopping for Chicken
Read the package label and look for the "sell-by" date. The "sell-by" date is 7 to 10 days after the chicken was processed and if properly refrigerated it should remain fresh 2 to 3 days after that date. If it is a "used-by" date, the chicken should be cooked or frozen by that date.
If purchasing frozen chicken, select one that is frozen solid and shows no signs of freezer burn.
Use sealed containers, zip lock bags (if freezing for a short period of time), or use a food saver to freeze raw and cooked chicken. Weighing and wrapping individual chicken parts in foil, freezer wrap, or butcher paper will allow you to store the chicken in portions that are easy to cook with.
Label the container or package with what kind of chicken it is, and the date the chicken was frozen. Freeze fresh chicken as soon as possible to maintain the best quality.
You can safely thaw frozen chicken in the refrigerator, or in a cold-water bath, changing the water every 30 minutes or in the microwave. I don't typically like using a microwave.
Make sure the chicken is completely thawed before cooking, to ensure it cooks evenly. Thawed chicken should be cooked within a couple hours of thawing, at the most.
What's your favorite healthy chicken recipe? Leave a comment below letting us know.
More articles you might like:
Keto Products We Keep Stocked:
Bob's Red Mill Super Fine Gluten-Free Ground Almond Flour
Our Favorite Kitchen Tools:
What's your favorite kitchen tool? Leave a comment below letting us know.
LET'S GET SOCIAL, you can follow Four Score Living on Pinterest, Facebook, and Instagram. You can also leave a comment below if you have any questions.
Here's a recipes for stir fry that we love - it's one of our favorite healthy chicken recipes. Add it to your list of healthy chicken dinner ideas.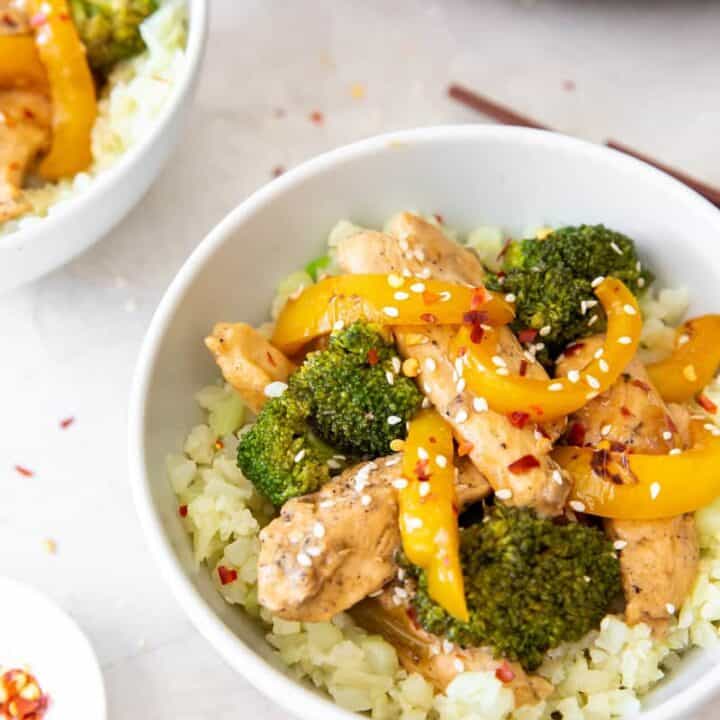 Healthy Chicken Recipes: Healthy Chicken Stir Fry
We've rounded up some of the best chicken recipes and healthy chicken recipes! From Hawaiian chicken to chicken casseroles —we've got you covered. We've included one of our healthy chicken recipes for stir fry.
Ingredients
1 cup beef bone broth
3T coconut aminos
⅛ teaspoon xanthan gum
1 pound chicken breast, thinly sliced
2 cloves garlic, minced
1 teaspoon onion powder
½ teaspoon ginger powder
½ teaspoon black pepper
1 ½ tablespoons sesame oil
2 cups broccoli florets
1 small yellow bell pepper, sliced
4 green onions, cut into 1-inch pieces
Cauliflower rice or Miracle noodles
Red pepper flakes, for garnish
Sesame seeds, for garnish
Instructions
In a large measuring cup, combine bone broth and coconut aminos. Mix well.
Whisk xanthan gum into the mixture until dissolved; set aside.
Toss chicken with garlic, onion powder, ginger powder, and pepper.
In a large skillet set over medium-high heat, stir-fry chicken in ½ tablespoon oil until meat is no longer pink; remove and keep warm.
Heat remaining oil; stir-fry vegetables until crisp-tender, 4-5 minutes.
Stir broth mixture and add to the skillet; bring to a boil.
Cook and stir for 2 minutes until thickened.
Return chicken to the pan and heat through.
Serve with cauliflower rice or Miracle noodles, garnished with sesame seeds and red pepper flakes.
Notes
For a smooth cooking experience, prep all of your ingredients ahead of time and have them ready to go.
Experiment with different vegetables or meats for a variety of delicious stir fries.
Nutrition Information:
Yield:

4
Serving Size:

1
Amount Per Serving:
Calories:

557
Total Fat:

25g
Saturated Fat:

7g
Trans Fat:

0g
Unsaturated Fat:

15g
Cholesterol:

146mg
Sodium:

353mg
Carbohydrates:

10g
Net Carbohydrates:

4g
Fiber:

6g
Sugar:

3g
Protein:

59g
The nutrition information for this recipe is an approximate total per serving. Please double check the nutrition information for your exact ingredients and brands.
Healthy Chicken Dinner Ideas