Let's talk about green beans! We're sharing everything about green beans, green bean recipes, fresh green bean recipes, and canned green bean recipes.
We're also including facts, tips, and recipes for green beans. Green beans are an inexpensive and versatile vegetable, and they are one of our favorites.
Welcome to Four Score Living where we believe you can achieve and maintain a healthy lifestyle through 80/20 living - and that includes enjoying a variety of vegetables. Today we're sharing some tips for cooking green beans and green bean recipes.
We love enjoying green beans as a side and in main dishes.
Green Beans
Green beans are super healthy for you and they are one of the easiest vegetables to find. You can usually find them fresh, frozen, and canned year-round.
They are high in fiber, have tons of vitamins (okay not tons, but a lot) and they don't have any cholesterol.
It's recommended to always cook green beans. Eating uncooked green beans uncooked may lead to nausea, diarrhea, bloating, and vomiting because of their high lectin content. Cooking them neutralizes their lectins and improves their taste, and digestibility.
How to Cook Green Beans
You can steam, boil, instant pot, slow cook, or air fry green beans. Steaming green beans is better than boiling them because it prevents the beans from overcooking and preserves a vibrant green color.
It's best to wash and trim green beans before cooking them, no matter what method you use. No need to thaw frozen green beans before cooking, you can cook them straight form the freezer. If you're using green bean recipes, follow the recipes instructions.
We find that blanching green beans, or steaming them, is best as it keeps them crunchy, fresh tasting, and green.
How long to store fresh green beans
You can store unwashed and uncooked green beans in the refrigerator for up to seven days before you need to transfer them to the freezer.
Once you cook them, you'll want to enjoy them within three days.
Green beans stored in the freezer can last up to six months.
TYPES OF GREEN BEANS
Green beans, also known as string beans, and snap beans.
Hericots Verts, which are thin and delicate.
Long beans, which taste similar to regular green beans.
Purple stings beans, are a mix of regular green beans and wax beans, but purple.
Romano beans are both flat and wide and have a bolder flavor than regular green beans.
Wax beans, look like regular green beans, but they are yellow and their outer skin is a little waxy.
GREAN BEANS AT THE STORE
Fresh Green Beans - Fresh green beans are usually available year round, even though they are seasonal, like most vegetables. You'll want to pick through the bin to find the best ones.
Packaged Fresh Green Beans - Most grocery stores sell fresh green beans in a bag. They are pre-washed and the ends are trimmed off. This is a great option when you have limited time, or you don't like trimming green beans.
Canned Green Beans - Canned green beans are pre-washed, trimmed, and cooked, usually with a little bit of salt. They can be eaten plain, or cooked into canned green bean recipes.
Frozen Green Beans - You can almost always find bags of frozen green beans in the freezer section of grocery stores. They are less expensive than fresh or bagged green beans, and they've usually already been washed, trimmed, and blanched.
What kind of green beans do you usually grab at the store to cook with?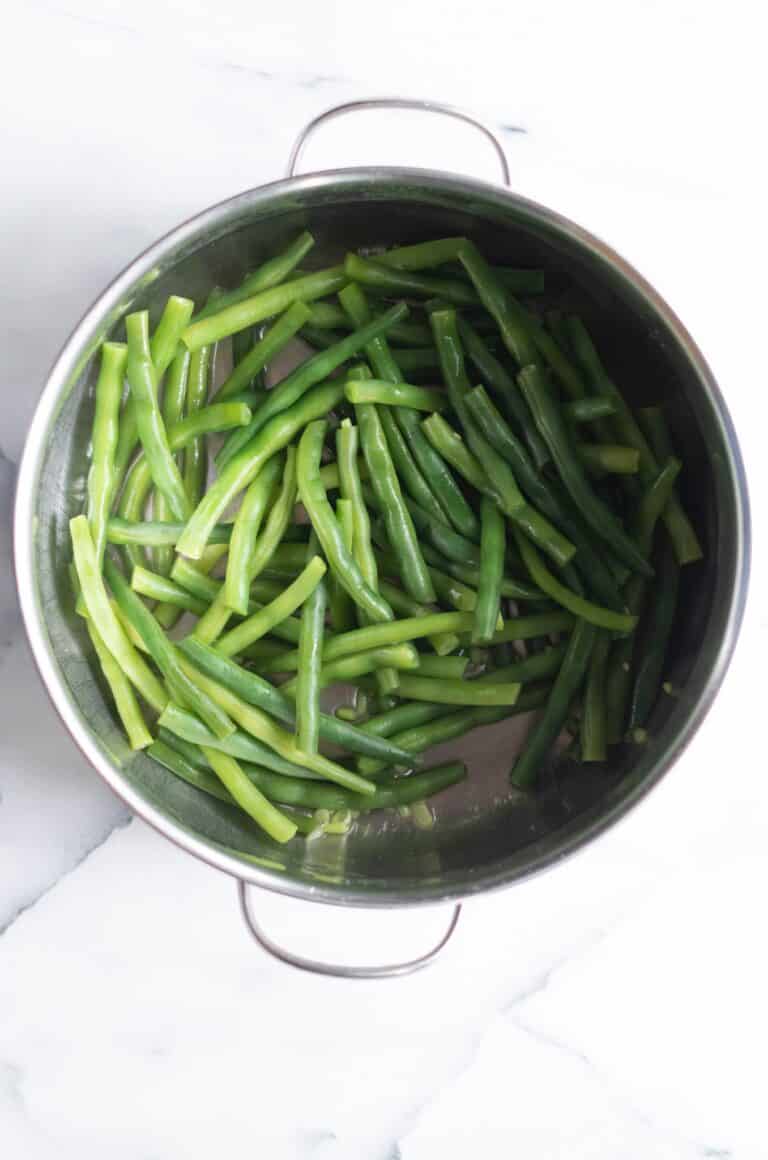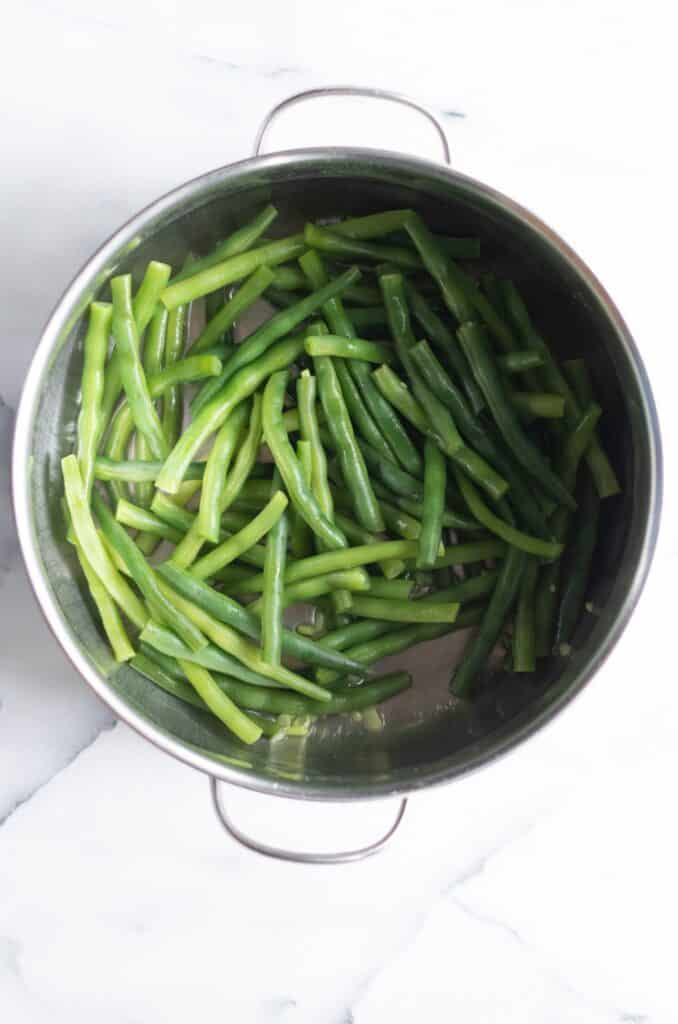 Favorite Green Bean Recipes
VEGAN GREEN BEAN CASSEROLE - This Vegan Green Bean Casserole is your traditional holiday hit without the dairy! Dress it up or keep it plain for my favorite vegan side dish for every family gathering!
OLIVE-ALMOND GREEN BEANS - Move over plain green beans for this delicious side serving. The Kalamata olives give these beans its saltiness, toasted almonds a bit of crunch, and a touch of citrus thanks to lemon rind.
SAUTEED GREEN BEANS WITH MUSHROOMS - A delicious and healthy side dish. This easy vegan and gluten-free recipe is perfect for both weeknights and holidays. If you're looking for an alternative to the traditional green bean casserole, this fresh string bean recipe is for you
AIR FRYER GREEN BEANS - The perfect addition to grow your collection of delicious air fryer recipes! If you love green beans, this is a quick and tasty way to make them!
SHERRIED GREEN BEANS AND MUSHROOMS - Add color and crunch to your meal. Associate Food Editor Julianna Grimes created this recipe: "Everybody expects to see green beans at the holiday table, but I wanted to add some unexpected flourishes."
GREEN BEAN SALAD - This delicious salad is bright, balanced, and bursting with flavor. The punchy vinaigrette adds tanginess, the walnuts add crunch and the feta adds a briny, salty kick.
CHARRED SESAME GREEN BEANS - One taste of these quick-charred green beans, and you'll never just steam again. Letting the beans sit in the hot skillet without stirring is the secret to getting a nice char; adding the sauce to the still-hot skillet helps it reduce quickly and cling to the crispy, smoky beans. Serve with roasted pork or salmon.
GREEN BEAN CASSEROLE WITH MUSHROOMS - A deliciously updated version of the classic, with fresh green beans and wine-infused mushrooms. We just had to keep the fried onion topping, which is arguably the best part.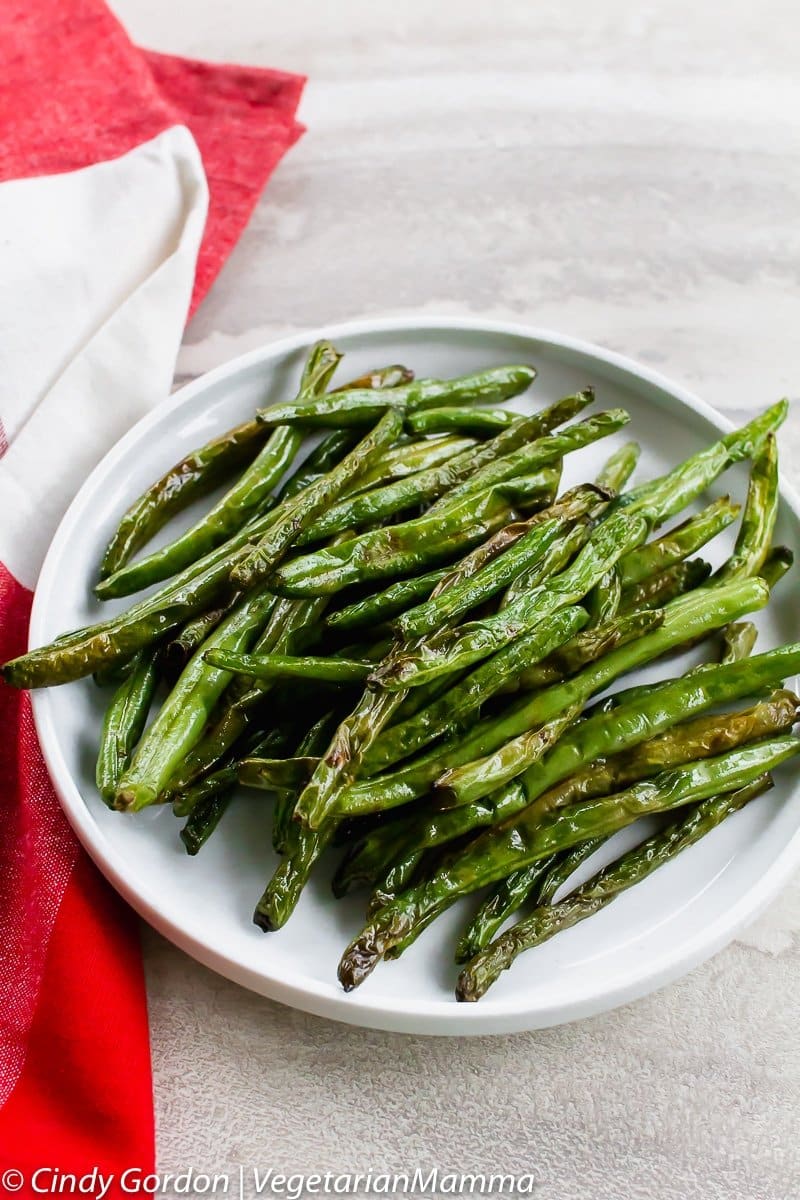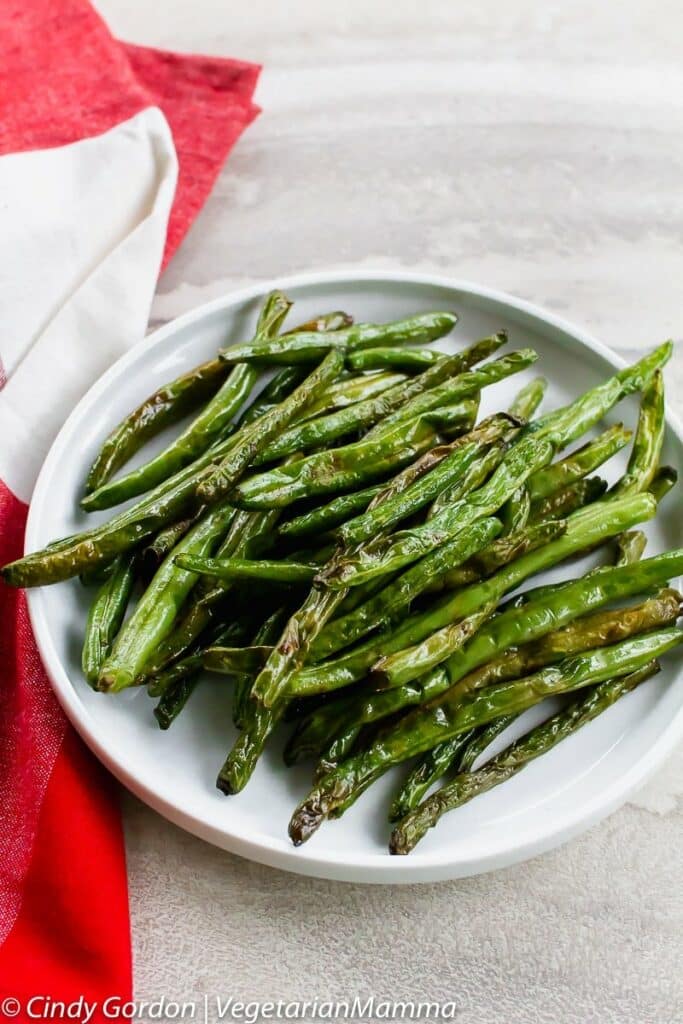 Fresh Green Bean Recipes
While fresh green beans are better when they are in season, you can usually find them year round in super markets. The darker the color the green, the more flavorful. You can purchase washed and trimmed fresh green beans or you can buy them in bulk and wash and trim them yourself.
We prefer to buy fresh green beans in bulk, so we can be more selective but we also aren't against grabbing a bag of fresh green beans when we're in a pinch for time.
SAUTEED FRESH GREEN BEANS - This is a great way to cook fresh green beans. This recipe is very basic, but can easily be jazzed up with some onions, fresh garlic, mushrooms - let your imagination run wild!
BUTTERY SAUTEED GREEN BEANS - With a good kick of garlic and a hint of lemon juice, you will love this green bean recipe. Buttery Sautéed Green Beans are the PERFECT side dish to accompany anything
SAUTEED GREEN BEANS - It's always good to get the basics down and give yourself a refresher every now and then. Here we walk you through how to cook flawless green beans on the stovetop every time, with a two-step process of sautéing and steaming.
ROASTED GREEN BEANS - If roasted green beans are a regular side dish in your rotation, kick up the next batch with a spoonful of spicy harissa paste and a handful of toasted almonds before serving.
SHEET PAN GREEN BEANS - Green beans lend themselves wonderfully to roasting, which is why they're always a top pick for my sheet pan suppers. This vegetarian dinner pairs them with wedges of tofu and honey sesame sauce.
SUMMER GREEN BEANS - Here's how to turn fresh green beans into a simple summer supper packed with flavor in about 30 minutes. The beans are cooked in an aromatic, Indian-inspired tomato mixture.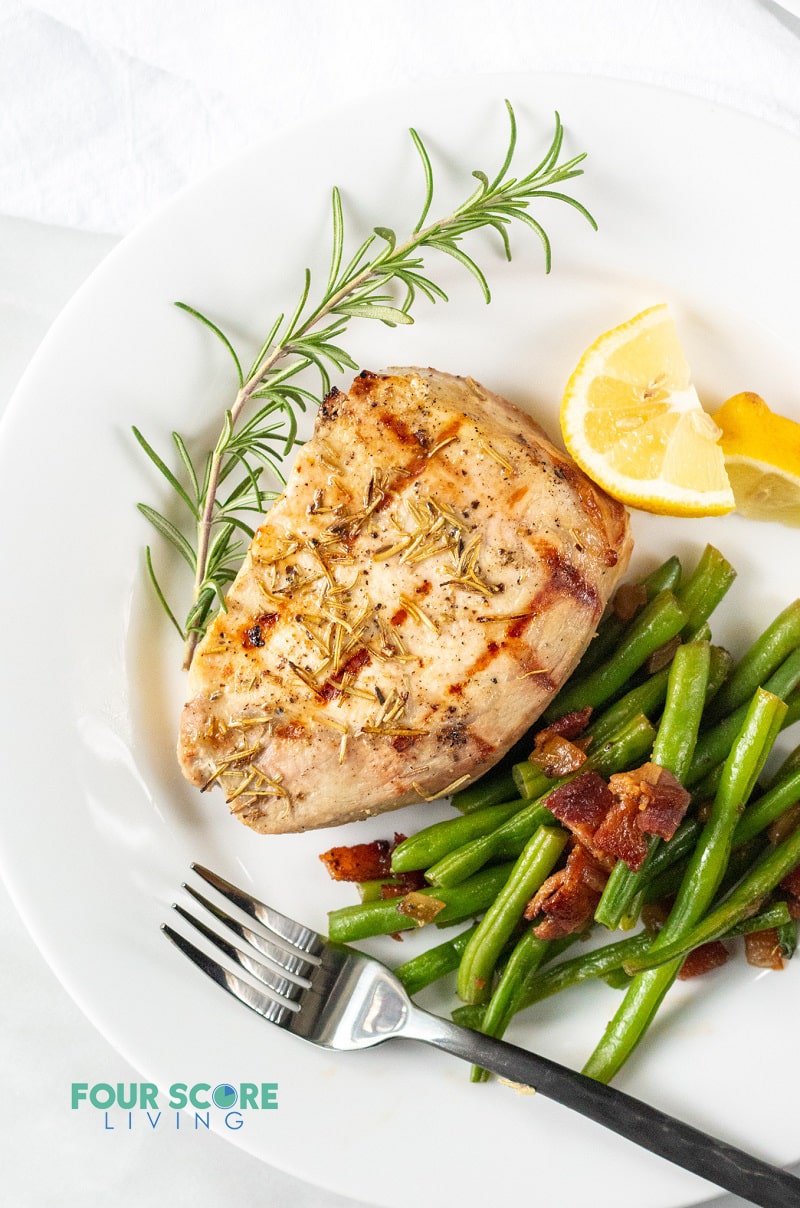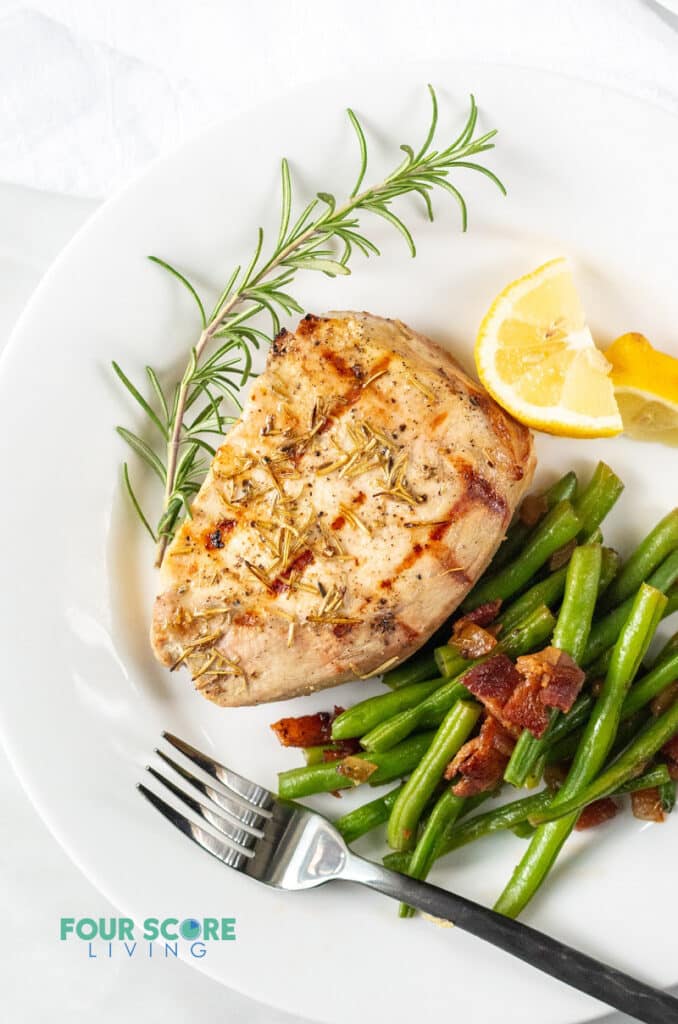 Canned Green Bean Recipes
Canned green beans are inexpensive to buy and easy to work with. Canned green beans are available at all grocery stores and some quick marts. If you're looking for a versatile vegetable to cook up for a side, canned green beans are a great choice. Here are some canned green bean recipes.
TRADITIONAL GREEN BEAN CASSEROLE - It is the dish everyone is expecting on the holidays, but it is so easy to make, you can serve it any day. Created by Campbell Test Kitchen Manager Dorcas Reilly in 1955, its creamy, smooth sauce and unmatchable flavor combined with its simplicity makes Green Bean Casserole so appealing. Just five ingredients and 10 minutes to put together, this family pleasing side has been a favorite for over 60 years.
GLUTEN FREE GREAN BEAN CASSEROLE - Tender green beans, savory cream of mushroom soup, and the perfect crunchy topping make this easy homemade gluten free green bean casserole the perfect gluten free side dish.
SAUSAGE GREEN BEANS - Sausage, green bean potato bake is a delicious comforting recipe that the whole family will enjoy.
BARBECUE GREEN BEANS - These Barbecue Green Beans make an amazing side dish for special occasions, get togethers, or any weeknight meal! They are loaded with bacon, onions, and a homemade barbecue sauce. You'll never want to go back to plain green beans again!
SMOKEY GREEN BEAN TURKEY SKILLET - This Smokey Green Bean Turkey Skillet has an amazing smokey flavor but is versatile enough to portion over rice, quinoa, or a baked potato.
SMOTHERED GREEN BEANS - Your new favorite side dish is here! These green beans are smothered in a simple sweet and sour sauce with plenty of crumbled bacon.
More recipes and articles you might like:
Did you make any of these green bean recipes? Please leave a comment below letting us know which one you made and what you thought.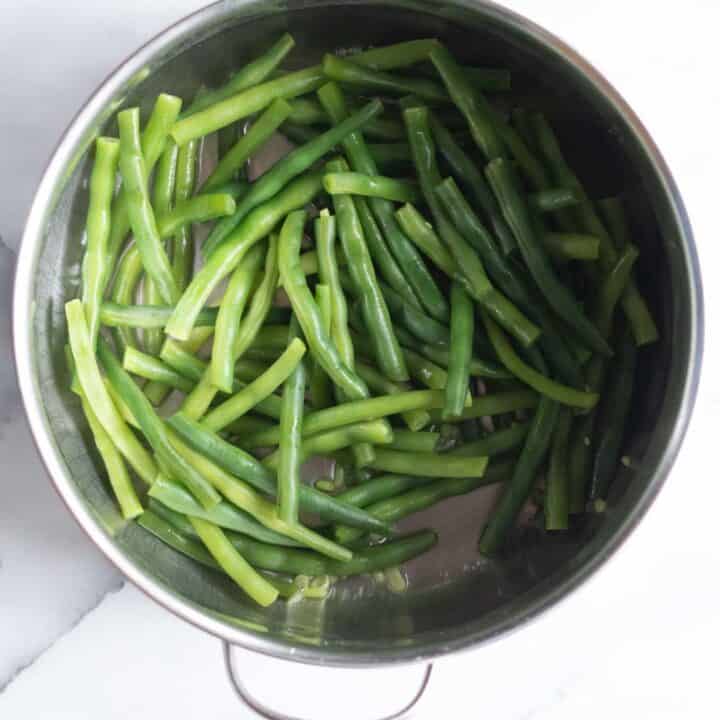 20+ Best Green Bean Recipes: Casserole
Additional Time:
5 minutes
Let's talk about green beans! We're sharing everything about green beans, green bean recipes, frozen green bean recipes, and canned green bean recipes.
Ingredients
4 cups fresh green beans
10.5 oz Cream of Mushroom Soup
½ cup milk
½ teaspoon Worcestershire sauce
½ teaspoon salt
½ teaspoon ground pepper
¼ cup finely chopped onion (optional)
1 cup cheddar cheese (optional)
1 cup fried onions
Instructions
Preheat oven to 350F. Grease a 9X9 casserole pan; set aside
Trim and wash green beans. Blanch for 5 minutes; set aside. Omit this step if using canned green beans.
In a large mixing bowl, combine soup, milk, Worcestershire sauce, salt, and pepper. Mix until combined.
Add in the green beans, onions, and cheese, and stir until combined.
Spread green bean mixture evenly into the prepared pan.
Top with fried onions and bake for 40-45 minutes.
Remove from the oven and cool for 5 minutes before serving.
Notes
You can use crushed pork rinds instead of fried onions, for a lower carb option.
Nutrition Information:
Yield:

8
Serving Size:

1
Amount Per Serving:
Calories:

160
Total Fat:

9g
Saturated Fat:

4g
Trans Fat:

0g
Unsaturated Fat:

5g
Cholesterol:

18mg
Sodium:

481mg
Carbohydrates:

13g
Fiber:

2g
Sugar:

5g
Protein:

7g
The nutrition information for this recipe is an approximate total per serving. Please double check the nutrition information for your exact ingredients and brands.
Green Bean Recipes