Foods to buy when your budget is tight! Whether you're on a tight budget, living pay-check-to-paycheck or trying to save as much as you can for retirement, you can minimize your grocery bill by going back to the basics with the foods you purchase. We've put together a comprehensive list of groceries you can buy on a budget.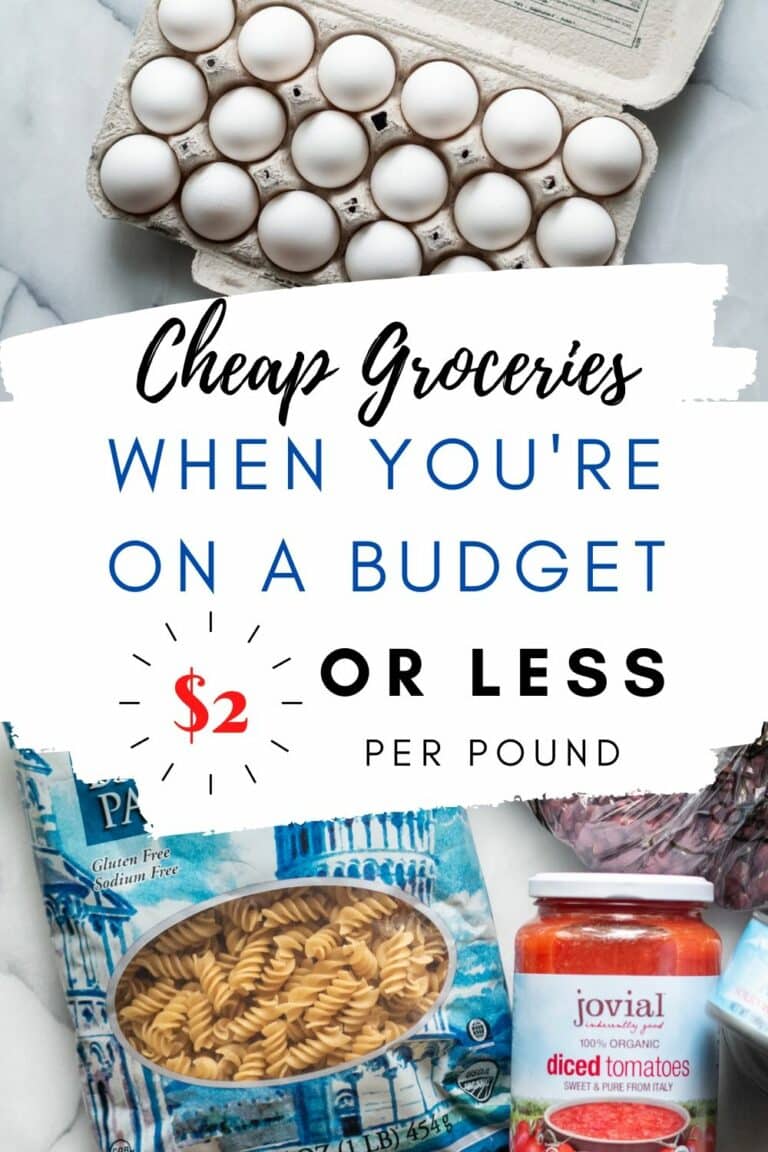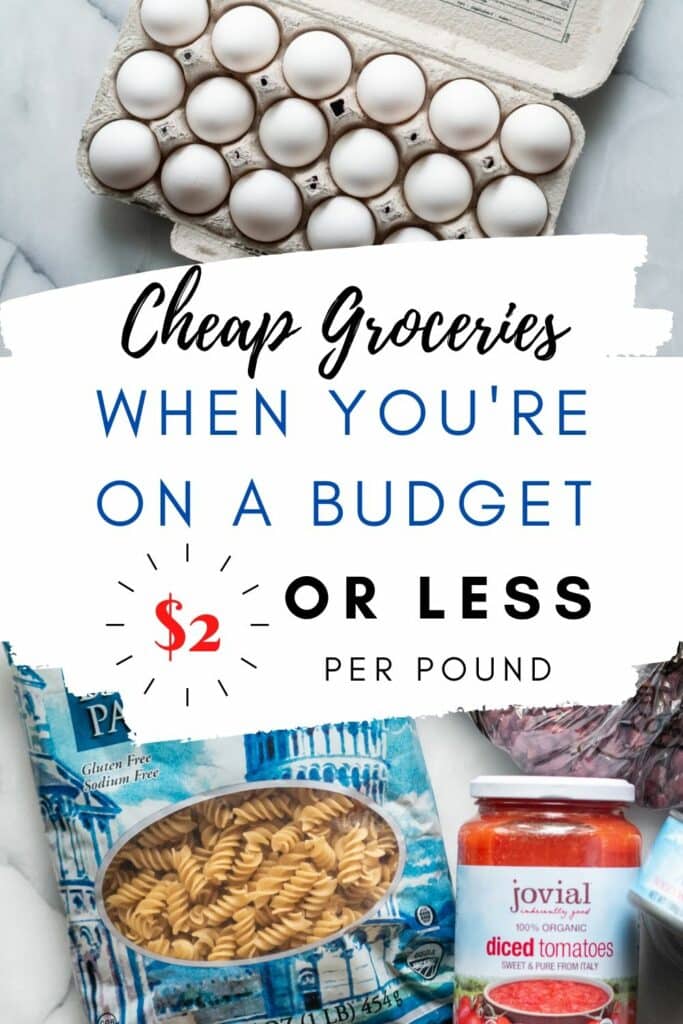 Cheap Groceries
These staple grocery items are found in most grocery stores and are inexpensive. Every item on this list can be found for around $2 or less per pound.
If you live near a discount grocery store like Aldi's, Grocery Outlet, or Winco, you can save money on your grocery bill, while still purchasing healthy groceries on a budget.
Meat/Protein:
Eggs
Pork Loins
Discount Bacon (ask your deli, they often have mismatched bacon pieces that they can't sell at regular price – and don't forget to filter and save your bacon grease to cook with).
Chicken Thighs
Chicken Legs
Whole Chicken
Canned Tuna
Canned Chicken
Day old deli meat
You can also shop the reduced priced meats. Typically, meats are marked down when they are close to their "purchase by" date. You freeze meats until you are ready to cook them. If you see a meat close to its "purchase by" date, and it's not marked down, ask the deli manager to mark it down for you.
Grains, Beans, Legumes, and Starches:
Oats (old fashion and quick) – If you purchase old fashioned oats and you need quick oats, five them a quick pulse in the food processor.
Dry Lentils
Dry Beans
Rice
Pasta (gluten free if you eat gluten free)
Quinoa
Potatoes
Day old bakery items
Cereal in Bulk
Most of these items can be found in the bulk section of your grocery store for an even lower price. Check out How to Cook Beans in an Instant Pot and How to Cook Lentils in an Instant Pot.
Pantry staples, Canned Goods:
Tomato Sauce
Canned Tomatoes
Spaghetti Sauce
Bouillon Powder (Chicken, Veggie, and Beef)
Flour (if gluten free, shop gf flours in bulk)
Sugar
Cornmeal
Baking Soda
Vinegar
Tea
Coffee
Peanut Butter
Jar Salsa
Hot Sauce (we like Tapatio)
Seasonings, Salt, and Pepper
Oil (purchase in larger containers for a better price per ounce)
Produce:
Carrots
Celery
Apples
Lettuce
Cabbage
Potatoes
Bananas
Garlic
Onions
Bell Pepper
Zucchini
Fresh Herbs like Cilantro and Parsley
Make sure to also shop in season fruits and vegetables for the best prices.
Frozen:
Frozen Vegetables
Frozen Fruit
Stir Fry Mixes (a lot of frozen stir fry mixes include vegetables, rice, and a sauce and they tend to be inexpensive)
Are you grocery shopping on a budget or do you already have your grocery budget dialed in? What would you add to the list? Please share with us in the comments below.