What to eat on a Low Carb Keto Diet?
You might be wondering what to eat on a low carb keto diet? Or what to eat on a slow carb diet? Eating right for your goals, no matter which eating plan you follow, is important when you're aiming to live a healthy lifestyle.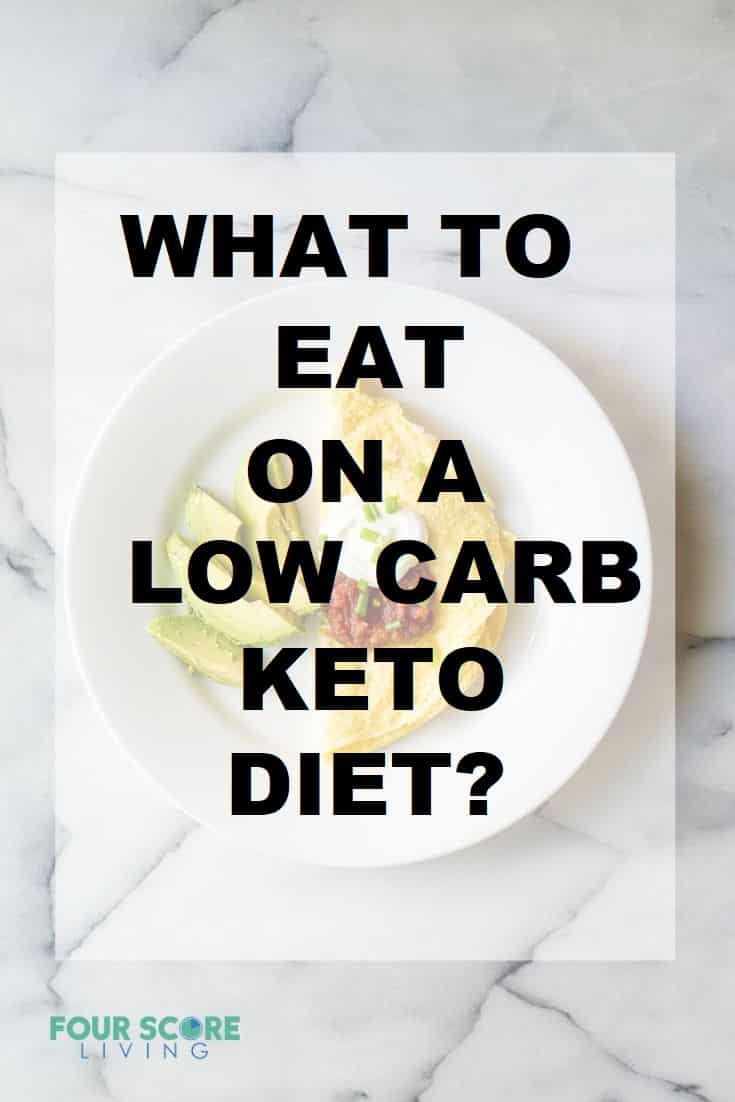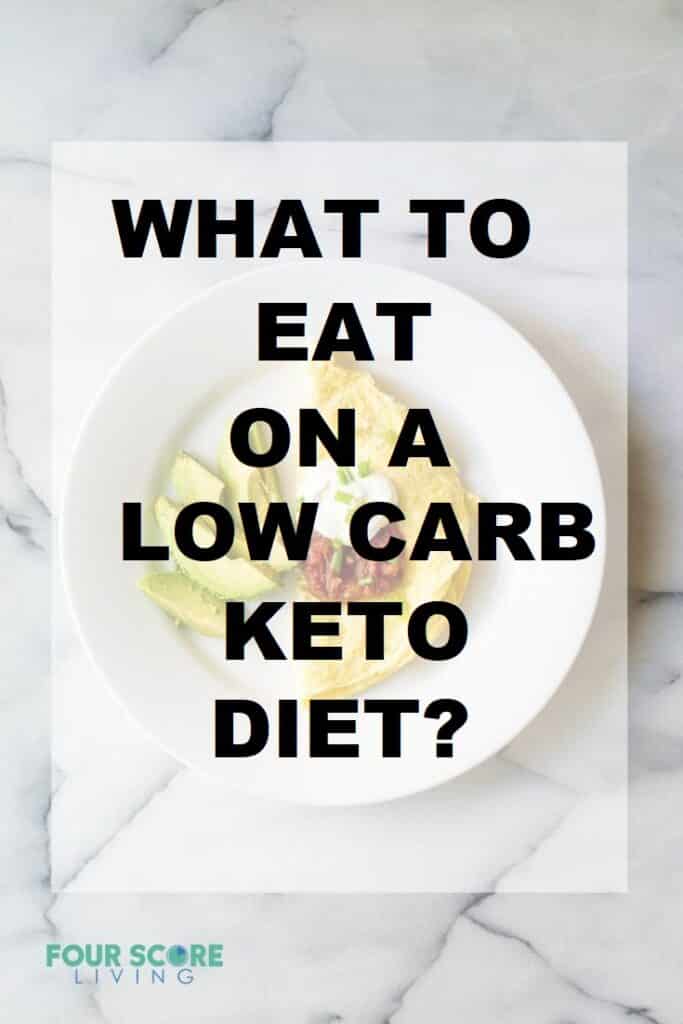 This main focus of Four Score Living is food, specifically Low Carb Recipes, and Slow Carb Recipes, because this is where I think it's hardest to keep focus and be consistent.
Many people jump right into a keto diet, or a low carb diet but changing how you eat too quickly can easily lead right back to where you started. Do this too often and you might convince yourself that it isn't possible to make a new diet (or eating lifestyle) work.
I actually don't like to think of what I eat in terms of a 'diet'. I enjoy many types and styles of food and even still eat junk from time to time. Everybody is different though, and for some it's easiest to stay completely away from unhealthy foods.
We always want you to do what makes you feel best. Here are some important focus areas to take into consideration when eating a low carb diet or slow carb diet.
Nutrient density
It's important to get the proper quantity of vitamins and minerals for ideal health. Eating a variety of nutrient dense foods can supply all the necessary nutrients without resorting to expensive, and possibly ineffective, vitamins. It can be a bit tricky to find a wide enough variety of vegetables depending on where you shop.
The modern food supply chain has self-selected for easy to grow and transport vegetables so the variety and quality we get may not be sufficient for ideal health. Although expensive, stores like Whole Foods typically carry a larger variety and farmer's markets many times have heirloom varieties that don't transport well but are better for you and taste better.
Variety
Do you get bored quickly of one type of food? I realized that I eat the same things every week for breakfast and lunch and there are only a couple dozen dinners that I cycle through regularly. If you can tolerate it, eating the same menu every week will make your life much easier. You can assemble your own weekly meal plan or check out one of our full week plans here.
One trick we figured out was to photocopy or print out our favorite recipes and put them all in clear sheets in a binder. That way we have one easy location to look for meal ideas and if we decide we no longer want a recipe we can just take it out and recycle it. I also like to try something completely new every other week or so, our current favorites change from season-to-season and year-to-year.
Snacking
Once you have your nutrition in check and are properly hydrated snacking will most likely not be necessary. If you're burning fat as your primary energy source you will have a constant food source (body fat stores) with you at all times. You may not even feel hungry at normal meal times.
Fruits
Many fruits are naturally high in sugar and they have evolved to spread their seeds after being eaten and passed through the digestive tract of whatever consumed them. The high sugar content makes them a tasty treat but can also lead to weight gain if overeaten. Eating a sufficient variety and quantity of vegetables can supply all the necessary vitamins and minerals.
Processed foods
The vast majority of processed foods are less healthy than unprocessed. Notable exceptions are foods that are inedible or poisonous without proper processing. One way to look at it is if you can't identify what the food contains by looking at it you probably don't want to eat it. If you are making meals at home start with basic ingredients as much as possible, that way you can control the quality more easily.
Organic Food
Be wary of thinking foods labeled organic are automatically good for you. There are pesticides that are permissible to use in organic farming, some may be more damaging to the environment than non-organic. Organic junk food is still junk food.
GMO
Taking a broad overview of the safety of GMO foods it isn't clear that they are a danger to human health directly. What does seem likely is that secondary concerns are actually more important. For instance, crops modified to withstand the increased application of pesticides and herbicides will have more exposure to pesticides and herbicides.
The good news is that following a paleo/slowcarb/keto/low carb diet will limit your exposure to the most commonly modified crops. Corn, soy, sugar beets, and canola are all crops that are likely to have GMO content but can all be easily avoided. Milk producing cows may be given rBGH. The effects on humans from exposure to rBGH have not been proven, but due to consumer backlash most dairies no longer use rBGH and many dairy products can be found that are free from rBGH.
How much to eat
How much you eat depends on your goals. Losing weight means you need to burn more calories than you take in. If you're looking to increase your muscle mass you need to take in more calories than you burn.
It may be possible to increase muscle mass at the same time as decreasing body fat, but it is very difficult. The hormonal signals that regulate these two processes are difficult to maintain at the same time. The most muscular athletes on the planet have figured this out and organize their efforts into distinct phases (periodization) with specific goals like increasing mass, cutting fat, or targeting specific goals.
Macronutrient ratios
The standard American diet macronutrient ratio is approximately 50% carbohydrate, 15% protein, and 35% fat by caloric content. Many of the calories come from highly processed foods. Processed carbs can quickly spike your insulin levels leading to weight gain. Processed proteins often contain many other ingredients that are unhealthy, especially proteins sources like hot dogs, lunch meats, and sausages. Highly processed vegetable oil should be completely avoided and are found in a large number of processed foods.
A high fat low carbohydrate diet (Keto) is typically in the range of 20 to 100 grams of carbohydrates per day. Depending on your total energy needs this could be anywhere from 5% to 20% of your caloric intake. Protein intake will vary depending on your activity level with sedentary people needing about 0.8 grams per kilogram of body weight or .36 grams per pound. More active individuals will require more protein, up to 2 grams per kilogram of body weight or 0.91 grams per pound.
Be careful about overeating protein as your body can and will convert protein to glucose through the process of gluconeogenesis. The remainder of your caloric needs will be made up of healthy fats. The beauty of eating a diet that is high in fat and low in carbs is that it trains your body to use fat as a fuel source. If you are short on calorie for the day your body will use you own fat stores as fuel.
Your specific digestive system's bacterial makeup can affect how you digest and react to what you eat. Gradual transitions from one way of eating to another can make it easier to deal with and reduce the chances of intestinal discomfort.
Measuring your food
If you don't have a kitchen scale get a digital one with a large enough total capacity for an entire recipe's worth of ingredients and the container you are mixing in and multiple units of measurements (grams, ounces, and pounds typically).
It's much easier to just hit the tare button and add the next ingredient directly if you are measuring by weight. Measuring by weight is my preferred method for accuracy, and all the recipes on this website will give both traditional measurements and weights.
You will also want a set of measuring spoons and cups. I don't expect that everything you cook will come from me and most recipes still using traditional measurement methods.
Tracking
Should you track your macros? It depends on what your specific goals are and how sensitive you are to carbs. So, it depends on you. If you can eat a balanced diet low in processed foods, sugars, and grains and meet your health goals don't feel like you need to track your macros. If you aren't making progress or aren't progressing as fast as you would like then tracking your food and macros can really help pinpoint what works for you.
Meal prep
If you're eating solo, regularly busy during the week, want cheaper lunches than the office cafeteria, and/or want to be really accurate tracking your nutrition then meal prep may be right for you. Setting aside as little as one hour once a week to prep lunches can get you one step closer to your eating goals.
If you have a little more time you can prep more meals or get more elaborate. I really like burrito bowls, but the closest place that serve burrito bowls still takes me about 30 minutes round trip (with the line) and costs me about $10 just for the food.
Copycat recipes online are very close to the original and I can put together my own version for about ¼ the cost and save the half hour trip. Another easy way meal prep is to double up dinner recipes when you can and freeze the extra leftovers. This could add a week's worth of lunches for just a few extra minutes of work. I would also recommend finding some healthier versions of your favorite comfort foods and freezing those too for special occasions.
Worried about freezer space? Last time my freezer was full and I was trying to put something in there, most of the space taken was junk or just needed to be thrown out. Once I cleaned out the freezer, I had enough room for about ten meals in my favorite glass containers.
I prefer glass because my food doesn't always thaw completely before lunch and microwaving it long enough to get it thoroughly heated would mess up a plastic container. There are also concerns about the health of heating food in plastic, so I would avoid it if possible.
I now try to label everything with what it is and a date so I know what needs to be eaten first. Painter's tape and a permanent marker make for cheap and quick labeling, and the painter's tape comes off cleanly when you are done.
What questions do you have? Leave it in the comment section below and I will get back to you.