Are Onions Keto? The keto diet is a way of eating designed to promote the production of ketones. To get into a state of ketosis, you need to limit daily carbohydrate intake.
And although onions aren't always found on the "Are Onions Keto Friendly?" list, they can still be included in your keto lifestyle with a few adjustments.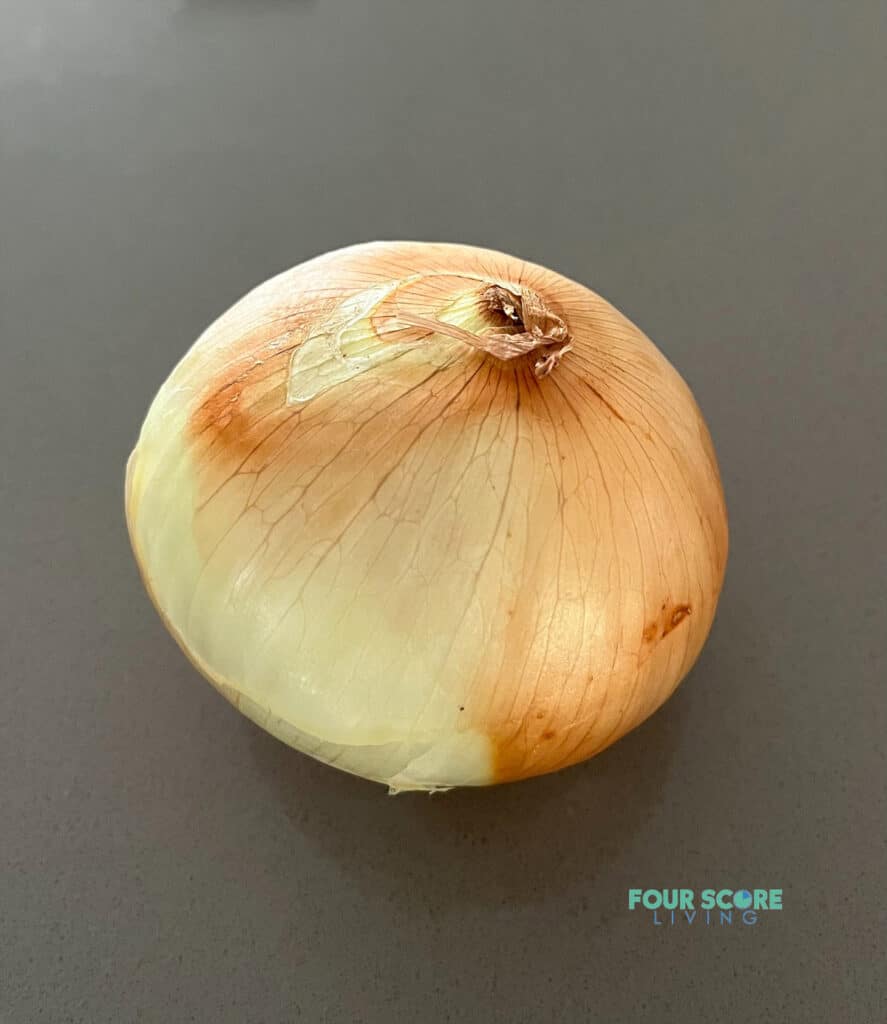 Will onions kick me out of ketosis?
Maybe.
If you consume around 50 gram of carbs a day, onions are unlikely to ever kick you out of ketosis. But for those who require less carbs (usually for medical reasons), tracking your onion intake may be necessary.
The average whole onion contains about 11 grams of net carbs. It's doubtful that anyone would consume an entire onion in one day.
But, if you're making caramelized onions for dinner, it's easier to eat more than you anticipated because of their reduction in size. And in doing so, can quickly add to your daily carb count.
What are the benefits of eating onions on keto?
We like to try to offer you as much variety as we can on the keto diet. Not only for fun, but to help you consume as many nutrients as you can from whole food sources.
Onions are highly nutritious! So nutritious that they've been used medicinally for hundreds of years. Have you ever heard the trick of putting half an onion in your sock when you go to bed?
It's supposed to help if you have a cold. Though there is no concrete evidence this works, moms have been using this trick for a long time.
And there's something to mom's intuition, right?
Onions are high in vitamin C and B vitamins like folate, and potassium.
They also contain antioxidants which can help improve cellular function. One of these antioxidants is called anthocyanins, and it's shown to reduce the risk of heart disease.
Onions are antibacterial and have been shown to fight bacteria like E. coli and certain types of staph infections.
What kinds of onions are keto friendly?
Most varieties of onions can be worked into your culinary keto concoctions. But there are some that contain more natural sugar than others.
Here is a list of the most common onions you find in the produce aisle and how many net carbs they contain.
Yellow Onions - There are 6.7 grams of net carbs in 100 grams of yellow onion.
Red Onions- There are 7.7 grams of net carbs in 100 grams of red onion.
White Onions- There are 6.5 grams of net carbs in 100 grams of white onion.
Sweet Onions- There are 6.7 grams of net carbs in 100 grams of sweet onion.
Scallion (Green Onions)- There are 4.7 grams of net carbs in 100 grams of scallion.
These contain the least amount of carbs on the list, and have a strong flavor, so you don't need very much.
This is a great option for those who need to keep their daily carb count much lower than 50 grams a day.
Leek- There are 12.4 grams of net carbs in 100 grams of leek.
Shallot- There are 13.6 grams of net carbs in 100 grams of shallot.
These contain the most carbs, but it's highly unlikely you will use 100 grams of shallot. They have a stronger flavor than most onions so you can get away with less.
How do I cook onions?
In their raw form, a little goes a long way. Or you can slowly sauté them down until golden and caramelized.
Every great chef works with onions in many different capacities. How many of the techniques do you know below?
Raw- Raw onions are known for their strong flavor.
They are great added to salads. But always add less and then taste. You can always add more, but you can't take it away.
Sauteed - Add sliced or diced onion to a pan with oil and cook until tender and golden.
Caramelized - This method is similar to sauteing, but you want to add a little sweetness.
Since you are looking to limit carbs, instead of adding brown sugar, which is traditional, try adding a sugar alternative. We love the Golden Monk Fruit Sweetener from Lakanto.
Roasted- These onions are sliced or diced, tossed in oil, seasoned and baked in the oven. They are great mixed with sausage, for an easy, one-pan meal.
Sweated- Sweating onions is a method of cooking your onions down in a saucepan until they are translucent. From there, they are great when added to sauces or cauliflower rice.
Boiled- This is another process of tenderizing the onions to add to other dishes and sauces, only the onions are boiled.
Grilled- Grilling gives the onions a nice smoky flavor. Chop up onion into large pieces and add them to a kabob with other veggies!
Pickled- These add SO much flavor to a dish. You don't need much.
Check out this recipe for Keto Pickled Red Onions to do it yourself.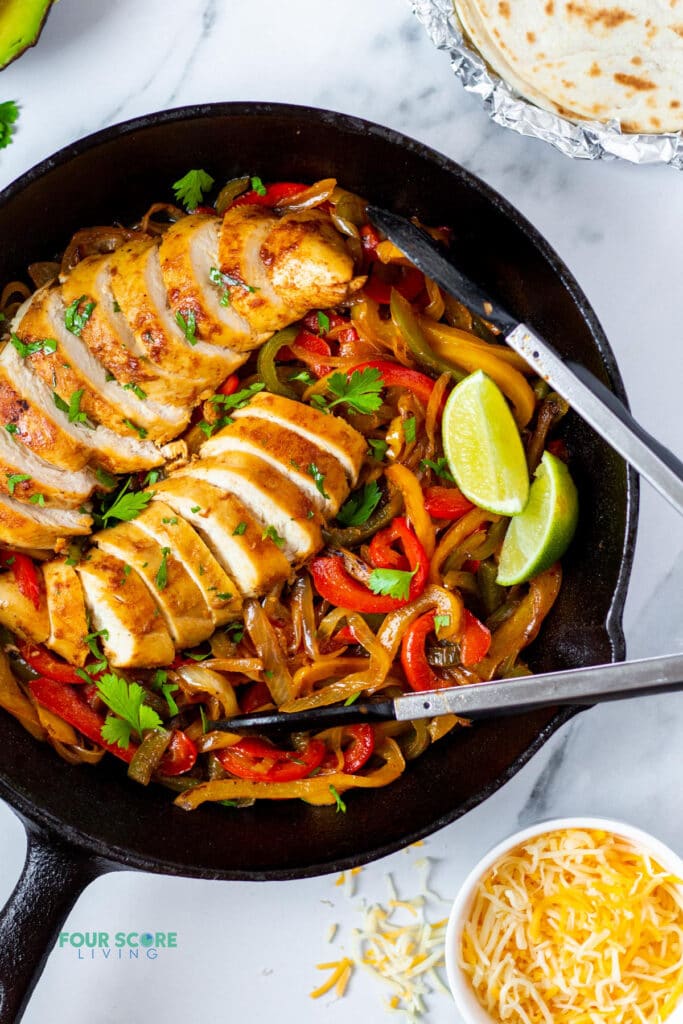 Keto Onion Recipes
Here are a couple keto recipes that incorporate onions that we think you will love.
Keto Fajitas - A simple recipe that is sure to have your family asking for more.
Keto Salsa - Most store-bought salsa contains added sugar. Make your own at home instead.
Keto Chili - Serve our keto chili with a side of keto cornbread for added comfort on a cold day.
Do you have other ideas on how to add onion to your keto lifestyle? Let us know in the comments below!
More Articles
Are Brussels Sprouts Keto?
We hope you love this recipe as much as we did! Please help us out by leaving a quick review and star ★ rating below.
LET'S GET SOCIAL, you can follow Four Score Living on Pinterest. You can also leave a comment below if you have any questions.