Are eggs keto? Getting into a state of ketosis (the body uses fat instead of carbohydrates for fuel) requires you to limit your daily intake of carbohydrates to under 50 grams.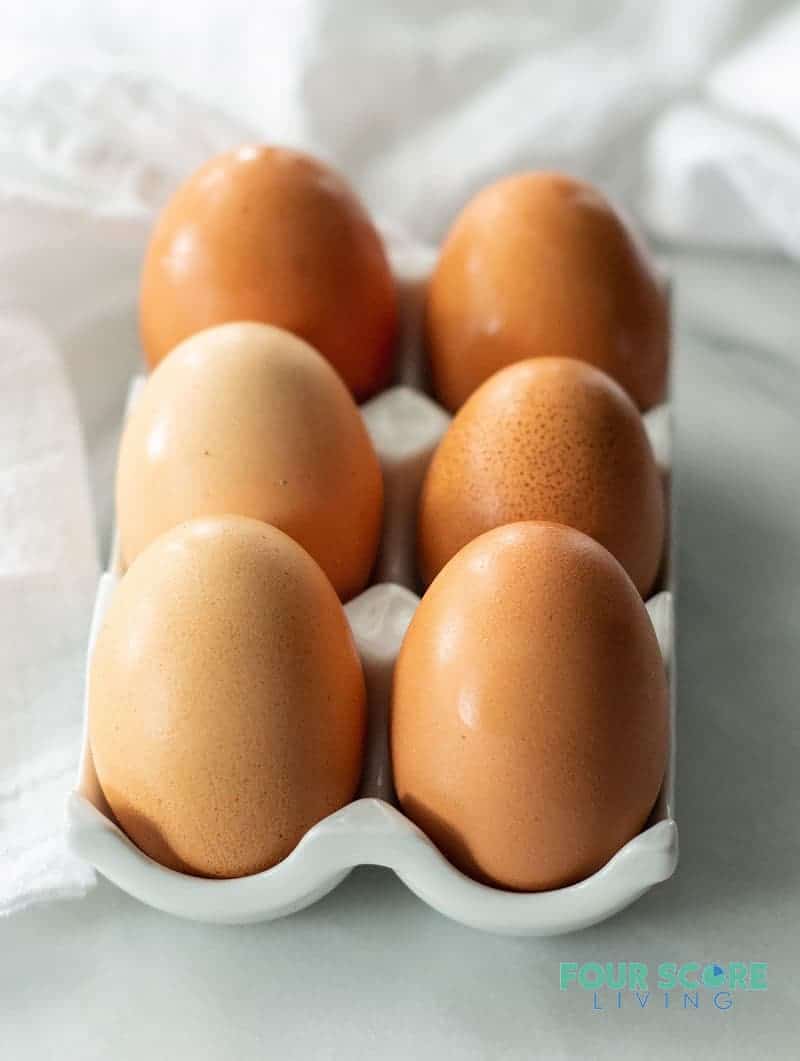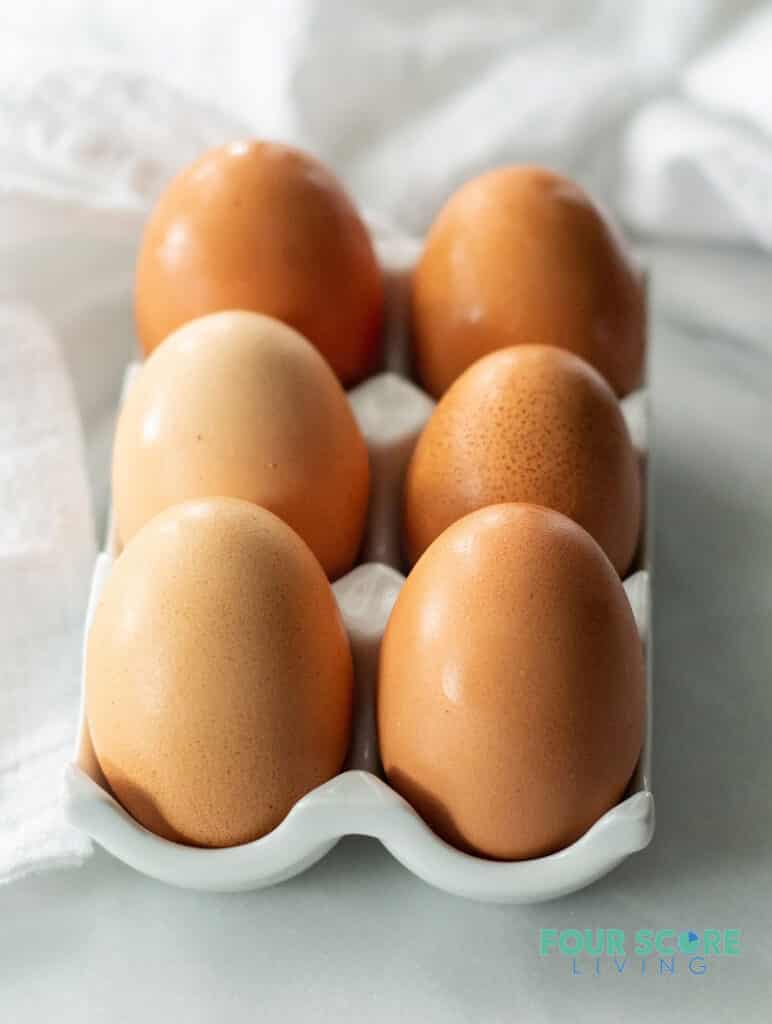 Eggs are the perfect addition to a ketogenic lifestyle. Not only do their macros fit perfectly, but they are nutrient-dense and regarded as a superfood. They make the perfect keto snack.
Eggs are an extremely versatile food to incorporate into your meals, not only for nutritional value, but because they taste delicious, can be added to keto baked goods for structure, and, on their own, can be made in so many different ways.
Scrambled, omelet, over-easy, hard-boiled, quiche … the possibilities are endless.
What are the benefits of eating eggs on the keto diet?
Eggs are a rich source of iron, choline, selenium, vitamin D, and contain many powerful health-promoting nutrients. Two of these nutrients, lutein and zeaxanthin, have been associated with reducing the risk of age-related macular degeneration (gradual blindness due to age).
When it comes to macros, eggs are perfectly aligned to what is required to maintain a state of ketosis. A single egg contains less than 1 gram of carbs, 6 grams of protein, and 5 grams of fat.
My favorite benefit of adding eggs to your diet though, is the versatility they provide. Whether you use eggs in a keto dessert, like our Keto Lemon Bars, to create a creamy custard filling, or allow the eggs to be the star of the show in our Keto Breakfast Casserole.
What are your goals?
Are eggs keto-friendly? Absolutely they are. But how can you use them best to fit your goals?
Are your goals fitness-based? Are they health based? Did you find the keto diet because of autoimmune issues?
If your keto goals are fitness based, eggs are a great source of both protein and fat. They are easy to make, macros are easy to track, and you can easily add more carbs to them if needed, such as eating them in an omelet with roasted veggies (your source of carbs). Or if you are looking to bump up your fat, eat your eggs with a side of avocado.
If you came to the keto diet because of underlying health concerns, particularly if you have an autoimmune condition, you may want to check to see if you tolerate eggs well.
Eggs have been known to contribute to digestive distress in those struggling with autoimmune conditions. Especially those who are newly diagnosed and have not developed a protocol for managing symptoms. It is common to follow an elimination protocol for a couple of weeks to give your body a chance to heal.
If you are dealing with these kinds of issues, it may be beneficial to eliminate eggs (at the recommendation of your doctor) from your diet for a short period of time, and then slowly reintroducing them back in.
What should I look for when buying eggs (free-range, organic)?
Did you know chickens are omnivores? That's right. A chicken in its natural environment will eat seeds and vegetation, but also bugs. And when chickens eat a natural diet, their eggs' nutrition profile is more potent and complete. That is why it's important to purchase eggs from happy chickens, who reside mostly in a natural environment.
But how do you know if the eggs you are buying are from chickens in their natural environment?
Here is a breakdown of the common labels you find in grocery stores.
Cage-Free - With this label, chickens are required to be outside of their single cage, but that is replaced with a hen house where the chickens are crammed together in a tight space.
There is very little roaming going on, they rarely see the sunshine, and tend to be in a heightened state of stress. There may be a slight benefit over caged chickens, but not much.
Free-range- These are a step up from cage-free. Chickens are given the option of outdoor time, but that doesn't mean they always do. Not a lot of pecking and scratching for bugs is required with this label. It may be happening. It's hard to know what life looks like for chickens with this label.
Omega-3 Fortified - These chickens are given flaxseed, linseed, or omega-3 supplements. This could be a good thing and might be a better option from the ones listed above.
Organic- With the organic label comes a few criteria. Such as a ban on GMOs in the chicken's feed. Also, no antibiotics allowed, chickens must have access to outside, and organic feed. There are more humane treatment regulations required to receive the organic label, so this is a step above the others.
Certified Humane- Chickens have more living space with this label, but that doesn't mean they have access to outside or a natural diet. There is also no regulation for organic feed.
Pasture Raised- This is without a doubt, your best option. These chickens are raised on farms where they can roam freely, eat bugs and plants, and generally live a happy life. This gets transferred to the eggs and you can see it in the bright orange color in the yolk (versus the sad pale-yellow color in nutrient-deficient chickens).
Are eggs low-carb?
Absolutely! Eggs are low in carbs and a great source of both protein and fat.
It's worth the effort to find a farm near you that sells pasture-raised eggs. Build a relationship with your local farms, and give them all the support you can. Not only for health reasons, but because we need to support those who treat animals humanely.
And if you are feeling adventurous, there are all kinds of eggs to try! Duck eggs, quail eggs, heck, even ostrich eggs. Give them a try and let us know what you think.
Here are a few of our favorite keto eggs recipes. Give them a try and let us know what you think!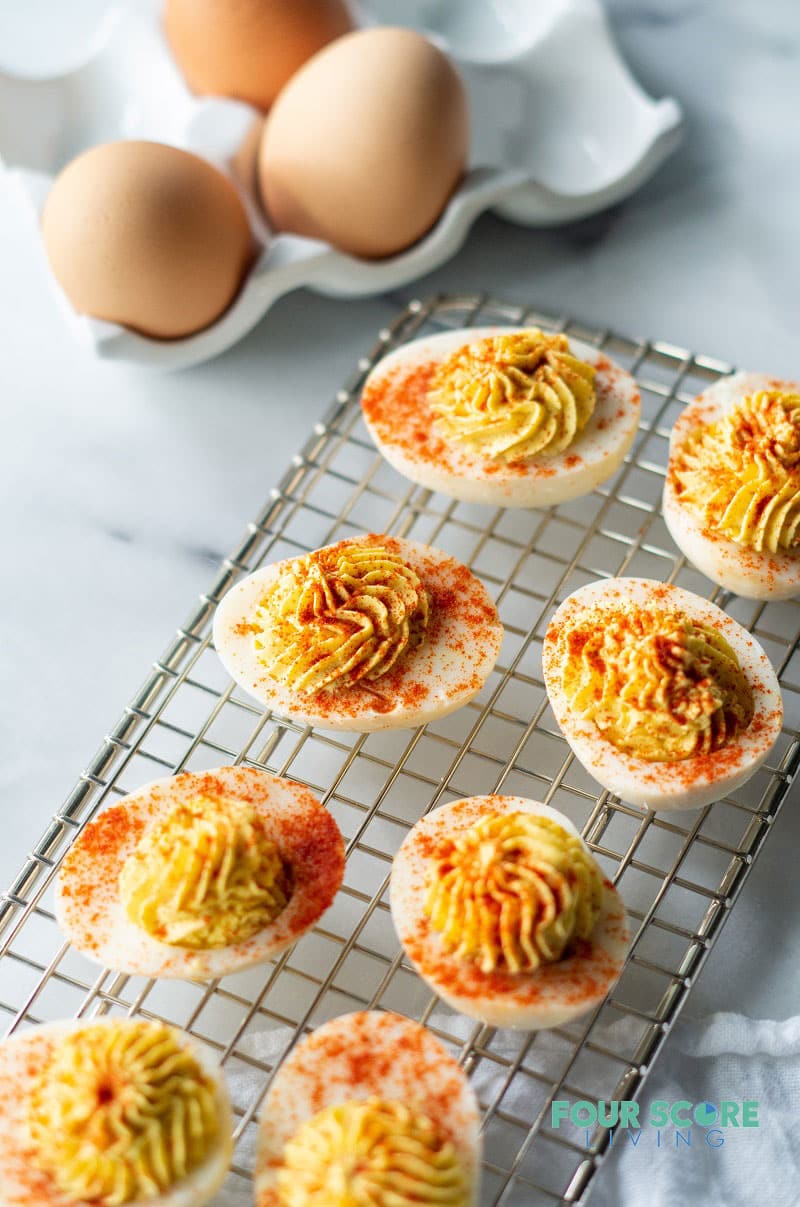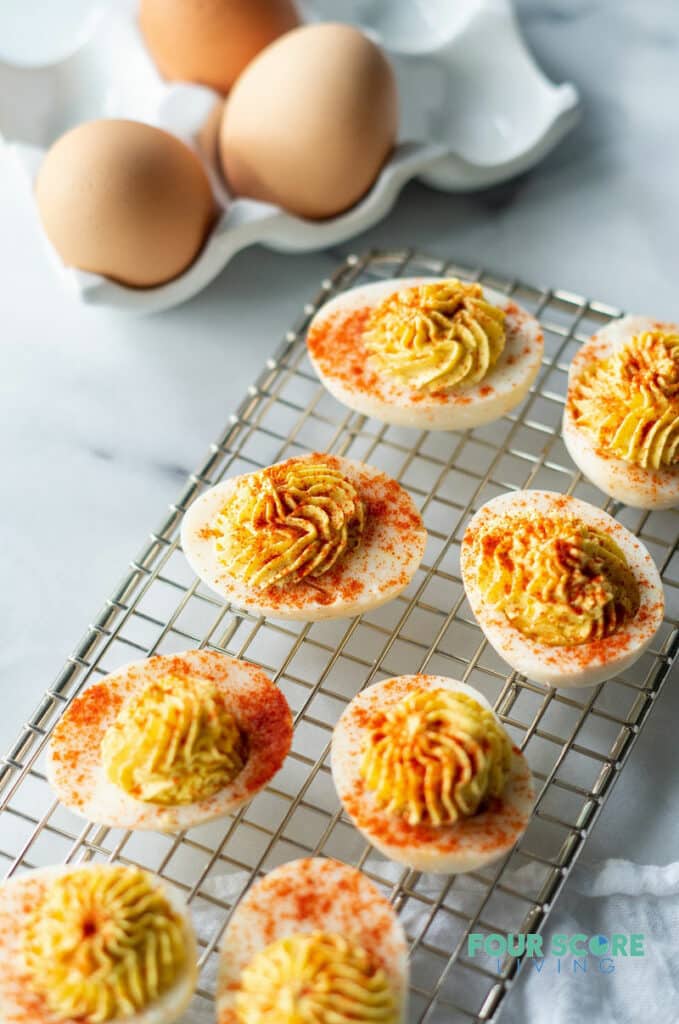 Keto Egg Recipes
Here are a couple keto egg recipes we think you will love.
Keto Deviled Eggs - A staple in our household. It's truly a classic, and would be a great appetizer for upcoming Sunday Night Football games.
Keto Breakfast Casserole - I love the simplicity of the breakfast casserole. Mix it up, put in the dish, cook it in the oven. And breakfast is served.
Keto Quiche - Get fancy with our crustless keto quiche recipe! Sure to impress your guests.
Do you have other ideas on how to add eggs to your keto lifestyle? Let us know in the comments below!
More Articles:
We hope you love this recipe as much as we did! Please help us out by leaving a quick review and star ★ rating below.
LET'S GET SOCIAL, you can follow Four Score Living on Pinterest. You can also leave a comment below if you have any questions.